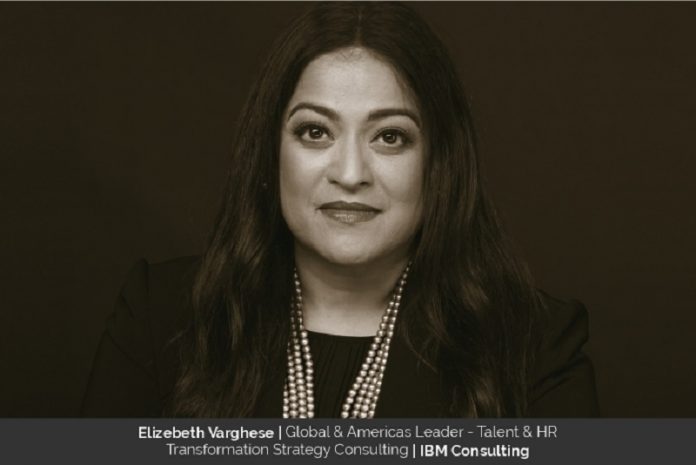 Futurist, business leader, board director, People and Technology strategist, inspirational leader, and author, Elizebeth Varghese wears many hats.
Award-winning business executive Elizebeth is a Partner, and the global leader for IBM's Talent and HR Transformation Strategy client offerings, who has built her reputation with years of excellence and collaboration. "While leading a business and team, I see my role as a catalyst who enables success. I really enjoy helping people and teams succeed and am inspired by the sense of purpose, of contributing positively to others' lives, with good work."
The Meaning of Success
Elizebeth has a three-pronged definition of success. Collaborate and lift others up, balance the immediate with the long-term, and contribute and persist against all odds.
"Success is when we can come together to make the whole greater than the sum of the parts. Over the years, I have found the most joy in developing and bringing people together, and in helping others succeed. I'm most energized when I am collaborating and working together to solve a difficult problem, creating something interesting, and building institutions that support an important mission," she explains.
She points out that while it is satisfying to get things done and develop solutions to achieve an immediate objective, it is also important to elevate the conversations to solve systemic issues. She always brings this view to situations by looking at the larger dependencies and the linkages that need to be in place in the ecosystem to drive things forward, 'to make sustainable progress.'
She also applies wisdom from her parents, who taught her the importance of being persistent, especially when building teams and organizations. "They showed me how important it is to work hard and inspired me to ignore constraints. They also emphasized the need to contribute and use my voice for the benefit of others. I reinforce this and try to model this with my two daughters as well," Elizebeth explains.
Honing Excellence
Elizebeth's focus on knowledge and excellence was shaped by her experiences, growing up in Mumbai, India, in a family where learning and giving back are highly valued. Both her parents are scientists who worked at the Bhabha Atomic Research Centre, India's nuclear research agency. "My mother is a nuclear chemist, which was highly unusual for an Indian woman during the sixties. She raised three girls and got her PhD while we were still in school, doing pioneering research and setting up pivotal public-private partnerships. My father is a botanist who discovered new species and has multiple plants named after him."
The quest to understand and learn was a theme from the very start in her career, right from her days as an intern in the early 90s. Working on the factory floor of Boot Pharmaceuticals, she observed the most important factor in what contributed to the quality of medicines, and the success and output of manufacturing plants – the employees. "The focus and engagement of people impacted the integrity and quality of medicines, of packaging, of test results, everything. People and talent were the linchpin to business success. This helped me realize that if I worked in the talent and HR domain, I would be able to make a real impact, influence business and community outcomes, while also helping people have a better work life."
This was one of the turning points in her life, leading her to enroll for a master's degree in management at the Tata Institute of Social Sciences (TISS), Mumbai. The program was purpose-driven and focused on change through the lens of human resource management that taught her 'how to operate and look for ways to drive value in an integrated, optimal way.'
Right after graduating from TISS, Elizebeth joined Hewitt Associates and was selected for a global leadership program that relocated her to the US in 1999. "New York City instantly felt like home, especially since I was raised in Mumbai – it has the same energy, big city camaraderie, and diversity of thought and people. Moving overseas was a big transition, but one that opened up lots of new opportunities, allowing me to join a team of outstanding intellectuals, where I learnt from truly inspiring leaders and good people. I spent 12 years at Hewitt, eventually becoming one of the youngest women to make partner when I was 32."
She was also able to hone her skills in business management with a dual MBAs from Columbia Business School and London Business School. She currently lives in New York City, with her husband and two daughters who are seventeen and thirteen.
Since 2006, Elizebeth has been a Partner and business leader managing businesses in the United States and has P/L and operating experience. She has managed sizable P/Ls (well into the nine-figures) and led large teams. "I've been a Partner at large consulting firms since 2006 and played a dual role as a business leader. I've also been very lucky to have that experience in both public companies and private partnerships, giving me over a decade's experience operating and P/L management, leading teams of partners and senior executives".
"Leading a consulting and outsourcing business requires deep personal expertise and market credibility and engaging with internal and external clients. It also requires growing a knowledge business through new ideas and new relationships with complete reliance on the talent and engagement of your team. All of this, while not easy, is incredibly fun and intellectually stimulating for me, as it provides interesting challenges every day," she elaborates.
Today, as part of her responsibilities as the Global Leader – Talent and HR Strategy Transformation at IBM she leads in shaping IBM's client work at the intersection of people and technology, in areas as diverse as Talent strategy, HR operating models including what to outsource, technology strategy, organization design, data and analytics. "I also weave the Talent and people agenda into all IBM deal archetypes, and also work directly with a selected portfolio of clients and complex deals. Having the opportunity to work with a global team while challenging and reinventing our client offerings makes for an incredibly interesting and rewarding role."
Ingredients of Success: Optimism, Integrity, and Concentration
"I am an optimist." Elizebeth believes that it is important to approach every situation and person with positivity and optimism. "This was something I learned from my mother, who worked very hard and juggled many challenges in her professional career – and was never negative about anyone or anything. She did her life's work steadily and elegantly and with the utmost integrity. This was reinforced in my years at Hewitt Associates where the "Benefit of the Doubt" was a key tenet of how we operated. This is the principle where we assume positive intent and integrity from everyone.
"If I am concerned, I start with an assumption of positive intent, communicate, make my expectations clear and find ways to work together. Building a culture of integrity also requires modeling the behaviors and also reinforcing expectations as needed," she adds.
Elizebeth's approach to challenges is also similar. She believes challenges 'inspire us to be creative and teaches us to be resilient.' "I've found that every challenge I've faced, has helped me open new doors, create new opportunities and reach deep inside myself to reflect and find more strength. I used to be a 100-meter sprinter in school and competed in interschool athletic meets. I won the silver medal in my event, two years in a row, losing by a hair every time. The third year, I was disheartened but my father told me, "Look forward, focus on your finish line. Don't be distracted by how others are running. Everyone runs their own race – run YOUR race to the best of your ability. That's the important thing". Sure enough, I won the gold that year. That lesson stayed with me, to learn from my failures, run my race to the best of my ability, and not be distracted," Elizabeth reminisces. "Decades later, this lesson also helped me cross the finish line at the New City Marathon. It was not easy to train and run 26.2 miles, given all my other constraints, but focus helped me get there."
She is a bestselling author for her contribution to "Significant Women: Leaders Reveal What Matters Most", which was published in 2021.  Elizebeth also recently released her second book '[Block] Chain Reaction – The Future of How We Live and Work' that discusses how blockchain technology can build connection and help bridge the current connection and talent gap. "I was inspired to write this book because of our need for connection—to collaborate, to work together, and be together. I'm inspired by the potential of technology to grow our organizations, build a more agile and skilled workforce, create strong connections across the globe, and mobilize every kind of intellectual horsepower out there," she elaborates.
The book which is available on Amazon hit was a Launch Day "Number 1 Bestseller" and "Top New Release" around the world, including the US, India and UK, in multiple categories like Artificial Intelligence, Security and Encryption, Sustainable Development Economics, Computer Science and Organizational Change Management.
Some of the reviews for [Block] Chain Reaction – The Future of How We Live and Work are below:
This outstanding book demystifies blockchain, shows its many applications, especially to assure human capital for the future, and will become THE reference guide for its use."

—Dave Ulrich, Rensis Likert Professor, Ross School of Business at the University of Michigan, Partner at The RBL Group
"In a highly personal and most engaging narrative, this talented scholar shows the transformational potential of blockchain beyond the domain of finance—in learning, recruiting, and areas of decision-making where we want fast and reliable guarantees of fidelity.  This terrific book is timely, invigorating and above all, a cause for optimism." 

—Nigel Nicholson, Evolutionary Psychologist, Emeritus Professor of Organizational Behavior at London Business School, and Author of The 'I' of Leadership: Strategies for Seeing, Being and Doing.
"In her ground-breaking new book, Elizebeth calls on leaders and talent evangelists to usher in a new age of connection and collaboration with Blockchain Technology. Insightful and easily understood…Emerging at the front of a new frontier in talent management, this book will help you thrive in today's rapidly changing world."

—Marshall Goldsmith, New York Times #1 Bestselling Author of Triggers, Mojo, and What Got You Here Won't Get You There
"The go-to book if you want to understand what permissioned blockchains can do for you".

— Professor Gur Huberman, Robert G. Kirby Professor of Behavioral Finance, Columbia Business School
Elizebeth brilliantly outlines how blockchain-based solutions will engender trust and accelerate the kind of collaboration which will help individuals and organizations transform to meet these turbulent times.

—Mark Arian, CEO of Korn Ferry Consulting
"Wow, Very Well done…very powerful and interesting. Trust and Transparency are what you get from Blockchain"

— Anouk Brumfield, Global Blockchain Services Leader, IBM
The Winds of Change
The outbreak of the coronavirus pandemic has leveraged the importance of people and talent. Hybrid work is becoming common place and the need for strong and consistent connectivity has become top priority.
Elizebeth explains that the advancement of technology and changing business models has put many organizations under immense pressure to respond to business-wide disruption. This has accelerated the need to find solutions to help companies become more agile through technology, optimize costs, and ensure business outcomes are achieved regardless of where and how people are working.
She concludes, "Our world is changing faster than ever before. Technology and creativity are changing the plotlines of organizational strategy. This will require new and deepened responsibilities and responsible leadership. As we explore this new territory, we need to make sure our ethics and moral compass keeps up. We need to continue to build human trust and be more relationship focused. At the end of the day, it's human intelligence and ingenuity that makes all of this possible; working together, we can create a world full of opportunity—for everyone."
Recognition of an Inspirational Leader
Most recently, Elizebeth was honored by The HR Gazette in their list of the top "experts and inspirational leaders" of 2022. In 2021, she was among "The Outstanding Asian Americans in Business" while in 2020, she was recognized as a Top Global HR Influencer in strategy and analytics.
In addition to her current role, she is on the Council of Advisors for the SETI Institute, which works with NASA and other space agencies to explore, understand and explain the origin and nature of life in the universe. Elizebeth also champions space exploration education and programs and is a Board member at SAYA, a non-profit organization providing after-school programming, education and college support.
When asked about the most meaningful recognition she received, she mentions those of personal impact. "In one instance, a colleague, who after attending meetings with me, spontaneously told me how I inspire the team, and hopes their daughter grows up to be like me. Another time, an ex-colleague reached out across miles and thanked me for having led well, and for making a very positive impact on his life. He recalled kindness and support in my leadership, and good memories of times when we all worked and succeeded as a team. These moments of unexpected, heartfelt feedback move me deeply. They fill me with gratitude and reminded me to hold onto my values and leadership style, and to continue to do the right thing."
Elizebeth continues to move forward with optimism and focus as we navigate the new ways of work and life that have unfolded.