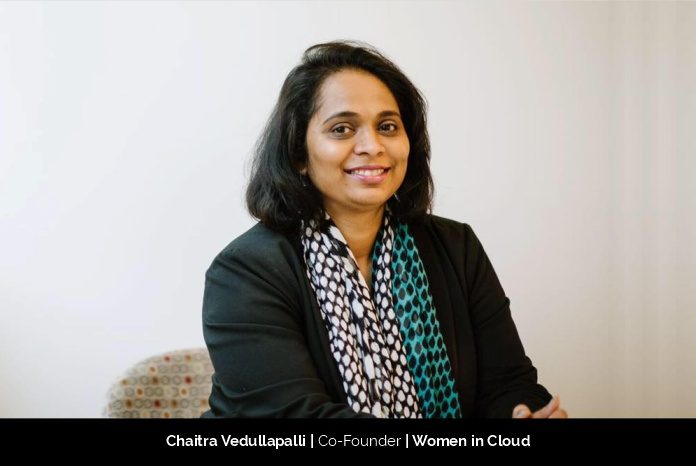 Chaitra Vedullapalli is recognized as an influential Business Leader with a passion to enable digital equality and access to achieve economic prosperity in our communities. She is the Co-Founder and CMO of Meylah focused on helping customers to modernize their business with Cloud solutions. She is also the Co-Founder of Women in Cloud, sits on the board of several companies and drives global conversations with the United Nations and top corporations.
Using the power of AI, Cloud, and IoT, Chaitra is fiercely committed to empowering business owners to access the digital economy. She is also recognized as an author, speaker, change leader, holds a patent, TEDx and United Nation speaker, and recognized as the Woman in Influence. She has connected lives by the values of 'the rising tide lifts all boats' and believes that together we can go further. In an interview with Beyond Exclamation, Chaitra shares her journey through the years.
Were you always passionate about technology? What inspired the foundation of Meylah?
I had a keen interest in Fashion, Sports, Music, and Creative Arts during my early college years. Engineering, especially Technology, rarely amused me. My initial encounter with Cobol programming in college was tricky and convinced me that it was not my cup of tea. I thought I lacked the imagination to develop a technology code until I learned about Oracle Databases and Windows. The colorful and effective interface intrigued me to explore more. The impossible was within reach through technology and I decided to defer my plans to pursue post-graduation in music to explore technology as a pathway for career opportunities. As a young technology enthusiast, I desired to work for and with Microsoft since they were able to impact a billion lives with technology. When the opportunity came calling, it was beyond exciting! The shift from dismissing technology to now operating in the largest industry has been extraordinary.
As a part of the learning process, tell us about the challenges you faced and how did you overcome them?
As I ventured into technology, I struggled with the lack of equity. The lack of financial, leadership, and relationship equity led me to wonder if I would be the right fit in the world of technology. My lack of access to a community resulted in no invitations to certain conversations and opportunities. As an Indian-American woman, this experience had me question my capabilities as a technologist and a contributing member of an organization. In hindsight, however, these roadblocks helped me to acquire and structure my leadership style and qualities.
Over the years, I have made conscious decisions to serve people and add value through creating economic access. I function with clarity and am critical about analyzing a situation if I am invisible. I believe in understanding 'why I was not invited', 'why do I lack certain equity', and 'how can I do better to overcome challenges' to unlock access in the future.
Some scenarios simply require the courage to walk away. More often than not, the answer lies within you. Your dedication and determination will unlock almost any door if a growth mindset is employed.
Tell us in brief about the services of Meylah.
Building smart communities and enterprises is at the heart of everything Meylah creates. We design customized digital transformation ecosystems that help company leaders build scalable marketplaces and frameworks that streamline marketing, data and technology systems. We believe every business can become their own impact-driven enterprise of changemakers, rooted in generosity, education and connectivity. This is where local and global innovation is born. This is Meylah. Igniting economic access through digital transformation.
Meylah's customized Digital Transformation Solution focuses on the following;
Develop comprehensive strategic digital transformation plans
Create scalable marketplaces that drive real growth and sales
Build custom go-to-market accelerators, frameworks and email campaigns
Measure marketing and budgeting impact of all campaigns and programs
Engage online and offline audiences that drive higher conversions
Manage events, speakers and sponsors through one integrated platform
Cloud computing is a massive industry with great competition. How does Meylah stay abreast with the growing competition?
Cloud & AI technology is the future. Microsoft, Google, and Amazon are hyperscalers in the cloud industry due to massive demand and micro services. Companies around the world, irrespective of their operational size, are incorporating cloud services in their day-to-day usage.
We are at the forefront of helping customers to plan and execute digital transformation through consulting, education, workflow automation development, and real-time access to data using Cloud and AI Technologies.
Our digital transformation methodology "EAD" enables us to help companies Eliminate manual processes, Automate workflows with digital tools and Delight their customers through strategic value creation. The 5 core pillars that we use to drive customer benefits while focussing on social impacts are as following:
Strategic Value Creation using UN Goals
Digital Workflow Automation through Cloud & AI
Developing Real-Time Data and Analytics
Creating Go To Market programs with UN and Cloud Hyperscalers such as Microsoft to scale your outputs
Case Study Development for Winning Industry Awards

Tell us your view on the changing landscape of digitization and cloud computing. Also, share with us your contribution to bringing about this change.
We are currently witnessing a revolutionary era in the technology industry. Digital transformation powered by Cloud and AI are leading this change. Both our advanced and technologically abled organizations incorporate and experiment with the leading and cutting edge solutions as follows;
Digital Economic Transformation: Businesses all around the world are primarily focussed on Digital Transformation, especially during the Covid-19 pandemic for economic development.
Cloud & AI Innovation: Using Cloud and AI technology, Meylah is bringing ground-breaking ready-to-use solutions to the market like i.SpeakerEngage – An event management solution revolutionizing the administrative tasks entailed during an event.
Main Street Digital Platform – Creating turnkey solutions for cities to launch digital main street with all local businesses accessible at home for customers.
Smart Tourism – Integrates AI, Cloud and IoT to create economic development for tourists.
Digital Community Development – At Meylah, we create value through Accelerators, Coalitions, Public-Private Partnerships or Interactive Event Experiences using technologies like Cloud and AI tools for digital community development and engagement.
You are one of the co-founders of Women in Cloud. Tell us about this initiative. Also, share with us the services of this company.
Women in Cloud, a community-led economic development organization, has a massive mission: to take action with global leaders, corporations and policymakers to help women entrepreneurs create $1 billion in economic access and opportunity by 2030.
Access: Getting and giving economic access is key. Our community and advisor networks foster access to education, investment, talent and resources for global women technology entrepreneurs via events, programs, and online networks.
Collective Action: Collective Action is the core principle of our community. Our immersive and collaborative experiences are designed to accelerate economic access related policies and opportunities to unlock a shared vision and take action together.
Acceleration: Advancing UN Global Goals 2030 is integral to WiC's mission. Our programs such as Cloud Accelerator, #CloudInnovateHER, #AISolution2030 actively creates a pipeline of solutions and talent to achieve gender parity in tech entrepreneurship.
As a technology professional, what is your vision for the technological industry? How has the company grown under your leadership?
Based on my experience, I predict technology will be the leading sector for next 20+ years powered by Cloud and AI. The Covid-19 pandemic has accelerated the adoption of digital transformation with Cloud and AI tech. The IT opportunity has grown from $4.5T to $7.5T in the last 3 years. Under my leadership, we have grown the company, pivoted to the enterprise market and developed innovative solutions that create value based access through digital transformation.
My vision for the technology industry would be as follows;
We need to focus on Public Policy. Our policies need to be advanced to meet the needs of people who will be using technology ensuring it is accessible, free for biases, affordable, and enabled with cyber-security. Human Attention will be mined as a key resource in the industry and that will create significant upheaval if right policies are not developed to keep up with time.
Maslow's hierarchy of needs theory needs to be actualized for everyone. Hence we need to build inclusive and equitable opportunities for all gender, race, religion and racial background to reach that goal using technology.

Give us a brief of your life before Meylah.
I have previously led executives roles at Microsoft and Oracle in Licensing, Partnership, and Strategic Consulting for over two decades. In those roles, I led cross-functional, cross-boundaries and cross-industries to build the company's infrastructure and economic development from the ground up, to spearheading profitability and growth; and invested my time in board work and public policy efforts in the community.
What are your roles and responsibilities as the CMO of Meylah and as the co-founder of Women in Cloud and how does it make you feel?
As a CMO of Meylah, my role is to generally responsible for planning, developing, implementing and monitoring the overall business marketing strategy. Some of the duties may include market research, pricing, product marketing, marketing communications, community building, advertising and public relations.
As the Co-Founder and President of Women in Cloud the role includes fundraising, making major corporate decisions, managing the overall operations and resources of a company, acting as the main point of communication between all the stakeholders to drive the movement.
Both Meylah and Women in Cloud demand a great amount of my time but it is now a way of life. Technology and Access creation through technology is an auto-tuned function in my everyday life.
How do you maintain a balance in work and personal life while managing two profiles? How does Women in Cloud enhance women's empowerment?
Work-life balance is a crucial element to continued success. I often take time to disconnect during the weekend or holiday season by occupying myself with creative hobbies. Creative Arts and Calligraphy play an important role to help me relax. However, Cooking is my sacred haven. I absolutely enjoy cooking for my family. As an Indian-American household, we tend to experiment with food and it brings me joy.
In the age of digital transformation, it's not just technology that's advancing, but humanity as well. Culture is transforming worldwide, with people of all races, gender, and creed advocating for equity and equality in powerful ways, the likes of which we've never seen before.
At Women in Cloud, we are empowering women to take Collective Action towards Economic independence and impact. We need women at the forefront of creating economic impact for an inclusive industry and economy. Our ultimate goal is to help contribute to the UN 2030 Sustainable Development Goals. We are focused on particularly:
Goal 5 – Gender Equality
Goal 8 – Decent Work and Economic Growth
Goal 10 – Reduced Inequality
Goal 17 – Partnerships for the Goals.
WiC: Microsoft Cloud Accelerator is just one program we are undertaking to contribute to these goals. There are also #CloudInnovateHER Pitch Challenge, #CloudExecConnect and #EmpowHERAccess. Women in Cloud also launched the Global Expansion program, which focuses on expanding this model across 8 other countries apart from the United States.
What keeps you and your employees motivated?
We are a team. At Meylah and Women in Cloud, our partners, employees, and volunteers continuously impact the growth of our organizations. Personally, I believe that "Infinite opportunities are created when you are dedicated to serving people daily."
In my opinion, adding value to one's life is the biggest motivation there is. Our team is always thrilled to undertake any challenge since we strive to add value to others.
What does the future of Meylah and Women in Cloud look like, globally? How do you plan to widen the company's services?
The Covid-19 pandemic allowed me to introspect and restructure the goals for both Meylah and Women in Cloud; we are now very focused on our objectives and impact. At Meylah, we are committed to providing innovative solutions to our customers to accelerate their digital transformation and drive societal impact to achieve UN Goals.
Women in Cloud is a mission to transform the industry inclusivity, hence we are developing sustainable programs and solutions to equip women to access economic opportunities. Optimization is also on the agenda going forward. Mostly, I am determined to add value to our existing members rather than just grow the community in number.
On my personal journey, I am looking to serve the people who put their faith in our expertise and add value to their journey.