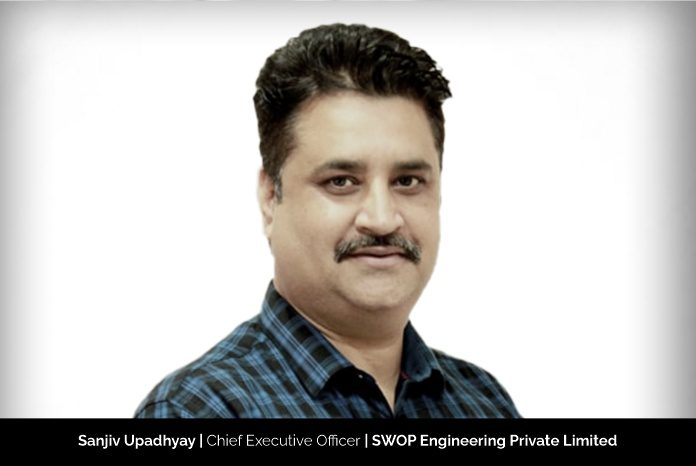 An ambitious and hard-working leader, Sanjiv Upadhyay, CEO of SWOP Engineering, had always wished to become a mechanical engineer during childhood. He strived hard to achieve his goal and emerged as an experienced business leader who is an expert in handling end-to-end business processes. Located in Southern India, SWOP Engineering manufactures diverse items for the Oil & Gas, Wind, Solar, and Power industries. With an aim to dive deeper into the Solar, Wind, and Power sectors, Sanjiv is burning the midnight oil to reach the zenith of future business success.
Entering the Oil & Energy industry
After Sanjiv became a mechanical engineer, he got fascinated by the oil and energy sector. He shares, "The toughness and sturdiness of the oil and gas industry has always attracted me. Rigs and equipment used on it have been something which has kept me intrigued till day."
However, he first undertook a job in an automotive manufacturing company and earned recognition there. He says, "I led my Motherson Sumi wiring harness Plant (Sharjah) to number 1 position out of 140+ global plants of the Sumitomo group in a Lean Assessment system called "Pika-Pika" which means shining clean in Japanese."
It took him 7 years to shift to his dream sector. It so happened that Baker Hughes selected him to be a part of the Dubai Screen Manufacturing Plant setup team as the Production Readiness guy. He worked dedicatedly in establishing a huge facility in Techno Park Dubai.
What doesn't kill you makes you stronger
While climbing the ladder of success, Sanjiv has witnessed that obstacles on the way up, test the personality of a person.
He adds, "My best results came in years where we had the least hope of success. On the other hand my most undesirable results came when we were placed comfortably. There was a time in my lifetime where we lost a crucial business license in spite of doing our best. My team was disheartened and I was ready to step down."
Failure is a better teacher than success. Running away from the challenging situation was never an option for Sanjiv and his team. They worked smart and hard to overcome every challenge and evolve into a stronger unit.
He believes that it is important to never become a victim of the hardships and steal the hidden opportunities by pushing hard with a no-compromise attitude. In the course of moving forward, Sanjiv has learned to pick the right battles to fight and knows when to conserve the energy and when to unleash it to make breakthroughs.
Leading SWOP Engineering to higher success
An acronym for "Solar-Wind-Oil & gas- Power," SWOP Engineering is a manufacturing company that comes with its own special range of capital equipment that supports the O&G industry in the upstream sector. Previously known as Hydril Pressure Control Private Limited, their plant is a Baker Hughes and Cameroon certified repair facility that consists of all the drilling equipment majorly Blowout preventers serving offshore/onshore for great companies such as ONGC, The Great ship, Transocean shelf drilling, etc.
Although he is yet to make his big moves that will revolutionize the Oil and Energy industry, he is proud to have established an entire supply chain in India, South East Asia, and the Middle East for manufacturing capital drill through equipment, mainly Blow Out Preventers at reasonable prices that too without any quality compromise.
He adds, "Similarly, establishing the 15-acre Dubai Screen Plant for manufacturing of excluders and equalizers on the completions side of Oil and Gas in technopark Dubai is something very close to my heart. Other than this, establishing a plant in Iraq, Barsra to service rigs in Roumila oil fields has been a contribution worth mentioning."
Beacon of change
Sanjiv expresses, "Our Vision is to be among the top global Engineering & Manufacturing solution providers to all 4 sectors that include Solar, Wind, Oil, and Gas & Power. We want to Synergies professional integrity with a passion for path-breaking growth and success and to create unparalleled customer value through engineering and manufacturing excellence."
Being a big fan of situational leadership, Sanjiv believes that change is situational and the means to bring it alter according to given circumstances. However, to push his vision forwards, he relies on his three sharpest arrows in his quiver, which include, responsiveness to the situations, attitude, and capturing the voice and needs of the customers.
"Leadership is putting the right people with the right kind of motivations at the right time on the right job. It may sound easy but it is far away from that," says Sanjiv. He firmly believes in his people, their intentions, and their willingness to succeed by tapping into their skills and capabilities.
They have an exceptional culture in their organization that encourages innovative solutions that can bring change into different sectors. Sanjiv adds, "We train our engineers in a way they come out with winning strategies be it operational, technological, sales, or marketing-related."
A unique approach to work and personal life
Being a seasoned business leader and CEO of the company, Sanjiv's sole responsibility is to grow the business organically and inorganically.
"To make it reach a position where more and more stakeholders want to attach with SWOP. And as I have already mentioned before only happy stakeholders will work together to make a profitable organization that will benefit everyone.No two days are the same at SWOP however I try and dedicate my first half to myself, organizing the daily work in terms of key pointers which I need to be accomplished today as an individual. My second half is dedicated to external work as in my team, project reviews, my customers, resolving issues taking calls from different time zones," he expresses.
Anything worth fighting for always has the potential to unbalance a person. He states, "The choice has to be yours whether you can deal with the consequences of your choice in a sane manner or not." He does not strive to create a balance between his personal and professional life. He believes that balance needs to come from inside where a person's mind is in a state of calm so that one can take out the best according to the given situation.
Personally, Sanjiv likes being organized, punctual, and tries hard to go home on time. He adds, "It doesn't always work like that always, but I make sure not to carry backlogs home."
He urges the aspiring leader to dream for the impossible and pursue mastery. He quotes, "In your pursuit of perfection, you will always achieve excellence."
Laying down smart pans for future
Sanjiv mentions, "We have very Aggressive plans for SWOP, in the short run, we want to negotiate the pandemic without any salary deductions or major impact on our stakeholders. It is a difficult time we are going through however we do have long-term plans and as I said before we want to attract more stakeholders in the future and diversify our product portfolio as well as industry."
On the personal front, he aims to create a self-sustaining business ecosystem that delights customers, shareholders, and employees with health, safety, and happiness.