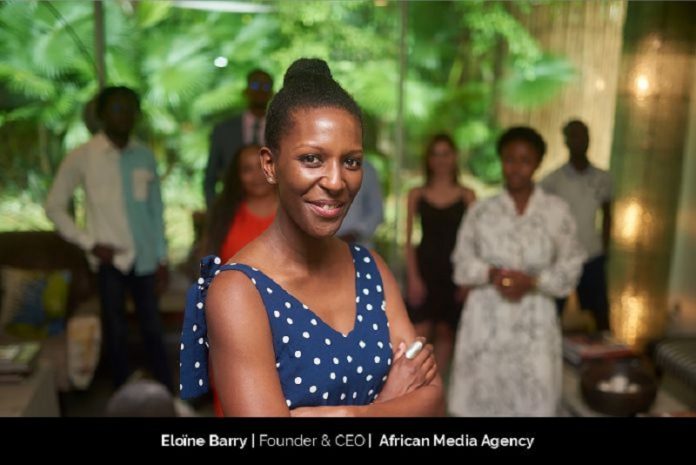 With more than 15 years of experience in the communications industry, Eloïne Barry launched the first-ever press release wire distribution service dedicated to the African continent. Eloïne is the Founder and CEO of African Media Agency, an integrated communications agency that provides a range of services to help clients effectively communicate their message and achieve their goals.
Eloïne has had a phenomenal professional growth in the last couple of years, with numerous achievements and contributions to the communications and PR industry. She has been recognized for her work in promoting African voices and stories on the global stage and for launching AMA Academy, a training platform for African journalists.
"My vision for the company is to be the leading provider of comprehensive, innovative, and impactful communications and PR solutions in Africa for our African and international clients, delivering measurable results that drive business success and strengthen brands."
Eloïne's resolution to shape her career through effective change
Eloïne Barry was born and raised in Lyon, France, in 1981 to a Senegalese mother and a father who hails from Guinea-Bissau. As a child of the diaspora, she was determined to change the narrative about Africa and contribute to a more accurate and nuanced portrayal of the continent.
The media industry has undergone significant changes in recent years. With the advancement of technology, the industry has become more accessible and global, with the rise of streaming platforms and online content. This has led to an explosion of diverse voices and perspectives, as well as new forms of storytelling and content creation. At the same time, the industry has also faced challenges, such as the impact of the COVID-19 pandemic on production and distribution. Overall, the media industry continues to evolve and adapt to new technologies and changing audience preferences.
"I knew that the media had a powerful role to play in shaping public perception and understanding, so I decided to pursue a career in communications. I was determined to succeed and was not deterred by the challenges and obstacles that I faced along the way; I worked hard to develop my skills and knowledge in this field," she states.
Eloïne has always been committed to continuously make a difference in the media industry, even though others may have assumed that she was going to work in charity simply because she decided to work in Africa. She always knew that this decision was the right call to make a meaningful contribution. Eloïne has continued to work hard and pursue her goals with determination, and her efforts have definitely paid off.
Eloïne's award-winning PR communications company was founded as an answer to the rising need of multinationals, NGOs and international organizations to reach a broader audience in every African country, directly impacting their business strategies and goals.
Before founding the African Media Agency, Eloïne was the Executive Director of the African Press Organization. She graduated with a Masters of Communications in Public Relations & Marketing. She also received a Bachelor of Arts in English Literature from Université Lumière Lyon 2. Eloïne also completed the Global Advanced Management Program, Executive Education, and Executive Global Advanced Management Program from IE Business School.
Eloïne commands a profound understanding of the African communications landscape with years of experience in the European and African communications industry. With an extensive background in media relations, corporate communications, and investor relations, Eloïne has a proven track record in building and managing PR businesses. She is an accomplished team leader, across different geographies and virtual teams, with a deep understanding of the PR industry. Eloïne has unfailingly and consistently achieved and exceeded ambitious business targets.
Navigating roadblocks as a woman to create real and meaningful change
It is common for women to face a range of challenges and obstacles, particularly in male-dominated fields. These challenges can include discrimination, bias, and stereotyping, as well as the difficulties of balancing work and personal commitments. Female leaders may also face additional pressure to prove themselves and to succeed in order to demonstrate that they are capable of leading and achieving success.
While these challenges can be difficult and frustrating, Eloïne believes that they can also be opportunities for growth and development. By addressing these challenges head-on and continuing to learn and adapt, she has developed resilience, self-confidence, and leadership skills that serve her in her career.
"It is often through facing and overcoming challenges that individuals can grow and reach their full potential," she states.
There is no doubt that every business faces challenges and setbacks. If you're not struggling to keep up with the competition, find enough funding for your operations, or adapt to the ever-changing trends of your industry, you may be doing something wrong. Even though these kinds of struggles can put a strain on a business, Eloïne believes that they can also make it stronger.
"The key to overcoming business challenges is to approach them with a problem-solving attitude. This means learning from mistakes or missteps, and not letting them get you down. It also means learning from the successes of other companies, so you can avoid making the same mistakes they did if you face similar challenges. And finally, it means accepting that there will be times when all you can do is wait for things to improve," Eloïne states.
Success is a personal concept
Success can mean different things to different people. For some, success may be achieving financial stability or reaching a certain career goal, while for others it may be about making a positive impact on the world or finding personal fulfillment. Ultimately, what defines success is up to everyone to determine for themselves.
As for Eloïne, success is about setting and achieving goals that are meaningful and important to her. It is about delivering resounding PR campaigns in Africa that get the expected results. It is also about creating an environment where all people will do the best they can and deliver their best all the time.
"This is very important because no company can achieve its goals without giving its people the space and opportunity to excel in their work. The atmosphere must be such that people have fun while they work and at the same time work with dedication and passion," explains Eloïne.
African Media Agency and their exceptional services 
The company, African Media Agency (AMA), offers public relations, creative, and digital marketing services to help clients create strategic, content-rich campaigns that inspire action and build value.
AMA has an extensive presence on the African continent, with offices in Abidjan and Kampala, as well as a local presence in more than 18 African countries. This allows the agency to be insightful of the dynamic of African newsrooms, the challenges that journalists face, and the different styles and editorial cultures within the continent. This local knowledge and expertise allow them to provide a level of insight and cultural awareness that may not be available from other agencies as well as effectively connect clients with key audiences and create campaigns that are tailored to the unique needs and preferences of African markets.
Another key differentiator of AMA is its integrated approach to communications. By combining PR, creative, and digital marketing services, they create comprehensive campaigns that engage audiences across multiple channels and platforms. This allows clients to reach and influence their target audiences in a more effective and efficient manner.
"Overall, we stand out from other media agencies by offering a unique combination of local expertise, integrated services, and a commitment to helping clients to improve and achieve their goals," Eloïne proudly states.
Vision for the growth of African Media Agency
Eloïne's vision for the company is to be the leading provider of comprehensive, innovative, and impactful communications and PR solutions in Africa for their African and international clients, delivering measurable results that drive business success and strengthen brands.
The company is accomplishing this by building a team of highly skilled and passionate professionals who are dedicated to excellence and who share its commitment to delivering exceptional service and value to its clients. At AMA, they have also sought to empower and uplift the African media industry by collaborating with and supporting local media organizations and journalists.
"We will continually strive to stay at the forefront of our industry in Africa, embracing new technologies and approaches that enable us to provide our clients with the most efficacious, coherent and systematic solutions. We are a responsible and socially conscious company, committed to building strong, positive relationships with our clients, employees, communities, and the environment," says Eloïne.
Responsibilities as CEO & Founder of AMA
As a strong and inspiring leader, Eloïne's major roles and responsibilities include setting the overall vision and key strategic priorities for the company; leading and managing the team of employees; developing and maintaining relationships with clients, partners, and stakeholders; managing the financial performance of the company; identifying new business opportunities; overseeing the development and implementation of marketing and PR campaigns that promote the company and its products or services; ensuring that the company is compliant with relevant laws and regulations and providing leadership and guidance to the team to foster a positive company culture.
Eloïne says that motivating employees is an important part of running a successful business, and there are many different approaches and strategies that can be effective. Some ways to motivate employees according to her may include setting clear goals and expectations, providing opportunities for growth and development, recognizing and rewarding good performance, offering competitive compensation and benefits, and creating a positive and supportive work environment.
"As a business owner, it's also important to stay motivated and engaged in your work in order to lead by example and inspire your employees. This can involve setting personal goals, continuing to learn and grow, and finding ways to stay energized and focused on your work," she further states.
Eloïne's message to aspiring business women:
Starting and running a business can be a rewarding and challenging experience, and it takes hard work, determination, and resilience to succeed. It can be helpful to seek out support and resources from other business owners and organizations that can help with networking, training, and advice. It's also important to be open to learning from your mistakes and to continue to grow and adapt as a business owner.