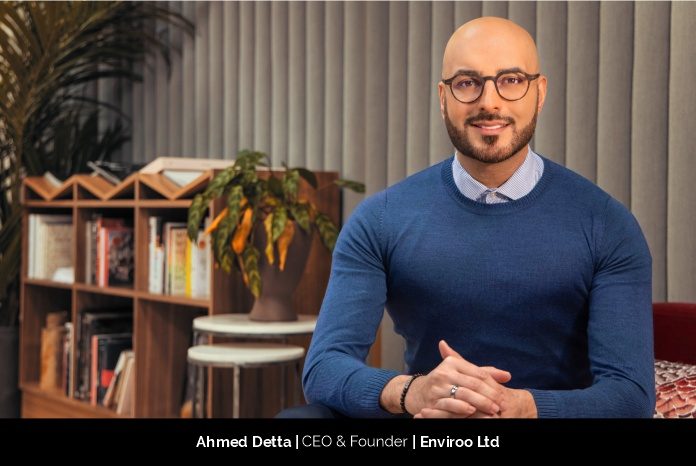 With plastic pollution advancing at an unprecedented rate and continually posing a serious threat to humanity, several leaders have taken action to limit plastic waste and recycle it responsibly. One such changemaker is the Founder and CEO of Enviroo Ltd, Ahmed Detta. He came up with the concept to bring a change in human's existing relationship with plastic and driving change by creating habitual behavioural patterns that are easy to adopt and implement. Brimming with passion about restructuring the current recycling industry, his recycling career has evolved from recycling mobile phones, office IT equipment, and progressed to plastic.
He says, "We are all guilty of lambasting plastic but not actually working collaboratively to create solutions. Recycling, if done correctly an opportunity to make a positive change to the world that encapsulates both environmental and social impact gains."
Laying the foundation of Enviroo Ltd
Enviroo came into existence when Ahmed decided to meet the UN SDGs and create a super-effective social impact strategy and DNA level circular economy approach to bring about change. His industrious team will be creating food-grade polymers to a recognized standard globally.
Every company faces numerous hurdles in its path to success. Enviroo also faced many problems, and the biggest setback was posed by the lack of legislation. However, Ahmed and his tenacious team always strived hard to conquer the macro challenges faced by the industry and focussed on overcoming all the local challenges to make their mark.
The strong teamwork and a good dose of patience paved their way to success and assisted them in getting over all the impediments on the way.
Overview of Enviroo Ltd
Being an agile and nimble organization, the company stays ready to adapt and react as per the industry changes, and this has offered them an edge over other competitors in a perfect manner. The team at Enviroo always supports as well as interacts with all the industry bodies to be aware of all the upcoming challenges they may face and find relevant solutions beforehand.
Dedicated to making a difference in the world, Enviroo always stays one step ahead with its social impact commitments. They have re-branded to Enviroo and have amalgamated social impact with innovative technology to develop a better environment that is best suited for both current and future generations.
Transforming the Recycling Industry with Enviroo Ltd
Enviroo aims to strike on bringing a shift in the behavioral habits of plastic users so that no plastic gets dumped in the oceans or landfills. The company is responsible for recycling 100% of Polyethylene Terephthalate (PET) plastic waste and creating unity among all the circular economy stakeholders. Also, this change is only possible if the entire landscape of the plastic industry gets ready to bend and people witness the implementation of stringent protocols and regulations in the best way.
Ahmed shares, "Contribution to this growth has stemmed from the belief that Enviroo is providing a long-term solution. When you take a long-term view, growth, and scale, this becomes a very clear process that is both tangible and achievable."
Ahmed has formulated a 5-step process for responsible recycling:
Collection of PET plastic by Local Authorities or Waste Operators, which is purchased by Enviroo for further processing.
At Enviroo, the processing of the plastic waste is done via a wash line that produces flakes.
Then, the transferring process of these flakes to an extruder takes place that converts them into polymers.
All these polymers are later used to design pre-molds for bottles by manufacturers.
The manufacturers transform the pre-molds into bottles which are then distributed for client consumption
Awards & Accolades
As Enviroo begins to implement its operations successfully, it has been called a Disrupter in the field of recycling. Some of the recent awards include being ranked 10th Most Disruptive Company in the UK as per Disruption50 Index by Disruption Hub, Most Progressive Circular Economy Recycling Firm 2019 by Build Magazine, Social Impact Accreditation Issued by the Social Stock Exchange, one of the top disruptive Tech companies to watch in 2020 by Industry Wired, Top Revolutionary Tech Companies of the year 2020 by GlobalTech Outlook.
Inside Ahmed's Life
Ahmed always wanted to revamp the present recycling industry, and he became successful by ethically recycling plastic waste with smart solutions. So, after completing his BSc of Science in Marketing at Lancaster University in 2003, he went on to pursue jobs in marketing until he took the onus of becoming the Program Director at The Green Foundation. After 1 year, he enrolled for his post-graduation in Sustainable Business from the University of Cambridge. Since then, he worked in numerous roles until he became a founder of Ducycle in 2014 in the UAE.
He is currently pursuing MBA in Business Administration and Management from Quantic School of Business and Technology and will graduate in 2021.
After attaining success, Ahmed wanted to achieve the same success via Enviroo in the UK in 2018. His prime role as the CEO involves Stakeholder engagement, driving growth/profitability/ championing recycling in the industry, and creating long-term solutions. He even keeps his team motivated by ensuring that their immense knowledge is creating a huge difference in the world. He further explains, "Every single piece of plastic recycled will make a monumental difference over the long term to preserve the beautiful earth we live on for future generations to come."
Future Roadmap of Enviroo Ltd
Ahmed shares, "We plan to look at a number of different forms of plastic recycling. Once we have established our Polymers across the industry, our next mission is to look at 'tray to tray' recycling as well as PP materials."
Ahmed had always aimed to make plastic recycling a positive habit that must be inculcated in everyday behavior and instill the belief that profiteering from this process is good for all involved. He led the entire business model from its concept to full equity investment funding for a recycling facility in the Middle East. In the future, he plans to replicate the same model of creating a visionary recycling business across the UK market as well.