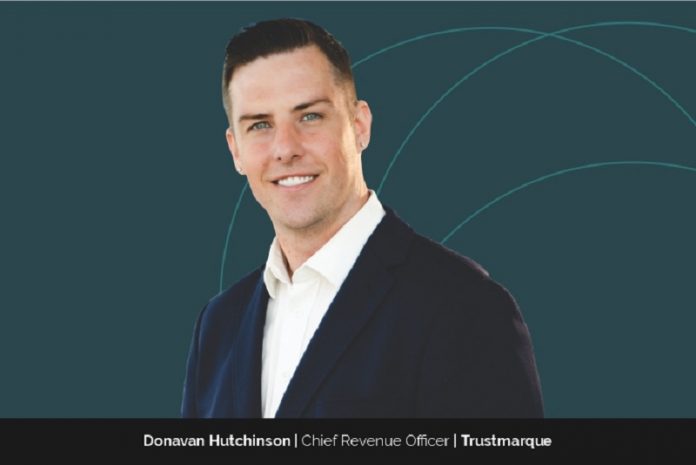 As Chief Revenue Officer of Trustmarque, Donavan Hutchinson observes that DEI leadership resonated with him because it aligned with his core values of fairness, equality, and respect for every individual. "As an openly gay man, it goes beyond mere compliance with legal requirements and taps into the transformative power of embracing diversity and fostering an inclusive culture," he states.
Witnessing firsthand the positive impact that an inclusive environment can have on employee morale, engagement, and innovation further motivated Donavan, and he realized that embracing diversity and providing equal opportunities can help tap into a wealth of ideas, perspectives, and talents that fuel creativity and drive organizational growth.
Uplifting Others by Advocating for Diversity, Equity & Inclusion
Throughout his career journey that has already spanned over 20 years in the technology industry, where he has had the privilege of working for various Technology VARs (Value-Added Resellers), Donavan consistently focuses on driving equity for all and creating a culture of inclusion and diversity in every organization that he is part of.
One of the driving forces behind his commitment to diversity and inclusion was his upbringing and the strong support system of his family and friends. "They have inspired me to be the best version of myself and have instilled in me the value of uplifting others. I firmly believe that a workforce where individuals could be their most authentic selves would lead to a happier and more productive environment, ultimately driving business success," Donavan maintains.
As a result, joining Trustmarque was a natural progression in his career, as its values and commitment to diversity, equity, and inclusion resonated deeply with him. This allowed Donavan to continue advocating for these important principles and further drive positive change within the organization and the industry as a whole.
During his professional journey, Donavan encountered several roadblocks that not only provided valuable lessons but were also influenced by his identity as a proud gay leader. One significant roadblock that he faced was the prejudice and discrimination he encountered in certain professional settings due to his sexual orientation. These experiences and unique challenges taught him the importance of resilience, authenticity, and the power of representation, and further fuelled his vision to inspire individuals from marginalized communities to be the best version of themselves.
Navigating these roadblocks reinforced Donavan's belief in the necessity of diversity, inclusion, and equal opportunities, and motivated him to create a work environment that not only embraces and celebrates individual differences but also actively supports and empowers those from marginalized communities.
Fostering An Inclusive Workspace Where Everyone Feels Valued and Respected
Trustmarque is an established organization that specializes in providing technology solutions and services to businesses in the UK, and also has a foothold in Europe and America through the acquisition of Livinsgtone, a Gartner Magic Quadrant technology asset management provider.
It offers a range of IT solutions, including cloud services, cyber security, digital transformation, and software licensing. The company recently launched it rebrand, acquired Livingstone, and is making an impact in a crowded market.
As an agile organization, Trustmarque possesses the unique skill of setting up customer forums and communities to help understand customer needs and challenges. During these sessions, they hear from their customers to help them deliver tailored solutions that address their specific requirements.
Earlier this year, Trustmarque was honored to sponsor York Pride and stand alongside the LGBTQIA+ community in their pursuit of love, acceptance, and equality. As one of the UK's most accredited IT solutions providers, the organization is committed to fostering an inclusive workspace where everyone feels valued and respected.
As the Chief Revenue Officer at Trustmarque, Donavan's responsibilities revolve around driving revenue growth, fostering customer relationships, and ensuring the success of their sales and revenue generation strategies. For him, a typical day at work starts with reviewing sales performance and pipeline metrics, analysing key trends, and identifying areas for improvement.
"I collaborate with the sales team, providing guidance, coaching, and support to drive their success, across our bases in York and London. I regularly meet with colleagues from different departments, such as marketing, product development, and operations, to ensure that our revenue strategies are well-aligned and integrated across the organization," he says.
Donavan's plans for the future of Trustmarque are quite simply, to grow. He firmly believes that, as an organization that focuses on its people, partners, and customers, Trustmarque has all the right attributes to become the number one trusted partner chosen by its partners and customers for adding value.
"We've already had a seminal year after launching our new brand. The initial feedback on the rebrand has been phenomenal. You can really see a wave of momentum across the organization as people look forward to sharing the evolution of our business through this relaunch. Externally, our technology partners have also been incredibly supportive and positive about the changes, which is a testament to the way our marketing team has sought to align the new brand to our customers, our partners and, the shifting landscape around us," he elaborates.
Becoming a Catalyst for Positive Change and Growth
Donavan strives to be a 'catalyst' for positive change and growth, both within the organization and the broader industry. By driving revenue growth, fostering inclusive cultures, and championing diversity, he aims to ignite transformation and inspire others to reach their full potential.
He points out that education and awareness play a crucial role in creating a more inclusive and equitable society, and one way in which he aspires to contribute is by providing educational resources, actively engaging in speaking engagements and events focused on DEI and engaging with educational institutions to promote DEI. By sharing his insights, experiences, and knowledge with his 10,000 plus followers on LinkedIn, Donavan hopes to influence industry conversations and encourage organizations to prioritize DEI as a strategic imperative.
"I am vocal in this space and it's for good reason: through thought leadership articles, blog posts, or social media content, I strive to raise awareness, challenge biases, and promote best practices in DEI. Recently, I joined Microsoft UK for a special Pride Power Hour where I represented the Microsoft Partner ecosystem in a panel discussion tackling key topics in the community," he shares.
At this year's inaugural Trustmarque Fusion event, Donavan hosted a DEI Leaders panel with representatives from Microsoft, Cisco, and Dell. The topic of conversation not only focused on sexuality and acceptance in the workplace but also on gender stereotypes and attitudes to personal vulnerabilities. Openness and transparency rang true as the panel discussed their own experiences and how they embraced their vulnerabilities during their careers, from homophobia to cancer and remission, and also social mobility.
"By sharing knowledge, experiences, and insights, I hope to inspire and equip the next generation with the tools they need to champion diversity and inclusion in their own lives and future careers," Donavan affirms. "I aim to inspire young individuals to embrace their unique identities, talents, and perspectives. I want to empower them to navigate any challenges they may face and pursue their goals with confidence."
Furthermore, as a Governor for Barnsley College in Yorkshire, Donavan is actively involved in inspiring the younger generation and is dedicated sharing his experiences, knowledge, and insights through mentoring, speaking engagements, and educational initiatives. He is also a CRN judge, and this year will be on the panel for the CRN Women and Diversity in Channel Awards, making a meaningful and lasting impact on the channel industry.
These awards hold immense importance for Donavan as they celebrate the diverse voices within the channel industry and provide a platform to inspire change and inclusivity. He thinks of these awards as an opportunity to recognize outstanding achievements, initiatives, and contributions that promote diversity and empower women across Trustmarque.
One of Donavan's personal aspirations is to establish a Riding for Disabled (RDA) facility in the future. This initiative aligns with his passion for creating inclusive and empowering environments. He believes that setting up an RDA facility would provide individuals with disabilities the opportunity to engage in therapeutic horseback riding and experience the physical and emotional benefits it offers. This endeavour would also allow him to extend his commitment to diversity and inclusion beyond the workplace and make a tangible impact on the lives of those in need.
Cultivating and Maintaining a Culture Built on Integrity
As a leader, Donavan's definition of success is not centered on external accolades or achievements, but rather on the positive impact he can create on the lives of others. He believes that success is about fostering an environment where his team members feel empowered, inspired, and supported to reach their full potential.
"It's not just about meeting financial targets or gaining recognition, but about creating a sense of purpose and fulfilment within the organization," he insists.  "I've been fortunate to receive several accolades and nominations for various awards throughout my career. While these recognitions are undoubtedly appreciated, my focus and commitment have always been directed toward helping others rather than raising my own profile. For me, the best recognition I have received as a leader goes beyond individual honours. The greatest recognition comes from witnessing the growth and success of those I have worked with, mentored, and supported along the way."
Donavan firmly believes that a culture built on integrity fosters trust, accountability, and ethical behaviour, and shares several ways in which he strives to cultivate and maintain such a culture, in his own words:
Lead by example: As a leader, I understand that my actions have a significant impact on the team. I consistently model ethical behaviour, honesty, and transparency in all my interactions.
Clearly define expectations: By providing clarity, team members understand what is expected of them and can align their actions accordingly.
Encourage open communication: I create an environment where team members feel safe to voice concerns, ask questions, and report any ethical issues they may come across.
Provide training and resources: I ensure that the team receives appropriate training on ethical decision-making, conflicts of interest, and compliance with relevant laws and regulations.
Foster a supportive environment: I actively promote a supportive and inclusive team culture where everyone feels respected and valued.
Regularly reinforce and recognize integrity: I highlight real-world examples of integrity in action and recognize team members who exemplify ethical behaviour.
Address ethical issues promptly: By handling ethical concerns transparently and decisively, I reinforce the team's trust in the integrity of our culture.
Prioritizing Self-Care and Well-Being
As a loving husband and father of two, Donavan admits a balance between personal and professional life has been a challenge, but he's deeply committed to driving change and creating a positive impact. Recognizing the importance of taking care of himself both physically and mentally, he prioritizes self-care and well-being. This includes setting boundaries, practicing mindfulness, and ensuring that he has dedicated time for rest and rejuvenation.
"By prioritizing my own well-being, I'm better equipped to lead and inspire others. I also leverage technology and efficient work practices to optimize productivity. Embracing digital tools and platforms allows me to stay connected and productive, even while traveling or working remotely. I utilize scheduling and time management techniques to ensure I allocate time for both personal and professional commitments," he concludes.