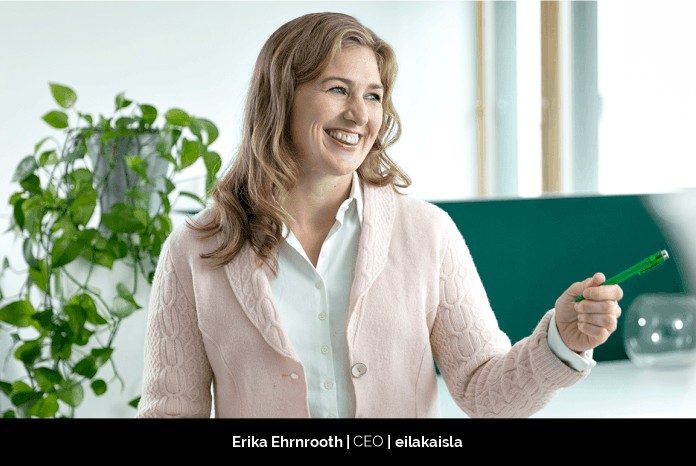 Erika Ehrnrooth, CEO of Eilakaisla, believes that success is all about fulfilling whatever a person wants to achieve. The goal might sometimes be a long hauled one, and that is why it is important to set partial milestones and celebrate them as a person moves forward.
To communicate the goals, lead and coach the way is one of the most important tasks for a successful leader. A good leader communicates a clear vision, targets and unleashes talent by providing space for development.
She adds, "I think that one of the most important tasks of a leader is to help remove obstacles and enable their team members to deliver to their full potential. A successful leader also ensures that people understand the connection between their own role and the company mission, helping everyone to realize the meaningfulness in the job they do."
Behind the scenes
Erika's driver has always been customers or consumer-centric sales and the commercial success that comes out of combining the forces of marketing and sales, leading to customer satisfaction, when putting the customer and her/his needs in the center.
As she progressed in her career, she learned the value of using data in the combination of sales and marketing to maximize marketing ROI and sales.
She was handpicked for a job as Marketing Executive at American Express in Finland, responsible for launching the Platinum Card and the Premium Relationships with Private Banks. It was an amazing experience for her as she could create and develop things on her own. She reported everything back to the Country Manager, who believed in her abilities.
She adds, "We joined forces later again, at a C-level position with lots more responsibility for both personnel and markets, that I could have had trouble landing unless the recruiting manager had known what I am capable of and had faith in me. This made me realize how important it is to always do your best but on the other hand as a recruiting manager to identify people who have something that might develop them into diamonds."
The red thread in her career is about strong brands, marketing, sales, and the seamless match of them. She has worked for a few family-owned businesses, both Finnish and international ones, and both privately held and public companies focusing on the Finnish market but also the Nordics.
She joined forces with Eilakaisla four years ago as the CMO and progressed to grab the title of CEO. She states, "Although I have been working in several different industries before and practically always changed industry once changing jobs, this is a totally different story than any other I have experienced before, mainly because we are in "the people business – people to the people by the people" so lots of cultural, personal and ethical matches besides all the labor laws you need to handle."
Getting stronger with challenges of the life
Erika expresses, "My motto as a teenager was "What doesn't kill you makes you stronger," as it felt relieving when facing disappointments and sadness related to family issues. As it is a bit too morbid for my persona, I changed it into "see all changes as opportunities," and as there's a little fatalist living somewhere in me, I have backed it up by believing that "everything happens for a reason." This brings comfort and faith when facing crises when you resiliently are trying to resolve the situation."
Just before joining Eilakaisla, she reached the final stage of another C-level recruitment process, but got called off, as the company got acquired and stopped the recruitment altogether. She believes the reason for her not landing that job was because faith played a role, and she was destined to find herself at Eilakaisla.
Overview of services at Eilakaisla
Eilakaisla is a Finnish family-owned business that offers staffing and HR services on a national scale.
They offer comprehensive Recruitment services (partly or fully produced), including advertised search, talent sourcing, anonymous recruitment, executive/direct search (Headhunting), Staff leasing, Outsourcing solutions, Outplacement coaching, Talent Assessments, and Consulting services.
They provide competent employees for permanent and temporary employment in all business sectors and with special competence in all kinds of office jobs.
Erika adds, "We are currently celebrating our 50th anniversary and are proud to be the most experienced Finnish staffing service company. We have a very strong brand, and we are known for being a reliable partner delivering professional employees with swift service. We strive to offer the best service experience in our business area, focusing on the quality of our operations."
Utilizing innovative ideas to attain the vision.
Following the footsteps of the company's deceased founder, who believed that "a rolling stone does not gather moss," they are setting standards higher, and for that, they have already digitized their business and even launched an online tool for anonymously searching for talents in their databases. She further states, "It has been popular among both companies and people looking for new jobs or additional jobs, and we are thrilled to be the first to offer such a service giving talent seekers a sneak peek into our databases!"
Erika states, "I believe in strategic customer relations, and therefore trustworthiness and responsibility are key factors for our business model to work."
She is super proud to pull off their company's first corporate responsibility program and report ready last year amidst the pandemic. The best thing was that inspired by this responsibility program, they planned to celebrate the 50th anniversary by giving back, i.e., to serve society and especially the Finnish labor market by donating their expertise in terms of time.
Not just this, they even began a campaign where they proffer their competence and time for free for a plethora of causes that job seekers, customers, organizations, or anyone of the Finnish population, had voted for.
Striving for great work-life balance
As the CEO of Eilakaisla, she manages a team of three people, which consists of the Sales Director accountable for sales, operations, and marketing, a Financial Manager, and an HR and Development Manager accountable for HR, payroll, and IT. Thus, she is occupied with multi-faceted tasks every day.
Being a people person, she states, "I am an advocate for involving people without considering the organizational rank, age, or work tasks, and that has given me the opportunity to work with lots of colleagues at Eilakaisla on different projects." Owing to this, she comes in contact with different colleagues, contributes to open discussions, and furnishes a trust-based culture.
Keeping her determined self forward, Erika boldly faced the pandemic and took the company to the top position again. She thinks that explaining using examples and exhibiting fair leadership with crystal-clear visions and smooth communication helps her team to push beyond limits.
She further says, "Only by understanding the big picture can you lead the way, but without understanding all parts and how they fit together, you will not be able to lead towards success." To date, walking the talk is her ultimate strategy to engage people to aim higher and work harder.
She firmly opines that a steady work-life balance promises great leadership ahead. As Erika and her husband have three primary school-aged children, they have employed five different French au pair girls during five years who lent their hand in taking care of the children, their hobbies, and day-to-day chores. She is proud of this decision as it also helped them in practicing French and learning deep insights about the French culture and cuisine!
Charting the roadmap ahead
At Eilakaisla, everyone is concentrating on taking the opportunity to grow ahead and grow the revenue and personnel KPI's besides maintaining a healthy economic structure.
She is also aiming to get a board assignment at another company to propel their growth through her experience, insight, and ability.
Sharing her strong message for all aspiring businesswomen, she says, "Always stay curious and keep developing yourself. The one who has learned to learn will manage, as we ourselves need to stay on top of development and realize that one career does not necessarily be enough. Be the disruptor, do not get disrupted!"