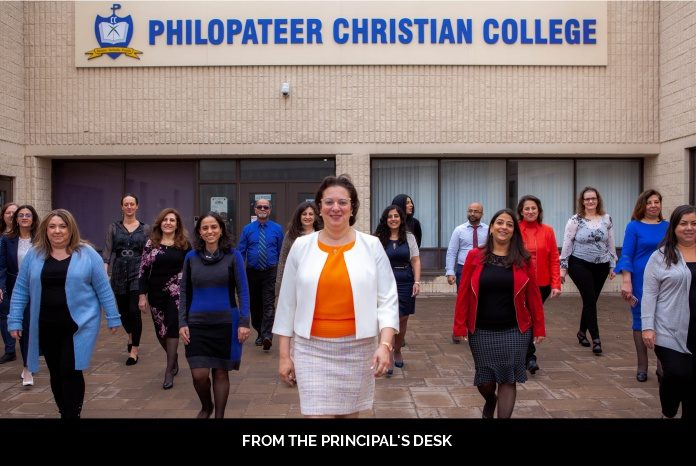 PCC shapes children into well-educated and well-rounded leaders eager to change the world with empathy, courage, and integrity.
Steering the school into its well-deserved renown is PCC's principal, Phoebe Wasfy, a force as strong to reckon with as the institute's foundation. As an integral part of the school, she not only handles the administrative aspects with finesse, but her leadership sets an example for all educators.
In leading the school's day-to-day operations, Mrs. Wasfy ensures that her students' experience is not limited to the classroom walls, but offers a well-rounded perspective to help them become global citizens.
"At Philopateer Christian College, it is our vision to prepare our students to become well-rounded leaders of tomorrow, following in their Master's footsteps," says Principal Wasfy. "We do this by helping them believe in and develop their God-given talents in the right environment, guided by highly qualified teachers."
An inspirational leader in the field of education
An Egypt-born Canadian, Principal Wasfy began her career as a teacher at Philopateer Christian College in 2005. She holds a Bachelor of Arts in History from the University of Toronto, Mississauga, and a Bachelor of Education from D'Youville College.
She also received a Higher Education Certificate from Harvard University, and a Master of Education in Educational Leadership and Administration from the University of Western Ontario.
Principal Wasfy's work has led her to be recognized as a leader in her field internationally, nationally, and locally, leading to her being selected in 2021, as one among the 100 Most Inspiring Women in Canada.
Her active involvement in the field of education also earned her the Arab Women of Excellence Awards in Academia from Life Transformation Academy (Calgary, Alberta – Canada). In addition, Principal Wasfy has been active with the Ontario College of Teachers and the Ontario Principal Association.
Overcoming challenges to ensure students' success
Principal Wasfy notes that as a private school, PCC has faced, and continues to face numerous challenges, such as the building of a strong and integral reputation while recruiting families to make a big investment in the education of their children, even as they have the option of choosing publicly funded schools.
Also, as a private school, laying a solid foundation for students, as well as gaining the support and belief of parents, in the vision of building well-rounded leaders for the future, is another challenge that PCC continues to face.
"Involving parents, while maintaining a high level of professionalism, is also a challenge. Yet none of these challenges stopped Philopateer Christian College from becoming what it is today!" she says. Principal Wasfy takes pride in the programming introduced to help ensure the success of the students at PCC.
"We believe that our Pre-JK class for students who have turned three years old is an excellent introduction to the world of education," she states. "French Immersion has also been a big part of our school from JK to grade 8, while students who continue in our French program, through High school, graduate as bilingual students."
Adopting the opportunity of online education
In January 2021, PCC was chosen among six schools in all of Canada to launch the Pre-Advanced Placement program. The school has become an institution of choice for international students from China, Brazil, Korea, Egypt, and many other countries around the world.
"Although COVID stopped travel, we embarked on our Virtual High School platform that is now expanding worldwide and bringing our school to students in the comfort of their homeland," says Principal Wasfy. "While online learning has become the norm in the world we live in, many of the educational accountability pieces were tweaked to help people cope with the situation."
At PCC, the adjustments came through implementation of certain norms in the Virtual High School platform. While some public boards opted out of exams, PCC invested in a proctoring system that allowed their students to continue to do their exams and be well prepared for their future studies.
Principal Wasfy notes how the whole world of education reformed into a new realm since the pandemic hit. For years leading up to the pandemic, universities and high schools in Ontario created many online programs and courses. Yet, when the pandemic hit, the world of education seemed shocked and perplexed with the changes imposed and the move to the virtual education realm.
"It is now a reality and, as a school, we took it on with finesse," she says. "Virtual education in the new world of education, and with proper direction, will bring the concept of globalization of education into a reality that will forever impact the world."
Giving students a well-rounded education
In upholding high standards in their academics and helping students learn accountability and integrity, PCC has been able to maintain a high-achieving culture, and empowered students to become well-rounded young people ready to face future endeavours with courage and integrity. As a private school, the concept of earning grades deserved is integral to PCC's reputation.
"Taking our vision to heart, our school ensures that our students not only learn in a very highly motivational environment, encouraging them to excel, but also reach the highest levels they can," says Principal Wasfy. "We do so through setting up opportunities for them through academic programs, as well as extracurricular activities that emphasize local involvement and also global exposure. We educate our students to have a balance and be actively involved."
PCC believes that in educating students, they are educating the person as a whole, and creating many opportunities for students to grow their talents, thereby giving them a well-rounded education with an innovative touch.
This tradition extends to the introduction of programs to help kids explore their talents and develop skill sets, helping them access their full potential so they can be successful in whatever path life takes them on.
In the spirit of this tradition, the school organizes an annual musical on the largest stage in the city, involving the entire student body in every aspect. This tradition has helped PCC be seen as an innovator among their peers.
Raising leaders with servant hearts
The school also believes in raising leaders with servant hearts, which involves taking students overseas on humanitarian trips over spring break, to see and work with the less fortunate.
On these trips, students have been introduced to international NGOs and hospitals that help them build relationships to continue their work when they return home. Locally and internationally, PCC students are given opportunities to create initiatives that help raise funds and awareness to help the less fortunate.
Even through the pandemic and the travel restrictions, the school created opportunities for students to raise awareness and funds for one of the UN's sustainability projects, "Decent Life," and virtually participate in the World Youth Forum, held last January in Egypt.
"The Pandemic was an opportunity for success at PCC," says Principal Wasfy. "When the whole world shut down, we took the opportunity to expand our school throughout the world. We implemented so many initiatives that have brought our student numbers up and allowed us, as a school, to become a pioneer in many things. While everyone else was scrambling to make sense of the pandemic, PCC was becoming an innovative school, facing the challenges as opportunities."
Today, PCC is striving to expand worldwide, initially through its virtual platform, and with the aim of widening its reach to physical campuses worldwide, in the near future.
"We're striving to continue to be a beacon of education shining through the world through our initiatives and our graduates," states Principal Wasfy. "PCC is changing the world one student at a time! We believe in our students and believe that they are ambassadors for our school. When they graduate, we believe that this is really the beginning of our story. We wait to hear where they go and what they do and we celebrate what they become. Hearing back from our alumnus and their post-secondary institutions, as they thrive in their fields of studies, keeps all the staff at PCC motivated and believing in their mission and vision. Our students are not just a name on a list or a picture on a wall – they are our reputation and our future! Through God's help, we have succeeded in changing lives."