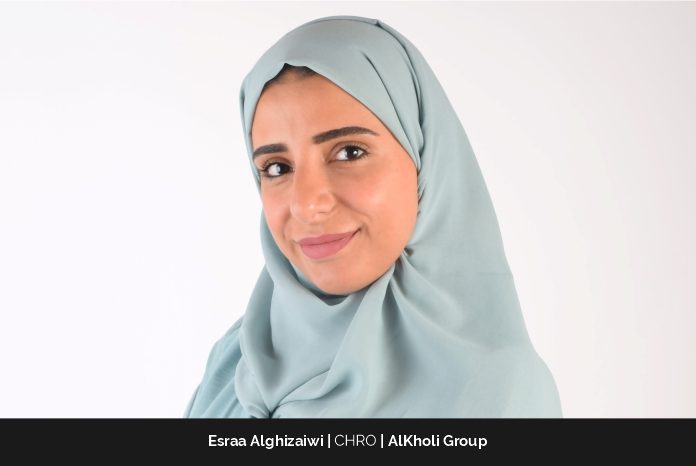 Since numerous organizations and industries have different hierarchies, the human resource's function is defined differently in each of them. Smaller businesses want an HR administrator who can manage a variety of jobs. Due to the fluctuating workload that the HR administrator interacts with, these firms provide some exposure and experience.
Larger companies, on the other hand, employ specialist HR Experts, including payroll or benefits Experts. They require more human resources skills to guarantee correct records and paperwork since their human resources departments manage more personnel.
"Life has no limitations; except the ones you make." Less Brown
Esraa Alghizaiwi is a skilled head of human resources with experience working in the field of strategic human resources. She holds a bachelor's degree in English Translation from King Saud University and is an experienced human resource professional with expertise in negotiation, customer relationship management (CRM), team building, corporate communications, engagement & culture, and Organizational Excellence. Having experience in those areas and managing to merge all of them in harmony makes all the difference as a human resources expert.
Esraa has been a human resources leader for six years now, and she has recently finished her first year with AlKholi Group. She gained a great variety of experience from her past experiences in different roles as a leader, which started with finding the best ways to enhance a mature organization and HR functions at the Modern Electronics Company of the AlFaisalisah Group aiming to move the company towards the modern views of HR. another challenge was to start building the HR Function from scratch at the start-up company King Abdullah Financial District, where her focus was to build the faith in the HR function as well as establish all the policies and procedures needed for a professional strategic HR function. And finally, in her role today, she managed to completely transform the organization and HR Function at the AlKholi Group, by pouring all of her experience to build a culture, proper procedures and lead the change management initiatives.
"It's never crowded along the extra mile" Wayne Dyer
Her undergraduate education and prior job path significantly contributed to all of her teams in the various firms being referred to as the "best HR team we worked with." Her considerable cultural training, along with her studies in languages and translation, has helped her be adaptable and better comprehend workers from other backgrounds. She was then directly impacted by the pleasure and suffering of the employees after working in employee engagement for a short while.
The Success Story of a Leader
Last year Esraa was one of KAFD Female Leaders who were chosen to be featured in Hia Magazine which spoke about the Women in Leadership Roles in the edition dedicated to Women International Day of 2021.
She was also recognized with several awards throughout her career, one was the Employee of the Year where she was chosen from 3000 employees.
Esraa led the strategic refreshing and rebranding initiative in the Saudi Holandi Bank where was working closely with the senior management in addition to leading the focus groups.
"I learned to always take on things I'd never done before. Growth and comfort do not coexist." – Ginni Rometty
Key to Stay Ahead
Esraa's basic principles, which are a language she uses and a practice she upholds, serve as the foundation for all of her daily interactions.
While there is more competition today, it is important to stay agile and ahead of the game in ensuring employee engagement and loyalty, this will enhance commitment and success in daily business and, ultimately, the bottom line of the organization.
Impacting the New Generation
Given that the world is changing quickly nowadays and that we have just recently learned to do so after the worldwide pandemic, each generation must adapt to the changes it brings about. Esraa has and continues to prefer to impact the people she meets by being a human member of a group that strives to achieve the goals, by offering individual support, training, and coaching, but being a leader in taking the fall alone or protecting anyone by taking the responsibility. Today's generations are constantly searching for a sense of purpose, which is a school Esraa finds part of. Esraa has seen the effects on individuals in her personal and professional connections, and she would want to continue having this kind of an effect on everyone she encounters. So, her main objective is to be a role model as a human first then a leader.
A Resilient Leader
Esraa oversees human resources for seven companies as the chief human resources officer for the AlKholi group. She was successful in transforming the HR department into a strategic partner over the course of the previous year. The management made the decision to expand Esraa's responsibilities to the Chief Shared Services Officer when this mission was completed to include Business Administration, Safety & Security, and Warehouse Management.
Making Difficulties a Ladder to Improvement
Every stage of Esraa's life has brought her a new obstacle, and when she looks back, she can see that the larger the challenges are, the more one develops and grows. Challenges do make you stronger. She discovered through her personal and professional path that everything happens for a purpose and that people are drawn to what they desire.
With those two concepts in mind and despite all the obstacles, Esraa is able to alter her career path and land her ideal position in HR before achieving her next goal of becoming the HR function's head. She accepts every obstacle with an outstretched hand in the hopes of conquering it since it always works.
Unifying Personal and Professional Life
Every job has its ups and downs, hectic days that may call for overtime. Esraa personally handles work-life balance by using a few time-saving techniques. She is an early riser and so always begins her day an hour or two before working hours. Despite how hectic the day is, she makes sure to pause midday for a 30-minute break to recharge my batteries. Esraa makes sure to leave any unimportant work-related thoughts at the office when her day is through, just as she does with unimportant personal-life ideas. She has been able to create better outcomes and find more energy and love for her work ever since she started using those guidelines.
Esraa applies the same concepts to her employees. She makes sure never to pressure them and relies on their sense of responsibility. She states, "never forget that we are all humans, and we could go through major personal or professional pressures. Therefore, teamwork and communication are key, I always ensure breaking the barriers between my employees and encourage the culture of working together, discussing ideas and initiative to help each other grow." Always promoting that I'm a friend first and a boss second.
True Success makes Impact.
Success for Esraa as a leader is characterized in two ways: upward and downward. The first is simple and consists mostly of doing what she enjoys on a daily basis while achieving the objectives of her employer in her area of competence, leading to both the expansion of the business and the advancement of her career. As for the aspect of the downward spiral that she believes is most crucial, it is investing and giving, whether to workers or anybody else looking to progress through coaching and making sure to leave a good impression on personal or professional growth.
Future of HR in Esraa's Views
With the rapid changes of the world in addition to the aspiring 2030 vision of Saudi Arabia; the demand to be the top global HR Expert is the key. In order to offer talent and forming alliances that boost investment returns and make a difference in its diversified domains.
Esraa intends to work closely with all the management teams to achieve the growth targets anticipated for the next steps. She recalls how challenging it was to break into the corporate world and how nerve-wracking it was to prepare for interviews, experiences that she had heard from many others. Because of this, she aspires to become an expert who helps aspiring leaders in the future.
Her message to the aspiring leaders is emphasized in the following quote by Ralph Waldo Emerson: "Do not follow where the path may lead. Go instead where there is no path and leave a trail."