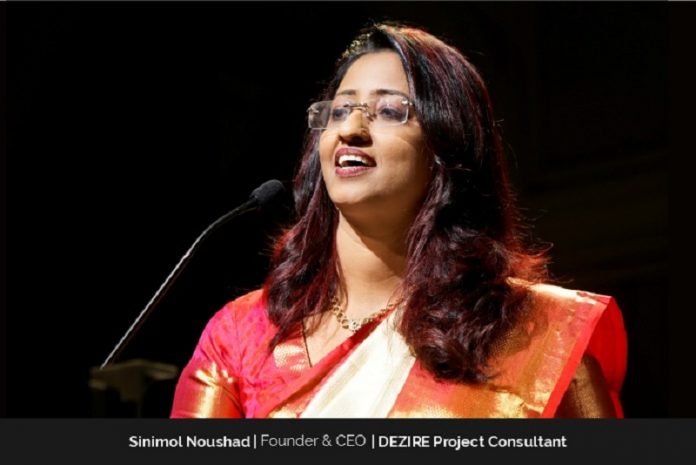 When a woman makes a mark in a male-oriented industry, she inspires many women to dream big. Sinimol Noushad has been doing precisely that as the Founder and CEO of DEZIRE Project Consultant. Over the years, Sinimol has seen a lot of twists and turns in her professional career.
Being a woman in an industry dominated by men, she has encountered several stumbling blocks. However, no challenge has deterred Sinimol from pursuing her goals. She has never stepped back; instead, she has demonstrated her confidence, solidity, and passion in the face of extreme adversity. While fascinated by the construction industry, Sinimol was also delighted about creating a whole new industry culture.
As an experienced Cost Consultant professional in the Middle East, her journey started as a Quantity Surveyor to the CEO of a company. Over the years, that fascination ultimately led to the launch of DEZIRE Project Consultant. "Starting and growing a company is not easy. It takes unwavering determination and steadfast focus to get it going," Sinimol says. Now, DEZIRE is a globally recognized company. Sinimol reached the height of her career and beyond!
DEZIRE Project Consultant  
DEZIRE Project Consultant (DPC) is a multi-dimensional and dynamic Project Management and Cost Management consultancy. Sinimol established it to offer services with outstanding Efficiency, Accuracy and Integrity within the built environment. Leveraging DEZIRE's specialized Project Management skills and knowledge, developers can make the best possible construction project business decisions.
"We typically provide oversight and leadership in executing construction and other property projects – from planning to completion," she says. Naturally, DEZIRE's Cost Consultant division administrates the commercial and contractual matters while advising on and managing project costs.
The services offered by DEZIRE include project management, Cost and Contract administration, claims & dispute resolution, value management & value engineering, and third-party evaluation. "A sustainable business with a professional approach, assured deliverables on the service, and optimally trained employees are the intellectual assets of my company," shares Sinimol.
Sinimol has established herself as a leader in the construction industry. With over 23 years of exceptional leadership that has consolidated her stand in the field of quantity surveying and cost consulting, she has consistently reinforced the most critical aspect of any project — cost-effectiveness with unmatched quality — as a vital part of her organization's mission.
Diverse and Inclusive Workplace
DEZIRE has created a diverse and inclusive workplace. Sinimol shares that the 5-fold strategy of DPC aims to improve the business within a 5-year framework (2019-2023). The 5-fold approach focuses on "Leadership", "Innovation", "Sustainability", "Diversity" and "Inclusion".
Her view is that diversity in the industry promotes greater employee engagement, business innovation, and performance. One of the first lessons she learned from her mentor and manager was that "we all do windows." So, regardless of title, we need everyone to assist and get the job done.
DEZIRE has taken a conscious decision to set an example for gender equality. Liberal management in an organization encourages maximum contribution without discrimination regarding age, gender, religion and nationality." And the Woman Empowerment program is the tool that will progressively help to guide us in our journey towards gender equality," she adds.
It has established a policy that redefines the usual stereotypical role of women in the construction industry; its policies encourage, embrace, and champion Diversity and Inclusion efforts throughout the organization. "The strong personality and individuality through this vision create a culture of integrity within the company," she adds.
Maintaining a Leading Position in a Competitive Industry 
The adoption of the "Client Care" approach is one of the reasons why DEZIRE has continued to maintain its leadership position in this highly competitive consulting industry.
Sinimol opines that as a service-oriented industry in the construction sector, business success is the ultimate measure of success in the value chain.
DEZIRE has a competitive edge because it believes in identifying the not-yet-detected needs in the industry and meeting these with its product or service. Sinimol thinks that such an approach is the need of the hour. She also stresses that rather than focusing on the competitors, DEZIRE believes in focusing on the needs of the clients and employees and exploring new market opportunities.
Running Daily Business Operations during Pandemic
The Covid-19 pandemic has disrupted industries across all sectors. "For better or for worse, the pandemic has changed us," Sinimol says. "It has taught us the importance of health, of work and of our family."
"As we adapted to new innovative remote-savvy work styles, my incredible workforce proved their mettle with their dedication and confidence to tackle every challenge that came their way," she adds. During the pandemic, she has proved her leadership skills by articulating a bold and flexible vision, cultivating a culture of innovation, and leading change with empathy and integrity.
Responsibilities as the CEO
As the CEO of DEZIRE, Sinimol is responsible for implementing its vision, mission and overall direction. She also manages the company's general operations.
With her passion for management in interior designing, she has also set up a project management service in interior design named 'DIA Interiors '. With this, she aims to spearhead the new wave of change in the design of spaces. Both companies are in the busy business hub of Dubai – Business Bay.
A results-oriented CEO, Sinimol constantly checks in with her organizational goals to determine how close or far they are and what it will take to attain them. "While we strive and drive to meet targets and deadlines, I use a series of tools to stay on top of these," she says.
She agrees that there is no school for CEO's except learning by doing. She does not believe in making rigid formats. "I am quick to adapt to unexpected requirements – whether it is air dashing to another country or finding my way through the traffic for a local meeting," Sinimol adds.
Not Striving for a Perfect Schedule
Sinimol likes to maintain a solid work-life balance as she believes it is critical to keep herself happy and productive. By doing so, she also ensures the well-being of those around her.
She points out that their professional and personal responsibilities also grow as leaders grow. To manage such responsibilities, she has adopted a realistic approach. "I don't strive for a perfect schedule," Sinimol says. "Some days I might focus more on work while other days I might have more time and energy to pursue my hobbies or spend time with my kids, family and friends. Balance is achieved over a time and not within each day," she adds.
With this refreshingly realistic approach, she says that she can effectively bring a satisfying and fulfilling stability to her personal and professional life despite being a relentless professional.
Creating a Supportive Working Environment 
As a professional and an entrepreneur, she believes employees are the greatest asset of any company. Therefore, the foundation must empower them through Continuous Professional Development classes, innovation strategies, and other facilitation programs that support the organization while nurturing employees to meet their personal development goals.
Sinimol has developed a strategic plan to ensure that has she has the best staff in the industry, which is mutually beneficial to the company and employees. "Knowing each employee's strengths, weaknesses and career aspirations is vital to guide and encourage them," Sinimol says. In addition, she creates a supportive work environment by giving prominence to teamwork and openly acknowledging team efforts. This unique work culture driven by her is well-recognized, both among her employees and in the industry.
Best of Class Recognitions for Her & The Company  
Recognitions act as a motivator for Sinimol, and they are proud moments for herself and DEZIRE. In 2011, she received the 'Young Assessor Commitment Award' – an inspiring award for many young professionals in the community instituted by RICS.
In 2013, she was awarded the SGA Property Consultancy' Woman in Construction Award' by the 'Australian Institute of Quantity Surveyors in Sydney. She is also the proud recipient of the 'Finalist Woman in Leadership of the Year Award' and 'The Big 5 Women in Construction Awards Dubai' in 2019 and 2021, respectively.
One of Sinimol's proudest moments came very recently with being named the 2021 Silver Stevie winner in the Female Entrepreneur of the Year – Business Services category.
DEZIRE was also named a finalist for the 'Innovative Construction Organization of the Year, 2021' award by 'The Big 5 Construction Impact Awards Dubai'. She has developed a unique innovation strategy with a pragmatic vision and mission by inspiring the team members to think innovatively. Through these innovative approaches and practices, in 2019, DEZIRE Consultant has reached the final stages of the selection for the Sheikh Mohammed Bin Rashid Innovation Award.
Sinimol says they have also added one more accomplishment to their platter, as a finalist in the 'Company of the year Championing Inclusion and Diversity Awards Category at The Big 5 Women in Construction and Forum Awards Dubai, 2021.
At the Sustainability Summit Awards in Dubai organized by the GUIDE under the patronage of HE Sheikh Eng Saleh Bin Sultan Al Qassimi to encourage corporate and individuals striving for sustainability, Sinimol and DEZIRE bagged the 'Business Excellence in Social Impact and Global Business Award' in 2021.
Giving Back to the Society is an Important Responsibility
Sinimol implicitly believes that giving back to our society is an important responsibility we should all share and shoulder She gives her time and contributions as a National Board Member of the RICS (Royal Institute of Chartered Surveyors, UK) – UAE Chapter, the Standard Setting Committee Member of International Construction Measurements Standards (SSC-ICMS) group set out by RICS. She is a Fellow Member of RICS, AIQS (Australian Institute of Quantity Surveyors) and IIQS (Indian Institute of Quantity Surveyors). She has endeavoured to enhance the quality of assessors and surveyors in the UAE as an APC Chair, Assessor and Mentor in various memberships.
Sinimol has been appointed and honoured as a Chairperson of IIQS – UAE Chapter for 2021 to 2023. She is excited about promoting the Quantity Surveying Profession in the construction industry in India and UAE to the next generation of career aspirants, particularly women.
As a part of that drive and journey, Sinimol is exploring the possibility of an educational innovation field in India. At the Indian Institute of Quantity Surveyors, she leads the discussions on introducing modern disciplines, including international cost consultancy practice in the construction industry, within the academic syllabus in India as well.
Not forgetting that charity begins at home, Sinimol has created, within DEZIRE, a community support culture; employees are encouraged to associate with various organizations, and the CSR policy encourages staff to participate in and donate to charitable relief funds.
Life Balance and Four Pillars
Finding balance in life is tough. It all starts with how you approach your life. Sinimol says that peace and happiness are the ultimate aims that drive her life to balance. "The driving force for my journey is enabled by my four unshakeable pillars – my family, my team, my clients and my friends. They are the greatest facilitators of happiness and success in my life. My balance in life comes through bringing all these together in tandem," she adds.
Sinimol is an exemplary mother of two and unhesitatingly shares her wealth of knowledge and experience with family, friends, colleagues and customers to ensure they achieve success. She is an inspiration to all around her and a critical asset to the construction industry.
Goal Setting is Important
Sinimol believes that goal setting is essential for achieving personal and business success. She sees this as a part of the strategic planning process. "Personal goals develop into family goals, which lead to business goals and provide input into the strategic planning process," she explains. She is committed to her company, mission, employees, family, friends, and community. She shows her commitment to every task she carries out and puts her best efforts into her work as a business leader every day.
Sinimol has a one-line message for aspiring business leaders: "Be focused on becoming better each day and keep your workforce inspired – not just engaged."
SUCCESS MEANS EMPOWERMENT
No matter the circumstance, Sinimol believes in putting her best foot forward and walking with confident strides. But, for her, challenges are an opportunity to learn, grow and improve. "They test your resolve and commitment to achieve your goals," she says. "As you overcome them, you progressively develop emotional and mental strength."
Sinimol wishes to achieve success in all aspects of life. She does not see success from the prism of money and bank balance. Instead, according to her, each human has a unique mission and purpose in life. These goals have to be predefined and pre-set. "Success happens when you identify and meet your true purpose," she explains. For her, success is all about empowerment that motivates, inspires and engages one's team, including young talent. It is also about creating a meaningful impact on people's lives around her.
Sinimol states that there is no single route to success. "There is only your way. Be it in business or in personal life, the key to driving success is to face any challenge, continuously building life with your own terms and definitions," she adds.