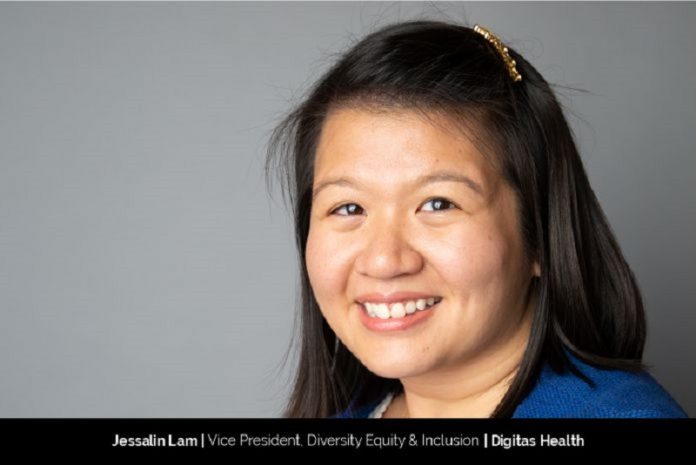 Jessalin Lam is the Vice President of Diversity, Equity, and Inclusion (DEI) at Digitas Health, a leading global healthcare advertising agency. Jessalin is an accomplished leader with over a decade of industry experience. Her expertise spans across learning and development, diversity and inclusion, partnerships, business development, client management, and consulting.
Jessalin's proactive and passionate leadership approach and ability to improve processes, motivate teams, build strong relationships, and communicate effectively in diverse and inclusive environments have earned her an excellent reputation.
Life Before Digitas Health
Jessalin discovered the American Advertising Federation college chapter at Baruch College and joined the organization during her freshman year. She became the President of the student organization and fell in love with the curious and creative minds in the marketing and advertising industry.
During her junior year in college, Jessalin secured her first internship at Wunderman, a valuable experience that solidified her passion for marketing and advertising. Even as she works in the DE&I space today, Jessalin still values working in the marketing and advertising industry for the opportunity to collaborate with innovative and creative individuals.
About Digitas Health
Digitas Health, a Publicis Healthcare Communications Group member, is a leading global agency that focuses on helping health brands establish meaningful and relevant connections with their customers amidst the ever-changing media landscape. They specialize in digital communications and are part of the world's third-largest communications group, Publicis Groupe. They offer various services, including strategic planning, creative development, digital marketing, data and analytics, and media planning and buying.
Jessalin believes in working with people who share her values and commitment to diversity, equity, and inclusion. During her interview with Digitas Health, she met with several leaders who embodied this philosophy, including Waleed Mahmood, Lee Carroll, Eric Muller, Brian Lefkowitz, JoAna Owens, Barb Deal, and Geraldine White. Their empathetic and people-first approach attracted Jessalin to them, and it made her excited to have the opportunity to collaborate with them.
Lee Carroll's understanding of motherhood and her experiences raising three children impressed Jessalin as a new mother. She felt supported by the team's commitment to DEI and appreciated the opportunity to show up as her authentic self.
Jessalin is proud to be part of the Digitas Health team, which Ad Age has recognized as one of the best places to work for four consecutive years. She believes that the organization's dedication to creating a supportive and inclusive workplace culture reflects its high level of care for its employees.
About Jessalin's DEI Leadership Role
Jessalin, an Asian American woman of color, has faced several challenges in her career because of the glass ceiling, bamboo ceiling, and harmful stereotypes. Despite these obstacles, she learned about diversity, equity, and inclusion early while working for Multicultural Marketing Resources. Jessalin met and learned from DEI leaders, such as Tiffany R. Warren, Bill Imada, Tiffany Edwards, and Tasha Gilroy, who has inspired her to incorporate DEI into her work.
As Jessalin continued her career, she recognized the importance of integrating DEI into the workplace and pivoted her career from marketing and advertising to learning and development. She now leads DEI efforts, excited to create a more inclusive workplace for employees. Having experienced toxic work environments, Jessalin is passionate about reimagining the future of the workplace to provide better employee experiences.
Jessalin understands the importance of being a leader who serves others, uplifts them in their journey, and prioritizes the impact she creates. As a lifelong learner and connector, she enjoys cultivating learning cultures and empowering people to reach their potential with a growth mindset. In addition, Jessalin strives to positively impact employees' lives and create a more equitable and inclusive workplace through her work in DEI.
Responsibilities at Digitas Health
In her role, Jessalin designs and implements DEI strategies and initiatives that promote a culture of inclusivity, diversity, and belonging within the organization.
With over a decade of experience in the advertising industry, Jessalin has become a thought leader and advocate for promoting diversity and equity in the workplace.
At Digitas Health, Jessalin leads the company's DEI efforts focusing on community, collaboration, and connections to ensure they are creating a sense of belonging. For example, she has developed programs to increase access to career development opportunities, such as their mentorship program, sideXside, with more than 50 employees participating as mentees in group mentorships paired with a leader. She also leads their internal DEI Council to collaborate with employees to contribute to DEI initiatives and creates programs to amplify the voices of employees including virtual panels like "DH Black Voices in Advertising" and "DH API Voices in Advertising".
Jessalin, Co-founder of Asians in Advertising
Her passion for DEI led her to co-found Asians in Advertising with Bernice Chao. Their global non-profit organization supports the visibility and professional development of Asian talent in the advertising industry. Asians in Advertising (AIA) is a non-profit organization that aims to create a community for Asian professionals in the advertising and marketing industry. Founded in 2021, AIA provides networking opportunities, professional development, and visibility for over 4,000 members across 30 countries.
Some of the notable initiatives undertaken by AIA include launching their annual Breaking Barriers Conference, Future Asian Leaders scholarship, API Creative scholarship, NextGen Mentorship Program in partnership with 3AF, and speaking at SXSW about "Solving for the Asian Dilemma."
The White House invited AIA to the 1st Lunar New Year Celebration in 2023. AIA commits to promoting diversity, equity, and inclusion in the industry and fostering community value among its members. The organization seeks to address and break down stereotypes that the Asian community faces and aims to help Asians elevate in their career journey. By providing a platform for Asian talent to connect and grow, Asians in Advertising, are paving the way for more accurate representation in the industry.
Definition of Success
Jessalin is an exceptional leader who understands that success lies in making others successful. She is a people-first leader who prioritizes the needs of others and constantly looks for ways to uplift them in their journey toward achieving their goals. Her core values and mission are at the forefront of everything she does, and she ensures that the impact she creates aligns with them.
Jessalin's incredible strength is her ability to create a learning culture that empowers people to reach their full potential. She believes everyone can grow and develop and enjoys mentoring and coaching others to achieve their goals. Jessalin's expertise in cultivating learning cultures has led to the development of numerous successful programs that have helped people to achieve their personal and professional goals.
Jessalin's commitment to lifelong learning is evident in her passion for continuous growth and development. She seeks new ways to expand her knowledge and skills. In addition, she enjoys sharing her insights and experiences with others. Her ability to connect with people from all walks of life has made her an invaluable asset to organizations.
As a people-first leader, Jessalin understands the importance of building strong relationships and fostering a supportive culture. She has a talent for bringing people together as a community and creating an environment where everyone feels valued and respected. She describes her leadership style as empathetic and compassionate, which has won her the trust and loyalty of colleagues.
Valuable Lessons Learned Along the Professional Journey
Jessalin has encountered numerous challenges throughout her career journey, including obstacles related to networking and access to opportunities. However, becoming a skilled connector has turned one of her favorite roadblocks into a strength.
Jessalin recalls starting with internships as a student and observing many of her peers securing internships through personal connections while she had to rely on applying through official channels. This experience motivated her to learn the art of networking and building relationships with others, even if it was initially daunting. She has since found that networking is crucial in opening doors and creating new opportunities.
Jessalin believes networking is a powerful tool to help people overcome barriers and access numerous opportunities. She has built an extensive network of professionals who have provided her with support and guidance throughout her career. By leveraging her network, she found mentors, collaborated with like-minded individuals, and accessed new career opportunities. She has also discovered that networking is not just about connecting with people; building genuine relationships can be mutually beneficial.
While Jessalin has faced various networking-related challenges, she has managed to turn them into learning experiences. She believes everyone can develop their networking skills, regardless of background or prior experience. In addition, anyone can become a skilled connector by cultivating a growth mindset, seeking mentors and support, and being open to new experiences.
Ultimately, she sees networking as a critical factor in achieving success and positively impacting the world. She believes building relationships with others can advance our careers, create opportunities for others, and make a meaningful difference in our communities. Her experience highlights the importance of networking and building relationships as crucial components of professional success.
Authored "The Visibility Mindset" Book
"The Visibility Mindset: How Asian American Leaders Create Opportunities and Push Past Barriers" is a book that offers guidance and inspiration to Asian Americans and their allies in overcoming obstacles and finding success in the modern workplace. In addition, the book provides actionable advice and insights from Asian American leaders who have successfully navigated challenges and biases to achieve their goals.
The book's central theme is encouraging Asian American leaders to embrace a "visibility mindset" that helps them overcome barriers and create opportunities. It involves being confident in one's abilities, advocating for oneself, and actively seeking opportunities for growth and advancement.
The book is organized into three main sections, each focusing on a different aspect of the visibility mindset:
Improving Yourself: The book's first section examines the stereotypes and biases that Asian Americans face in the workplace and offers strategies for overcoming them. It includes advice on building relationships, communicating effectively, and navigating difficult conversations.
Working with Others: The book's second section focuses on how Asian American leaders can create opportunities for themselves and others. It includes tips on networking, taking risks, and using one's unique perspective and cultural background to stand out.
Redefining the Future of the Workplace: The book's final section offers guidance on moving past obstacles and continuing to grow as a leader. It includes advice on self-care, dealing with setbacks, and mentoring others.
Jessalin highly recommends "The Visibility Mindset" as a must-read for anyone who wants to understand the unique challenges and opportunities the Asian American community faces in the workplace. The book provides a powerful perspective on breaking down stereotypes and overcoming obstacles, offering practical advice and real-world examples of how Asian American leaders have navigated their way to success.
Awards and Recognition
Jessalin has received numerous accolades and awards for her exceptional leadership skills. Her achievements have earned her recognition through awards, such as ADCOLOR Leaders, Asian Hustle Network Top 50 Unsung Heroes, Nancy Hill Award, Ad Club of NY Women Fellowship, and ADCOLOR Futures. Out of all the awards, Jessalin particularly cherishes the ADCOLOR Leaders recognition, which she received in 2022.
Jessalin was delighted to hear the news when she returned to work as a first-time working mother. It was a remarkable way for her to celebrate the fact that she could have a successful career and be a mother at the same time.
Jessalin met an exceptional group of leaders during the ADCOLOR Leaders program, and they still stay in touch through an online group she created. The recognition is a testament to her leadership skills and ability to integrate her career with motherhood.
Integrating Personal and Professional Life
Jessalin believes that striving for a perfect 50/50 balance between work and life is unrealistic. Instead, she intends to create a work/life blend that aligns with her values and integrates what is essential to her. She cites Executive Coach Beryl Greenberg, who advises individuals to consider how living their values impacts their decisions and to prioritize what is necessary for them.
Jessalin feels thankful to have a supportive network that includes her husband, family, friends, colleagues, and mentors. She values their guidance, especially during challenging times, and camaraderie as they celebrate her achievements.
Jessalin understands the importance of creating boundaries between work and life to maintain her mental well-being and ensure that she continuously operates at her best, whether at work or home. By prioritizing what matters most to her and building a support system, Jessalin is leading a fulfilling and meaningful life.
Breaking Barriers: Thriving as a Woman in Leadership
Jessalin's journey to leadership has been difficult, with many obstacles and challenges along the way. As a woman in leadership, she has faced many barriers and hurdles but has refused to let these challenges hold her back. Instead, Jessalin has used her experiences to become a strong advocate for women in leadership and dedicates herself to showing that women can achieve more.
As a new working mother, Jessalin's priorities have shifted towards creating a better future for her daughter and the next generation, ensuring they do not face the same obstacles she encountered throughout her life.
One of the biggest challenges that Jessalin faced was the unfair ceiling for female leadership. She knew the path to leadership was difficult for women, but she refused to let that stop her. Instead, she used her experiences to show others what is possible when women can lead.
Jessalin is committed to representing solid female leadership and is determined to make a difference in women's lives everywhere. She believes that one of the keys to success is to design a life that aligns with one's aspirations and values. She firmly believes that anyone can achieve their dreams, no matter how big or small they may be.
Jessalin dedicates herself to mentoring others and creating opportunities for marginalized communities. She knows that by doing so, she can help to break down barriers and create a more inclusive and equitable future.
One of Jessalin's greatest strengths is her ability to pay it forward. She intentionally mentors the next generation, creates opportunities for marginalized communities, and shares valuable resources that can benefit others. She believes that by doing so, she can significantly impact the lives of others and create a more equitable and inclusive future for all.
Message to Aspiring Women in Leadership
As a mother and a leader, Jessalin recognizes the importance of creating a better future for the next generation, especially for women who face unique challenges in the workplace. She believes it's crucial to take a proactive approach and create opportunities for others to succeed.
Jessalin actively mentors young women and creates opportunities for marginalized communities. She believes that by doing so, she can make a meaningful impact on the lives of others and create a more equitable and inclusive future.
Jessalin understands the power of networking and the value of having a supportive community. She encourages other women to reach out to her for support and connection, believing we can achieve great things together.
Jessalin strongly advocates for women's leadership and is a dedicated mentor to the next generation. Her commitment to creating opportunities and uplifting others is a testament to her leadership and inspires those around her.
Conclusion
Jessalin is an Asian American woman who has faced many challenges in her career due to the glass ceiling and harmful stereotypes. However, DEI leaders inspired her when she learned about diversity, equity, and inclusion early on. As a result, she pivoted her career in marketing to learning and development and now leads DEI efforts, passionate about creating a more inclusive workplace.
Jessalin's specialties include multicultural marketing and diversity & inclusion, relationship building & developing communities, leadership, mentorship & empowerment, team building & fostering a supportive culture, and creative, strategic planning & solution-oriented thinking.
Jessalin is a leader who serves and uplifts others, cultivates learning cultures, and empowers people with a growth mindset. She strives to positively impact employees' lives and create a more equitable and inclusive workplace for all through her work in DEI.
Jessalin's book "The Visibility Mindset" emphasizes the significance of self-advocacy, relationship-building, and leveraging one's unique perspective to create opportunities and overcome obstacles. Whether you're an aspiring leader or a seasoned professional, the insights and advice in this book will help you develop a powerful visibility mindset and achieve your goals. So get your copy today and start creating opportunities for yourself and others.
Jessalin's Career Growth Journey
The highlights of her career are as follows:
Account Management Intern at Wunderman (Jun 2009 – Aug 2009)
Multiple positions including President at Baruch City Advertising Society, College Chapter of American Advertising Federation (AAF) (Sep 2006 – Dec 2009)
Sales & Marketing Associate at Empire Promotional Products (Jul 2010 – Jan 2012)
PR & Sales Manager at Multicultural Marketing Resources, Inc. (Jan 2012 – Aug 2013)
Director, Marketing & Sales at SoundView Broadcasting LLC (Aug 2013 – May 2014)
Blogger, Ad Age on Campus at Advertising Age (Oct 2011 – Jun 2014)
Assistant Marketing & Promotions Manager at ShermansTravel (May 2014 – Feb 2016)
Young Professionals Committee at The ADVERTISING Club of New York (Jan 2014 – Dec 2016)
Relationship Manager, US at Hyper Island (Mar 2016 – Jul 2017)
Training & Operations Manager at MKTG (Jul 2017 – Nov 2017)
Learning & Development Manager at 4A's (Nov 2017 – May 2019)
Director, Precision Marketing Academy, Nissan United at TBWA\Worldwide (May 2019 – Aug 2021)
VP Member Development and Diversity at IAB (Aug 2021 – Oct 2022)
#IamRemarkable Facilitator at g.co/IamRemarkable (Nov 2019 – Present)
Advisory Board Member at The Rise Journey (Sep 2020 – Present)
Co-Founder at Asians in Advertising (Mar 2021 – Present)
Vice President, Diversity Equity & Inclusion at Digitas Health (Oct 2022 – Present)