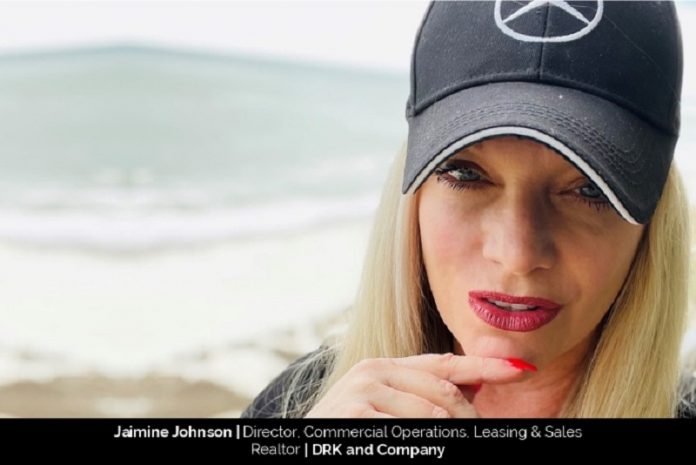 The journey to reach the upper echelons of the business world is not easy. Many give up even before starting. They fear the challenges, failures, and uncertainties. And if the aspiring leader is a woman, she has to face more obstacles than her male counterparts. She also has to prove her capabilities again and again. Jaimine Johnson was aware of the challenges and problems she would encounter when she began her journey in the commercial real estate industry. That, however, did not make her change her career goals. She was prepared for the long haul, and she was confident about herself and her capabilities; therefore, today, she is counted among the most influential leaders in the real estate sector.
Jaimine has several achievements under her belt. And, as Director of Commercial Operations, Leasing, and Sales Realtor at DRK & Company Realty, she continues to add more to her achievement tally. She was DRK Top Commercial Agent in 2019 and DRK Top Leasing and Sales Agent in 2020. And Jaimine features in the 2021's Top 100 People in Real Estate.
When Jaimine previously worked at DRK, from 2007 to 2015, she consistently maintained a 96 percent tenant occupancy rate, while increasing outside listings by 83 percent. And she was a 2013-2014 selection for the Top 20 to Know in Real Estate and Top 20 Women in Business by Columbus Business First, and a Costar Power Broker in 2014.
In her current role at DRK, Jaimine is responsible for developing and implementing long-term strategies for the commercial asset division in the investment management of office, industrial/flex, medical, retail properties. She handles all her responsibilities with absolute grace, composure, and aplomb.
Jaimine is not a selfish leader, and she often quotes, "Do good and good will come to you." And, therefore, it is not a surprise that she likes to see others succeed as well. And she does not mind sharing her knowledge with them. "I love to give people the gift of realization, showing them the path and ability to assure a beautiful life path," Jaimine says. "We all have goals. But, teaching them to create a path to the goal is key for me."
Grew Up in Real Estate
Jaimine always knew that one day she would be part of the real estate industry. "I knew it instinctively, as I grew up in the real estate," she says. Her grandfather bought a hotel, and according to her, she wanted to be like him. Her mother and stepfather were home and large property developers. Jaimine's mother built a software company from nothing, and then, she sold it when she was fourth in the country. All these drew Jaimine to the real estate industry.
And, from a young age, she loved the strategy behind every real estate deal. Now that she is working in the industry, she feels like she is in familiar territory. And it never feels like a job to her.
Working Hard and Taking Extra Steps
Jaimine is a small-town girl. She moved to the city to start a meaningful career in the real estate. Her first real estate job was in multi-family as a leasing agent. Soon after, she worked in management. She quit the job when a Toledo, Ohio-based company recruited her to assist an office owner. It was a management-related job profile again.
She later joined a national RIET, or real estate investment trust, company in NYC as a regional manager for retail. And, then, DRK hired her as a leasing agent in 2007. Jaimine says that she went in to ask for more responsibility. And that proved to be the beginning of her great career.
However, it was not an easy ride to the top. Jaimine had to work extra hard to prove her capabilities. And, often, she was asked to do tasks that maybe would not be asked of others. "I knew from the start that I had to work hard, I knew that I needed to be willing to do the extra steps needed to ensure that my clients trusted me," Jaimine says.
Jaimine did not let challenges extinguish her desire to excel at work. She learned from them. "I will be honest, I have never met a challenge that I did not learn from or master," she says. "Growing up, I had my fair shot at a challenge. And I chose at a very young age to make sure to hit each one with grace, knowing there would be a life lesson on the other end."
Every day is different, so Jaimine finds it difficult to describe her routine at work. She, however, has time for all the three key pillars of her life: work, family, and herself.  "Family is very important to me," Jaimine says. "They are my, WHY!"
Jaimine believes that it is important to live one's life with purpose and balance. And there has be to time for work, family, and oneself as well. "I'm trying to serve all three at all times," she says.
DRK & Company Realty and Its Services
DRK & Company Realty is a full-service commercial real estate company in Columbus, Ohio. It has 50 years of experience in all aspects of commercial real estate, including land acquisition and development, property management, maintenance, and the sale and leasing of all types of commercial property in the central Ohio area.
Some of the company's services include accounting and reporting, capital planning, capital project management, cost control, financial management, lease administration, management and implementation of service contracts, regulatory compliance, sustainability and efficiency management, tenant buildouts, leasing and sales, tenant services and satisfaction, and utilities management.
Jaimine says that the company is growing intelligently. And, speaking of the future plans for DRK, she says that they want to take on the right clients, especially those who represent their brand. "They should also be the kind of clients that we know we can help to our best ability," Jaimine says.
Leadership Style
Jaimine is not a domineering leader. She allows others to share their views, ideas, and opinions, and she enjoys seeing growth in her team members. "I do not want to hover over them," Jaimine says. "I want them to have the freedom to decide while guiding them to the choice."
And, as a leader, Jaimine thinks that it is important to maintain professionalism, composure, and grace. Also, she likes to find results quickly and connect people with the answers they seek.
A natural coach, Jaimine also believes in teaching others to be successful. She says that she likes to spend time with people and provide them the encouragement needed to pursue their dreams. Jaimine says that she often takes the time to learn about a person's end goal.
And for her, success means being surrounded by a group of people that heighten a client's experience. "The stronger your team is the better you can serve your client," she says. She adds that success is also "when you lay your head on your pillow at night, you can't sleep because you are excited to start it all over again."
Supporting and Motivating the Team
As someone who likes to lead by example, Jaimine believes in supporting and motivating her team by giving them a voice and allowing their strengths to shine. And she does not believe in making her team work all the time. "I believe work and play balance for them as well," Jaimine says.
She also always appreciates all the efforts made by her team. She sometimes does that by taking them out for lunch or organizing events that show them a larger picture. In addition to applauding their work and supporting them, she also educates them all the way through.
"We are only as good as our eyes can view," Jaimine says. "So, I take my team to a new environment and teach them that new ideas are helpful." She also lets them know about the gift of creativity and warns them against single-mindedness. "I let them know single-mindedness is not your friend," Jaimine says.
Personal Goals
Jaimine has always pushed herself too hard. Now, she wants to relax a little. "This year it has been my mission to travel and experience more life events," she says. "I love to travel, culture and certainly meeting new people." She also wants to surround herself with an entrepreneurial spirit and out-of-the-box thinkers.
Message to Aspiring Women in Lead
"Know your worth. Become strong with knowledge and continue to educate yourself. Carry your inner beauty as if it is your greatest treasure" is the message Jaimine wants to give to aspiring women in lead.