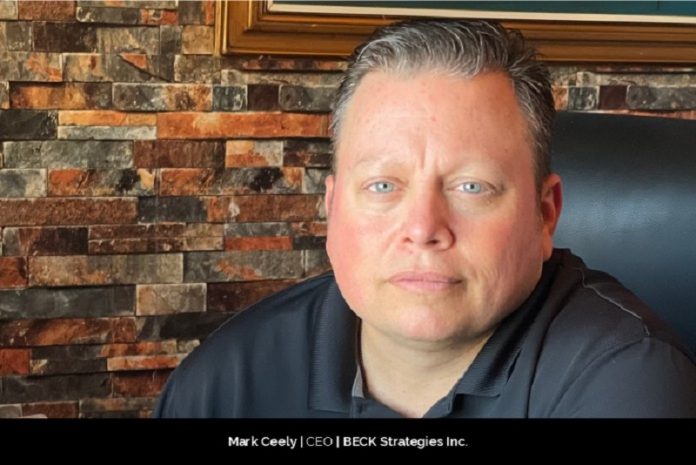 He wanted to bring IT to customers in a way for them to experience the integrity, loyalty, honesty, and transparency that they deserve from a company to help move their applications forward. He felt those characteristics seemed  to many times be lacking in the marketplace. With the founding of BECK Strategies Inc., Mark Ceely decided to address the lack of transparency in the industry. Since the inception of his company, BECK Strategies has become a ServiceNow reseller, as well as a multi management service provider, technology partner and NextGen training partner. Under the leadership of its CEO, Mark Ceely, BECK Strategies is taking huge strides within the industry by providing high quality service at a fair cost.
A journey of proven strong technical ability and skills
Growing up, Ceely wanted to take on Wall Street and become a stockbroker. But destiny had something else planned for Ceely. Little did he know, he was to contribute over two decades of his career to the IT industry. During that timeframe, Ceely became a person putting out fires for other companies. In the past two decades, Ceely has worked with HP, IBM, and Columbus Communications. At Columbus, Ceely was responsible for the Network Management Systems that included Columbus Networks, Cable Bahamas, and the Flow entities in the Caribbean.
Three years after Columbus,  Ceely moved on in his career to consulting directly for IBM. Later Ceely joined Infosys Limited as a Principal – Enterprise Applications. He was responsible for anchoring the engagement effort for assignments,  from business process consulting and problem definition to solution design, development, and deployment. He was also responsible for shaping consulting solutions that enable clients to meet the changing needs of the global landscape. In 2018, Ceely was inspired by how ServiceNow helped their customers route their work effectively in the enterprise. He wanted to take it in a different direction, giving customers a true advantage – helping them drive change with people, process, and technology. And the foundation stone of BECK Strategies was laid. With his proven strong technical ability, and flawless communication skills, Ceely became a ServiceNow ecosystem leader.
Making believers out of scoffers to become Premier partner
Walt Disney's quote "The best way to get started is to quit talking and begin doing," has had considerable impact on Ceely's career. He is someone who believe in doing work sincerely instead of blabbering about the work. When BECK Strategies initially began its operations, one of the biggest challenges for Ceely was to be taken seriously. Founding a company in the IT industry as an individual in a competitive marketplace challenged him to make believers out of scoffers. "Many believed we could not meet the criteria to become a ServiceNow partner, and here we are as a Premier partner and poised to be Elite this year," shares Ceely about his journey through the struggles of becoming premier partner.
BECK Strategies increased sales 500% year over year which has allowed the company to add employees. The company had started with the ServiceNow platform implementations largely as subcontractors, and now it services its own clients. Having achieved significant growth in a short span, BECK Strategies moves to becoming  an Elite partner and becomes a formidable force in the ServiceNow ecosystem; all the while providing a family experience for its internal staff and customers alike. Ceely is committed to provide high quality service at a fair cost and maintain a perfect satisfaction score.
Ceely states that most clients who seek out new partners to implement ServiceNow solutions are mostly dissatisfied with their previous partners, and not with the platform's functionalities. The reason he gives is that the overall quality provided by ServiceNow partners seems to be lacking for the expense of the product. Ceely knows this and tackles this issue with BECK Strategies' first step in a client engagement, which is to understand the customers' requisites and charting a plan where ServiceNow can be utilized to fulfill them. Communication is maintained as a priority right from discussing requirements, to building the solution, to its testing and deployment. This way, BECK Strategies ensures that clients are always up to date with every change made to the solution during development and that it always stays in line with their vision.
A complete, functional workflow for clients that actually works
BECK Strategies is a 100% dedicated ServiceNow® Partner, committed to helping drive businesses into the future. The company focuses on assisting customers in driving change with People, Process, and Technologies on ServiceNow. A veteran-owned company primarily focused on bridging gaps within IT Operations Management (ITOM) and AIOps; BECK Strategies also leverages ServiceNow to help clients surmount challenges within IT Service Management (ITSM), Integrated Risk, and other security processes.
The one thing that sets BECK Strategies apart from the crowd is the complete, functional workflow it creates for its clients using ServiceNow technology. The company develops solutions that boost IT productivity with meticulous coding  and streamlines work for consumers who value automation and user-intuitiveness. BECK Strategies has earned its spot as a Premier ServiceNow partner with perfect CSAT scores as a customer-centric company.
According to Ceely, BECK Strategies is founded on the principle that businesses require honesty, integrity, and personalization to be successful. Both the BECK team and its clients are considered part of a family, forging strong bonds that take precedence over sales and profit. BECK Strategies, at its core, is an organization that functions with the sole goal of assisting its clientele effortlessly accomplish their objectives with the proper utilization of ServiceNow.
Providing opportunities to build careers of people
Being at the helm of a small company, Ceely is responsible for BECK Strategies' sales, marketing, operations, caring and well-being of the staff. Additionally, he looks after the development to support staff as needed – because he believes that at the end of the day, it is rewarding to provide opportunity and skills to build careers of people around him; while helping customers build their platforms and make work easier for their employees.
While talking about his journey through the years, Ceely says, "Beginning of career – from US army as multi communications technician, and then transitioning to point microwave in the telco industry, to working with IT depts in larger MSOs, it has been a one hell of a ride." He further adds, "Greatest achievement of my career is to start a business with little or no startup capital and yet being able to provide for my family and employees."
Ceely understands that staying motivated daily can be very difficult for employees sometimes. Some people struggle when trying to balance work and home life; work and personal life goes hand in hand as one supports the other. "We need to realize when one needs attention over the other and be sure to give time for kids sporting events and dedicate time to family. We need to understand when family time is more important than working on a development project or the other way around.  Sometimes work requires more hours than normal  but make up for it and work efficiently so you can get back to other things you enjoy," shares Ceely.
SkillBridge Program and eyeing ahead
During 2020, BECK Strategies has also added a DoD SkillBridge internship program to its portfolio. This internship teaches a skill that helps transition military personnel into the private sector by learning ServiceNow , and by obtaining certifications to help achieve success in the private sector. In a veteran program suggested by one of his partners, Ceely noticed that veterans separated from the military had certifications but couldn't get hired because they couldn't pass the interviews. Ceely understood that these veteran programs were not helping them achieve the next level. "The SkillBridge Program is not about bringing you in just for a certification. We're bringing you in to make you successful," states Ceely.
It is important to mention that BECK Strategies is poised to attain an Elite or Global Elite ServiceNow partner this year. The company aims to lend its expertise in ServiceNow to the growing federal and higher education markets; both within the country and across Central and South America. BECK Strategies will also be launching several applications and integrations in the ServiceNow app store to kick off 2021 and expedite customer deployments.
Moving ahead, Ceely plans to work with partners in Europe and North Africa  and is looking to expand further in those regions. Having a number of contacts in Caribbean, Ceely plans to expand in that region as well. "We are focusing on strategic partnerships in those locations so we can offer expertise no matter where we are in the globe – we will focus on filling in the gaps and providing good user experience across the continents," concludes Ceely.