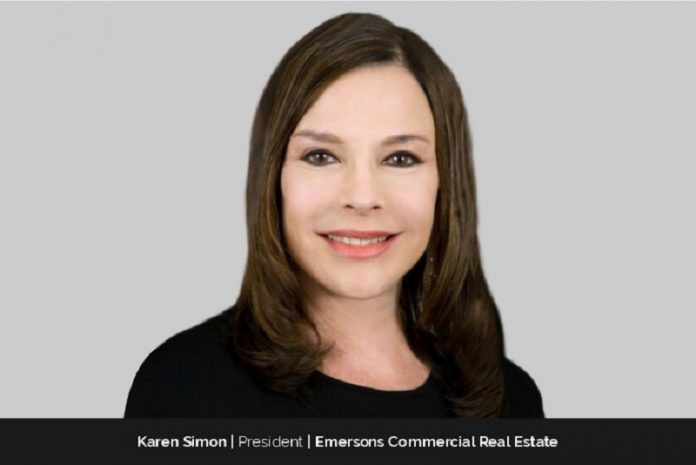 Karen Simon, President and Managing Partner of Emersons Commercial Real Estate, has been active in the office, retail, industrial and land sectors in both leasing and sales in the DFW commercial real estate area for the past 37+ years.
She is one of her company's top performers and has been the top producer for her former company in 2003, 2006, and 2008, in the top 3 in 2004 and 2009, and the top two in 2005 and 2007.
Gravitating to the world of commercial real estate
Karen had completed a Bachelor of Science in political science and education, a master's degree in American history, and was working on her doctorate, when she gravitated to the commercial real estate business, even though it was not her initial educational choice.
In fact, she was headed on to being a full professor and taught for five years at a community college, now called Tarrant County Community College. However, in the year that she was up for tenure, she realized that she was not mobile.
As a mother of two young children, with a husband who was the third generation of his family to practice law in Fort Worth Texas, Karen knew that her spouse would not be interested in moving for her professional advancement.
As her undergraduate degree was from the University of Texas in Austin, and they did not hire their own graduates, Karen thought the only way she could advance professionally would be hired by SMU, the Southern Methodist University in Dallas.
However, it wasn't her long-range goal to travel an hour in the hope that they would hire her at some point. So, she evaluated her circumstances and realized that the federal government gave the most points for education and leadership roles from organizations. Even if the position was unpaid, they gave credit for the time.
So, Karen sat for a civil service exam, qualified as a GS 14-15, and pursued an opportunity with the Department of Housing and Urban Development. She recalls being selected by the regional administrator for region 10, which encompassed five states.
At that time, the organization was based in Dallas, but Karen knew that they were going to relocate to Fort Worth, and she was chosen as the regional administrator's executive assistant, responsible for intergovernmental relations for the Department, and for all the public relations for five states.
The journey to getting a broker's license
In the third or fourth year that Karen worked with the government, they received a memo saying if you had the educational requirements to hold a broker's license in the state of Texas, but did not have a salesman's license, you could sit for the exam, and they'd give you one year to pass it.
"As an employee of HUD, that was attractive to me, as I was barred from holding a salesman's license," says Karen. It was somewhat of a challenge to an academician, so she sent her transcripts to the Real Estate Commission and discovered that she lacked nine classroom hours, or three semester hours.
The requirement to be a broker was that you had to have a salesman's license, with 60 hours of real estate-related coursework, or equivalent to 900 classroom hours.
Along the way, Karen had spent a year at SMU law school and had a lot of hours that applied to the requirements of 60 semester hours. So she took a two-week leave and took nine classroom hours going day and night.
She sat for the exam as soon as she could, so that she wouldn't forget what she had learned in the previous few weeks, and to her surprise, she passed.
With a broker's license in hand, and never having sold a piece of real estate, Karen had learned a lot about the real estate business from a governmental perspective, but never had to deal in the private sector.
Being the right person in the right place
In about six months, Karen met a gentleman from the Henry S Miller company at a party. He turned out to be the head of the industrial real estate department for the largest real estate company in the state of Texas, fifth-largest in the United States.
She turned out to be the right person in the right place, as Miller had no women heading any commercial departments, and there were no female industrial realtors in the Dallas Fort Worth area.
As a female with a broker's license, managerial experience, and the willingness to learn, they offered Karen a job and promised to send her to Industrial real estate schools before she had to hire other people.
They also made her the head of the industrial and land division in the Fort Worth office. So, Karen became the first female to head commercial real estate in the Miller organization, and the first female in the Metroplex to be an industrial realtor.
"I found it very interesting to me that I enjoyed the diversity of activities. And I was delighted to learn that clients did not care about my gender. They only cared about how well I could help them and how much I knew," recalls Karen.
However, her fellow industrial Realtors looked at her as a woman who had squatted in their Cotton Patch, and they were not initially excited to have her aboard.
Attending her first industrial real estate school
When Karen attended her first industrial real estate school, she was the only woman in a class with 36 men, and the only one who came to talk to her was a young man in his late 20s from Michigan, where women were not considered to be an oddity in the commercial and industrial real estate business.
Karen went to three schools sponsored by the Society of Industrial   Realtors organization that was like an immersion in a foreign language. She had to learn the terminology, come back into the marketplace, and learn how to utilize it.
As an example, Karen points out that, in an office building, people don't really pay attention to how tall the ceiling is, but in an industrial building, it is critical how tall the ceiling is. If you're going to do distribution, storage, and manufacturing, is the ceiling high enough to put a crane? And how high is it under the hook?
"So, once I learned that these were things I needed to master, the company was patient enough not to tell me I had to go out and evaluate a building for the purposes of a client's needs in the first three weeks that I was there," Karen recalls.
Karen also points out that the men were more than happy to have her around, as long as she kept quiet, and the clients were not at all concerned whether she wore a skirt or pants. She notes that it was a distinct difference in living in the southwest, as opposed to living in the Northeast, and at that time, women were often referred to as "honey".
"It was a different world in a different time, but it was also, in some ways, an advantage because as an academician, I was willing to learn. I was willing to study. I was willing to learn the difference between a berm and a bus duct. And, I've enjoyed it ever since. I've had my ups and downs and my positives and negatives. But every day is just a little different, and the problems to solve are not unique, and it's been a real experience," she says.
Dealing with the downturn in the late 80s
Karen started in the industrial real estate business in 1983, spent six years with Henry S Miller, and joined Emerson's in 2016. Miller sold the company to Grubb & Ellis when the market was at its peak in 1988 and couldn't come back into the marketplace for 10 years.
Within a year, the federal government-owned most of the major real estate that was changing hands due to major foreclosures, and Karen remembers that it was like being in the Wild West.
Grubb & Ellis lost a ton of money and began closing offices, including the one in Tarrant County, Fort Worth, where Karen worked. They kept only the Dallas office and the Houston office, and she decided that she didn't want to go to Dallas to work.
So, Karen teamed up with two other male brokers and formed a woman or minority-owned company called the Re Group Advisors Inc. Her partners allowed her to own the majority of the stock and became for-profit employees.
Starting her entrepreneurial journey
As a female minority-owned company, Karen got a lot more bites at the Apple, with the federal government trying to promote women and minorities. So she branched out into other facets of the real estate business because the federal government also had apartments, hotels, shopping centers, and office buildings.
Karen explains that a woman or minority-owned company got a bite out of three baskets or groupings that the federal government used, as its means of offering opportunities to market real estate. So she got a real education in other aspects of the real estate business, and learned how to market a shopping center and apartments too.
During that time period, real estate brokers also got to buy properties because they were so inexpensive in relationship to their full value. When they were sold at auctions, Karen got to be an entrepreneur as well as an agent and found that to be a remarkable opportunity.
In the late 1990s, when the market became more stable, she joined a larger real estate company that specialized in retail development, and she headed their industrial and land division. Toys R Us was one of their clients, and Karen spent two years helping them find a hundred acres to build an industrial warehouse in Midlothian, Texas.
Having done that, she found herself better armed to handle other facets of the business, and in 2003, she was offered an opportunity to start an office in Fort Worth for the Bradford Company, a large institutional real estate company for office and industrial.
Bradford's clients included national companies in industrial and office, and Karen spent 12 years with them, opening their office and making it a profitable venture.
Emersons was founded in 2004, and when Karen met them in 2016, they were interested in buying a land track belonging to CVS Pharmacy property that she had for sale. Emerson's offered her an ownership opportunity with entrepreneurial profits participation.
Karen notes that an entrepreneurial opportunity of ownership is a true motivating factor in wanting someone to make a decision to either relocate or in this instance, leave one entity for another. So she joined them in 2016 and opened an office in Fort Worth Texas.
How Kroger helped Emersons grow
Emersons was started by Matt Price, a CPA, and a real estate broker, and Richard Webb, a banker and real estate person, who had worked with a family trust that owned a whole series of Safeway stores, and they wanted to put the portfolio on the market.
So they formed a company in 2004, and by the time Karen had met them in 2016, they had an office in Oklahoma City and managed about 7 million square feet.    They had a lot of experience in Property Management, Leasing and Sales, and Consulting, and wanted an office in Forth Worth managed by someone who lived there.
Emersons, and another group called Priority Properties out of St. Louis, had done a lot of work for the Kroger grocery chain. Kroger decided to outsource its real estate and needed a management team, so they chose Priority Properties and Emersons to handle about 2800 stores nationwide.
Emersons and Priority Properties formed a company together called 1045, absorbing all of Kroger real estate's employees in property management, to manage a huge portfolio of almost 100 million square feet. This had a tremendous impact on their growth, and they now manage other chains under the 1045 portfolio.
The impact of technology on real estate
Karen recalls that, in the late 80s, people were still using triplicate typewriters, computers were not being used much in the real estate business, and documents were sent by fax. Working remotely was a real challenge, and it wasn't until the early 90s, that she got a BlackBerry which allowed her to use mobile email.
"In some ways, I still lived in the Dark Ages in the early years, when it came to doing business remotely. Today with COVID, people can work at home with their computers, but you couldn't do that successfully in the late 80s to the early 90s," she reminisces.
Karen points out the importance of technology in real estate today. For example, the method by which they list properties for disposition is affected by LoopNet, an online marketplace for commercial property, and CoStar, the world leader in commercial real estate information, with the most comprehensive database of real estate data.
She observes that, while it makes things more competitive, it also gives them much wider exposure to investors or users all over the country, and if you don't have the technology today, you're operating at a disadvantage.
The impact of COVID on the real estate market
Karen remarks how COVID sent the market into a downturn for 18 months because shopping center tenants couldn't always pay their rent, and people that were renting office space weren't looking to renew leases and are still not looking to take on as much office space.
While they saw some downturns, both in business and productivity, they are now fully back in place and coming to the office. But there are others that have not returned, and there are still residual effects on the real estate business.
The only facet of the real estate business that seems to be unaffected is industrial, as people still need locations for goods and are still manufacturing.   Karen is hopeful that it will continue to improve, now that we have vaccines and anti-viral medications, and there's a tremendous increase in demand for goods.
But, as she points out, with the high cost of gasoline and prices rising, truckers are paying twice as much for their gas, and that will have an effect, not only on industrial but ultimately on retail as well.
"I would say that it's a bit uncertain. We're not actively looking to currently expand. For example, we're going to live with the size of the current offices that we occupy for a period of time, till we see if the country goes into a recession. We're optimistic but cautious," she says.
Mentoring the next generation
In 2007, Karen was selected as the Woman of the Year by the state of Texas, Women's Chamber of Commerce.
She notes that being selected by her peers for that role made so many things feel worthwhile. Karen accepts that money motivates to some degree but affirms that appreciation and being recognized bring more satisfaction.
"To me, success obviously means making money. You don't want to be so altruistic that you're not making a profit. But I find it very satisfying to be recognized by my peers as someone who has been successful in my field, who is willing to work hard, but at the same time, be willing to be a mentor," she states.
Karen feels that growing her career, at a time when it was rarer to see a woman in her job, helped her get more recognition than a male with the same skill set might have gotten.
"It might have been tougher for me but I'd be more noticed in a crowd. And that gives you a warm and fuzzy feeling. I walk the walk, and I did it as well as a man in my industry. I think it's important for women to be willing to go the extra mile in order to service a client. And you like to know that it has been appreciated," she says.
Karen also believes that her background as an educator makes it easier to impart information that will help a younger person or a newer person to the industry benefit from what she's learned through experience and hard work.
She believes that when you walk that path, and don't lay out the steps behind you for others to follow, but just try to wrap yourself in your own success, you're missing something invaluable in your own life experience.
"I try every day with the people that work with me, some of whom are new in the business. I try to set an example and be an encouragement to them. I think I bend over backward to make sure that they get all the compensation that they're entitled to," she notes.
Living a blessed life
Karen and her husband have a full family life and an 8-pound Bichon that they both refer to as their furry son, as he's the only one that lives with them.
She feels blessed that she's had the same husband since she was 19, finished college married, went through graduate school with small children, and went back to graduate school with an 18-month-old baby.  While her husband retired three years ago, he's still active as an investor, and still gives advice.
"I was fortunate enough, as a woman entrepreneur, that I could give him an office in my building. The one he chose is next door to me. He's a retired lawyer and is always willing to read our contracts and give us free advice, for which we're most appreciative," she says.
As a persistent person who never stops trying, Karen feels that she has achieved enough, and led a worthwhile career. She feels privileged, and while there are times when she wishes the journey had fewer obstacles, she's glad to have had the opportunity to have walked the walk.