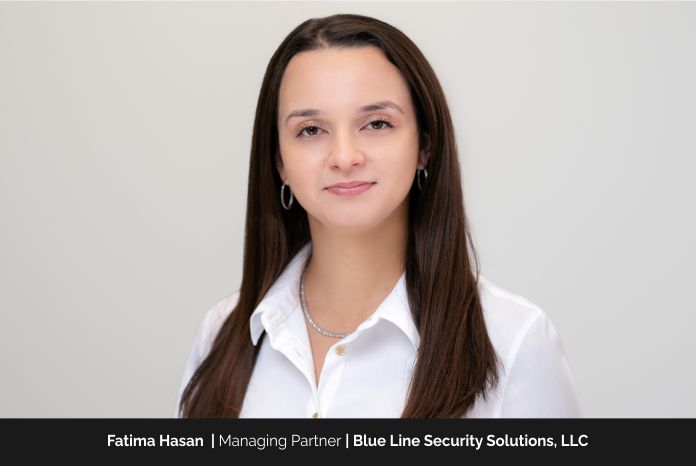 Women are being appointed to senior leadership roles in a growing number of corporations, including General Motors, UPS, Best Buy, CVS, and Walgreens. This trend appears to be gaining traction, and it is a promising form of empowerment. However, there is still much to do to improve the status of women in our society. For instance, even today, there remains a gender wage gap, employment discrimination, a substantial shortage of women in decision-making positions, and cultural stigma.
Fatima Hasan Callahan, Managing Director of Blue Line Security Solutions, LLC, feels that a woman must be versatile and willing to be outspoken in today's corporate world. Women, according to Fatima, must be prepared to confront obstacles. She says, "It is important to always stand proudly and confidently in the face of adversity." She encourages women leaders to support other women in their endeavors because their success takes nothing away from others. She asserts, "Do not hesitate to share your unique and meaningful perspectives as a woman because they are invaluable in today's work environment." 
One way Fatima supports women is through Blue Line Security's hiring and promotion practices. She states, "I believe leaders today have a duty to advance their workplaces and industries. Leadership is not a benefit to yourself, but an obligation to others." The team prides itself on elevating women in the field, as many fill integral leadership and management roles throughout the company. "Their experience and input matters and their essential work on crucial responsibilities allows our company to operate effectively," Fatima articulates.
Focused, Dedicated, and Determined
Growing up, Fatima was always quite active. She trained in martial arts for over a decade, took dance classes for many years, played lacrosse, and rode dirt bikes. Fatima was a member of Libertyville High School's debate team and the school's environmental club. At Lake Forest College, she was a DJ at the student-run radio station, WMXM 88.9FM, which broadcasts to the Chicago region. Fatima worked as treasurer and, subsequently, general manager of the radio station, the campus's largest student organization. Furthermore, Fatima was also involved in Alpha Phi Omega at Lake Forest College, a co-ed volunteering-based fraternity.
Fatima was always an excellent student, and her parents constantly emphasized the importance of education to her. After graduating from Libertyville High School, Fatima received her bachelor's degree from Lake Forest College. She began attending college part-time at the end of her sophomore year since her father was undergoing surgery, and she wanted to focus more on her profession. Fatima graduated magna cum laude from Lake Forest College in 2018 with a double major in communication and finance and a minor in legal studies.
During her time at Lake Forest College, Fatima was inducted into three honors societies: Omicron Delta Kappa, Omicron Delta Epsilon, and Lambda Pi Eta. Additionally, she was also awarded the Senior Prize in Communication. She is presently pursuing a dual master's degree in communication and business administration at Johns Hopkins University. Fatima intends to further her security education by obtaining her anti-terrorist certification, threat management certification, a private detective license, and other credentials. She has always had a soft spot in her heart for animals of all types, and she has adopted and rescued dogs, cats, turtles, lizards, birds, and other creatures. She states, "I still love playing video games, reading, and spending time with family and friends."
A Born Leader 
Ever since Fatima was little, she knew she wanted to one day be a business owner and start her own ventures. This motivation was before she even knew what the word "entrepreneur" meant. She says, "For as long as I can remember, my parents encouraged me to pursue my passions and take calculated risks." Fatima was inspired to be a part of Blue Line Security Solutions because she believed in the organization from the very onset.
Fatima notes, "I felt we were prepared to do the necessary work. I also knew that we possessed unique strengths and capabilities that differentiated us from others. Blue Line Security Solutions was an opportunity, and good opportunities often present themselves spontaneously and are usually messy and challenging. There is risk involved, and one must be ready to remain dedicated and adaptable in the face of adversity. I would always rather take a chance and fail than face the regret of never trying at all."
Keeping Everything Aligned
Fatima's workdays at Blue Line Security Solutions are quite varied, which she adores. She has learned to work from practically anywhere, giving her more freedom and flexibility when needed. Some days she works from home, some days from a Blue Line office, some days at her parents' firm, and some days she is traveling and may be at a hotel or security site. She says, "It all depends on what is going on with the businesses." Some of Fatima's responsibilities at Blue Line Security Solutions include handling its finance and accounting, sales and marketing strategy, innovation, and insurance acquisition and maintenance. Fatima states, "My business partner and I emphasize establishing the right systems and processes across the company. I also work on regulatory compliance, assist with new client and site onboarding and maintenance, and anything else to ensure our clients and staff are served well, with the business operating efficiently and effectively."
Valuing Team Work
Fatima believes that Blue Line Security Solutions is where it is today because its entire team has worked tirelessly toward its shared vision. She asserts that great things in business are always done by a team of people. Fatima feels honored to work with her business partner, Jack Harris, and expresses, "our management team is unbelievable, and I am grateful to work with such talented and dedicated leaders. Currently, we are making significant integrations with new technologies that will enhance the way we can service our clients. We are all honestly having so much fun as we continue to make advances with Blue Line Security. We have all been through so much together over the years. We have become more than a team; we are a family now."
Fatima believes that a culture of honesty and creativity must start at the top of a company. Management must hold themselves to the highest standards while also ensuring that the rest of the team believes in those values and a shared vision. Blue Line Security's management keeps itself accountable and demands the best from its staff. Fatima notes that the team follows through on its promises to clients and one another. The team makes every effort to provide the best service possible, encourages each other to talk openly and respectfully, and listens to comments. She says, "Our management team is dedicated to our growth and continuous improvement, and that is why we promote innovation whenever possible."
The security industry is constantly evolving, and Fatima and her team are determined to continue innovating and staying at the forefront of all new significant developments. The company will soon be offering several new services to its clients to provide them with more transparency, information, interactivity, and responsiveness. This means faster threat detection and response, and increased peace of mind for our clients. Jack and Fatima are very hands-on and have a shared vision of providing the best quality service to clients and treating staff right. "We believe this is why Blue Line Security has grown so quickly to what it is today," says Fatima.
A Positive Perspective on Challenges and Success
Fatima believes that challenges make you stronger in countless ways. A few challenges that she has faced in her professional journey include establishing a healthy work-life balance, managing growing businesses with limited amounts of resources, and navigating through the beginning of the coronavirus pandemic. It is critical to take one thing at a time, one day at a time. She adds, "You must continue putting your heart into your work and believe in yourself and your people through difficulties. Everything that is meant to be will be." 
Challenges push you to think creatively and are a great way to learn and keep you humble. They also make you appreciate your achievements and progress that much more. "We all have our distinct definitions of what it means to be successful," says Fatima. For her, success is an attitude and a state of mind. She further elucidates, "It means being happy and loving what I do every day. It means making a positive impact on our communities and the lives of others."
Blue Line Security's Continued Expansion
Fatima and Jack aim for Blue Line Security Solutions to continue expanding around the country. They intend to maintain solid employment for its staff and exceptional and innovative service for its clients.
Fatima strives to help others and encourages women to pursue careers in security and similar industries. She explains that there are many programs and methods to get engaged in such a large and diversified industry. In addition, Fatima conveys that there is a need for more women to climb into decision-making roles and positions of leadership. She hopes that women can further contribute their indispensable insights and knowledge in all fields.