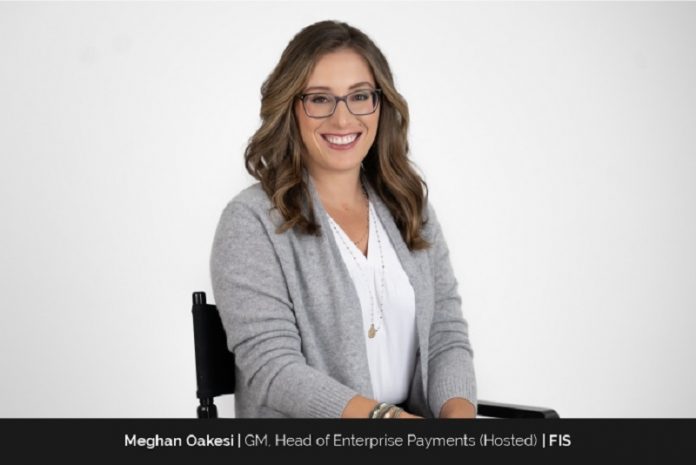 "Being a leader is the most rewarding role that I'm grateful for every day," says Meghan Oakes, GM, Head of Enterprise Payments (Hosted) at FIS.
Headquartered in Jacksonville, Florida, FIS ranks #241 on the 2021 Fortune 500 and is a member of Standard & Poor's 500® Index, and a leading provider of technology solutions for financial institutions and businesses of all sizes and across all industries globally.
With a strong background in the payments industry, Meghan leads a team focused on providing innovative solutions for FIS' clients.
A culture of creative thinking & problem-solving
Meghan received her Bachelor's degree in Finance from Pennsylvania State University, and started her career in banking before moving into corporate finance in the manufacturing sector.
Describing her career journey as awesome, she sees herself as a lifelong student. Meghan often looks at her past roles or companies and values everything she has learned while on her journey.
"I was fortunate to be a client of FIS before I joined the firm, and worked with various teams on a variety of engagements," she recalls. The culture of creative thinking and problem-solving at FIS has been a constant from Meghan's time as a client to working with the organization.
The resources that brought her into the firm understood her approach to people, process, and technology. They also gave her the runway to shape a positive work environment, develop top talent, and execute growth strategies for their business, as well as their clients' businesses.
Meghan points out that the reason FIS continues to be named as one of Fortune's most admired companies, and one of the best workplaces for innovators, is because attributes like critical thinking and problem solving are in the fabric of their daily lives, and this benefits both their colleagues and clients daily.
Building trust & reducing costs with B2B real-time payments
By 2025, 30 to 50 per cent of B2B payments will be not only made digitally, but also in real time. B2B real-time payments save time, avoid stress, reduce costs, and foster trust between the vendor and business owner.
They are also an enabler for transforming back-office tasks and allowing staff to focus on value-add activities, instead of transactional activities. This is largely why many organizations are looking to improve their B2B transactions with instant payments, and can rely on a partner like FIS to help them succeed.
FIS enables the movement of commerce by unlocking the financial technology that powers the world's economy. Their employees are dedicated to advancing the way the world pays, banks, and invests through their trusted innovation, absolute performance, and flexible architecture.
"Instantaneous results at our fingertips are a standard for most of us these days. Businesses need to seamlessly execute real-time money movement operations and reconciliation on a regular basis, like consumers do every day. Instant payments solutions help make this a reality for businesses large and small," Meghan explains.
FIS helps their clients use technology in innovative ways to solve business-critical challenges and deliver superior experiences for their customers. The organization offers integration into TCH's RTP network, and is working in alignment with the Fed for next year's availability of FedNow, to add into the portfolio of available instant payment solutions for client consumption.
Even more impressively, the company has made strides toward being a market leader on integrated receivables/integrated payables/retail payment solutions/account analysis, etc., that have proven so fruitful to the growth of the respective business lines.
Meghan notes that the introduction of ISO 20022 has created constant and consistent change in the payments industry for the last ten years or so. When combined with increased demand for real-time payments, request to pay, value add services, and advancements in cross border payments, it continues to be exciting times working in payments.
When you combine these market demands with a consistent need to maintain robust infrastructure and the need for rapid SaaS deployment, it gives rise to unique opportunities to bring innovation and value added services to FIS' clients, creates reliable outsourced services, and provides new solutions to increase market share and offset margin pressure for the organization's clients.
"It's my job to set strategy for this line of business that aligns with our overall B2B and Money Movement Division. Executing that strategy means rolling up my sleeves, finding how to motivate resources, challenging team members to think differently, have difficult conversations, celebrate, and repeat. I always say that hope isn't a strategy, so my days never start or end without knowing what I will work on next to execute a plan with my teams," says Meghan.
The challenges of alignment & building trust in teams
Noting that challenges make us stronger and wiser, Meghan believes that how we react and respond to challenges says so much more about us, rather than how we respond when things are easy.
"One of the biggest challenges I've faced would have to be when lack of alignment and trust threatened our team. It happens from time to time, and overcoming that is paramount to accomplishing goals," she recalls.
Meghan points out that building trust early and often allows fluid motion and delivery for teams. But trust can be hard to build in the face of adversity, whatever that adversity may be.
As a leader, she finds that it can be a challenge to take this on, because she has to find what motivates people, build camaraderie in their teams, shape the work environment for resources to adapt, and thrive in a rapidly-changing landscape with increased demand for instantaneous delivery to consumers.
"I feel like my major contributions to the industry are a work in process; that's the optimist and critic in me. There's so much to do! We have so many exciting things in process around Enterprise Payments major money movement and instant payment initiatives that are really exciting to bring to domestic and international markets for near-term delivery, and I have the best operations team in the business to do this with," she observes.
Meghan also notes that that every operational model has pros and cons to it, and every model has certain commonalities; people, processes, and technology. She remarks that while it's easy to use technology, as most folks can design a process, it's the people they work with that make an operating model unique and successful.
"Having worked so closely with our Integrated Receivables/GETPAID application and the order to cash domain for many years, it brings me a lot of joy to see what the team continues to achieve. While I no longer have a direct remit for that line of business, I remain close with that entire team and am really proud of the continued success that team has achieved," declares Meghan.
Focused on making a lasting & positive impact
As a leader who defines herself as focused Meghan notes that, as leaders, clearly communicating goals and objectives for her team members helps them acknowledge, conceptualize, and buy-in to achieving those goals.
"It takes regular connects, an open door policy, encouraging teams to fail early, and often then recognizing when to lean in and help where necessary, that keeps teams engaged and motivated to stay on that path. I get a high level of satisfaction working for a company that values employee health and wellness as much as FIS does," she states.
Meghan feels most proud of something when she leaves a lasting and positive impact that makes a difference for an organization and its people. "As I have had the opportunity to grow in my career, it's always important to me that I do everything I can to make my successor successful," she says.
Creating robust processes with strong technology and capable people, who will continue to thrive independently, is what makes her proudest as a leader, because it means the organization is bringing out the best in its teams.
"I love my job because no two days are alike. There are patterns to what I execute on as on an individual and with our teams, and we don't sit still for long. Thrive in reality; don't suffer in imagination or unknown. We deal with facts, solve problems, celebrate successes, and lean in on the next thing to tackle," she states.
Women's empowerment is about table stakes
Meghan believes that we each have a responsibility, to ourselves and to those around us, to make the best experiences from the moments that life presents us with. Moments become memories, but people become partners and allies. She also advises against trying to control what's outside of your control, because it will end up controlling you.
"I was reading an HBR article that cited statistics showing that women outscored men on 17 of 19 capabilities that differentiated excellent leaders from average leaders, and that women are not as generous in self-assessment as men," she recalls.
Meghan points out how women are often times their own worst critics, and should celebrate their accomplishments more. However, it can take time to comprehend and act on this.
"Removing this hurdle and empowering others to elevate themselves is what I want to influence. As for views on empowerment – its table stakes. 50 per cent of the world's population is female; it's our responsibility to respect, value, learn from, and grow with the female perspective having an equal seat at the table," she declares.
Meghan remarks that FIS makes inclusion and empowerment an everyday habit, and the company an amazing culture of inclusion and diversity, with many internal networks to connect through and learn from each other.
"Our Empowerment Network is one example of why FIS is consistently recognized as one of the best employers for diversity and best places to work," she states. "A personal achievement that I'm really proud of is being named among the Top 50 Women Leaders of Pennsylvania. It's a huge honor to be included in the company of these women."
Balance is a decision that looks different for everyone
Meghan points out that balance is a decision, and that it looks different for everyone. She appreciates having had the privilege of working for companies and leaders that have strong respect for family and understand what it means to be a working parent.
Meghan strongly believes in work-life-integration and has seen first-hand how giving their resources flexibility to thrive in and out of the office results in the best work product from their team members.
"I may start a day at 6 a.m., work until 4.30 p.m., break to run my oldest to soccer, drop my youngest off at baseball, help with homework, and finish my day at the kitchen table with my laptop in front and my husband across from me working away. Other days end at 5 p.m., and I won't pick up until the next morning. Sometimes I'm on the road visiting with clients and teams," she says.
Meghan credits her amazing husband with sharing unwavering and mutual respect for her professional and life goals, and is grateful that she and her husband had the opportunity to move around with work while raising their two sons.
"We made the decision about six years ago to move home to Pittsburgh, and couldn't be happier to give our children the opportunity to live and grow in the region that gave us so much throughout our lives, be close to our families, and surround ourselves with amazing friends," she states.
Success is what we make of every opportunity
For Meghan, success comes in all shapes and sizes, and has no finish line. Success is what we make of every opportunity, and opportunity comes from both good and bad situations. It's what we do with those opportunities, and how we learn and adapt, that ultimately defines our success in life.
Meghan notes that there's always something we can be doing to grow, as individuals and with the people we surround ourselves with. She recommends celebrating where we are now, but always keeping an eye on that next step.
"It would be easy to say I want to run division X in so many years, and sit in the C-suite after X time. It just isn't that straight forward. I can say that I do want to continue challenging the status quo and increase my remit on an ongoing basis. That can translate to any number of career moves, which is so exciting because I have some fantastic leaders at FIS that I will continue to learn from along the way," she states.
Meghan's message to aspiring women leaders is to trust yourself, go with your gut, and bet on yourself. Lead by example, build trust, challenge the status quo, connect with people, and promote healthy friction and productive disagreement, because the outcome is progress.
A lot of hard work got you to this point and you need to be prepared for what comes next. Build a life you enjoy, are proud to live, and have fun while you're doing it. Laughter and a positive attitude are infectious, as well as setting high standards for excellence to accomplish new things.