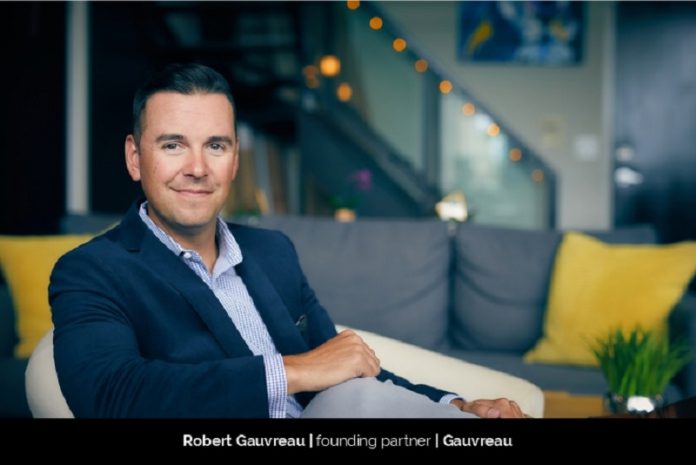 Recognized globally as an award-winning CPA, Robert Gauvreau is the founding partner of Gauvreau with a profound experience in assisting different entrepreneurs to escalate their businesses to reach the zenith of success. Having catered 500+ clients with several businesses from Fortune 500 and Growth 500 cap, Robert is following his passion for redefining the conventional way of offering advisory, accounting, and taxation services and enabling entrepreneurs' secure excellent financial success with powerful leadership strategies.
Under his inspiring leadership, Gauvreau has emerged as one of Canada's Fastest-Growing Businesses and earned notable fame by Financial Times, Maclean's, and The Globe and Mail. Robert has also released his best-selling book, The Wealthy Entrepreneur covering his "Vision to Results" framework in 2020. Owing to his fantastic coaching program called the Ascent Peak Performance Program, many entrepreneurs could revive from the pandemic woes using his fail-proof strategic financial advice.
The Entrepreneurial Journey
Beginning his career in the sports retail marking field became a ray of light to discover his entrepreneurial spirit. Explaining his experience, he says, "I was able to experience for the first time that when I was informed enough to offer a solution that made clients happy and was a win for my company, not only did I receive recognition, but I also became a contributing force in the success of the business."
Carrying such a rewarding experience in his heart, he went to University for Business Administration and had a striking revelation that everyone surrounding him was gaining the same education and experience, thus, he swore to hold onto his entrepreneurial mission while adding more feathers to his cap. He acknowledged that helping came naturally to him thus, blending it with his strengths in accounting and finance could help him create a distinct entrepreneurship opportunity that would cause a huge metamorphosis in the current finance industry.
Later, when he gained firsthand working experience at a global CPA firm, his desire to change the accounting sector's status quo grew significantly. He further narrowed his goals to create something highly innovative and extraordinary that contributes in generating more success for others. This is how he came up with the idea of kickstarting Gauvreau with an aim to help different business owners to improve financial progress and sustain financial success.
 Failures are the stepping stones to success
Robert firmly believes, "The risk of failure as an entrepreneur can all but be eliminated if you ensure that the financial foundation of your business is planned for, expectations are outlined, and the financial results are consistently monitored." Thus, planning all the finances strategically will always keep you safe, even in dire circumstances.
Nowadays, he says, "All the greatest entrepreneurs of our time make business success look like a walk in the park. The problem is we only see what they have accomplished rather than the struggles, financial hardships, failures, and stresses they needed to overcome along the way." Therefore, all the entrepreneurs going through their coaching program, learn that the longer they stay on their entrepreneurial journey, the more steps would be required to keep your organization advancing with evolving competition and the more roadblocks you will have to clear along the way. All the lessons learned in doing so will transform them into a more resilient, stronger, wiser, as well as better prepared to knock down any upcoming challenges boldly.
Being in the shoes of entrepreneurs himself, he had encountered a plethora of hurdles at different stages of his journey. Thus, he shares, "We know that jumping into new spaces will bring challenges, but we are not afraid to invest in innovating because it provides greater growth opportunities for us and provides our community with the support they need. As we continue to grow, our success will be measured by our ability to reach more entrepreneurs in need and improve our ability to create impact in their business."
Leading Gauvreau with a mission
Commencing its operations in 2008, Gauvreau is a renowned CPA firm that succors entrepreneurs to progress in their business by utilizing proactive financial services. Besides all conventional accounting firm compliance solutions, the firm proffers an all-rounder solution combining the strategic financial advisory services as well as leadership coaching that will push entrepreneurs to move forward in leaps and bounds.
Just recently, they have spread their wings expanding their suite of business professional services such as specialized tax, wealth management, and business financing, to now include legal services like corporate restructuring, real estate acquisition, wills and estates, etc.
Their Ascent Peak Performance Program can be engaged through independent, on-demand, self-paced courses or through their Virtual CFO program, which consists of group coaching, training, and a personalized business adviser helping map out an entrepreneur's journey to financial success. It has already gained popularity among business owners to upscale their success quotient using their confidence and specialized knowledge.
"One thing extraordinarily successful businesses have in common is that they are very clear on who they are and what they want to deliver," Robert says. Thus, he has ensured that everyone must work in accordance with the three vividly defined core values, namely, people, passion, and integrity. Prioritizing the people they serve and work with, they strive hard to render supreme quality services and maintain full professional integrity, ensuring that all the team members have that passionate knack to produce marvelous business results.
Sharing his aim, he states, "The Finance industry and CPA firms especially have traditionally been focused on compliance services, meanwhile the knowledge leaders within the profession have, and their ability to reshape an entrepreneur's business to gain momentum is not being fully utilized. We want to redefine and push the boundaries of the financial industry by asking, "How can we use our financial expertise to empower entrepreneurs to create something that will make a difference in the world?""
Aiming towards #1 financial expert business
With the vision to climb to the top position in the financial space, Robert is leading the company in the right direction. He believes that technology has the potential to take the firm to the next level. He adds, "Many advancements are being made in technology focused on creating greater efficiency and automation which enables us to redeploy our resources more effectively into other areas of our business. Our internal Innovation Committee is tasked with researching, assessing, and executing new technology within our business to ensure it is implemented to the greatest extent of its capabilities and not just abandoned for the next new tech. Another helpful way to stay up to date on software advancements and new technology is to attend technology conferences and roadshows within your industry. "
Robert believes that it is necessary to rise to the next level as it will allow them to maximize their ability to create positive impact and achieve their mission of contributing to the success of entrepreneurs. He adds, "This would also help transform our industry through leading by example and showing the impact our skills can have on changing lives within the entrepreneurial community."
Substantial growth during the pandemic
COVID-19 pandemic shattered everything around the world. The team realized that it was high time to support their community. Robert adds, "We knew with the economic shut down our community needed us more than ever. With conflicting sources of information during these uncertain times and opinions changing daily, nobody knew what to do, causing fear. We knew at that time we wanted to be someone they could turn to."
The responsibility to help their clients and community pushed the team to launch their free Facebook Community that focused on news on the latest resources, financial support, and government initiatives and was updated every day. The response to this initiative brought wonders to the firm. Robert states, "People were actively finding us, appreciated the no commitment support we gave and established a relationship trust. After, when they were in a better financial position, they actively pursued working with us."
Since the start of the pandemic, the firm has grown by 69% in revenue and 72% in team size leading them to be widely recognized. Robert expresses, "It is an honor gaining nationwide recognition, and across all professional industries after all the hard work our team put in over the last 12-months."
Taking the firm to the next level
Serving as the founding partner of the firm, Robert oversees several aspects to fuel the growth of the company.
He believes leadership starts with communicating vision, demonstrating passion, giving direction, and leading by example. So, he marks the beginning of every day with a group call together with his entire team to discuss different aspects of the company like, what everyone is working on, any roadblocks, and how the leadership team can support them. Beyond that, his day is anything but typical and could be comprised of a large variety of strategic and growth-oriented initiatives.
"My day could include collaborating with community partners, creating new strategic relationships, helping support my leadership team, completing quality control on ongoing work in the firm, reviewing client acquisition, developing new resources/training, facilitating 1-on-1 or group coaching calls or any number of public relations commitments including speaking at events, podcasts, within online communities or contributing articles to business publications," he expresses.
Knowing the importance of technology and innovation, Robert pushes everyone to keep a steady flow of innovative ideas. He states, "We also recently introduced a weekly strategic direction announcement sharing new initiatives and opening the floor for team members to ask questions and contribute ideas."
He gets his constant dose of motivation by attending multiple professional development courses and participating in mastermind groups around the world, and gaining inspiration from different industries on how to drive next-level results.
He knows the importance of maintaining positive morale in the team. An amped-up team will push the limits to grab new opportunities to serve the customers in the best way possible and explore the uncharted space. This year the firm started a Social Committee that is responsible for organizing ongoing social events such as celebrations, fundraising events, and team-building activities. Robert says, "The social committee keeps us engaged, connected, strengthens relationships, and improves morale."
Thoughts on work-life balance
Robert knows the importance of creating a balance between the professional and personal front. To keep his work-life balance in check, he makes sure to reserve weekends and most evenings to spend time with his family and kids. This allows him to lay off the stress of his everyday routine and re-energizes his mind and body to tackle the upcoming challenges. He promotes the notion of the work-life balance in his employees as it will allow them to grow further and manage everything smoothly.
Limitless future
Even after taking the firm to a different level, Robert believes that the future of the business is bright. Their highest priority is helping the entrepreneurial community be as successful as possible in impacting change in the world. Their future growth trajectory continues to evolve and as they continue to strive to be the #1 financial expert. They want to become the beacon in the financial world where entrepreneurs come and reap good benefits. Robert states that there are countless opportunities to expand into other disciplines to provide the greatest value possible to their clients.
His personal goal as a leader is to continue to create a team of the best professionals who share his passion and build a business that he can provide direction to but ultimately operates day-to-day without his supervision.
Robert's secret recipe to success
Robert urges the rising entrepreneurs to create a company that gets them excited to go to work rather than just settling with the status quo. It is crucial to find something that holds a significant meaning in one's life. Moreover, one needs to surround oneself with collaborative experts who share one's values and resonate with the passion. This will allow a person to grow exponentially. He expresses, "Keep things exciting, fun, and build something you can't imagine not being part of. The exciting part of being an entrepreneur is being able to create something new and dream about how it can change the world."