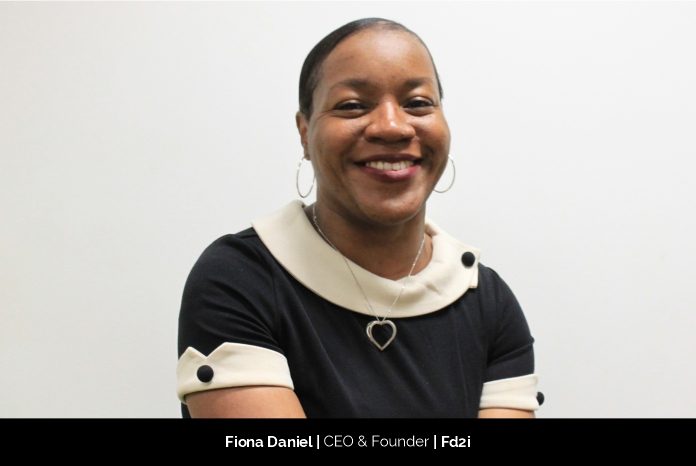 In recent years, Diversity, and Inclusion – two interconnected concepts have garnered a lot of attention; one cannot exist without the other. Diversity without inclusion creates a toxic work environment. Even the most progressive companies fail to create an atmosphere where everybody feels that they belong. An inclusive work environment is one that makes everyone feel equally involved, valued and supported in all areas of the workplace and Fiona Daniel founder and CEO of FD2I understands this and helps businesses foster more inclusive practices to create a stronger company culture.
I'll Rise Up
Fiona held several roles within diversity and inclusion from being a Global Head of Employee Networks to Senior Global Diversity and Inclusion Relationship Manager to UK Head of Diversity and Inclusion throughout her 25-year career in the Financial Services Industry.
Along the path, she was inspired by many people who have left an indelible mark on her journey.  But her main source of inspiration remains the impactful words by her father – "Sometimes you just need the right setting to truly shine, and you may need to do that on your own terms."
The transforming moment for Fiona was a few years back. She recalls, "I came into work one morning in 2016 listening to 'Rise Up' by Andra Day for the first time and I was moved. It became my mantra and daily motivation for three years. I remember I was at home, outside, listening to that very song and I saw a beautiful bird flying free, and I knew I had the key all along to open my own cage. I was ready to fly. I would rise and find the right setting to shine in. I went into work and made the biggest life changing decision of my life; I gave my notice and have not looked back since."
Fiona is also extremely grateful to her executive coach. She states, "I was blessed to have an amazing executive coach too, and after a couple of sessions the pieces fell together and FD2I was born."
In Spite of The Ache, I Will Rise a Thousand Times Again
Fiona faced many prejudices which many black employees face. She says "I worked in corporate environments for over 25 years and reflecting over the years on not seeing any black men and women in those higher echelons made me question myself and my values. Facing the roadblocks which many black women face of having the ambition and drive to progress versus being overlooked, watching others whose 'face fits' be given a role that you know you can do and have consistently demonstrated you can do, the roadblocks of microaggressions, assumptions, stereotypes, biases, etc. All those things taught me a valuable professional lesson and were an additional inspiration to establish my own business."
Her takeaway from this was, "I am the captain of my own ship, and placing my fate in the hands of others is not a long-term strategy for personal success, I would rather be sailing to the beat of my own drum towards an environment where I am valued, accepted for myself self and can thrive."
Fiona strongly believes that challenges make us stronger. She believes that these challenges are the essentials that have heavily contributed and helped shape who she is, help her grow and be resilient.
FD2I Redefining Businesses
FD2I provides expertise in supporting companies who truly want to make an impact with their diversity and inclusion efforts with an inside-out approach that works. She adds, "We help companies shift from diversity to inclusion and work hands-on with them to provide the practical know-how to do that across their whole business."
Fiona contributes to redefining businesses by enabling businesses to first understand what diversity and inclusion mean and what it means for them as a business. She explains, "Often business cites the business case of diversity and inclusion but not their own business case. Second, it enables businesses to both see and include diversity and inclusion in their strategic planning. This sometimes means breaking down business strategies bit by bit and rebuilding them with diversity and inclusion in mind. This is not about changing the strategy or the strategic priorities, this is about enhancing it with diversity and inclusion incorporated and diversity and inclusion becomes a key enabler of achieving business success. When a business desires a culture of integrity and innovation, I contribute by focusing and implementing diversity and inclusion to include values, behaviors, addressing and putting right the systems and processes that inhibit an inclusive culture by excluding those that are different and retain the status quo and suppress integrity, creativity and innovation."
Work-life Balance
Fiona wears many hats in her company. A regular day for her is generally running the business, one moment consulting with a company, next working with clients designing and implementing their diversity and inclusion strategy, and next managing the finances. She can accomplish this as the business is still in its infancy phase, but as it grows, she expects to take a back seat and focus even more on strategy, growth, investment to expand. Fiona likes to learn so learning more about running a business is also on the cards. Her view is to grow as the business grows.
Being a CEO and handling so many responsibilities is not easy, to top it up, Fiona is also a caregiver. She understands the importance of balance in personal and professional life and tries to maintain this balance for her well-being and health. She adds, "I am very upfront about, being a caregiver so everyone I interact with knows that I have equally important obligations, it's who I am, and I have made it part of my email signature too to include how and when I work."
High Like the Waves, We'll Rise Up
Achieving equality in the workplace remains a top challenge for businesses mainly because many companies believe they already have a diverse and inclusive culture. However almost half of Britain's workforce believe that the employers could do more. Fiona works with employers to create a more inclusive workplace as she knows what it's like to be different and not included. She adds, "We know the huge benefits when you are included and it's that belief which ensures we remain highly motivated and inspired to deliver the best service."
Her vision for the company is mainly about growth; She envisions FD2I to be one of the UK's leading diversity and inclusion specialist companies. She states, "We are still in our infancy yet, demand for what we do and how we do it is increasing, so the focus is on the right business structure to enable us to meet to the growing client base."
Fiona's personal goal is to step back from active design, delivery and consultancy and be a CEO running the business, setting the direction, and making key decisions that impact the direction and the people who make the business what it is.
Fiona concludes by giving a small message for aspiring businesswomen – "Don't underestimate the influence, experience and impact you have, a good business head and common sense will get you halfway there, belief in yourself and passion will take you the rest of the way. Don't let fear hold you back, let drive and ambition to fulfil your dreams and push you forward."