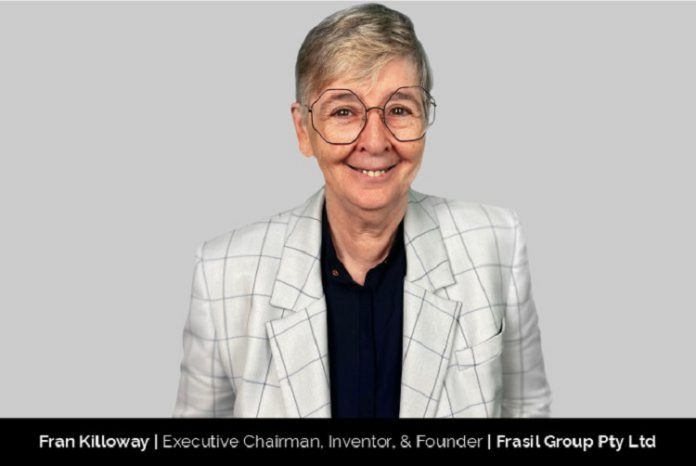 A leader becomes an inspiration when they channel their expertise into the development of others, with a vision to add value to their lives. Some of them are inspired by other great leaders, some are self-motivated while some leaders learn from the lessons of life. One such inspiring leader is the Founder, Inventor and Executive Chairman of Frasil Group Pty Ltd, Fran Killoway. When Fran, went through a heart-wrenching experience of losing a loved one, she decided to turn her grief into a mission to help people with disabilities which laid the foundation of Frasil Group.
Frasil is a technology for people living with disability. Frasil helps them to communicate and interact with today's modern digital world by engaging them with a new sense of fulfillment and belonging, promoting a more inclusive and less isolated world. Fran comes with an extensive technical experience of over 20 years and is driven by a passionate spirit to inspire. In this exclusive article, CIO Views magazine shares the success journey of Fran Killoway that highlights the challenges she faced and the vision that kept her motivated through it all, to achieve her goal.
The Motive of Founding Frasil
Fran laid the foundation of Frasil 10 years ago when a close friend of hers was diagnosed with MND (Motor Neurone Disease) and lost the ability to speak. Despite the several products that could address the issue, they were either expensive or did not work the way they were supposed to. Fran took it upon herself to create a product that could help her friend interact with the world around her. But, before the product could be built entirely, Fran's friend passed away. Since then, Fran has been on a mission to help those in need and develop a humanoid companion, which will be there for them all the time.
Before establishing Frasil, Fran spent a decade of her life gaining knowledge in Artificial Intelligence through associating with BCG on AI theories, a large US Defence company, Oracle, and other large multinational corporations. But within her thriving career, she took a three-year hiatus from her corporate life owing to personal reasons. When she returned in 2010, Fran aimed to translate her knowledge on AI to build solutions that can improve and enhance the lifestyles of people living with disabilities. By committing herself to the mission and spending the next four years of her life in various research programs, she established Frasil in 2014. Frasil was built to commercialize AI Technology and render solutions for people living with disability, disability service providers, and 24/7 research for other stakeholders, including the government.
Overcoming Challenges with an Enduring Spirit
Fran Killoway's background in Artificial Intelligence and Machine Learning coupled with neural networking is not traditional and it is hard for people to believe that this 68-year-old female has brought such change to the traditional computer logic and then added the complication of making the AI and ML work for most people living with disability. Fran has faced four main challenges:
People accepting a woman her age could have the knowledge of these sophisticated neural networks and AI and ML capabilities. There has been a large disbelief that Fran has been able to develop the technology she has. And yet Frasil exists today.
The level of disbelief Fran confronted and consequently struggled to find was networks that typically dealt with not only this level of sophisticated technology, but the misconception that people living with disability was a very small niche market.
In building Frasil, the technology had to solve problems for all disabilities. Exploring the factors that would motivate technologies to not only listen to the needs of people living with disability, but how to encourage people to create, develop, and maintain the motivations when faced with building technology in a new way.
The final hurdle was then realizing that all or most technology professionals are educated, in a very similar way and in the same school of thought, presenting beautifully designed screens that look pretty with lots of color. This process does not necessarily work for people living with disability unlike her simple black and white screens. In the end, one of the things that Fran looks back and laughs at the most is her struggles in trying to get simple black and white screens. One of her longest supporters over 20-year, Dr Thomas Reichert, Global Practice Leader, BCG, New York, kept insisting that Fran must trust her instincts. In the end, the support she received from the senior partner in Deloitte Australia has been the difference in finally getting Frasil to market with those black and white screens.
The Innovative Services of Frasil
Frasil is a software designed for people living with disability. It has been designed using Artificial Intelligence, Neural Networks and Machine Intelligence to give a personalized voice to people living with disability. The app provides a voice for the individuals that need it the most and will continue to update to each user's needs. With Machine Empathy, Frasil is the first technology of its kind in providing the users with a voice that can be heard, trusted, and understood.
Frasil has no direct competitors in the industry since it is the first technology of its kind. Fran has introduced neural network technology into Frasil and used the science and mathematics behind quantum mechanics, physics, and calculus to produce an electronic vocal recognition software that will personalize individual vocal grunts and sounds, turning them into a comprehensible voice that can be heard, understood, and trusted. The technology of Frasil is ground-breaking and will provide life-enhancing experiences for people living with disability in a way never done by anyone before.
Frasil is the market leader in the disability market and will retain its cutting edge because it respects the products and services of all its competitors. Frasil currently offers free real estate to all competitors because in a lot of cases people living with disability are habitual. However, Frasil finds that most of its' competitors offer one size fits all solutions and, in most cases, these single point solutions are expensive and can be very complex to use. Fran's backwards and upside-down way of building Frasil's Neural Network, AI and ML will ensure that Frasil will continue to stay ahead because of the markets reluctance to accept that people living with disability have different wants and needs that need to be delivered on a low-cost platform.
The Role of a Leader with a Defined Vision
Frasil runs a very small team consisting of successful and strong individuals. As a leader, Fran's responsibility is to make this unique collaboration work ensuring that the skill set of each team member is heard. This collaboration provides strategic and operational leadership that sets Frasil's goals, develops strategy, and ensures the strategy is executed effectively. But equally important to Fran's leadership is to create the organizational and cultural DNA for Frasil going forward. This collective leadership and how its members interact serves as the model that ensures its users, people living with disability, are heard and respected. Fran encourages creative thinking at Frasil through building on the foundation of teamwork. Regardless of how one describes the word leadership, Fran cannot deny the fact that individuals can greatly impact the lives of others based on their experience.
While everyone at Frasil is living on different timelines on their journey through life, they look up to leaders for guidance and advice. Fran believes the quality of communication with a strong sense of integrity is an important characteristic for a leader to possess. It is important to be simple and direct for people to listen, understand, and encourage input throughout the different teams at Frasil. It is important to remain transparent for everyone at Frasil, to understand the values of trust and understanding, to build the best team of workers, to provide people living with disability the best of what Frasil has to offer.
Touching Lives with a Kind Motive
Frasil is built on its future vision, as Frasil is a tool to provide life-enhancing experiences for the future of people living with disability and the community around them. Frans hopes that Frasil will allow for people living with disability to feel connected with the world around them in a familiar and safe environment. Forging ahead, Fran mentions that the company is planning on adding additional features to its AI neural network platform, which will make it possible for the system to serve people living with disability in extraordinary ways. "Technological advances to the system will be driven by the needs and desires of our users." says Fran. Intelligent Humanoids such as Frasil's are just the beginning of technology empowering people with disability and helping them to enhance their life.
Fran believes she is good at treading the market and making decisions. It is about balance, around clarification and dealing decisively with issues in her ethical grey zone. Being able to identify and "navigate fork in the road" situations. Fran recognizes that she needs to accept mistakes and rectify these mistakes. She leads with both vulnerability and humility. The leadership team are all strong minded, intelligent, and successful individuals who are as passionate about Frasil as Fran is. So, it is important to Fran to allow them to grow the business.
Planning a Future of Power and Innovation
Frasil is a .com technology that is available on a global level already for Android and iOS devices. The company can reach 1,800,000,000 people. The size of the disability market is enormous (over 1 billion people) and a major growing issue for governments around the world. Frasil has a long pipeline of developments to provide greater functionality of its App. Frasil is developing a 'Management Software' for organizations concerned with people living with disability. The software is aimed to provide management with greater insights into the needs of their clients and the effectiveness of their services. Notwithstanding, over time, the data Frasil will collect from these initiatives will be extremely valuable to the government and other decision-makers regarding of the effectiveness of funding and the solutions to be offered to allow people living with disability to show what they have to offer. This data adds additional billions of dollars of savings in the cost of programs while resulting in procuring better services for people living with disability. Remaining positive and viewing the impact that Fran has had on individuals around the world with Frasil encourages the team to keep pushing forward and develop new technologies that will help the people that need it the most on a global level.
As humans, we feel encouraged when we receive a certificate of appreciation, however there are just a few one of a kind leaders who pay heed to the voice of critics and turn it into a motivation to do better. Fran proved this right when she was told that Frasil's technology is no good. She regards this as the best feedback she may have received as this boosted Fran even more to create this technology, to become a companion for people living with disability, and to continue to listen to the feedback from clients to ensure Frasil is the best possible app for all user's individual needs. As she steams ahead in her wonderful journey of passion and hard work, Fran has an inspiring message for every businesswoman, "If you believe something, then follow that belief and with a great deal of passion and persistence and don't give up. You will get there", says, Fran, as she leads by example.