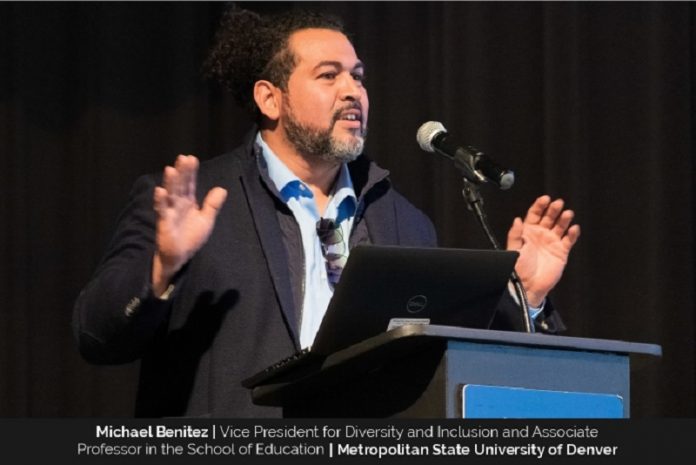 Michael Benitez, Ph.D., is a leading voice for diversity, equity, and inclusion (DEI) in the U.S., a country he migrated to from Puerto Rico early in his childhood. In the field of higher education, he has served in professional roles and positions with critical impact, improving and transforming institutions of higher education, the lives of people around him – colleagues, peers, and friends — the communities at large. He considers it a success if he is able to shape and improve the lives of those around him and contribute to the upliftment of the collective or organization.
Michael is currently serving as the Vice President for Diversity and Inclusion at Metropolitan State University of Denver. He also holds the position of Associate Professor at its School of Education. As the Vice President, he is elevating the MSU Denver brand as one of inclusive and academic excellence in all that they do – from accessibility to quality, to end product.
In November 2022, Iowa State University's College of Human Sciences presented Michael, an alum of the university, with its prestigious Alumni Achievement Award, recognizing his achievements in the area of education. It is a "meaningful" award for him as it recognizes his entire collective body of work, both small and big. He, however, does not work with the goal to receive awards or accolades for it. "My aim is simply to do good work, have an impact, and play a role in transforming lives for the better," says Michael.
"Life isn't about finding yourself. Life is about creating yourself." — George Bernard Shaw
Rising from Humble Beginnings
Michael comes from a humble economic background. When he was 6 years old, he and his mother moved to New York, U.S. from Puerto Rico, where they faced many hardships, even homelessness. Michael recalls that he, his mother, and his three siblings lived in two shelters over the course of two years after moving from New York, to Bethlehem, PA.
Since a very young age, he has been intrinsically motivated to help others. A young Michael translated for his mother, volunteered in school, and was always helping others in need. "From a very young age, I began to recognize, to some degree, that helping or serving others was gratifying," he says.
During his growing up years, Michael often reflected on his experiences and the people in his life who supported him, and in the years between high school and college, he began to take an interest in pursuing a career in education.
Michael's interest in the education field, to a great extent, was stoked by his personal experience. "Being a first-gen college student, Afro-Latino, low-income, experiencing homelessness was challenging, but not as challenging as being made to feel like I do not belong – racism, ongoing racial microaggressions, othering," he says. And, even as a young student of color, he could observe and experience why many students who get into college decide to stop before completing their studies.
A career in education, Michael felt, would provide him with a platform to help elevate students from underrepresented and minoritized identities, similar to his, and help them navigate and negotiate their college experience. He started his work in higher ed as a student leader and worker for programs such as CSP, TRIO, SSSP, and CAMP. All pipeline programs. Michael has now been in higher education for close to 25 years.
Prior to his current role at MSU Denver, he served in various leadership roles in multiple educational institutions. He has worked as an Academic Advisor, Retention Counselor, and Director of several Offices and Cultural Centers, including as Director of Diversity Initiatives and Social Justice at Dickinson College; Director of Intercultural Development and the Black Cultural Center at Lafayette College; Director of Intercultural Leadership at Grinnell College; and CDO/Dean of D&I at University of Puget Sound.
"I am also a poet/spoken word artist and have, over time, become a go-to expert on a variety of topics-mostly within DEI work in education, arts, society, workplace, and other fields," says Michael.
"If peace means a willingness to be exploited economically, dominated politically, humiliated and segregated, I don't want peace. If peace means being complacently adjusted to a deadening status quo, I don't want peace. If peace means keeping my mouth shut in the midst of injustice and evil, I don't want it. Peace is not simply the absence of conflict, but the existence of justice for all people." — Dr. Rev Martin Luther King
Stepping into DEI Leadership Role
While working for TRIO and CAMP programs in higher education, Michael, for the first time, stepped into a leadership role in the DEI space. At the time, he helped cultivate and foster a community of care, inclusion, and success for underrepresented students in higher education.
"Little did I know that my heart, passion, and conviction to ensure that all students receive the care and attention they deserve to be successful in college would lead me to today- holding the Vice President position and being one of the go-to voices for DEI in the nation," Michael says.
For him, his work in the DEI space is not his day job but a call or vocation. It allows him to lead from the top and leverage his voice, personality, and power to ensure that values such as community, respect, excellence, diversity, inclusion, equity servitude, compassion, and empathy become a part of cultural, organizational, institutional, and structural fabrics.
Michael does not think that he took a leap of faith and carved out a leadership role for himself in D&I. He believes it is the other way around. "Through my life journey, my experiences coupled with the human need and love, called upon me to embrace this necessary and important work in D&I leadership," he says.
Lessons Learned from Roadblocks
Michael's path to success was strewn with roadblocks. Instead of allowing them to scuttle his progress, he learned from them. And it is from unexpected roadblocks, he learned some of the most valuable lessons.
When faced with adversity, he learned that resilience and grit are incredible cultural strengths. In his long career, Michael has experienced systemic racism – among other isms – in varied forms, and from that, he learned about the power of restraint and sacrifice and the beauty of struggle.
Persistence, agency, and self-determination are the biggest lessons he has learned because of not having enough resources and structural barriers. That said, he also acknowledges the value and criticality of support along the way to overcome roadblocks.
"Through the most unexpected of experiences and some teachers that were part of my journey, I learned the importance of patience and staying confident and persistent in my efforts and attempts to attain the goals I set out," Michael says.
Responsibilities at MSU Denver
Michael joined MSU Denver in September of 2019. Primarily, he serves as the Vice President for D&I, and also holds a tenure-line Associate Professorship in the School of Education.
"A regular day at work can range in my role," he says. On any given day, he is working closely with faculty and staff on development and pedagogy, and inclusive practice. On other days, he might be responding to matters of significance that surface. "Yet on other days, I am in plenty of meetings addressing policy and practice on any given topic," Micheal says.
Micheal is a member of the President's Cabinet. He advises the President, Vice Presidents, and Senior Staff members of the cabinet on matters of equity, diversity, and inclusion, including campus climate and community relations. He collaborates with senior leaders within the divisions of Academic and Student Affairs and other members of the executive team for recruitment, hiring, and retention of faculty and staff.
In his role as the Vice President, Micheal also regularly coordinates and collaborates laterally and cross-functionally across divisions to create professional development opportunities for senior leadership, faculty, staff, and student leaders – ensuring that issues of equity, diversity, and inclusion are integral components of institutional decision making and organizational culture.
And he oversees and provides leadership to the office of D&I. He does that by promoting and establishing initiatives that address issues of equity, inclusion, diversity, access, and success. Furthermore, he serves as a champion for all EDI efforts and endeavors within all university strategic planning processes and helps guide the continued development of an inclusive campus community that nurtures learning and growth for all its members.
Michael says that he also assesses and monitors the University's needs related to EDI and makes recommendations regarding improvements relative to campus climate culture for faculty, staff, and students. He leads the development and implementation of the institution's diversity strategic plan and serves on University's Strategic Planning team, in addition to serving as a liaison to, and convener of, the broader Denver community for strategic thinking and action around DEI.
Michael can also be seen working closely with community stakeholders such as Colorado's Black and Hispanic Chambers of Commerce and many cultural arts centers and community organizations across Denver.
Despite his packed work schedule, Michael makes sure to spend time with his family, enjoy with his wife, whom he lovingly calls 'Queen', and his children, and make memories. "Memories can range from something as simple as carving out weekends to have fun or enjoy going out for a meal together to more distant travel," he says. He also encourages – and to some degree enforces upon – his team to engage in the same practice, whatever that looks like for them.
Balance coupled with his passion for DEI work keeps him motivated. He has also cultivated a team that is also deeply passionate about DEI.
"Success is to be measured not so much by the position that one has reached in life as by the obstacles which he has overcome while trying to succeed." — Booker T. Washington
About MSU Denver and Its DEI Goal
MSU Denver is a leader in social mobility, committed to fostering equity. It is a modified access and anchor mission institution, grounded in equity and excellence. The University is known for its social justice, equity, and access-oriented mission. Its mission is to provide a high-quality, accessible, enriching education that prepares students for successful careers, post-graduate education, and lifelong learning in a multicultural, global, and technological society.
Michael points out that the university is the higher education leader in graduating and supporting undocumented students. It also serves a large constituency of military veterans. About 54 percent of MSU Denver's student body self-identify as students of color. More than half of its students are first-generation college students, and many come from economically humble backgrounds. Almost 80 percent of students work, many full-time, while they are enrolled in school, and more than 50 percent are non-traditional students.
MSU Denver is also the top transfer destination among Colorado colleges and universities. Because of that, its students are engaged citizens, making an immediate impact on the state's workforce and community from the moment they enroll. "Our students graduate not only prepared to enter the global community as thought leaders but also as ready-to-go practitioners aware of contemporary workforce needs," Michael says. For the University, growth is only as important as its ability to graduate students and ensure they are placed on a path to success – be that at MSU Denver or elsewhere.
MSU Denver also prides itself on recruiting and sustaining a diverse workforce. It is known for creating paths for existing employees to grow into higher leadership-level roles. "It is an incredible institution of higher education," Michael says. "This is also a fantastic place to work, with an amazing Senior leadership team committed to fully supporting faculty, staff, and students."
Michael is enhancing belonging, great working culture, satisfaction, and pride at the university through innovative D&I ideas and programs. His goal is to contribute to making MSU Denver a national leader of DEI in the field of higher education.
Personal Goal: Contribute to a Film
Outside his professional space, Michael is passionate about acting. "Though serendipitous in my approach to my personal journey, I would say I spend time thinking about the possibility of a Presidency in high education in the future, but I likely spend more time thinking about whether or not I have enough in me to give an acting career a shot," he says.
Michael is not looking to become a star but feels it would be "humbling and gratifying" to contribute to a film, beyond the documentaries he has been on. His son is an actor. So, he is, for the time being, living his acting ambitions and enjoying this part of his soul vicariously through his son's incredible craft.
"Love education and love being in a position to impact and influence change and transformation for a healthier and compassionate human democracy through the advancement of EDI, but I certainly still have an appetite for the artistic stage, beyond the spoken word and public speaking," says Michael.
Message to Next-Generation & Aspiring Leaders
D&I work, according to Michael, requires of every generation to assume some level of responsibility for readdressing and reckoning with past actions, such as a policy aimed at excluding people of certain identities from full participation that continue to plague progress.
Often, after his talks, he hears from people that he inspires them to take on such work as DEI – sort of like a calling. He, however, prefers his influence to be one of liberating minds so that they can advance equity, diversity, and inclusion for a stronger democracy. With liberated minds and hearts, Michael assures them they will achieve balance in their lives, cultivate self-worth and wealth, and contribute to a healthier and more sustainable tomorrow.
He wants to assure the next generation that they will see themselves and diversity represented in the highest leadership positions, and they will be confident, not needing to compromise their authenticity in order to achieve success. "I would also like to influence the next generation to lift each other and love each other more," Michael says.
In a message to aspiring leaders, he says, "Follow your heart, own your authenticity, stay evolving, cultivate and nurture relationships, and lead with servitude – especially in D&I work. Love and Hope are everything."