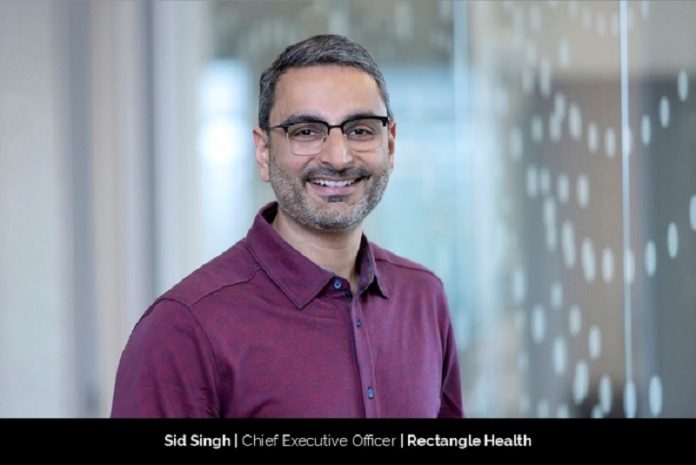 Acquaint yourself with Sid Singh, the forward-thinking CEO of Rectangle Health. Utilizing his significant knowledge in the financial technology and healthcare industries, he is currently leading the drive to take the organization to new heights in his role as chief executive officer (CEO). Sid has been acknowledged as a true pioneer due to the fact that he possesses more than 20 years of expertise in the areas of software-as-a-service (SaaS), technology, data, and analytics. His inclusion in the list of "The 10 Most Innovative CEOs to Watch in 2023" is well-earned and a testament to his accomplishments. Rectangle Health has advanced thanks to his innovative approach and inventive methods, which have built upon the company's solid foundation. The future is bright for Rectangle Health and the numerous people who rely on its innovative solutions with Sid at the helm.
Unique Definition of Success: A Holistic Approach to Business Leadership
The CEO of Rectangle Health believes that success is more than just achieving business results. While he and his team strive for high performance, they also recognize that how they get there is just as important. In this way, he takes a holistic approach to business leadership that balances all stakeholders' needs and promotes a servant leadership culture.
To illustrate his point, Sid gives an example of three guiding principles that shape his approach to success:
According to him, getting buy-in from employees and other stakeholders is essential for success. It involves balancing the priorities of all stakeholders with a focus on delivering business results. He emphasizes the importance of understanding stakeholders' needs and motivations to align everyone around the goal of value creation.
Deciding with Speed and Conviction
He recognizes the delicate balance between consensus and decisiveness. While giving all stakeholders a voice is important, he cautions against equating this to a vote. Instead, Singh encourages listening to and soliciting views while avoiding consensus-driven decision-making. By making decisions with speed and conviction, Sid believes leaders can move their organizations forward while keeping all stakeholders aligned.
For him, being a successful leader means being a student, removing roadblocks, and coaching and mentoring team members. He believes in teaching people to be valuable rather than simply successful. By promoting a culture of servant leadership, Sid hopes to create a work environment where everyone can thrive.
The Inspiration Behind Joining Rectangle Health
Sid has moved ahead in his career with concentration and resolve. He has been an excellent leader because of his attention to detail, focus on accuracy, and thoroughness. For Sid, this quality is intrinsic.
"I joined Rectangle Health because they have built a fantastic company with tremendous growth potential, contributing significantly to the healthcare provider and patient experience," shares Sid Singh.
For Singh, the company's mission of promoting healthy practices and enhancing patient care deeply resonated with him. With a strong background in technology, including prior experience in payments and SaaS, and a family boasting 16 doctors, Sid's passion for improving healthcare through innovative solutions was ignited.
Revolutionizing Care with Rectangle Health
Despite achieving remarkable success, Sid feels that much work must be done to fulfill the company's goal of providing cutting-edge solutions to healthcare providers. With the healthcare industry undergoing a critical transformation, it is essential for Rectangle Health to meet the ever-evolving needs of providers and ensure that healthcare organizations thrive in the digital age. As a leader, Sid is committed to driving innovation and empowering healthcare providers through Rectangle Health's industry-leading solutions.
Rectangle Health in Brief
Rectangle Health offers advanced technology and comprehensive tools to empower healthcare practices to run smoothly and efficiently. From the convenience of online scheduling to hassle-free post-care billing, the company's cutting-edge Practice Management Bridge® platform elevates the patient experience, reduces administrative workload, ensures financial stability, and simplifies healthcare and payment compliance. With a proven track record spanning nearly three decades, the company has successfully optimized practice management workflows for tens of thousands of healthcare practices across the United States.
Overcoming Roadblocks on the Path to Professional Growth
An efficacious leader must think strategically in the face of many obstacles. They need to zero in on what's triggering the issue and figure out how to fix it. This calls for in-depth knowledge of the field, current market conditions, customer behavior and the ability to motivate teammates. They need to be risk-takers and able to make tough choices to propel the company ahead. How has it been for Sid Singh?
"I have been fortunate to be given multiple challenges over the years – running product for a Fortune 500 company at the age of 32, turning around a 120-year-old legacy business, and building a $1 billion business from scratch," says the accomplished executive, reflecting on his professional journey.
However, it was the roadblocks he encountered that taught him valuable lessons. First, he learned that individual brilliance only goes as far; one needs a system that works to achieve sustained growth. "You cannot clone heroes," he emphasizes.
Secondly, he realized that trust is essential for any team to succeed. Building a team that trusts each other is critical to overcoming obstacles and achieving goals. He notes, "A team isn't a group of people that work together. A team is a group of people that trust each other."
Finally, Sid underlines the importance of listening more than talking. In a leadership role, it is easy to fall prey to a power dynamic where people may not tell you what you need to hear. He accentuates the need to build open, honest, and fearless communication channels to remove roadblocks to success.
Taking Risks and Being Even-Keeled: Insights from a Successful Executive
Sid Singh's career took off with bold and risk-based decisions. Moving to Hong Kong with his wife and newborn, uncertain about having a job in India upon return, marked the beginning of his journey. According to him, it was the "best decision" he had ever made.
As Chief Product Officer, he drove innovation, making it one of his career's best and most risky decisions. Later, as the President, US Information Solutions at Equifax, he led the rebuilding of the business after a 2017 cyber event, undertaking a complete business transformation.
Sid shares, "I always wanted to move my cheese, always wanted to challenge the status quo. Take calculated risks!"
Leadership Feedback: The Most Valuable Kind
For Singh, the best feedback he ever received as a leader was when someone told him, "Sid, I have never seen you lose your cool. How come you are so even-keeled all the time?"
Sid Singh is a highly regarded leader who has become a source of inspiration for many. Through his calm and composed approach and his unwavering commitment to integrity, he has fostered a culture of transparency and trust within Rectangle Health. His team admires him for his leadership by example and often seeks his guidance and support. Sid's steadfast devotion to his company and employees is a testament to his exceptional leadership skills, making him a model for those aspiring to become successful leaders.