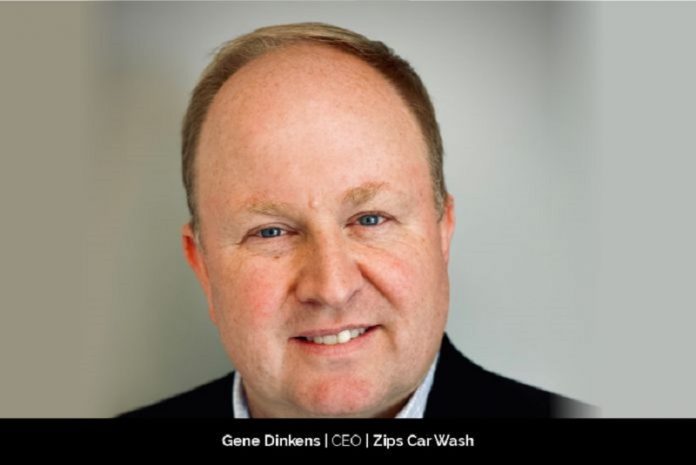 Gene Dinkens was promoted to CEO of ZIPS Car Wash in October of 2021. This year, because of his exemplary leadership and support from the growing ZIPS team, the company is in a great position to continue the aggressive growth track that it has already been on for several years. With Dinkens' leadership, ZIPS can "truly shine" in their efforts to be the best express car wash chain in the country.
Dinkens joined ZIPS in May of 2020 with no experience in the car wash industry. Instead of seeing this as a disadvantage, he saw it as an opportunity to bring some of the best practices he had implemented in other industries for over 30 years, to express car washing. And, because of that, over the last two years, ZIPS has seen significant improvement in their business model, their daily operations and Dinkens' has scaled their infrastructure to support the growing business.
"We feel like we are in an excellent place right now to grow our brand exponentially with our newest technologies in place, to help us scale in size quickly and efficiently," said Dinkens.
Joining a New Industry
Dinkens could see the opportunity at hand when he joined ZIPS, a brand that was on the cusp of significant growth. From the start, Dinkens believed that ZIPS had a great business model and a talented management team and that those qualities paired with his passion to scale customer-centric, service-focused businesses he could form a unique model in the industry. Together, under his leadership, they've  built a winning team and a winning environment for customers to have a great experience at ZIPS.
In a short time, Dinkens has carved a place for himself in the industry because of his sharp business acumen and top leadership qualities. Last year, while commenting on Dinken's promotion, Brett Overman, founder and former CEO of ZIPS, said, "he [Gene] is a skilled business leader who has had a tremendous impact on the business, and his promotion to CEO puts us in a stronger position to move ZIPS forward as we continue the rapid growth of the company."
ZIPS Car Wash  
From humble beginnings, ZIPS Car Wash has grown into one of the largest express car wash operators in the U.S. In 2003, Overman started the company with just two stores in rural Arkansas, and in June of 2004, ZIPS organized as an LLC and established its headquarters in Jonesboro, Arkansas. As a result of a string of small, one-off acquisitions, ZIPS began to expand, and overnight, in 2016, it doubled its size by acquiring Boomerang Car Wash.
At the time of acquisition, Boomerang had 33 sites. Dinkens points out that Boomerang also had an established corporate environment based out of Little Rock, so they moved their corporate office there to better support their growing business.
Over the past five years, ZIPS has added more than 170 car wash locations to its portfolio. These acquisitions have continued to fuel the company's growth as well as greenfield development in recent years.
In 2021, they experienced strong growth with the acquisition of 27 locations and expanded their reach into four new Midwestern and Mountain West states. After Dinkens was appointed CEO, ZIPS acquired sites from multiple businesses, including Fast Lane Express, and Four Seasons, and it also became the largest express car wash chain in North Carolina following the acquisition of two single sites from Heroes Car Wash and Rocket Wash Express.  In June of this year, ZIPS also became the largest express car wash chain in South Carolina after acquiring 12 locations in Myrtle Beach and Hilton Head. Acquiring locations in two vacation hot spots allows ZIPS to serve both locals and vacationers who may be in the area visiting and choose to use their ZIPS Unlimited Membership while on the road.
In May of 2020, ZIPS partnered with a private equity firm, Atlantic Street Capital, and moved its corporate office to Plano, Texas, while still maintaining offices in Arkansas. The move to Plano has offered the company better access to its growing portfolio of washes, says Dinkens.
The company that started with just two stores now has more than 235 locations across 24 states. Dinkens pointed out that a strong market presence in the areas they currently serve paired with continued growth and improvement really define who they are in this growth phase of the company.
Services and Leveraging Innovation
One of the number one goals of ZIPS is to be the best in the business of express, exterior car washing. Dinkens explains that they are not a flex model with tire and lube services like some of the others in the industry. They know – and are solely focused on – express car washing and that's what they are fine-tuning every day to make for a better experience for every customer.
For its customers, ZIPS currently offers four retail wash packages for every budget and three Unlimited Wash Club membership packages at every store. Consistent offerings of free towels and surface cleaner, free self-serve turbo vacuums, and access to the ZIPSme portal for Membership Management, Partner Perks, and giveaways help the company provide a custom express experience with ZIPS.
Innovation is what Dinkens and his team rely on every day to execute their operations. Therefore, it has become a priority for them to provide the most advanced communication tools their industry has seen. With over 235 locations, they are adamant about keeping their eyes and ears open to their daily operations to better support their team, which in turn, enables ZIPS to provide the best experience to every single customer.
"The culminated experiences from our leadership in business growth and their vast connections in service-focused industries are helping us to bring new technology and innovation to our brand and to the industry," says Dinkens.
Consistent Brand Experience
In 2021, ZIPS went through company-wide upgrades to its tunnel equipment and vacuums. It standardized the look and feel of its washes, with the ultimate goal of providing a consistent, fun experience, with the best quality car wash. Ceramics products were added to all sites in 2021, bringing the latest technology in car washing to every customer. Dinkens explains that their goal is to offer their customers a consistent brand experience when they visit one of their stores. ZIPS customers should experience the same service whether they visit a ZIPS in New Mexico or North Carolina.
ZIPS has implemented systems and processes so that their team members can ensure that they operate with integrity and with customers in mind at all times. "We're going to great lengths this year to invest in our team by expanding our training program and offering online training options for every single team member, so they are able to learn and grow with our business," says Dinkens.
Wealth of Car Knowledge
Dinkens points out that many of their national and regional leaders have been in car washing for over 25 years. They are regarded as experts in the industry. "While they're working to ensure we have the leading car care technology available to our customers, internally we've advanced in reporting, retention, marketing, and our overall growth strategy," he adds.
Over the last few years, the ZIPS team has done the hard work to create a replication process that is now in place, along with that they have built the proper infrastructure to support the advances ZIPS plans to make in the coming years. Dinkens says that a key priority in those advances has been gaining a better understanding of express car wash customers with extensive industry research.
"We've prioritized having a strong leadership presence in the field to obtain a better understanding of our customers, our competitors, and our vendors," he adds. "Listening and acting on the data our research and associational research has to lend us, has been imperative for our success."
Giving Back to Communities
Since its foundation, ZIPS has supported the local community. Over the years, it has focused on benefitting children through "Make a Wish" Foundations in Arkansas and Kansas. In recent years, ZIPS partnered with Susan G. Komen to "Wash for a Cure" and has helped raise $200,000 for cancer research.
ZIPS supports active Military and Veterans with free car washes on Veterans Day every year and in 2021 ZIPS donated over $10,000 to Operation Homefront, an organization whose mission is to build strong, stable, and secure military families so they can thrive—not simply struggle to get by—in the communities that they've worked so hard to protect. In May of this year, ZIPS donated $5,000 to Carry the Load, a worldwide movement to honor our nation's heroes and make Memorial Day matter again.
ZIPS showed its support of healthcare heroes across the country by partnering with Lori's Gifts to celebrate National Nurses Week and National Hospital Week in early May.
"Overall, ZIPS has given back over one million dollars to support local schools, organizations, and individuals as part of the company's pursuit of being about more than just washing cars," says Gene.
Best Recognition
Dinkens does not like to give himself the credit for the recent success of ZIPS. "Our people really make our business what it is today," he says, adding that they have an outstanding crew of over 1,500 team members across the company representing a combined total of over 100 years of car washing experience.
Dinkens takes a sense of extreme pride in a team member's hard work and dedication to the ZIPS brand when a customer recognises that individual by name through an online review channel, social media, or other consumer platforms.
"It's one great customer experience at a time that makes ZIPS who we are today," said Dinkens.