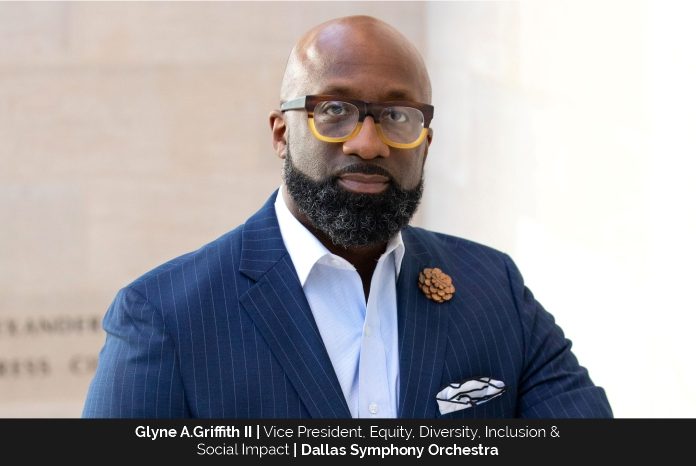 With a Doctor of Business Administration degree with a specialization in Organizational Leadership and an impressive track record in diversity, equity, and inclusion, Glyne A. Griffith II is Vice President of Equity, Diversity, Inclusion, and Social Impact at the Dallas Symphony Orchestra (DSO). He is leading the charge in transforming the organization into a more inclusive and socially responsible institution.
Griffith is a Certified Diversity Professional (CDP) with extensive experience in Corporate Social Responsibility (CSR) and Social Impact Partnerships. He's also a cultural influencer with a deep passion for promoting diversity, equity, inclusion, corporate citizenship, and social impact.
What sets Griffith apart is his diverse background in business, the arts, and technology. With experience spanning multiple industries, including arts and entertainment, philanthropy, music business, advertising, product planning, marketing, engineering, and connected technologies, he brings a unique perspective to the table.
Griffith's mission at the Dallas Symphony Orchestra is to create a more inclusive environment where everyone feels welcome and valued. He's already made significant strides in achieving this goal, launching new initiatives at the DSO that promote equity, diversity, inclusion and social impact, including employee resource groups, a comprehensive approach to celebrating diversity holidays, and a speaker series just to name a few.
Dallas Symphony Orchestra
The Dallas Symphony Orchestra (DSO) has a rich history of inspiring lives through musical excellence for over 120 years. It is the largest performing arts organization in the southwest United States and is recognized as a cornerstone of the Dallas cultural landscape. The DSO is home to world-class musicians, and its concert hall is regarded as one of the greatest in the world due to its architectural and acoustic prowess. The DSO has exceptional leadership at the helm, including Grammy Award-winning Italian conductor Fabio Luisi as music director and Kim Noltemy as President and CEO.
Innovation and a commitment to the community are primary elements that keep the DSO at the forefront. One example of this is how the organization responded to the global pandemic. While many arts organizations had to go dormant, DSO pivoted quickly, finding innovative ways to expand its
online presence and continue providing live music and service to the Dallas community. The DSO was recognized as the first major American orchestra to perform for an in-person audience in its own hall since the start of the COVID-19 shutdown, drawing widespread national praise.
A Changemaker Leader
Griffith is responsible for providing strategic leadership in the development, implementation, and management of equity, diversity, inclusion, and social impact practices and policies. He is tasked with integrating these values into every aspect of the Dallas Symphony Orchestra, collaborating with various departments to create actionable equity, diversity, inclusion and social impact strategies in alignment with the organization's mission and strategic plan.
Griffith feels privileged to lead the equity, diversity, and inclusion movement at the Dallas Symphony Orchestra. He takes pride in the fact that the DSO is dedicated to making equity, diversity, and inclusion an integral part of its operations. Griffith believes that his appointment as Vice President is a testament to the organization's commitment to equity, diversity, and inclusion, recognizing the need for a dedicated practitioner to drive change.
According to Griffith, there is a growing movement in the classical music industry to promote equity, diversity, and inclusion. He believes that it is crucial to increase representation and inclusion at all levels, including musicians on stage, board members, staff, patrons, and audiences. Griffith stresses that the beauty and excellence of classical music should not be limited to one particular group of people. It should be accessible to and enjoyed by everyone, regardless of their background.
Due to his experience and passion for equity, diversity, and inclusion within the arts, Griffith was invited by the League of American Orchestras to serve as a founding leader for its EDI Directors Constituency, advocating for and advancing equity, diversity and inclusion within America's orchestras. With a membership of more than 1,800 organizations and individuals across North America, the League of American Orchestras leads, supports, and champions America's orchestras and the vitality of the music they perform.
Diverse Working History
Griffith has a diverse professional background with experience in various industries and companies, such as General Motors, Nissan, Broadcast Music Incorporated, and SiriusXM. He started his career as an electrical engineer but later transitioned to different roles, including product management, marketing, advertising, arts and entertainment, and diversity, equity, and inclusion.
Prior to his current role as Vice President of Equity, Diversity, Inclusion and Social Impact at the Dallas Symphony Orchestra, he worked as a Senior Manager of Diversity, Equity, and Inclusion at SiriusXM, where he played a significant role in creating and executing a company-wide monthly event series that focused on educating and empowering employees on diversity, equity, and inclusion topics. Additionally, he oversaw SiriusXM's employee resource groups, which supported and empowered various communities within the company. Griffith also developed company-wide communications that celebrated and increased cultural awareness of special diversity holidays and observances throughout the year.
Significance of a Culture of Integrity in the Workplace
According to Griffith, the leadership of an organization plays a critical role in shaping its culture. For a culture of integrity to thrive, the leaders must demonstrate integrity in all aspects of their conduct, including their actions, words, decisions, and treatment of individuals, and establish a benchmark for the conduct expected from every member of the organization. Additionally, Griffith emphasizes the significance of transparency and frequent, reliable communication in fostering a culture of integrity.
Empowering and Supporting Others
Griffith has several peers in different industries who serve as equity, diversity, and inclusion practitioners. They support each other and communicate regularly, sharing successes and struggles. He believes that equity, diversity, and inclusion practitioners must be given the proper support and authority to effect real change; otherwise, their efforts will be futile.
For Griffith, the idea of being a blessing to others is fundamental. He feels that he has been blessed with gifts, talents, and platforms that he can use to empower and support others. This mindset is part of his calling and purpose, and he welcomes any opportunity to share his knowledge, inspire, counsel, advise, and connect people to help them achieve their goals.
"For I know the plans I have for you," declares the Lord, "plans to prosper you and not to harm you, plans to give you hope and a future." – Jeremiah 29:11
An Ideal Family Person
Griffith believes that prioritizing family is of the utmost importance. As a husband and father of two, he understands the significance of making a deliberate and conscious effort to place family at the top of his priorities. It can be easy to become consumed with work, particularly when one is passionate about what they do and feel a sense of purpose. However, neglecting family priorities can lead to an unhealthy imbalance, hindering personal and professional growth. By prioritizing family, Griffith believes he can be the best version of himself and achieve balance in his personal and professional lives.
Recognition for Excellence
One of the most meaningful acknowledgments of Griffith's leadership happened when he was leaving SiriusXM to join the Dallas Symphony Orchestra. For what he expected to be a one-on-one status update, his boss arranged a surprise meeting attended by former colleagues, stakeholders, managers, and executives who had worked with Griffith during his time at SiriusXM. They shared personal stories and testimonials about the positive impact he had on them and the organization. They even created a Google document filled with quotes and messages of appreciation. This experience was humbling and emotionally moving for Griffith. Ultimately, he measures success by the positive impact he makes on an organization and the people around him. Griffith believes that his purpose is to be a force for good, leaving a legacy of excellence, inspiration, joy, and positive impact in both his personal and professional life.
"I've missed more than 9000 shots in my career. I've lost almost 300 games. 26 times, I've been trusted to take the game winning shot and missed. I've failed over and over and over again in my life. And that is why I succeed." – Michael Jordan
Using Determination to Achieve Success
Griffith has had a diverse career across multiple industries, including arts and entertainment, technology, advertising, automotive, and engineering. He has worked for both large and small organizations, as well as for-profit and nonprofit entities. Griffith understands that success can take on different forms depending on the organization and its goals. He believes that success is determined by meeting or exceeding established objectives and the methods used to achieve them. Griffith prioritizes integrity and believes that true success can only be achieved by reaching goals with honesty and fairness. In his view, achieving targets through mistreatment of employees or unethical means does not constitute success. This belief is fundamental to Griffith's character and personality.
Griffith has worked in organizations that prioritize collaboration and cross-functional communication, as well as those that operate in silos. Based on his experiences, he understands that working in silos can impede an organization's success. He shares, "I can attest that working in silos is undoubtedly a significant roadblock to success for an organization. I believe collaboration, clear and consistent cross-functional communication, and teamwork are essential for an organization to thrive."
Visioning for Personal Growth
Griffith has several personal goals he hopes to achieve. One of these goals involves academia, inspired by his parents, who immigrated to the United States from Barbados, and their emphasis on education. Griffith holds multiple academic and professional degrees, including a Doctor of Business Administration degree with a specialization in Organizational Leadership, a Master of Science in Entertainment Business, and a Bachelor of Science in Electrical Engineering. He is also a Certified Diversity Professional (CDP), with additional certifications in Corporate Social Responsibility (CSR) and Social Impact Partnerships. Griffith hopes to join the academic arena and leverage his education and experience in service as a university professor.
A second personal goal of Griffith's is to further his experience in the arts and entertainment industry. Griffith has notable expertise in arts and entertainment. He is the founder of GFavored Entertainment Group, whose mission is to effectively utilize entertainment to encourage, inspire, and empower the world. The organization has several components, one of which is serving as an independent record label. Through a music distribution deal, Griffith has served as an executive producer, releasing several projects, including two top 15 Billboard charting inspirational projects and a compilation project featuring inspirational artists from around the world, with all proceeds going to charity. Songwriting and music publishing are other components of the organization, with Griffith scoring placements of his original songs on various projects, including a film soundtrack and a top No. 1 Billboard charting Gospel album. Additionally, Griffith is a vocalist with the Dallas Symphony Chorus, serves on various boards, and is a member of the Recording Academy. He hopes to further his involvement in the arts and entertainment industry by obtaining more songwriting placements and opportunities to serve as an executive producer for music projects and live events.