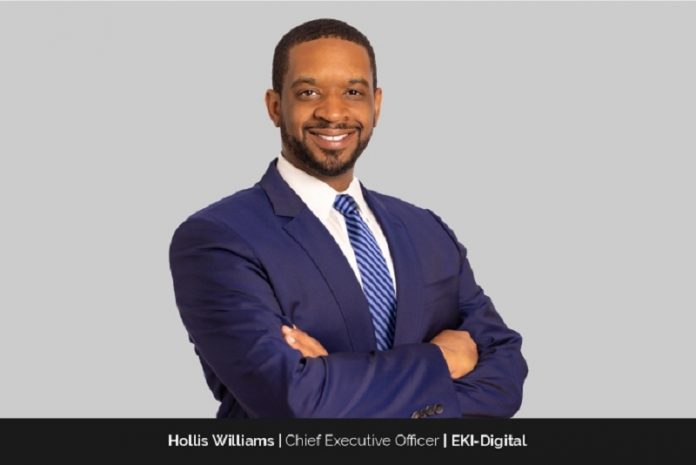 Hollis Williams, a visionary leader, convener, adviser, and diversity champion, was named Chief Executive Officer (CEO) of EKI-Digital in September 2022. Williams leads the company's overall strategy for implementing data management programs and low-code technology for clients, helping them achieve the best possible return on their I.T. investments. He takes a holistic and strategic approach to guiding the company's key business processes, organizational effectiveness, employee engagement, risk management, and business communications.
Williams is a Chicago native, but he and his wife Nikki, of 21 years, have called Charlotte home since 2004 with their two sons. As a husband, father, friend, and mentor, he involves himself in various civic activities and supports various community organizations such as Junior Achievement of the Carolinas.
About EKI-Digital and its services
In today's digital age, businesses and organizations accumulate an enormous amount of digital assets, which require expert management to ensure their effectiveness and profitability. It's much like owning multiple properties necessitates a property manager, and accumulating wealth involves the help of a wealth manager. That is where EKI-Digital comes in, as a company that provides comprehensive guidance and collaborates with both public and private sector entities to assist them in managing their digital investments more effectively, resulting in better returns.
The company's co-founder and Chairman, Robert Blackwell Jr., envisioned a workplace where talented individuals could thrive regardless of background or story. In addition, he aimed to create an environment where employees could dedicate themselves to delivering world-class services.
EKI-Digital firmly believes investing in technology is crucial to securing the future. The company helps clients modernize their work processes, enhance value delivery to stakeholders, and adopt lean principles. The company consults with customers to improve their services, simultaneously reduce costs and mitigate risks.
EKI-Digital uses its expertise in digital portfolio management to ultimately enhance the overall effectiveness of its clients' digital operations. A sound digital portfolio management strategy is critical to the success of any modern-day organization.
The company takes pride in its ability to work closely with clients to develop customized and optimized digital portfolio management solutions that best fit their unique needs. EKI-Digital's team of experts is well-versed in the latest digital technologies. They constantly keep a pulse on the latest trends and best practices to ensure their clients' digital portfolios remain competitive and effective.
"Support the strong, give courage to the timid, remind the indifferent, and warn the opposed." – Whitney Young Jr., Civil Rights Leader
EKI-Digital's Unmatched IT Solutions
EKI-Digital, a company known for its entrepreneurial spirit, is making waves in the IT services industry by leveraging its unique competitive advantages to foster innovation and drive growth. With a focus on generating ROI for its customers and supporting small businesses, EKIDigital stands out from its competitors.
At EKI-Digital, a dedicated team constantly engages in ideation while encouraging all employees to contribute. The company actively seeks talent from diverse fields, including medical doctors and data scientists, to bring fresh perspectives to its quantitative analytics practice, ensuring a unique culture of collaboration and innovation.
Embracing curiosity as a key element of its culture, EKI-Digital encourages its team members to ask questions, challenge the status quo, and view "failures" or surprising results as opportunities to learn and grow. The company's supportive environment encourages experimentation, adopting a scientific and disciplined approach to innovation.
EKI-Digital's commitment to innovation, curiosity, and a supportive culture sets it apart from competitors in the IT services industry. The company's approach has earned it a reputation as a leader in the industry, positioning it for continued growth and success.
Optimizing Framework
EKI-Digital optimizes architecture and framework for outstanding customer service. By "de-duplicating" and rationalizing portfolio redundancies, the company works to help remove inefficiencies, minimize risks, and lower costs. This customer-centric approach puts the customer at the forefront of process development, decision-making, and investment decisions, resulting in impressive outcomes. The framework at EKIDigital is multifucnctional varying as per the customer's needs and capabilities.
EKI-Digital focuses on streamlining portfolios, empowering customers, and driving transformation in today's era. The company actively commits to being a strategic partner to its customers, delivering exceptional value through its expertise and insights.
"Leave things better than you found them."
Culture of Integrity at EKI-Digital
EKI-Digital's culture fosters product development and research, particularly regarding innovation. In addition, the company aims to explore opportunities and market trends to develop more efficient solutions that can address challenges and meet the needs of its stakeholders.
The company prioritize's customer freedom when it comes to engagement. It gives the customer control over the decision to build or buy, and team members analyze an organization's labor, vendors, and technology to understand its capabilities better.
EKI-Digital believes that leaders and experts within organizations should decide where best to invest in the workforce, vendors, and technology. EKI-Digital's role is to provide advice, education, and a repeatable scientific framework to assist them rather than to dictate or overly influence the customer's decisions to leverage their services.
Hollis Williams says, "With my extensive experience in the public sector, I understand the paramount goal of supporting individuals and businesses within a jurisdiction to enhance their quality of life. In this line of work, integrity is of utmost importance."
Role of EKI-Digital in Today's Era
The architecture of EKI-Digital focuses on rationalizing portfolio redundancies to remove inefficiencies and lower costs by minimizing the number of vendors used for capabilities. This approach prioritizes the customer's involvement in the process development, decision making, and investment decisions to deliver excellent services.
EKI-Digital's framework plays different roles depending on where the customer is in their journey and their level of capability. Sometimes, the company works closely with the customer's team, deploying their experts to move projects forward and implementing their Lean-Digital solution to drive innovation, transformation, and modernization, acting as a quarterback. Alternatively, EKI Digital provides guidance and expertise as a coach, calling some plays and providing advice on what the customer should focus on based on their priorities and strategic plan.
In some cases, EKI-Digital serves as a central nervous system for customers who lack the connective tissue across their organization to pull an application from one department or agency that could also benefit another department or agency. In addition, EKI-Digital helps customers design an innovation budget and discipline around innovating to moving these capabilities into a modernization plan that ultimately helps them achieve their transformation goals.
Success and Growth of EKI-Digital
EKI-Digital's success is determined by its ability to manage digital assets efficiently and offer valuable advisory services to clients. The company's focus on growth is not solely based on the number of applications it operates but on its impact on portfolio sizes relative to capability. By leveraging its reference architecture to drive ROI, EKI-Digital has proven its worth.
This approach to growth is essential for the company's long-term success. Rather than focusing on short-term gains, EKI-Digital prioritizes its services' quality and ability to help customers achieve their goals.
With the transition of I.T. Industries over the past 20 years, technology and business evolution have transformed how organizations approach their technology investments. Previously, only a select few individuals in an organization made technology decisions with assets on-premises and heavily reliant on CapEx budgets. However, with the rise of cloud native solutions and digital interaction, the demand for seamless digital experiences has increased. There is a need to speed up digital delivery capabilities and overall service quality.
"Life isn't about the destination or the journey but the relationships you build along the way." –  Jeff Hoffman, cofounder of Priceline.com
The transition to cloud-enabled solutions has been gradual, with every entity in a different journey phase. As a result, many have invested in products and services and deployed them to meet specific needs. However, this has resulted in corporate duplicity, where various products were purchased for internal use versus external stakeholders, leading to I.T. debt and repeated capabilities.
It takes a unique skill set to analyze the portfolio and identify areas where consolidation can occur, allowing for more efficient and effective use of technology resources.
By taking a more holistic approach to technology investments and analyzing the portfolio, organizations can eliminate redundancies and leverage their technology assets to drive more significant ROI and deliver seamless digital experiences for their customers and stakeholders.
Core Technology used at EKI-Digital
The company developed a Digital Investment Management portal, using Microsoft Power Apps to facilitate transformation for customers scientifically. Customers can make informed decisions based on the ROI of business cases presented through this proprietary portal. In addition to improving efficiency, the portal also enables leaders such as Chief Operating Officers, Chief Financial Officers and Chief Innovation Officers to better serve their internal and external stakeholders.
The company believes that its approach to digital investment is the right way to de-risk initiatives from a cyber, cost, and service quality perspective. This ensures that outdated technologies and redundant systems can be addressed to adequately manage vulnerabilities. The company sees this approach as the path forward for managing digital investment and is sharing it with the world based on its experience and belief in its effectiveness.
The CEO's Professional Journey
Hollis Williams' journey towards implementing technology solutions and delivering improved business and community outcomes began over two decades ago during his military service. He gained experience testing technologies for military purchase and quickly recognized the potential for private and public entities to partner on durable, innovative solutions for maximum impact.
He subsequently established and led technical teams through complex regulatory architectures, mergers and acquisitions, and managing support services at companies like Bank of America, M3 Technology Group, and EDS Federal.
Before joining EKI-Digital as Chief Executive Officer in September 2022, Williams spent over 12 years in various public sector roles at Microsoft. In his most recent role as Chief Operating Officer of the company's U.S. State and Local Government line of business, he focused on delivering solutions for public sector clients, impacting P&L, and contributing to Microsoft's commitment to racial equity.
In driving initiatives for racial equity, Williams supported programs to boost opportunities for underrepresented businesses and small business owners. He also chaired and oversaw the efforts of the company's employee resource groups committed to diversity, equity, and inclusion. His work included:
helping customers improve the lives of children,
supporting citizens with reentry processes into their communities, and
aiding government responses to the global pandemic.
As CEO of EKI-Digital, Williams has professed two primary objectives. First, to establish EKI-Digital as a trusted and beloved brand among people and organizations. Second, to represent EKI-Digital's people and brand effectively. He brings a wealth of experience as a servant leader, convener, and mentor to the organization. Having known the company's co-founder and current chairman, Robert Blackwell Jr., for many years, Williams believes in driving sustainable improvement for businesses and communities.
Aside from EKI-Digital's data governance and technology management programs, Williams supports the company's philanthropic efforts. He plays a role in expanding Alpha Mission, an initiative to create pathways to ending generational poverty nationwide in Black and Brown communities. Alpha Mission aims to shape sustainable economic participation for underrepresented populations in the communities where they live and work.
Meet others among EKI-Digital's Trusted and Experienced Team
Robert Blackwell Jr. serves as the Chairman of the Board for EKI-Digital, a digital transformation and modernization consulting firm that has achieved over 25 years of success. The company specializes in data management programs, business analysis, and development to optimize investment returns. Their approach has helped large public and private sector organizations identify and capture billions of dollars in savings.
Besides his role at EKI-Digital, Blackwell Jr. is also the CEO of Killerspin table tennis, which dominates the high-end ping-pong industry. Through their stunning table tennis encounters, Killerspin helps people stay connected with the ones they care about. They sell ping-pong tables, rackets, and accessories of the highest quality in their online catalog. In addition, Killerspin supports and builds active communities of passionate players through events at its downtown Chicago location.
Blackwell Jr. believes in giving back to the community and serves on several boards, including Illinois Tech School of Computing, U.S. Bank, Business Leadership Council, and Chicagoland Chamber of Commerce. He has helped many young entrepreneurs start businesses and enjoys reading and writing about math, economics, and history.
Craig Watson has led digital transformation initiatives for EKI-Digital since 2004. He is a corporate finance and technology professional with over 30 years of industry experience. He has held leadership roles such as CFO and CIO at Cummins Engine, Merck, PepsiCo, and FMC Corporation.
In addition, he has extensive consulting experience, focusing on large-scale transformations, enterprise architecture design and implementation, and enterprise procurement and cost-efficiency programs. Some of his representative clients include Walmart Stores, Baxter Healthcare, Northrop Grumman Aerospace, and Goodyear Tire and Rubber.
My-Hien Ngo is the Chief Project Management Officer (CPMO) at EKI-Digital. With over two decades of experience as a lead consultant, My Hien has worked on large and small mission-critical initiatives in some of the most demanding public and private sector environments. She uses her experience in technology, business analysis, and project management methodologies to craft innovative and lasting solutions that meet business and strategic goals.
My-Hien leads and manages strategic and complex modernization efforts as a delivery success manager. She specializes in designing and delivering intelligent, intuitive automated solutions that optimize efficiency and efficacy. In addition, My-Hien provides exceptional value to customers by implementing effective change management strategies that enable full system adoption.
Diego A. Perez-Mesa, with over 25 years of experience in the technology and consulting industries, serves as the Chief Technology Officer (CTO) of EKI-Digital. He brings a wealth of knowledge and expertise to the company and leads its technology strategy and innovation initiatives.
Diego's expertise in large enterprise cross-platform solutions, cloud computing, analytics, applications development, and artificial intelligence enables him to design and implement cutting-edge technology solutions that optimize clients' business operations and help them achieve their goals. In addition, he has a proven track record of working closely with clients to understand their unique needs and challenges, designing solutions that exceed their expectations.
Under Diego's leadership, EKI-Digital has earned a reputation as a trusted technology partner for businesses across various industries. He has helped the company deliver innovative, cost-effective, and scalable solutions. In addition, Diego has built solid and long-lasting client relationships by focusing on exceptional customer service.
Diego's vision, expertise, and leadership have been instrumental in helping EKI-Digital remain at the forefront of the technology industry and deliver value to clients. In addition, he is committed to innovation and customer service, making him a valuable asset to the company and a trusted partner for businesses looking to leverage technology to achieve their goals.
The Future of Work at EKI-Digital
EKI-Digital recognizes the value of technology investments rather than treating them as mere expenses. The company has a successful track record of helping organizations innovate, transform, and modernize their operations.
More and more organizations that want to improve their operations have recognized EKI-Digital's capabilities and offerings, minimized risk, and reduced costs.
Williams is determined to lead the company into the next growth phase and chooses to draw on the company's expertise to succeed in this exciting new endeavor. With this in mind, the company strategically targets sectors and markets where it can scale its work and expand its footprint. The goal is to best use innovation to achieve positive, data-driven outcomes for corporations and governments.
Conclusion
Hollis Williams is motivated by his faith, family, friends, and relationships. He values the people he meets and the relationships he builds along the way, as highlighted by Jeff Hoffman's quote. As career break coach Katrina McGhee recommended, Williams acknowledges the importance of taking breaks to recharge motivation.
At EKI-Digital, the culture centers on innovation, and employees naturally motivate each other by building relationships. The team genuinely excites each other about their personal and professional experiences and learns from each other daily.