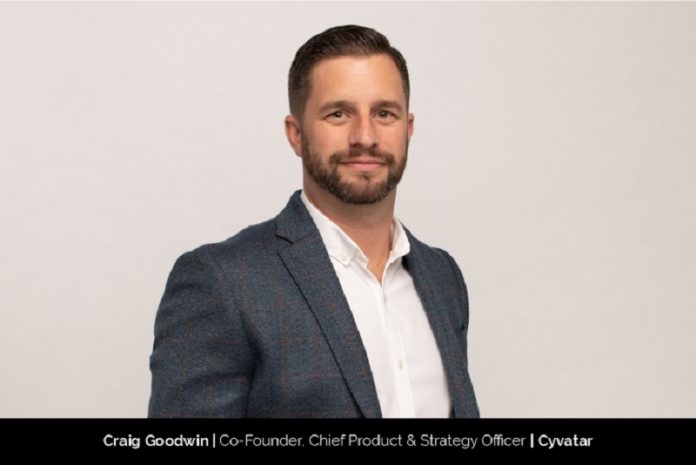 Craig Goodwin, Co-Founder & Chief Product and Strategy Officer at Cyvatar, has more than 20 years of experience in the security industry. Alongside this vast experience, he has expertise in business leadership, technology solutions and product management, a perfect blend that makes him an unrivalled leader in Cybersecurity, allowing him to provide solutions that drive positive business outcomes. Along with Corey White, a proven security industry veteran, he started Cyvatar, a transformative cybersecurity company that operates at the intersection of customers and technology providers with the sole mission of helping businesses by providing end-to-end managed outcome solutions.
Making People Happier, Making Lives Better
The definition of success is different for different people. For many, success is measured by the number of accolades and achievements in personal and professional life. Not for Craig. He likes to focus on external factors rather than on himself. For him, success is not about what he has achieved; it is about how he has made other people feel. He feels successful when a customer, partner, or employee thanks him for what Cyvatar has built or for what they are doing. It is his opinion that, ultimately, success is about people and making people happier by delivering products that make their lives better. He wants to deliver the promise of keeping their businesses safer. If Cyvatar can do that, even in a small way, if they can remove stress and pressure from their clients' work so they can do what they love, then Craig knows he has been successful.
Craig has received many awards and recognition from the companies he has worked for, but he does not credit this as success. For him, success is all about the great work his teams and organizations achieve, "It is exciting when we win awards as a company for innovation and market disruption." That is how he knows they have really made a difference.
Inspiration for Cyvatar
Craig co-founded Cyvatar with security veteran Corey White last year to build and bring to market the industry's first cybersecurity-as-a-service (CSaaS) offering. Their inspiration came from a passionate and heartfelt mission: to make robust security defence and cyber resilience accessible and affordable for any size organization with any size budget, even if they do not know about cybersecurity.
Foundationally, they rooted Cyvatar in Membership Economy principles because they wanted to move away from the traditional transactional sales that are so common in cybersecurity; furthermore, traditional sales are cost-based and require conversions, cross-sells, and additional transactions. The current market offerings do not necessarily focus on customer needs or provide true value for the cost. At Cyvatar, they believe in the power of the forever sale – a lifetime of customer value where retention and delight are the outcomes – because they really are driven by the desire to keep their customers safe from threat actors. Moreover, a membership model ensures that customers never have any surprise invoices; the subscription is a fixed monthly cost that only changes if a customer upgrades or downgrades their package. They never sell customers tools or services that are unnecessary because they provide membership-based subscriptions, customers have the option of cancelling their subscription anytime. Cyvatar even guarantees value within the first 90 days. No one else in the industry offers a model like theirs – a fact that they are appropriately proud of.
Better Communication and Soft Skills
Craig has come to a realization that his biggest life lessons are always learned through people. Early in his career, he began to comprehend that knowing only the technical part of a job is just not enough; one also needs to have the skills to deal with people and culture. In fact, Craig ascertains that these interpersonal skills are more important, maybe even the most important part, of any role. He acknowledges that it is often hard to strike the right balance between possessing technical skills and managing people. More often than not, people want to demonstrate their skills and expertise. Many a time in his career, Craig faced roadblocks simply because people failed to understand what he was trying to achieve or why he was trying to achieve it. Working on better communication and soft skills, no matter what the role, is always his first piece of advice.
A Transformative Cybersecurity Company
Cyvatar is a technology-enabled cybersecurity provider. They offer cybersecurity as a service and are disrupting a $150 billion industry by introducing and delivering smarter, measurable and customizable subscriptions. Their services help businesses achieve compliance and security faster and more efficiently.
Clients do not have to invest in additional resources once they choose a Cyvatar's solution, which can be tailored according to a client's specific needs. And Cyvatar helps clients manage the solution from beginning to end. Their cyber avatars install and configure the solution into the environment. They ensure that it is working properly, determine and remediate risks and vulnerabilities, and maintain the environment. Moreover, cyber avatars continuously monitor the progress and generate monthly executive reports.
Cyvatar's unique membership model levels the playing field by democratizing cybersecurity and making the best protection accessible and affordable for every size organization. With the inclusion of the Cyvatar platform, members also get complete visibility into all of their security tools from a single pane of glass, which gives them immediate and ongoing value from every security investment they make. Additionally, they provide executive and board-level analytics, compliance and risk grades, time to remediation, and ROI calculations. By replacing ownership with membership, the customers can select the packages and pricing that meet their unique needs in seconds; a freemium model ensures they can achieve tangible results fast with little-to-no out-of-pocket costs. Craig likens it to an infinitely customizable Hulu or Pandora account that drives quicker time-to-value without sacrificing security postures or compliance standards. In other words, members receive robust 21st-century cyber defence at affordable and predictable prices. They give customers guaranteed outcomes that remove the worry and waste from security so they can focus on the business of their business.
Adding Value to Computer & Network Security
Craig has experienced firsthand what it is like to be on the receiving end of bad products and services that do not deliver value. At Cyvatar, they are constantly striving to deliver better security and business outcomes for people. They are always looking inwardly at the solutions they offer and they hold themselves and their teams accountable for delivering the best value to their customers. They live by the mantra – if they cannot add value, they do not do it. It is as simple as that.
And, for Craig and his leadership team, "transparency" is the key to building a strong, long-term relationship with their employees and customers. They are transparent about what they provide and how they go about doing it. Craig says that this approach ensures that employees understand the choices he and his leadership make,  why they run the business the way they do, and the benefits of putting customers' needs first.
Cybersecurity Made Simple And Easy
Craig explains his vision for the company by giving an analogy of a light switch. When you enter your office, you switch on the office lights and do not think about them until you leave the office. It is an act performed on a daily basis without paying much attention. "That is what security is like for Cyvatar customers," he claims proudly.
It is Cyvatar's aim to make cybersecurity for their customers as effortless as turning on the lights. That implies getting real value, really fast, every single day. All they have to do is to flick the switch on Cyvatar and their security is handled. This is the measure of success at Cyvatar; the amount of time given back to customers, the amount of time saved, time that can be utilized to focus on growing and building businesses.
A Long Career In Security Services
Craig spent the first part of his career with the British army and the British intelligence services, which gave him an incredible start to a career that is all about focusing on getting the best out of people and aspiring to be a strong leader. After that, he started working in cybersecurity with a management consultancy firm and discovered an industry that needed solutions to tough problems. It was a process he thoroughly enjoyed. He then went on to hold senior security leadership roles for big global companies like Monster Worldwide, CDK Global, Wolseley Group PLC, and Fujitsu, where he was responsible for managing, operating and running large-scale global security programs. All of this work laid the perfect groundwork for his position at Cyvatar. Craig has spent his career driving real business outcomes from his security organizations. He has always strived to position security as an enabler for digital trust and transformation rather than a hindrance. Craig is a Certified Chief Information Security Officer (CCISO) and a Certified Information Systems Security Professional (CISSP).
At Cyvatar, he leads the product strategy, product management, and engineering functions as a member of the senior leadership team.
Finding Innovative Solutions To Problems
Craig is a massive fan of Sparketypes; his Sparketype is 'Maker', which is how he defines himself in a single word.
As a Maker, his passion is finding innovative solutions to problems and that is exactly what he does at Cyvatar. He is aware of the fact that founders by definition have to be multifaceted because they end up performing almost every business function at some point or other. However, at Cyvatar, Craig is strongly focused on building, making a core platform that enables them to deliver cybersecurity-as-a-service solution that delights their customers. Given Craig's many years as an end-user of security solutions, he is also heavily focused on ensuring that their customer service teams deliver an amazing experience, one that he could be proud of and more than he ever would have expected as a user.
Healthy Body, Healthy Mind
Since his military days, Craig has been big on physical fitness. He is a huge believer that being fit in your body helps keep your mind clear and able to operate at its best. He has done many different physical activities over the years but is currently massively into road cycling. He enjoys the freedom it provides. It gives him the space to think and be alone with his thoughts. For him, road cycling is almost meditative. He recounts that it is definitely what kept him sane through the recent pandemic. Additionally, he confesses that it makes him a much better co-founder and co-worker.
De-facto Security Standard
Cyvatar is on the fast track to becoming the de-facto security standard for small and medium-sized businesses. It is a substantiated claim that it is already the most effective way to consume security solutions. The team at Cyvatar is positive that as they gain more and more traction they are going to spark industry-wide change. They are aware that they have a bit of a way to go to prove their value more broadly, but, just like Netflix, they are creating a new market. They are confident that the scales will tip in their favour.