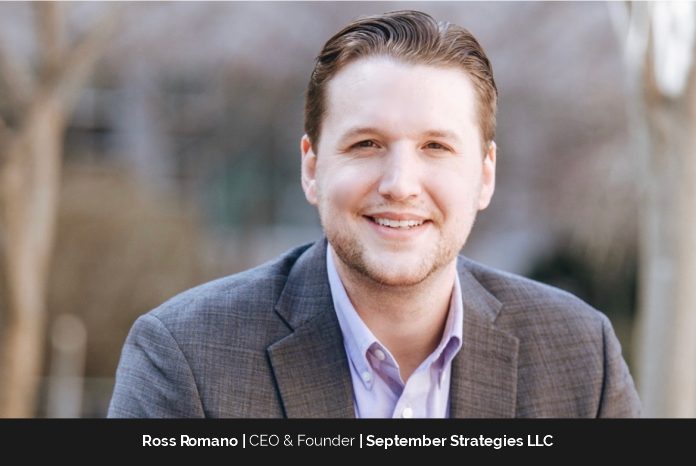 Business moves quickly ― and without strong leadership, that movement is chaotic. Ross Romano, an entrepreneur, coach, and longtime organizational leader has learned from both the good and bad of leadership, in startups and legacy businesses alike. He's using those insights to help others go from chaos to control.
Companies and nonprofits in the education space (think edtech, publishers, events, and more) bring on Romano and his team at September Strategies as a fractional Chief Marketing and Communications Officer (CMO/CCO), an operations consultant, or a strategic advisor depending on needs, but across situations the pain points are relatively consistent. In particular, founders and leaders want to figure out how they can succeed according to their ambitions while operating in a specific, challenging, and mission-driven market. To support these goals, Romano leverages his expertise in messaging and thought leadership strategy, team and talent evaluation, and sales enablement through content development and distribution, as well as his role as a strategic connector bringing together bright minds and big ideas.
Romano has furthered his support of ambitious professionals as a performance coach, working directly with founders, leaders, and "seekers" ― which he defines as high-performing, high-potential individuals looking to achieve that elusive 'something more' in career and life. "I'm consistently amazed at how quickly we can surface major insights through the coaching process," he says. "Just being part of the transformation people go through, the clarity of vision they achieve…that really means the world."
Opportunity Requires Action
"I knew it was time for a change," says Romano when asked about the founding of September Strategies. "That there was something better, more impactful, more 'me,' in a sense. Realistically, I 'knew' even before I knew [that it was time to start a new endeavor], then I knew but didn't know what it would be, and then eventually I had a plan."
Having worked in various roles and organizations, Romano had the privilege of acquiring extensive knowledge and experience. Through consulting alone, he had worked with nearly 100 companies, collaborated with diverse colleagues, and learned from a trusted network of experts in a variety of fields. Through conversations with others, plus ample time looking inward, it became clear that starting something fresh ― built on his personal vision and values ― was the right thing to do.
Equity and opportunity are the driving forces in all of Romano's work with September Strategies. It's what draws him to the K-12 education sector, supporting the various stakeholders who create a pathway to success for students. It's also what motivates him to introduce the opportunity for leadership development and performance coaching to professionals who've never felt it was within reach.
Purpose-Driven and Proactive
"When I started September Strategies, I described our work as 'guiding leaders and organizations on the journey from vision to decision,'" says Romano. "What I mean by that is identifying, articulating, and gaining buy-in for one's firmly held values and ambitious vision for success, and then constantly and consistently referencing those as the foundation for all decision-making moving forward."
A core characteristic of Romano's, evident in the way he approaches each of his projects, is that he's consistently "on mission." "I honestly can't get myself motivated to do work that's not purpose-driven," he explains. "And how can I expect that of anyone else?"
He's also an advocate for the essential role of communication at all levels of organizations. Internal and external, from leadership engaging the staff to organizations engaging their communities, he believes a failure to effectively, proactively communicate is the factor that most often undermines even the best efforts. This is especially so in the education world, he says, in which there's so much misunderstanding of the intentions and excellence of educators and schools.
"Don't let other people tell your story for you and don't make it look like there's something to hide," he says. "There's so much great work, and critical work, happening across the education landscape. We need to get out there and own that."
The basic service offerings ― marketing and communications strategy, sales enablement support, ghostwriting, design services, content marketing, and thought leadership ― will sound familiar to many industry leaders, but Romano believes it's these core principles and approach that differentiate September Strategies.
Storytelling Amplified
Romano is also the co-founder, along with award-winning former principal and longtime top-ranking podcast host Jethro Jones, of the Be Podcast Network. With more than 25 shows (and growing) covering various aspects of education including K-12, higher education, corporate learning and development, and parenting, the network's mission is to foster a collaborative community of voices that amplify each other's impact. The network collaborates with both individual creators and companies, assisting them in generating the reach, relationships, and engagement to make a meaningful difference in the field.
Jones shared his insights on the strength of the partnership that's enabled such rapid growth of the network: "Ross has an uncanny grasp of the challenges educators face on a regular basis. He's very good at seeing into their problems and finding a way to make them work out for the better. In our partnership building this network, we've worked together to leverage those insights for the benefit of individuals and organizations."
Small Measures of Success
How do you know when you're succeeding? What acknowledgements do you care about?
Especially for someone involved in as many endeavors as Romano is, these seemed like fitting questions. Turns out, it's the little things that he cares about. He mentions receiving unexpected referrals from marketing colleagues as a particularly meaningful gesture, as well as times when a potential client will comment on the thoroughness and fairness of a proposal. "Integrity and excellence are guiding values here. And those things tell me we're doing it right," he says.
"Ross knows how to see value in things that most people don't see much value in," adds his podcast network co-founder, Jethro Jones.
Romano believes this perspective has been invaluable in his coaching work, which he describes as his real passion. Professionals at all stages, from early career to chief executive, come to him looking for transformation. They're seeking answers to big, complex, ambiguous questions they may have struggled with for years or even a lifetime ― and trying to find those answers fast. When he's able to identify strengths and potential in people they haven't recognized in themselves, it creates the possibility to actually find those answers.
"What I see in people is one thing. But more importantly, it's what I will get them to see in themselves," he notes. "Transformation is a big word. I only use it because I've seen it. And where it comes from is inside the individual; it's really amazing what people can accomplish."
Defining Success on Your Own Terms ― With Big Results
Romano views success as subjective. It's personal, he says. One's ambitions and goals must be unique and shouldn't be compared to others. That's a common, dangerous trap. This is true of both individuals and organizations, he adds.
"As individuals, the idea of comparing ourselves to others is easy to grasp. Whether we're feeling like imposters or that we fail to measure up, or we're feeling superior, it's bad either way," Romano says. "For organizations, same phenomenon. Companies that spend all their time just one-upping each other get sucked into an endless cycle. Meanwhile someone else out there is thinking big picture and five-upping whatever you're doing. You've lost the game."
That doesn't mean being ignorant to the competition, he cautions. In his estimation, too many companies consider themselves "unique" only because they've failed to do the basic market research. And that type of mentality undermines the potential for innovation. "Real innovation requires an understanding of the market, what it demands, and what solutions have or haven't shown potential. Combining existing ideas in a novel way to solve a real problem ― that's often the most effective way to innovate," he says.
Final Thoughts
Romano's advice to any professional is to discover your driving purpose and fully engage with it.
"I say find what animates you ― what genuinely brings you life," he says. "Intrinsic motivation is powerful. Don't try to fool yourself with outside incentives. Tap into what authentically drives you."