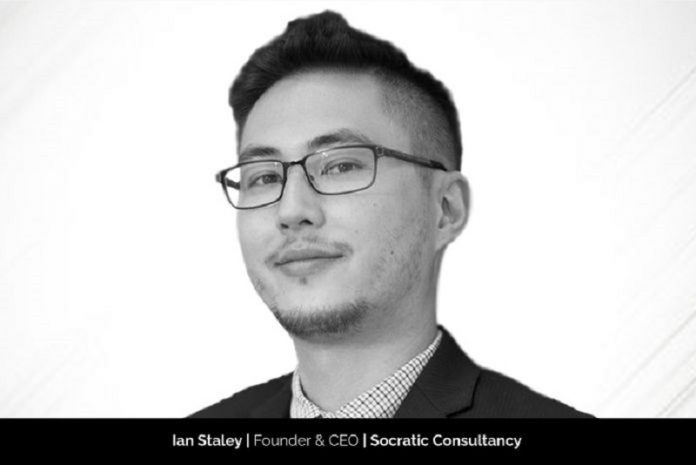 Socratic Consultancy provides business intelligence-based solutions with a Socratic Method framework targeted to define, narrate and convey meaning for its clients. Founder and CEO Ian T. Staley is excited to help Socratic Consultancy partners define meaning in their businesses and future-proof their strategies. He has nearly a decade of leadership experience in the real estate, financial services, education, public sector, and blockchain verticals, along with close to a decade experience of selling to Fortune 500 firms. He plans to leverage this experience and expertise to assist his partners.
Manifestation of a Desired Outcome
In Ian's mind, success is the ability to manifest a desired outcome. He further elaborates – success cannot be put in a box, as success can manifest in various forms depending on the game being played. Sometimes success is as simple as creating a mission, a vision and seeing those objectives through to actualization no matter what obstacles you face. Other times success can originate from taking a negative situation and transforming it into a positive one. Regardless of what form success takes in this world, he believes that success can be created by anyone who puts the time, sincere intention, consistent effort and sacrifice toward a desired outcome.
Always An Entrepreneur
Ian thinks that he always had an inherent interest in entrepreneurship. He demonstrated entrepreneurial qualities from a very young age. Back in the day, at Coe Elementary School in Seattle, Washington, he used to sell baseball, basketball, football and Pokémon cards on the playground. He would do chores for his grandparents to earn some cash. The chores mostly consisted of yard work. One of his favorite chores was pulling up weeds. He would earn 25 cents per weed pulled up by the root, and sometimes he would get an entire dollar for big ones! From the cash earned from doing chores, he would purchase collector's cards and sell the duplicates on the playground. From the revenue generated, he would purchase more booster packs or single rare cards. Thus continued his small business on the side.
Although he had an innate desire to pursue an entrepreneurial track, after completing undergrad at Point Loma Nazarene University, he entered the workforce back in his hometown of Seattle. He bounced around a few managerial jobs in the healthcare and security sector then went on an eight-year track of climbing the corporate ladder at a real estate closing industry firm. After holding multiple leadership positions at Synrgo, Inc. (f/k/a Document Processing Solutions, Inc.) he decided to spread his wings and take a risk as a VP of Business Development at Ubitquity, LLC. – a Blockchain-as-a-Service firm that offers title recording and smart-contract transactions to real estate and aviation firms. Upon growing quickly within Ubitquity, being promoted to Chief Business Development Officer and landing some groundbreaking deals in the US Title Insurance industry in offering blockchain-based solutions, he decided it was time to launch his independent shop and be his own boss.
While working, Ian has also completed his Master of Science in Management from Minot State University. Currently, he is completing his Doctor of Business Administration degree from William Howard Taft University.
He is known as a hard-working leader who thinks outside the box offering invaluable wisdom and insight to seize opportunities. He is well connected from the VC space to emerging tech to the real estate industry. His counsel and loyalty are unparalleled and have led to professional success across industries. The combination of these virtues bestows upon him the ability to achieve great things.
Inspiration to Fulfil the Desire
He is deeply inspired by his late mentor, Dr. G.L. Forward, a Professor of Managerial and Organizational Communication at Point Loma Nazarene University and Management Consultant. Through his inspiration, Ian developed a passion for helping people through consultation. He constantly reminds himself what his mentor Dr. Forward used to say, "The best leaders make leaders of those around them."
The mentors, insights and experiences he accrued along his journey were and still are invaluable for him. All the seemingly positive experiences and negative experiences were learning lessons – compiled in his cumulative manifestation of who he is today. Overall, these experiences taught him that it was truly time to jump off the cliff and grow his wings on the way down. He did just that by launching Socratic Consultancy!
In January 2021, Ian launched Socratic Consultancy to transform his passion into his obligation.
Moving Forward
Socratic Consultancy is a brand-new shop, launched in January 2021. Setbacks are a part of every growing business and Socratic Consultancy is no exception to the rule. However, Ian considers himself fortunate to have many exciting opportunities and excellent partners join the Socratic eCoSystem. Of course, he has encountered some of the usual obstacles in running a business, like putting in long hours in setting up the workflow of the business and automating as many processes and systems as possible. Obstacles he easily overcame through hard work and grit. But he thinks the biggest issue he faced during his short tenure as the Founder and CEO of Socratic Consultancy was in his personal life. He had to endure the pain of the sudden loss of his father. He took some time away from the business to grieve and relocated to be closer to his grieving mother. He confesses that it still hurts today. He presumes that the pain will never go away. The loss of a loved one leaves a lacuna in your heart that cannot be filled. But Ian knows that his father would want him to continue pursuing his dreams and making them a reality. His father was his biggest supporter of the launch of Socratic Consultancy. So, despite the heartbreak from the setback, Ian is confident that his father is cheering him on to keep moving forward. So, despite the pain and hurt, he continues to move forward to fulfill his dreams.
A Trust-based, Long-term, Holistic Consultancy
Socratic Consultancy offers Meaning-as-a-Service™ (MaaS) Consulting to its partners. To know thyself is the beginning of wisdom™ – the same philosophy can be applied to 'knowing thy business'. Socratic Consultancy exists to assist business leaders, entrepreneurs and thought leaders with finding their 'WHY'; all while harnessing the power of business intelligence and leveraging digital offerings designed to help businesses scale.
"He who has a why to live for can bear almost any how."
― Friedrich Nietzsche
Socratic Consultancy believes in knowing the 'WHY" and is there to help you find it so that firms can be free to be agile in the marketplace with a moral compass of clearly defined meaning and the competitive differentiator of leveraging digital offerings that future-proof the firm's vision.
Ian's clients range from sole proprietorships to start-ups to SMEs. He has created an ecosystem of trust, and he equips the clients with the resources and tools to grow. He helps with branding & marketing, capital injections, coaching & training, software development, refining workflows and sale growth. Some of the products and services that he offers include – crypto-based escrow services for peer-to-peer transfers of value, plugins for SME WordPress websites to accept crypto as payments for products/ services, smart-contract automation of inefficient/ repetitive workflows, quantum-proof Blockchain-as-a-Service offerings, automated audit trails, a low-cost high-quality outsourced marketing and communications marketplace, industry-leading AI-based learning management systems for training and development of clients/staff, Meaning-as-a-Service holistic consulting, a network of investors to tap for more capital injection to supercharge growth, custom software development, and much more.
A Relationship-Based Partnership
It is a small consultancy and therefore they provide a more
personalized/ relationship-based partnership with their clients. This business model generates a more trust-based, holistic, long-term style of consulting. Ian works glove-in-glove with his partners and his contracts are designed around the premise that he succeeds only when they succeed. No matter what the increasing competition does in the consulting industry, he stays true to his business model as it consistently ensures success in making his visions a reality.
He focuses on the core roots of what makes his partners' firms tick – so that he can help them analyze and remedy systemic problems. Socratic Consultancy provides enduring solutions by leveraging the power of the Socratic Method of questioning and dissecting fundamental issues within an organization. His partners capture long-term psychological benefits for the betterment of their company culture when they experience the holistic approach of MaaS Consulting.
Overall, Socratic Consultancy allows firms to free up time and gain agility in their respective markets by tapping into the Socratic eCoSystem. Unlike other independent consultancies, Socratic Consultancy boasts a robust ecosystem of products/ services that drive capital, operational, sales, marketing and many other areas to supercharge development. This freedom, in turn, gives them the opportunity to move forward and focus on growth.
Belief. Goodwill. Trust.
Socratic Consultancy stands on the values of belief, goodwill and trust. They believe in doing well, by doing good. It is their vision to be the most trusted independent consulting agency in the marketplace. Being able to articulate meaning is the key to success and their team is here to craft your firm's story in the marketplace.
Their ramp-up process is designed to empower their partners and their team and outfit them with the tools they need to succeed. They offer a comprehensive consultation to help identify gaps and opportunities, a comprehensive report that includes a project plan with timelines and milestones, cost analysis and a schedule. They strive to support the growth of their partners and put them on a solid track toward success and profit.
Socratic Coaching
Socratic Consultancy uses Socratic Coaching either as an independent approach or in the form of partial interventions in the context of established coaching techniques. It complements the more psychologically shaped techniques and adds a practical-philosophical foundation to them.
Socratic Coaching can connect to modern management and organization strategies in which management and leadership act in combination. The organization is then empowered with respect to fixing long-term aims, motivating performance, forming values and promoting responsibility. The result is the capacity to act flexibly, reliably and far-sightedly in the modern market of constant change. The trend is a leadership, that acts with the daily challenges from a principle-orientated basis.
Fundamental to Socratic Coaching is the willingness of the coaching partners (the coach and the coachee) to bring in resources to reflect their basic practical assumptions and attitudes. The space of the dialogue can, literally, correct and strengthen the basic orientation of our actions.
Create The Future
Ian tries to live by one of his favorite quotes as best as possible, "The best way to predict the future is to create it," which was once stated by the legendary management consultant, Peter F. Drucker. The vision of Socratic Consultancy is to be the most trusted independent consulting agency in the marketplace. Fortuitously, now two quarters into 2021, it has been recognized by Wealth and Finance International as 'The Most Trusted FinTech Consultancy in Washington.' And now, one of 'The 10 Most Successful CEOs Making a Difference in 2021.' Ian is now confident to take the next step, which is expanding his reach, recognition and trust beyond Washington to a world stage.
Currently, he is extremely excited to be working with multiple domestic and international crypto start-ups with a range of missions, including, but not limited to modernizing real estate transactions, enhancing the security and incentives of exchange of individual private data with businesses, and creating the world's best crypto HEX. The remainder of 2021 certainly will involve actualizing further success with these start-ups with the launching of mobile apps, centralized and decentralized crypto exchanges, ICOs, STOs and many more exciting developments.
Ian is determined to continue to follow the road less traveled. He envisages the next few years involving more successful partnerships, further successful developments with his current partnerships, further innovation on the FinTech front and perhaps engagement in projects involving smart city infrastructure development and blockchain-based transactions outside of the real estate industry. Along with all these developments, he also plans the completion of his Doctor of Business Administration program.