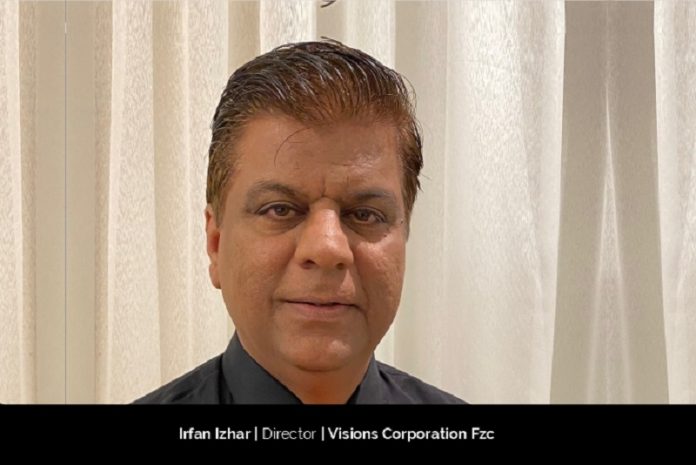 Building a business in a competitive industry like promotional packaging is a challenge for most entrepreneurs, but for Irfan Izhar, Director of Visions Corporation Fzc, and winner of the CEO Today Middle East Award 2021, success is a continuous journey, not a destination.
Visions Corporation Fzc, an ISO 9001:2000 certified company that he started in 2003 with just four people and has now expanded with facilities in Dubai, Bahrain, Qatar, Oman and India, with over seven facilities within UAE itself.
With over 300 employees and branches in Qatar and Bahrain, Visions Corporation is a one-stop solution for all kinds of promotional packaging or Value Added Services. They handle a wide variety of large promotional packaging campaigns ranging from serving multinational companies to simple stickering jobs from SMCs.
Setting new standards in the packaging industry
Irfan started Visions Corporation on the faith that they would achieve success if they did their job with honesty and kept their customers satisfied, and he believes that one must keep achieving and moving forward.
"When I started Visions in 2003, the promotional packaging industry was fragmented with not many players and the quality provided was not very satisfactory," recalls Irfan. "I noticed a gap in the demand and supply and decided to start a company with focus on satisfactory on-time deliverables."
Today, Visions Corporation specializes in tailor made services for all sectors, with a special focus on the personal care and food sector. Their services are ideal for products or promotions where multiple items are to be presented at retail in an appealing, tamper-resistant manner.
While shrink wrapping accounts for over half of everything they do, the company also stocks a wide variety of different types of shrink film to assure each job gets up and running without delay.
Thanks to continual reinvestment in the most versatile equipment and maintaining a thoroughly trained and dedicated support staff, Visions Corporation now has the capacity to produce over 30 million promotional packs annually.
Being the first ISO company providing this service, Visions Corporation Fzc has set standards for the packaging industry and led to them gaining the trust and reliability of multinational companies like General Motors, Johnson & Johnson, Unilever, P&G among others.
"Influencing the industry is not an easy task but I can say that this industry has become more professional now as more and more people have come in this line. I think that's the influence we have made," says Irfan. In the promotional packaging business, time is a critical factor along with quality.
"Clubbed with our on-time delivery and high standards of service, we soon became a name to reckon with. Today, we serve most of the FMCG multinationals in the UAE," says Irfan. "As we never commit anything wrong and we deliver everything on time with ZERO discrepancies people trust us more now, and that's why they choose us. With our dual level quality checks, we ensure that there is no or minimum error."
Irfan's future goals are to expand Visions Corporation's service offerings and open more branches. "At a macro level, we plan to provide end-to-end logistics services and expand out of Gulf countries as well. Soon, we will have our branch in London to provide an array of promotional packaging services," he says.
Pioneering automation in the promotional packaging industry
Irfan recalls that when Visions Corporation started, the promotional packaging industry was not as automated as it is today. "We have been pioneers in many segments by using machines and decreasing turnaround time that translated in higher deliveries in shorter time," he says.
Visions Corporation was the first company to start online promotional packaging. This means using their machines and manpower at the client's premises, they manufacture the promotional pack at the same time, and as soon as, the product line has finished the product. "This has resulted in clients receiving their promotional packs at a much faster pace," says Irfan.
The challenges of financing a startup
Irfan recalls that his biggest challenge was to arrange finance to grow Visions Corporation. As he came from a middle class family, he could not ask for financial support from his father any other family member.
"I did not take financial support from my father or any other family member as I come from a middle class family where my father was an honorable poet and a professor of the university and the only bread earner of the family," he states. "We never had the luxury to gamble in a business that may not take off. The same fear held me back from taking a loan from any bank. And of course, at the time of starting out, no business can guarantee success. Therefore, arranging everything within a very tight budget was my only and the biggest challenge."
A strong belief in doing the right thing
Irfan believes that leading a company to success is definitely not an easy task, but it becomes easy when your intention is clear and your focus is on the work rather than on the outcome.
"I have a strong faith in doing the right thing. I do not believe in taking shortcuts. I do not believe in cheating people. I strongly believe that these things cannot sustain you for long. These may work for short wins but cannot help you sustain," he states.
Even during the pandemic, Visions Corporation did not sack any employee, as Irfan believes in supporting his staff during good times and bad.
"With the grace of GOD we are growing. From day one we have started Visions Corporation with four people and today we have more than 300 people," says Irfan. "During the pandemic we have not sacked any employee as I believe that when someone is good with you during good times, you should be good with him in bad times as well. We took care of our staff and all are still with us."
Success is a continuous journey, not a destination
Irfan believes that success is a continuous journey not a destination, and that it has a different definition for every one depending on their thoughts and perspectives.
"However, in my opinion, as long as your graph has an upward movement year after year, you are on the right track," he says. "Success means setting targets and achieving those, and subsequently setting higher targets and achieving those, and hence moving higher. One should keep analyzing one's own graph to see where one was five years back, and if one sees an upward trend, one should be satisfied that one is on the right track."
Irfan believes that success cannot be, and rather should not be, interpreted in monetary achievements alone. "It is achieving what you want, to be on a journey of attaining that, and success is attainment of that goal that you have set for yourself," he states.
Irfan also places faith more in taking swift action based on inspiration, rather than making long-term plans. "I do not believe in making lofty five-ten year plans. I take swift action when I see an opportunity," he says.
Having received many awards, including the CEO Today Middle East Award 2021, Irfan feels that each award is precious because it's a sign that they are doing something right and are recognized by the industry.
"I have received many awards along the way. Each award is precious," he states. "Each is a form of recognition and reiterates that we are doing something right and that our efforts and service are appreciated and noticed. It is a great source of motivation for the entire company. I can say the best recognition is the current one I have received – The CEO Today Middle East Award 2021."
"I do not believe in making lofty five-ten year plans. I take swift action when I see an opportunity."
Make money to live, don't live to make money
Irfan's day starts around 10 am and he reaches the office around 11 am. As Director, he focuses on being a leader, working on high-value tasks rather than managing routine tasks.
"I do not involve myself in the routine work of Visions Corporation. I have delegated authority with power to competent, trusted people, and they take most of the decisions," he says. "I take care of a few customers, contract renewals or pricing or some major changes required. Otherwise everything is almost on autopilot where my people take decisions."
A father of three, Irfan believes that family time is crucial. He balances work with fun, spending time on his hobbies – golf, biking, and sailing – which are also important to him.
"I always give preference to my personal or family life, as I believe one should make money to live not live to make money," he says. "I enjoy my life with my family. I have two daughters and one son. Every year we do at least two holidays, I play golf at least 4 days a week and have fun. I never work for more than 6 hours a day, with 5 days a week. I am a biker, as well as a captain. I have a sailing license so we often go to the deep sea on our yacht."
"One should make money to live not live to make money."