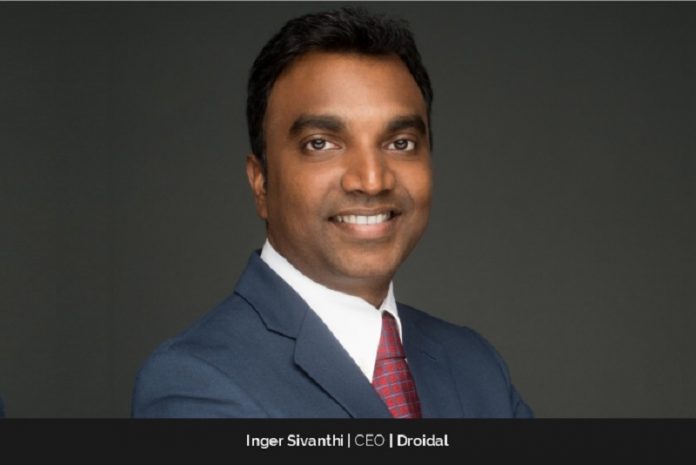 As businesses adapt to the challenges of a rapidly evolving technological landscape, the demand for innovative solutions to maximize efficiency and cut costs has never been more significant. Droidal, the next-generation Intelligent Automation Service Provider, is leading the way in making automation accessible to future-driven companies, offering Robotic Process Automation and Cognitive Solutions.
Under the expert guidance of Inger Sivanthi, an Intelligent Automation Specialist with over 25 years of experience as an executive and emerging technology-focused professional in Financial Services, Healthcare, and other industries, Droidal has delivered more than $25m in tangible and intangible cost savings through Robotic Process and Cognitive Automation. Sivanthi has also managed large business and technology transformation projects and has delivered RPA for large enterprises such as Southwest Airlines (Dallas) and Symantec (California).
Inger Sivanthi's entrepreneurial spirit also led him to co-found Zurik, a subsidiary of Sett & Lucas, a prestigious global financial institution. Zurik offers an artificial intelligence-powered financial regulatory compliance platform with a unique edge: Investment Banking, Transaction Advisory Services, Fund Management, and Regulatory Compliance. In addition, Zurik delivers systematic, cutting-edge regulatory insights by integrating expert analysis and real-time tracking.
Sivanthi is a self-starter, disciplined, enthusiastic, hardworking, and result-oriented business-focused individual. He demonstrates high competency levels in strategic business change, with a keen focus on customer success. In addition, Sivanthi's passion for innovation and deep industry expertise make him a valuable asset to any organization.
With Droidal's cutting-edge automation solutions and Inger's wealth of experience and knowledge, the future looks bright for businesses seeking to transform their operations through intelligent automation. As one of 2023's most innovative companies, Droidal is poised to revolutionize the automation industry and help enterprises to achieve unprecedented efficiency, cost savings, and customer satisfaction.
From Ideation to Reality: The Inspiration Behind Droidal's Scalable Automation Solutions
The inception of Droidal, as revealed by Inger Sivanthi, stemmed from observing a pervasive issue within the healthcare sector: the exorbitant costs and inefficiencies associated with manual operations and administrative tasks. Identifying the pressing need for a scalable solution, Sivanthi sought to develop an automation service capable of revolutionizing these processes and delivering substantial cost savings alongside productivity enhancements for healthcare organizations.
With a steadfast vision, Droidal was founded to provide subscription-based BOT automation services that could eradicate millions of manual hours and reduce operational costs by up to 50%. In addition, Droidal's solution delivers 60% greater efficiency improvements over piecemeal automation alone.
Clients can expect to reap returns on investments (ROI) as quickly as within 1 to 3 months, with around 250% ROI typically within the first year. This impressive ROI is due to Droidal's comprehensive automation services, which cover end-to-end processes that can be customized to the client's unique requirements.
The success of Droidal lies in its commitment to tackling industry-wide problems with innovative and scalable solutions. Droidal is revolutionizing the healthcare industry by prioritizing efficiency and cost savings.
Droidal: Revolutionizing Healthcare and Financial Services with Intelligent Automation
As the visionary behind Droidal, Sivanthi elaborates on the firm's mission and its suite of services. As a leading provider of Intelligent Automation-as-a-service, Droidal specializes in healthcare and financial services, utilizing RPA and AI to deliver transformative results.
Droidal's primary objective is to help organizations seamlessly integrate the new normal of work into their existing operations. For a flat monthly fee, clients can automate many processes—encompassing design, development, testing, implementation, and support—leveraging Droidal's full range of intelligent automation technologies to maximize the value of their automation endeavors.
Integrating Droidal's RPA and AI solutions into operational processes has proven highly advantageous, reducing human errors, enhancing productivity and efficiency, and significantly decreasing operating expenses. In addition, by implementing these state-of-the-art technologies, organizations can expect a swift return on investment and increased profits, making Droidal an essential partner in pursuing business excellence.
Crafting Customized Automation Solutions: Droidal's Strategy for Optimal ROI
In discussing Droidal's automation strategy, Sivanthi emphasizes the company's commitment to crafting customized solutions tailored to each client's unique requirements. Drawing on their extensive domain expertise, Droidal meticulously evaluates an organization's end-to-end business processes, identifying areas where a digital workforce would yield optimal returns and devising an automation roadmap with corresponding business cases.
Sivanthi and his team at Droidal acknowledge the transformative potential of automation for any organization, providing comprehensive support throughout the implementation process. From process discovery and identification of suitable automation candidates to recommending the most effective approach and ensuring clients achieve their return on investment (ROI), Droidal's unwavering commitment to client success is evident.
With a wealth of expertise, Droidal offers strategic assessments to develop and evaluate successful, intelligent automation programs. Catering to a diverse range of clients, including small and medium-sized enterprises (SMEs) and large corporations, Droidal implements and manages best-in-class automation solutions through its subscription services.
By collaborating with Droidal, organizations can embark on their automation journey swiftly and seamlessly, gaining access to a team of automation experts dedicated to supporting and guiding them in maximizing profits through the automation of operational and administrative processes.
Harnessing the Power of Automation: Droidal's Unique Offerings
Sivanthi highlights the unique features that make Droidal stand out in the automation solutions industry. As a subscription-based Intelligent Automation firm, Droidal's mission is to revolutionize the healthcare and financial services industry. Through their subscription-based BOT automation services, Droidal aims to eliminate the manual work burden and enable clients to achieve more with less effort. In contrast to competitors, Droidal's pre-built automation solutions save millions of hours of manual work and provide a competitive advantage to businesses.
One of the standout features of Droidal's subscription-based services is their BOT analytics dashboard, a proprietary technology unique to Droidal. The dashboard is an add-on feature that customers can access via a web-based interface. It provides precise monitoring and statistics on the performance of bot activities, enabling customers to track and manage all of their automation in one place. This powerful tool offers customers greater control over their business performance and bot metrics, providing a comprehensive solution that sets Droidal apart from its competitors.
"Subscription-based BOT automation services that could eradicate millions of manual hours and reduce operational costs by up to 50%".
With Droidal's innovative solutions and unmatched BOT analytics dashboard, customers can access the full potential of automation without needing manual intervention. As Droidal continues to evolve and innovate in the automation solutions industry, it is well-positioned to deliver robust, reliable, and effective automation services that help customers stay ahead of the curve.
Navigating Industry Challenges: Droidal's Role in Today's Automation Landscape
Sivanthi comments on the current landscape of the healthcare industry, noting that national healthcare expenditure in the United States exceeded $4 trillion in 2021, with projections to reach $6 trillion by 2028, according to a report from the Centers for Medicare and Medicaid Services. He emphasizes the vast potential to enhance operational efficiency, increase productivity, and reduce errors in the sector. Automation can contribute to significant cost savings and increased throughput by allowing employees to focus on strategic tasks.
However, Sivanthi acknowledges that the automation landscape faces several challenges. For example, he has encountered customers who express concerns about the lengthy implementation timelines for automation initiatives, such as Robotic Process Automation (RPA), Artificial Intelligence (AI), and Data Science. These delays fail to achieve the anticipated return on investment (ROI), leading to higher implementation costs and project roadblocks.
Sivanthi also points out that the entry barriers for businesses on their automation journey remain high. Companies often need help finding the right automation provider with domain expertise and selecting the right platform and solution framework.
Droidal's approach, as outlined by Sivanthi, addresses these challenges by offering cost-effective and efficient solutions. By seamlessly implementing robotic process automation and cognitive solutions, Droidal aims to overcome the hurdles businesses face in adopting automation, positioning itself as a leader in the rapidly evolving industry.
From Pandemic Woes to Success: Droidal's Remarkable Growth Journey
Sivanthi reflects on the growth of Droidal since its inception during the tail end of the COVID-19 pandemic. At the time, organizations were tightening their budgets, cutting costs, and facing an unfavorable economic climate. This challenging environment sparked a demand for intelligent automation-as-a-service solutions.
Traditionally, companies sought offshore operational work, but with the emergence of RPA, digital labor became an increasingly attractive alternative. This shift allowed organizations to automate operational processes at a fraction of the cost, and Droidal seized the opportunity to help businesses become more profitable through their automation journey.
Droidal experienced a remarkable 54% growth in the last year, driven by a robust, evolving revenue model that includes recurring customer subscription revenue. In addition, Sivanthi notes that the company received more inbound inquiries this year, indicating a growing interest in their services. He anticipates that this trend will continue over the next few years, with the company's recurring revenue growing even faster through an expanding customer base.
Embracing automation: The evolving landscape and Droidal's vision for meaningful impact
Sivanthi offers insight into the evolution of the automation landscape, focusing on the development of technologies like RPA. Until 2016, the industry was not fully prepared to embrace RPA, as the technology was still in its infancy. However, around 2017, the technological advancements in RPA began to reveal tangible benefits for businesses, leading to increased adoption. Nowadays, organizations regard automation as a crucial technology rather than an optional luxury.
As an intelligent automation firm, Droidal's primary objective is to enable businesses to capitalize on automation to enhance their processes, boosting efficiency and minimizing costs. By implementing BOT automation and assisting clients in recognizing the true potential of automation, Droidal aspires to create a lasting, meaningful impact in the industry.
In line with its mission, Droidal is dedicated to making automation programs accessible and affordable to organizations of all sizes. By simplifying the automation journey and catering to the diverse needs of their clients, Droidal envisions a future in which automation plays a vital role in the growth and success of companies across various sectors.
Droidal's Platform-agnostic Approach: Customized Automation Solutions
Sivanthi highlights the core technology that drives Droidal, a company committed to delivering tailored automation solutions to its clients. As official partners of UiPath, Automation Anywhere, and Jiffy, Droidal embraces a platform-agnostic approach, enabling them to work with any automation tool or platform that best fits their client's needs. Continually expanding its product partnership portfolio, Droidal recognizes that no single platform can cater to all business scenarios in achieving true end-to-end, enterprise-wide automation.
Droidal's solutions are crafted based on customer requirements and business demands. With a strong emphasis on cloud-based technology, most of their customers choose cloud-based solutions. Droidal operates across multiple cloud platforms, including Microsoft Azure, Amazon Web Services, and Google Cloud, ensuring flexibility and adaptability for their clients.
Investing heavily in research and development, Droidal aims to enhance its clients' automation experience by exploring new products and automation technologies. They recently launched their BOT analytics platform, a groundbreaking tool that enables clients to measure automation ROI and monitor BOT transactions in one centralized location. This commitment to innovation and cutting-edge technology reinforces Droidal's position as a leader in the automation solutions industry.
Sivanthi's Career Trajectory: From Financial Services to Automation Solutions
Sivanthi's professional journey began in the financial services industry, where he laid a strong foundation for his future endeavors. He gained valuable experience implementing enterprise-grade technology transformational projects for some of Europe and the UK's largest financial institutions.
Continuing on his path of innovation, Sivanthi co-founded Zurik, a financial compliance-as-a-service platform powered by RPA and AI. As he observed the growth and potential of these emerging technologies in sectors like healthcare and financial services, he recognized an opportunity to create a more accessible entry point for organizations seeking to embrace automation.
Driven by this vision, Sivanthi founded Droidal, a company designed to assist organizations in embarking on their automation journey through a subscription-based model. His experience and dedication to innovative technologies have equipped him with the skills and knowledge to make a meaningful impact on the automation solutions industry.
Sivanthi's leadership philosophy at Droidal
Sivanthi emphasizes the three main pillars defining his role at Droidal, prioritizing customer success. The first and foremost pillar is the people – Sivanthi believes in teamwork. He works continuously to build a robust, high-performing team that caters to the industry's and customers' ever-evolving needs.
The second pillar is the technology stack. Droidal has partnered with the best in the industry to provide customers with customized automation solutions that are best suited to their specific needs. It allows Droidal to offer the best-in-class technology to its clients.
The third pillar is exceptional customer service. Sivanthi understands that customer satisfaction is critical to building client trust and loyalty. As a result, Droidal has streamlined its customer service and support processes to ensure customers are delighted with their services.
With these three pillars at the core of his role, Sivanthi ensures that Droidal can deliver exceptional service and automation solutions to its customers.
The Power of Recognition and Support in Employee Motivation
Sivanthi understands that effective communication and employee interaction can significantly impact motivation and productivity. At Droidal, employees feel a sense of belonging and are encouraged to take ownership of their work, with solid support from the leadership team.
Prioritizing the growth and development of employees is a crucial focus at Droidal. As a result, the company invests considerable time and effort into providing training across various skill sets, ensuring that employees continuously improve and upskill.
Droidal also believes in offering employees career and professional development opportunities that align with their personal goals, enabling them to excel in their chosen fields. This approach ensures employees feel valued and motivated to grow alongside the company.
Most importantly, Sivanthi and the leadership team at Droidal recognize and appreciate their employees' hard work and dedication. They strive to provide recognition and incentives to show appreciation for their commitment to the organization, further fostering a motivated and inspired workforce.
Droidal's Strategic Plans for Global Growth and Market Expansion
Droidal's future looks bright as it sets its sights on expanding its services globally. With impressive success in the US, the company plans to expand its presence by opening new offices on the east and west coasts of the country. Droidal has also seen increased demand for its services in the UK and EU markets, and the company aims to establish a stronger foothold in those geographies.
Droidal's central hub for technology, research and development, product development, and support services will remain in India. Droidal plans to ramp up its headcount in India to meet the growing demand for its services, ensuring the company has the resources to deliver exceptional service to its clients worldwide.
Droidal's expansion plans reflect its commitment to meeting the evolving needs of businesses worldwide. With an unwavering focus on customer success, the company is dedicated to providing customized automation solutions and exceptional customer service.
Conclusion
Droidal, founded by Inger Sivanthi, has emerged as a leading player in the automation solutions industry, driven by its unique and innovative approach. The company's focus on customer success and providing customized, accessible automation solutions has set it apart from its competitors.
Sivanthi's journey in the financial services industry laid the foundation for his future endeavors. He recognized the potential of emerging technologies such as RPA and AI and co-founded the financial compliance-as-a-service platform, Zurik. Droidal was founded to provide accessible automation solutions to organizations of all sizes. It has continued to achieve this goal by partnering with the best in the industry to offer customized automation solutions to its clients.
Droidal's dedication to customer success has allowed them to streamline its customer service and support processes to ensure that customers are satisfied and happy with their services. This approach has allowed them to build trust and loyalty with their clients and maintain high customer satisfaction.
The future of Droidal looks promising, with plans to expand its office presence across the east and west coasts of the US and to increase its market traction in the UK and EU. Sivanthi's goal for the year is to expand Droidal's presence in these geographies while continuing to ramp up headcount in India, which will remain the central hub for technology, R&D, product development, and support services.
Sivanthi has shown that he is not afraid to take risks and is dedicated to helping organizations improve their processes, increase efficiency, and reduce costs through automation. His vision for Droidal is to continue to offer innovative solutions that help businesses across the globe automate their processes and make a meaningful impact on the world.
Sivanthi's innovation journey and dedication to customer success have made Droidal a leading intelligent automation firm. His approach of investing in his employees and partnering with industry-leading platforms has allowed Droidal to offer customized automation solutions that meet the unique requirements of its customers.
For more information please visit: www.droidal.com