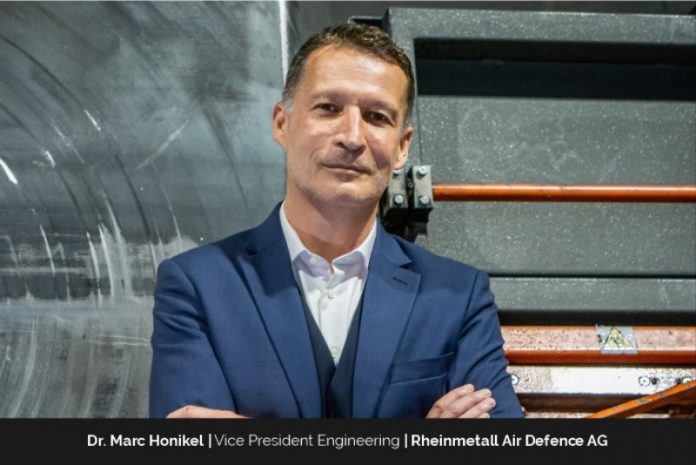 Successful personalities worldwide have diverse tales of achievement, each with their own perspectives on what leads to success. Some followed their dreams, while others encountered unexpected opportunities guided by fate. Nevertheless, they all shared a common belief in the importance of hard work and persistence. They viewed obstacles as blessings and failures as valuable lessons, setting high standards for those aspiring to excel in their respective fields. Dr. Marc Honikel, the Vice President of Engineering at Rheinmetall Air Defence AG, is a notable figure who exemplifies this ethos. His innovative approaches, problem-solving, and decision-making abilities have earned him a prestigious position among the "Top 10 Most Disruptive People in Engineering, 2023."
With nearly a century of experience, Rheinmetall Air Defense in Zurich is a global leader in gun-based air defense system suppliers. This Swiss-based subsidiary operates under the umbrella of Rheinmetall AG, a publicly listed German defense group and automotive supplier.
While collaborating extensively with other facilities, Rheinmetall Air Defense strives to maintain its entire product value chain in Zurich. Dr. Marc Honikel oversees the company's engineering activities, with responsibilities encompassing project engineering, product development, and life cycle engineering. Distinguished for providing comprehensive engineering solutions, the company boasts expertise in systems, electrical, mechanical, and software engineering, along with robust support engineering capabilities.
Originally aspiring to create drones or satellites in the aerospace industry, Dr. Honikel, an electrical engineer by training, now finds himself at the forefront of mechanical engineering, designing air defense systems. He feels "this illustrates the many exciting possibilities of a career in engineering."
For this seasoned executive, the pursuit of success is synonymous with finding happiness and fulfillment. He emphasizes: "Success allows me security and freedom and lets me have a positive effect on my environment." He firmly believes succeeding in collaboration with others, in harmony with the environment, maximizes its benefits. Nevertheless, he remains prepared to tread parts of the journey alone when necessary.
In this exclusive interview with Dr. Marc Honikel, he guides us through his professional journey and sheds light on the distinctive characteristics of his company.
The Motivation Behind Embarking on a Profound Engineering Journey
Dr. Honikel confidently emphasizes, "Look at what technologies have emerged in recent years. Artificial intelligence, autonomy, robotics, and additive manufacturing, to name just a few." These innovations hold immense potential that everyone should tap into. Engineers harness these technologies to propel advancements in nearly every facet of our lives today. His longstanding aspiration has been to engage in a profession that remains pertinent and allows him to contribute positively to society. "Today, I protect the people who protect others," Dr. Honikel adds. "To do that, we have to stay ahead of the curve technologically. That means constant change for me and my team." 
The Impact of Challenges on Personal Growth: Honikel's Thoughts
This expert concurs that challenges indeed contribute to personal growth and strength. Contemplating a life devoid of challenges seems incomplete to him. They are the conduit to technical innovation and individual advancement. They act as the driving force, propelling him out of his comfort zone and compelling self-improvement. Overcoming these hurdles frequently drives him into new and uncharted territories, presenting fresh opportunities. In this context, Dr. Honikel shares, "That's why I can say that the last few years have taken me to a new level. So, if success is my goal and challenges are the way, then roadblocks make me take alternative routes."
He reflects that he now possesses a more relaxed perspective regarding life's obstacles. Previously, he expended significant time and energy attempting to forge ahead in a straight line when faced with roadblocks. However, when Dr. Honikel encounters impediments today, he introspectively questions whether he merely needs to ease off the throttle or entirely reconsider his approach. He embraces change and remains receptive to exploring new avenues, postponing plans, or adapting a mid-term strategy. He recognizes that these decisions invariably lead to fresh opportunities based on his wealth of experiences.
Revolutionizing the Defense Industry
Traditionally, the defense sector, particularly in air defense, had been deemed outdated and stagnant. This perception was partially justified, given the lack of market demand and the industry's sluggish pace of innovation. When Dr. Honikel assumed his role, the sector was undergoing a pivotal transition. While medium-term market resurgence was anticipated, there was a reluctance to invest in this transformation. Driven to prepare the organization for heightened innovation and increased production efficiency with a reduced workforce, he embarked on a paradigm shift.
This transformation hinged on a three-pronged strategy:
Technology Integration:The organization shifted from independent development efforts to integrating new technologies. Recognizing that startups excelled in innovation and agility, collaboration was emphasized, with startups providing innovation while established entities contributed application expertise and customer access.
Collaborative Synergy:Dr. Honikel championed fostering internal and external collaboration. The organization prioritized mutual support and cooperation, recognizing that collective strength led to more remarkable achievements.
Full Digital Engineering:The comprehensive adoption of digital engineering involves harmonizing, digitizing, and making processes, tools, and data interchangeable with external partners and customers. This involves the creation and use of functional digital twins during the product life cycle.
Rheinmetall Air Defence AG's VP Engineering attests, "It is incredible how much more efficient and innovative we have become as a result."  Today, the organization can develop a new product within two years and is capable of concurrently developing multiple products to meet the soaring market demand. Currently, they are actively engaged in the simultaneous development of four to five products, a feat that would have been deemed unattainable just a few years ago.
The Impact of Modern Research and Technology on the Industry, According to Dr. Marc Honikel
Dr. Marc Honikel believes that research and technology have significantly influenced both the threats and defense systems. Emerging threats, like drones and advanced standoff weapons, are incorporating increasingly sophisticated technology that is cost-effective and readily producible on a large scale. Rapid technological innovation cycles are intensifying societal vulnerabilities. He acknowledges the necessity of adapting to these technology trends to remain relevant. Their products have lifespans spanning decades, and to maintain their effectiveness, they must be easily upgraded with new technologies and functionalities throughout their lifespan. It implies that they must increasingly rely on models and software in their work. Today, they are doing this at Rheinmetall Air Defence AG. Dr. Honikel illustrates and explains, "Nobody used to think about software-based radars or automated lasers. Today, we have them. This is a milestone and shows the change in the industry."
Mistakes as Milestones: Dr. Marc Honikel's Career Philosophy
When asked if he would make different career choices in hindsight, Dr. Honikel responds, "I'm not the type for that." He acknowledges that he has made mistakes, some of which now seem amusing in retrospect. Mistakes, he contends, are the outcomes of errant decisions, and the best course of action is to learn from them. Therefore, he embraces the necessity of self-reflection, adaptation, and making different choices due to past errors. He further elaborates, "If I were to undo my mistakes, I would have made different decisions. "I don't know whether they would have led me where I am now, but I would definitely have to climb the learning curve."  Dr. Honikel emphasizes that the present holds numerous decisions, and he anticipates making new mistakes, leaving no room for revisiting past ones.
An Effective Engineer According to Dr. Marc Honikel
Rheinmetall Air Defence AG's VP Engineering sees a practical engineer as a skilled translator. They convert mathematical and physical concepts into practical technology and innovative solutions. In his team, systems engineers transform requirements into functionalities, electrical and mechanical engineers create designs, and software engineers write code. The result is a collaborative achievement where each engineer contributes his/her expertise. Together, they assemble these individual parts into significant solution milestones, infusing creativity and passion into the process.
Shaping Future Leaders: Dr. Marc Honikel's Approach
Being unyielding himself, Dr. Honikel is not easily swayed by the idea of influencing others; he believes that consciously exerting a positive influence is a challenging endeavor, while leading by example yields better results. What has consistently guided him on his path is a clear vision and a nurturing environment that inspires him to give his best and provides him with a sense of direction. This is where his role comes into play.
He considers himself fortunate to lead a team of highly talented people within his organization, individuals with promising career trajectories. To nurture their growth, this veteran leader strives to convey his vision to them, granting them the autonomy to contribute and taking responsibility for their outcomes. Simultaneously, he sets an example by embodying values like loyalty, appreciation, and openness to novel ideas and technologies. He expects these same values from his team members. In this manner, Dr. Honikel endeavors to cultivate an environment conducive to the development of the next generation, one that will have a lasting and positive impact on them. His aspiration is that, in due course, they will embrace this approach and pass it forward to others.
Career Beginnings and Pinnacle Recognition
Dr. Honikel embarked on his journey by pursuing higher education in Germany. He later relocated to Switzerland for his Ph.D. at ETH Zurich, specializing in remote sensing, focusing on satellite-based surveying and environmental disaster management. This phase was enriching, but he eventually sought a fresh start in a completely different field—the defense industry. Initially joining as a specialist, he spent two years in Canada before ascending the career ladder, progressing from project management to department management and ultimately reaching the executive level.
Throughout this journey, Dr. Honikel encountered both achievements and setbacks. Regarding recognition, he greatly values the opinions of discerning people, most notably his family. He appreciates their critical feedback that motivates him to push himself and his goals further.
 Workday Insights and Self-Reflection
A regular workday of this well-versed executive invariably begins with a cup of coffee. This ritual sets the stage for his daily engagement in what he refers to as the "5P management" process: plans, projects, products, processes, and people. It involves diverse tasks, including analysis, introspection, coordination, making trade-offs, arriving at decisions, facilitating communication, and overseeing the execution of activities across a wide spectrum of topics, each at varying stages of development. Dr. Honikel feels that any manager overseeing a sizable organization can attest to the complexity of this role, which can be likened to a multifaceted movie, encompassing elements of drama, comedy, action, and often, heroic fantasy. He shares, " I act as a director, lead actor, supporting act, or producer, depending on what is needed at the moment."
Given these considerations, he suggests that if he distills his essence into a single word, "DIRECTOR" would be the most fitting choice, although he wouldn't also hesitate to take on the mantle of "Iron Man."
Approach to Work-Life Balance and Team Motivation
Dr. Honikel balances his personal and professional life by fostering trust within his exceptional team. He emphasizes mission clarity over hierarchy, enabling agile work dynamics. Regular synchronization and multi-tasking keep them aligned and productive, creating reserves and driving motivation collectively.
Dr. Honikel dedicates time to himself and his loved ones for personal well-being, recognizing their essential support. Engaging in sports and water activities, like sailing, provides him with the necessary timeouts. He finds value in simple joys such as playing soccer with his son or watching matches live. These varied activities add to his equilibrium and motivation, benefiting both himself and his team.
Personal and Professional Goals 
Rheinmetall Air Defence AG VP Engineering's professional objectives are currently centered on managing the disruptions caused by the Ukraine conflict in the defense industry. His primary focus is steering his team through this pivotal moment while addressing the substantial pent-up demand within the industry. Driven by this, he aims to spearhead the development of the next generation of air defense products, a task that will engage him significantly in the coming years. Simultaneously, he intends to chart the course for future product generations, laying the foundation for continued innovation and keeping the company ahead of competition for the next decade.
On a personal note, Dr. Honikel harbors a deep fascination for Asia, considering it a prominent item on his personal bucket list. Recognizing the 21st century's trajectory being shaped by Asia, he yearns to explore the region, an aspiration he plans to kick-start with a journey to Japan in the upcoming year. Beyond that, he remains open to opportunities and new adventures, acknowledging that this endeavor will undoubtedly occupy a significant portion of his limited personal time.
Message to Aspiring Engineers and Business Leaders
Dr. Marc Honikel imparts a profound message to aspiring engineers and future business leaders, emphasizing the extraordinary prospect they possess to shape the future and contribute to the betterment of our world. In his view, their leadership roles and decision-making carry significant weight, representing not only authority but also a profound sense of responsibility.
He advises these budding leaders to leverage their influence to inspire and guide others on their journey, fostering motivation and facilitating active participation in collective successes. Dr. Honikel encourages them to set audacious, seemingly insurmountable goals as vehicles for effecting tangible and meaningful change. He underscores the importance of authenticity in their endeavors and the value of heeding the counsel of family and genuine friends.
"Set yourself impossible goals through which you will create real change. Always be yourself and listen to your family and real friends," Dr. Honikel concludes. "Last but not least, use the time to break out and do something completely different while."