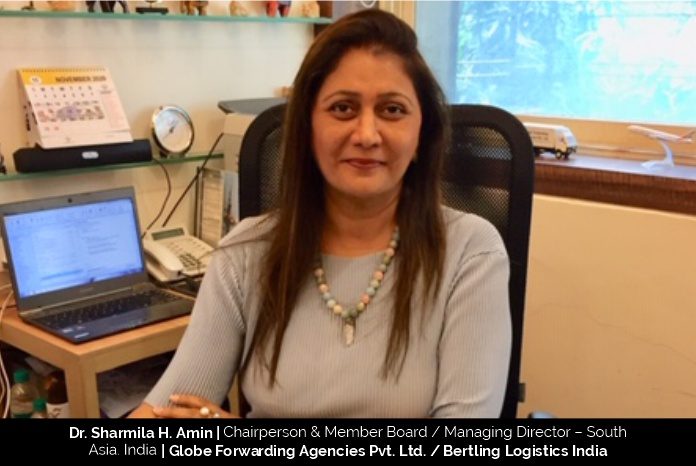 Logistics and Supply Chain Industry have traditionally been predominantly male dominated. Women were a minuscule minority in inconsequential roles. To break the shackles of this tradition, Dr. Sharmila H. Amin, Chairperson & Member Board of Globe Forwarding Agencies Pvt. Ltd., has been striving for excellence and leading the way for the women community to only settle for the best.
Journey to success
The idea of supporting the Engineering and Construction business through logistics and supply chain management comes to Dr. Sharmila naturally since it was pioneered by her father in the construction business.
She adds, "The route I took was one where women were not represented traditionally. When the opportunity to be a pioneer in Logistics for the Project Logistics / Oil and Gas industry came up early in my career, I took on the challenge. I proceeded to win accolades for the work done."
She stepped into the corporate world after completing her graduation and some professional courses. She took the onus of different roles in the industry, where she gained valuable experience.
She joined forces with Panalpina and then progressed her way up to become the Managing Director at Bertling Logistics India Private Limited.
Moreover, she is currently representing Globe Forwarding Agencies Pvt. Ltd. as the Chairperson & Member Board.
No matter what the role she is serving, she is always true to her purpose, which is to ensure all her clients and customers have benefited from her service, along with increased productivity and efficiency.
Having worn many hats in this line of business, she has experience at every level, and due to that fact, she has evolved into a complete professional in logistics and supply chain management.
She adds, "Success is spending the majority of my time focused on work or tasks that are fulfilling, leveraging my Zone of Genius, maximizing my potential and helping other people in a meaningful way while providing the freedom, lifestyle, and experiences that I desire."
Growing stronger with the challenges along the way
Dr. Sharmila states, "Logistics careers have traditionally been held by men, so I wanted to be one of the 1st women in my time to be in this field. (Project – Oil&Gas)."
To throw off the shackles and become a successful leader, she crossed several hurdles along the way.
One of the biggest challenges in her life was when she took over the enormous responsibility of a debt-ridden company in 2014 due to mismanagement and corporate fraud. On top of that, the task to help her company became arduous as the industry was going through a downfall.
However, she led her team upfront, worked tirelessly, and maintained full transparency to turn the business around. She took complete responsibility for everything and made it her personal goal to take the company to new levels of success.
Taking on all the challenges while climbing the ladder of success, she honed her skills and cemented the foundation of her career. Today, she is an excellent professional who knows exactly what she wants. She sets her eyes on the goal and gives her best until it is achieved.
Overview of Globe Forwarding Agencies Pvt. Ltd.
Globe Forwarding is a dynamic, performance-driven company providing skilled services in the fields of shipping, logistics, project freight management, transportation, and customs clearance. Its proactive and innovative approach has helped to deliver tailored logistics and shipping solutions to major clients in the oil & gas, energy, and mining sectors in the most distant and challenging regions worldwide.
Dr. Sharmila states, "As a 3PL provider, we own the process and take full responsibility for the entire chain. Not only have we planned for everyday activities but for an exception as well like alternative transport arrangements. We have a full-fledged audit team as well as an analytics team which by the use of business intelligence and data keep generating useful solutions."
Technological advances have made the logistics business easier to access and provided an opportunity for companies like Globe Forwarding to be more efficient and productive.
By taking advantage of the new and existing technologies and integrating them into its operations for increased efficiency and productivity, the company's software division uses AI and Machine Learning to augment the efforts. The process is ongoing, and the benefits will accrue to the clients and customers.
Reshaping the performance of varied industries from logistics to custom clearance
In the dynamic and ever-changing global environment, logistics and customs clearance are an integral part of this ecosystem. Dr. Sharmila has stayed on top of the latest developments in technology, equipment, and management to be able to meet the challenges.
She believes that the biggest role to bring about a change is played by technology. It has dramatically increased efficiency and productivity across industrial verticals. Over the years, the reduction in paperwork and an increased focus on expanding the infrastructure have benefited the industry.
Improving the efficiency of the logistics sector is of high importance for the country's economy as it boosts economic growth, grows exports through global supply chains, and generates employment. The solution broadly falls into three categories, namely, physical assets such as infrastructure and equipment, policy reforms, and operational and technical improvements.
She adds, "My contribution in reshaping the performance of varied industries from logistics to custom clearance has surrounded under the gamut of standardization of logistics practices, improved efficiency, establishing long-term relationships with stakeholders, including customs clearance, reducing shipment delays, and ensuring to meet the customizable needs of every client in providing logistics solutions."
Fueling the growth of the company as Chairperson & Member Board
Taking the onus of her role, she provides accurate leadership to expand the roots of the company. She ensures that the organization is managed effectively. She provides support and supervision to the chief officer and senior team to create the best results for the company.
Knowing the importance of having an excellent team, she personally ensures that every employee has an opportunity to grow and, wherever possible, align compensation with performance.
She adds, "I also try to show my colleagues and staff how I appreciate them and celebrate their successes by highlighting their triumphs in staff meetings. We encourage added responsibilities and leadership roles to staff members who demonstrate that they're capable and make sure to explain the reasoning. We appoint personnel who are straight out of university which in itself is the biggest mentoring one can do."
Thoughts on work-life balance
Working ceaselessly during the initial years of her career, she generated exemplary results but at the expense of optimum work-life balance.
However, now she follows a strict routine where she gives the necessary time to keep her body and mind fit. While fueling the growth of her company, she indulges in her hobbies to re-energize herself and get back on the wagon.
Future prospects
Dr. Sharmila expresses, "As we continue to grow and tap into more opportunities, Globe Forwarding is at the table competing for every major job in the country. This and all the awards and accolades we have received have spread our name to almost all the major clients in need of project logistics and supply chain management."
The team operates via their partners in Africa, Asia, Middle East, Latin & North Americas. They plan to open offices in the Middle East and North America soon.