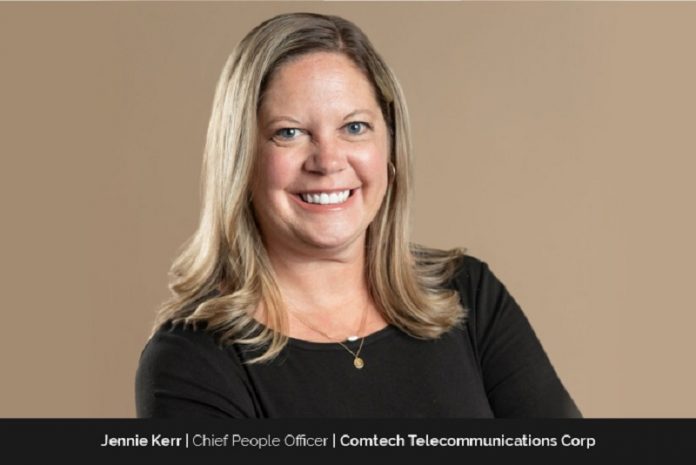 Jennie Kerr is a quintessential HR leader – kind, empathetic, approachable, a great communicator, and passionate about people and their growth within the organization. In her career spanning more than two decades, she has influenced human resources practices in multiple industries, such as health, education, manufacturing, warehousing, and hospitality. She is currently cultivating a people-first culture at Comtech as its Chief People Officer.
At Comtech, which she joined in December of 2021, Jennie closely collaborates with the executive leadership team in providing recommendations and executing people strategy. This includes identifying and retaining key talent and encouraging opportunities for engagement. As one of her primary responsibilities, Jennie is committed to ensuring that Comtech remains a place where employees want to work every day.
Jennie accomplishes her responsibilities by supporting the company-wide Human Resources team, which Comtech refers to as People Operations, developing relationships with employees, and identifying key partners and resources for the people of their enterprise. And her kind leadership style makes every team member and employee feel supported and valued. "Kindness goes a long way in building support during the many difficult conversations and challenges HR teams face on a daily basis," Jennie says. One does not always know the current stressors of colleagues, and kindness, according to her, goes a long way and is often remembered.
"In our profession, we are working with people—people with emotions, history, goals, and families," she adds. "There are no true predictors in human behavior, but if we start by leading with kindness, our workplace will be one step ahead."
Stepping into the HR Space
Jennie is one of the most remarkable and inspirational leaders in the HR sector today. But a career in this field was not what young Jennie had imagined for herself. In fact, she was not even aware that an industry such as HR existed until she was in college.
After she joined a peer education group in college, Jennie became interested in helping organizations and people, and this led her to human resources. She recalls that one of her first steps as an incoming student was to get involved in organizations on campus and strengthen her connection to the university community of students, professors, and organizations. She became a part of the group Outriggers, which helps others maintain balance and improve all aspects of the organization. "Outriggers work by request to develop individualized programs catered to the desires of the organization in need," Jennie says.
As an Outrigger, she realized her deep passion for helping organizations through challenges. She also recognized her zeal for achieving goals by identifying and developing action plans and providing guidance, tools, and resources along an organization's journey. Jennie recalls she quickly realized that "this is what I wanted to be when I grew up."
Seeing her interest in helping organizations and people, one of her advisors suggested she look into the HR industry. "Subsequently, I changed my minor to HR Development and pursued a career accordingly," Jennie says.
Challenges, Learning, and Best Recognition
People often encounter challenges while traversing the corporate landscape. It was no different for Jennie, and she did not wish to have a challenge-free professional life. She has always welcomed challenges, as according to her, the "world would be boring" if every day was the same. She also believes that they bring opportunities to reflect on one's experiences, reason with emotional intelligence, and tap into a variety of resources in their environment.
In the HR industry, one of Jennie's first challenges was working for a bad leader. During one of her first jobs out of college, her boss sat behind a desk, shopped online the majority of the day, took credit for her work, and gossiped about employees. It was a very frustrating time for Jennie. She, however, did not allow the experience of working under such a boss negatively affect her.
Instead of becoming exasperated and bitter, Jennie focused on the positive aspects. "I was learning about the qualities of a poor leader, the importance of confidentiality of employees, and giving credit to teammates for their work," she says. "I frequently thought, 'when I'm the leader of an HR team one day, I will not behave this way'."
Jennie never forgot the actions of a bad leader. Years later, as she grew into a management position, she strived to achieve a balance of mentoring, driving vision, and encouraging professional growth while providing critical feedback. "I quickly realized the best recognition I could receive was the commitment of my team to this type of leadership style, and being able to promote from within, and watch team members grow confidence, professionalism and achieve personal goals," Jennie says.
She also points out that without challenges, one cannot learn about themselves and their organization and not have the ability to grow and learn. "We are born with the drive to learn, and it is important to keep that drive throughout our lives," Jennie says. "Our challenges evolve throughout our lifetimes, but our approach should be consistent and appropriate."
A Part of the HR Industry Evolution
Over the past few decades, the HR industry has seen tremendous growth. Jennie is "thrilled" to be a part of this evolution.
When she started working in the industry, employees were required to wear suits, the workday cut off at 5 p.m., and others often viewed HR as the "police." Today, Human Resources is often referred to as "People Operations." Jennie points out that HR professionals now dress in comfortable yet still professional attire, are viewed as partners, and are almost always connected.
The "People First" approach has been central to Jennie's HR practice. Even though it is not always an easy and obvious strategy, she has adopted it in every organization she has worked for. Jennie explains that the "people first" approach prioritizes employee experience. It advocates actively listening to talent, soliciting meaningful feedback, promoting internal growth, and most importantly, treating employees as if they were family.
Making employee experience a priority also comes with its share of challenges, Jennie says. For example, during the pandemic, HR teams had to immediately focus on new priorities – how can everyone work remotely? What is the return-to-work policy? How to track absences and return to work dates? How to keep up to date with each state's regulations? How to manage required communication with employees about positive cases without releasing PHI?
HR professionals were seen banding together and relying on each other to set new norms, create new policies, and support their teams in all ways possible. The pandemic made them responsible for emotional needs – keeping everyone connected and dealing with sickness – as well as physical needs, such as ordering masks, hand sanitizer, and gloves. "There is not an HR professional that won't look back at that time and confess to have grown professionally and personally," Jennie says. "HR teams learned valuable lessons during the transitional period, particularly supporting the stress of leaders throughout the organization."
HR teams recognized the importance of flexibility and learned that employees relied on constant, transparent, and detailed communication. Jennie also points out that earlier, they usually relied on the positive office mood to introduce a new hire to the company; after the pandemic, they had to achieve successful onboarding to the company's culture in the remote world. The HR teams needed to make that work. As everyone was still connected, virtual lunch-and-learns, happy hours, meeting ice breakers, and other virtual team-building activities became essential to success, according to Jennie.
"Ultimately, we may have become too connected, putting in long hours and not knowing when to 'cut off' when home and work were at the same place, so we introduced stronger wellness plans, ensuring employees had a positive work/life balance," Jennie says.
Impact of Technology on HR
Jennie began her career as an HR management trainee in 1999. At the time, she recalls, they had a Rolodex on every desk, meetings were conducted only in conference rooms, employees requested PTO on tri-carbon forms, and they made photocopies to share files and documents.
"We are now living in a world of connectivity and constant adaptation to new technology," Jennie notes. "One of the greatest transformations to a work environment was the required adaptability of employers to conform to a remote and hybrid workforce during the pandemic." HR professionals had to almost instantly provide guidance on how to successfully manage a remote workforce, measure productivity, and maintain employee engagement without being physically connected.
The availability of modern technology made it possible to manage the remote workforce. Jennie says that it allows them to share and identify resources quickly and efficiently. In addition to that, they can also stay connected via video conferencing and develop more efficient processes and procedures. And, especially in the HR industry, the automation feature of the Information System (HRIS) has eliminated the need for many paper processes. Jennie says that it provides more time for HR professionals to develop successful strategies. Tapping into advanced technology, they can also train employees in multiple languages and simultaneously in advanced learning management systems and provide instant feedback on a project and employee performance.
New technologies are helping HR professionals manage, coach, connect, and train employees quickly and efficiently, Jennie notes. She, however, also cautions that they should carefully balance these tools and resources to ensure the personal and detailed touches remain in force. "This is a delicate balance and often one of our greatest challenges," she says.
AI will significantly impact the future of work. So, will HR still be around 15 years from now or will AI do the job of HR professionals? Jennie says, "I firmly believe that understanding, interpreting, and predicting human behavior, all part of the responsibility of an HR professional, will not be replaced with AI."
About Comtech and Its Services
Comtech is a technology company at its core. For over 50 years, it provided its commercial and government customers with some of the most innovative satellite, space, terrestrial and wireless technologies available to create new business opportunities and empower end users on a global scale.
The mission of Comtech's employees is to solve the toughest technology and networking challenges in the world to democratize access to smart-enabled connectivity, deliver meaningful insights to their global customers and empower a truly connected planet.
Through Comtech's unique culture of innovation, the company and its employees are pushing the limits of innovation to transform global technology landscapes—transforming industries and enhancing the quality of life for communities across the globe.
"As a public technology company, our employees are inherently passionate about innovation in our workplace," Jennie says. "We are committed to attracting and retaining some of the best and brightest in the industry who will bring their unique backgrounds, experiences, and expertise to deliver tailored, customized solutions that meet our customers' needs today and anticipate their needs in the future."
Over the past year, Comtech has transformed from a company of 14 siloed business units into a unified organization with two business segments. Jennie reveals that this involved finding and implementing common processes and procedures, introducing the company's new vision, streamlining systems, and sharing resources. "It has been an incredible year of transformation at Comtech! And throughout this time of transformation, communication was key," she adds.
Jennie travels with Comtech CEO Ken Peterman on a regular basis to visit employees at each site of the company to gain new perspectives from their talent, better understand their needs, and continue building a company culture based on empowerment as well as their core values. "These tours not only help with communication, but it is another way to show our employees that our leaders truly care and will spend time listening to and acting on their needs," Jennie says.
What Is Next for Comtech?
Jennie notes that global communications infrastructures are at the cusp of enormous change. She expects the convergence of space, satellite, terrestrial, and wireless technologies to fundamentally transform technology landscapes across the globe.
"This convergence opens the door to a nearly endless number of applications and services that can deliver smart-enabled connectivity and insightful technologies, which will transform industries, enhance the standard of living for global communities," Jennie says.
Comtech's technologies and services already enable and anticipate this blending of terrestrial and satellite network infrastructures in unique ways. However, for the company, it is not about terrestrial or satellite services. Jennie stresses it is about leveraging both in tandem. The aim is to keep people connected and empower customers with new services and technologies that they never imagined were possible before.
Motivation and Goals to Achieve
Jennie feels motivated when she accomplishes her goals and overcomes challenges. She also keeps herself motivated by celebrating every success. "I am surrounded by a leadership team that is in line with my motivation, and I encourage my team to do the same," Jennie says.
She also feels that it is important to feel connected and aligned with one's team on every level, and in order to encourage and motivate them, she strives to maintain open and transparent communication.
One of the main goals of Jennie continues to be: making Comtech a great place to work, where employees feel engaged, feel that they belong, and have a purpose. "We need to work together as a team to reach our common goals," she says.
A Successful Leader's Definition of Success
For Jennie, it is not just enough to figure out what one enjoys. In a message to aspiring HR professionals and leaders, she says, "It is equally important to know what you don't enjoy versus what you do enjoy." She also encourages them to always say "yes" and challenge themselves to new opportunities and be determined to learn and find their passion. She underscores, "a passionate leader is a successful leader!"
Jennie's passion has made her a successful HR leader. She, however, does not view success in terms of a higher position in an organization or monetary gains. Success, according to her, is a combination of emotions and is personal to different aspects of one's life.
For Jennie, when it comes to her career, success consists of happiness, pride, perseverance, and support, with a strong understanding of purpose. She believes that without a balance of these emotions, success may not fully be achieved or felt by an individual. "For example, if I feel happy and proud at work, and my family is not supportive, I will not feel successful," Jennie explains.
"I believe this combination of emotions is always a work in progress and developed over time; success is defined, and its purpose is different throughout stages in your career and throughout your life," she adds.
Comtech Telecommunications Corp. is a leading global technology company providing terrestrial and wireless network solutions, next-generation 9-1-1 emergency services, satellite and space communications technologies, and cloud native capabilities to commercial and government customers around the world. The company's unique culture of innovation and employee empowerment unleashes a relentless passion for customer success. With facilities located in technology corridors throughout the United States and around the world, Comtech leverages its global presence, technology leadership, and decades of experience to create the world's most innovative communications solutions. For more information, please visit www.comtech.com.