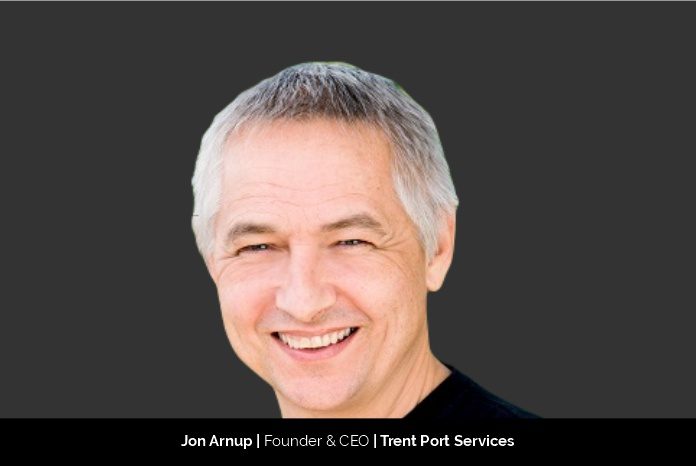 A seasoned executive with 30+ years of experience in the port industry, Jon Arnup, Founder and CEO, aims to deliver the best quality port services and solutions to all customers, wherever they are in the world. He is a skilled professional with expertise in asset management. Tapping into his vast experience and special skills, he is all set to pave the company to the top level.
Laying the foundation of Trent
Jon grew up and was educated overseas in Libya, Hong Kong, and the UK, following his parents, who served 22 years in the military. He worked in the gas industry before joining the port industry world at the UK's then-largest port, in Felixstowe.
After that, and still working with the industry's No 1 global operator at that time, he traveled, lived, and worked in Panama and Indonesia from 1996 to 2004, before changing to another large global port operator of today and heading to Dubai in the Middle East where he spent the next ten years.
He states, "There comes a time, where one needs to 'make a call' and leave salaries and comforts behind." Jon was in the Middle East at the time, before heading back to Asia, and without too much deliberation, he decided to start Trent and work on how Trent can give back to the industry. Trent was then born in 2016, and they have never stopped creating, re-defining, and adapting their business model to meet the needs and challenges of the world and their customers.
Tunneling through the roadblocks
Cash flow is key and managing that without borrowing money is challenging to say the least. Everyone says 'the first two years are the hardest,' but never explain why in any detail. Jon expresses, "The reality is, that those first 2-3 years are incredibly challenging and much more so for a variety of reasons than I had ever imagined. None of those challenges are explained in any management book I have come across."
The second problem is the process and procedures that reside on your customer's side of the fence.
At Trent, there was a small team, highly skilled and experienced internationally, but they struggled to secure the works and projects they wanted, not because of the 150+ years of industry experience they had collectively, but because the company was one year old.
This is where the two-year scenario becomes even more challenging because customer approval and acceptance is not with the person, skill, and experience, it's the size and length of time the company has been in operation.
Jon states, "The knock-on effect is that one has to withstand the financial hardship to get through those early years whilst working hard, doing anything that comes along, and doing it well, and never lose focus on what your original goal was."
As time passed, it did become easier to engage with customers on projects and works that helped elevate Trent to where it is today, and from that point onwards, life became a little easier, but delivering to a high standard and trying to strive for never-ending success keeps everyone focused and occupied.
Delivering superior port services with Trent
The Trent Group is committed to delivering practical services and innovative solutions to customers around the world, driven by measurable efficiency, budgetary value, and port productivity.
They offer Port Equipment Services and Solutions with the in-house team specializing in terminal assessments, due diligence, structural crane inspections, structural crane inspector training, full finite element analysis modeling of crane structures, crane lifecycle management (DIGILIFE), crane life assessment and extension and design, procurement, and replacement of aging and obsolete components. On top of this, they offer futuristic and innovative solutions in Port Development and Services, Terminal Equipment Procurement, Trent Moscord Spare Parts Marketplace, Port Technology, and Automation.
Jon believes that the company is placed in the right position to help decision-makers take critical decisions to get things done in the perfect way.
Becoming a Global Comprehensive service provider
Jon firmly opines in staying honest and loyal with the customers and burning the midnight oil to become a true and trusted partner. Acting as a creative service provider who understands and values the hands-on industry experience gained from serving different customers has helped them in putting forth the best efforts to engage, discuss, shape and deliver what the customers actually require.
Having now seen Trent work in 27 countries on 5 continents, Jon has now inclined the vision towards company expansion. He says, "Our vision now is to become much more complete in what we offer our customers, and that will involve, in addition to our current suite of services and solution; advanced AI focused operational solutions, digital marketplaces, equipment manufacturing, port development, civil design and deliveries, etc."
A True Example of Empowering Leadership
Being the CEO of Trent, Jon mainly regulates developing the current business streams, building on current strengths, whilst connecting and trying to realize our broader strategic vision and goals.
Moreover, he thrives on success and winning, whilst sharing some inevitable disappointments along the way. He along with his team of ex-industry colleagues and friends share a strong bond and all truly self-motivated and self-starting individuals.
He enjoys working with his remote team located in 4 different countries and discusses work-related matters, team talks, strategies to develop the vision and managing current works.
He adds, "We all dream, and we all get excited about Trent, its future potential, the way we evolve and change, growing number of opportunities, and of course the technology we have embraced and deliver."
Although he came along different work opportunities, his biggest recognition is still not work related. He states, "I feel proud to manage and retain a truly great relationship and friendship with my two sons whilst travelling and working around the world, including starting Trent – that still brings a smile to my face, especially when I look back at them growing up in foreign lands with me, and now as young adults working."
Fitness is the key
Jon believes that staying healthy is the key to keeping the personal and professional life working smoothly. In the past, he used to participate in local FIM governed superbike championships and now he cherishes all the memories and surrounds himself with them.
He adds, "If I am not fit, able and healthy I am no good to my family or Trent. So, it's about staying fit, walking every morning, and ensuring I do around 25-30kms a week in our local parks. My wife and I eat well and healthy. Keeping in close contact with my family and sons many times each week is always good therapy!"
Charting Trent's Future
Facing the global pandemic boldly, Jon made sure that they worked almost on 'auto-pilot' mode and rendered the premium-quality services to all the customers. This has certainly proved that they are an agile company, capable of providing high levels of customer satisfaction.
For the upcoming years, they will be focusing on measured and sustainable growth and pushing forward with our industry first and all new Trent Moscord Global E-Marketplace for Spare Parts. Further, they will also explore investor opportunities for the right acquisition strategy bringing key partners into the mix that will enable us to continue with our success and reach new heights in serving our port industry customers around the world.
Besides all this, they are set to demonstrate a physical presence in key regions, and countries that showcase their broader strategies.