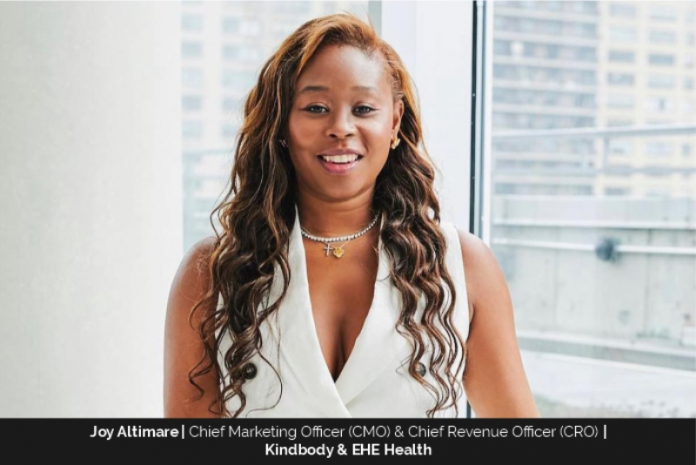 Joy Allen – Altimare is a revenue-focused marketing leader with over 20 years of experience. She has worked with high-profile brands such as L'Oreal, Verizon, Colgate-Palmolive; and notable advertising agencies such as GREY, Publicis, Ogilvy+Mather. She was the Chief Revenue Officer at EHE Health, a leader in health and prevention for over a century. Her expertise in marketing has helped the company expand its reach and deliver its services to a broader audience. Currently, she is the Chief Marketing Officer (CMO) at Kindbody, the only technology-driven fertility clinic network and family-building benefits provider for employers, employees, and self-pay individuals, offering virtual and in-person care through a managed ecosystem.
She is passionate about promoting diversity and inclusivity in the workplace and providing equal opportunities for all. In eash leadership role, Allen-Altimare focuses on creating a more inclusive and diverse workplace. She hopes to open doors for others and create a better future for everyone.
Allen-Altimare's Professional Journey
Allen-Altimare recalls that in the early stages of her career, she aspired to work primarily on beauty, fashion, and lifestyle consumer goods. She interviewed with a few other companies that focused on these areas, similar to her prior experience in consumer lifestyle. However, her father, a healthy triathlete, suffered a series of strokes. Returning to Tennessee, she realized the entire healthcare process could improve.
This personal experience inspired Allen-Altimare to shift her focus to the healthcare industry. She saw an opportunity to make a positive impact by improving how healthcare services were delivered. This realization marked a turning point in her career and set her on a path to becoming a leader. Her journey began as the VP of Marketing and quickly rose to become Chief Marketing Officer and Chief Marketing and Product Officer before her promotion in January 2022.  She hopes to apply this same passion for inclusive and equitable healthcare for women at Kindbody.
As a recent addition to the Kindbody executive team, Allen-Altimare hopes to leverage her dedication to promoting health and wellness; looks forward to developing and implementing strategies to drive revenue growth for the company. In addition, her is eager to apply her marketing and product development expertise to serve as a valuable asset to the organization.
Allen-Altimare's work at EHE Health reflected her passion for healthcare and her commitment to positively impacting the industry. Her responsibilities as Chief Revenue Officer included developing and implementing strategies to drive revenue growth for the company. Her leadership was instrumental in the company's success, as she worked to position EHE Health as an industry leader in health and prevention.
"I am a Believer, and I feel so blessed that I have been able to move into this position; that I have been afforded this opportunity to be a voice for many, to be a driver of change. So, I feel beyond blessed to be in this position, but I don't want to be the only one," says Allen-Altimare.
In her role at EHE Health, Allen-Altimare was partnered with her colleagues to establish a culture of diversity and inclusivity. Her leadership and dedication to this cause served as an example to others in the healthcare industry, showing that a workplace that embraces diversity and inclusivity is possible and essential for success.
How to Cultivate DEI Strategy at Workplace
A diversity, equity, and inclusion (DEI) strategy is crucial to a company's success. Companies prioritizing DEI achieve more innovation and success because of the wide range of perspectives they can access.
A DEI strategy must be specific, addressing recruitment, hiring, retention, and promotion. It must also be measurable, with clear metrics to track progress and identify areas for improvement. Finally, it is essential for organizations to invest in DEI, not just as a matter of moral obligation, but to build a successful future.
Companies face various challenges in today's ever-changing world, and the global pandemic has undoubtedly made things more difficult. In addition, companies have had to deal with shutdowns, a hybrid workforce, vaccine policies, mental and physical health issues, and the Great Resignation, to name a few. Yet, despite all this, companies that want to succeed in the future must create a comprehensive, specific, and measurable DEI strategy.
Companies that prioritize DEI can also benefit from a competitive advantage. A diverse workforce can help companies:
better understand and serve their customers, especially in today's global market
navigate different cultures and languages, expanding their reach and driving growth.
In short, DEI strategy is critical for companies that want to thrive in today's world. It helps attract and retain top talent, promotes innovation and creativity, enhances decision-making and problem-solving, and provides a competitive edge.
Tips to Build Better DEI Strategies at Work
To create a successful DEI strategy, follow these tips:
Create a specific action plan.
Altimare encountered an impressive DEI strategic plan for a local community college that showed how to create a specific and actionable plan. The college classified its program into strategic priorities and established goals for each. These goals included clear objectives and corresponding action steps.
Make the plan measurable.
For a DEI plan to be effective, it must be measurable. It is akin to taking a shot in the dark without quantifiable metrics. To ensure success, consider using various metrics, such as hiring demographics, employee surveys, offboarding interviews, promotion rates, and retention.
No matter how great a strategic plan looks, it will only work if everyone is invested in the outcome. Therefore, consistent and clear communication across all formal and informal channels is essential.
Don't focus solely on hiring.
While it's common for companies to prioritize hiring a diverse workforce when first implementing their DEI strategy, relying solely on hiring is unrealistic. More than simply bringing in various employees and hoping for positive outcomes, it's essential to develop clear strategic plans to promote diversity, equity, and inclusion throughout all company areas.
Start with what you have.
start by analyzing your existing resources. Evaluate each policy, compensation, benefit, process, tool, and accommodation to determine who may be excluded or disadvantaged. Use this information to identify specific changes that can be made to ensure that all employees are supported and included.
Gathering employee feedback through surveys and discussions is vital for the success of a DEI strategy. Remember that the DEI strategic plan you are developing intends to serve your employees, so actively crafting the program is essential to seek their input and perspectives.
In addition to developing DEI policies and procedures, fostering a culture embodying diversity, equity, and inclusion principles is crucial. A company's culture is dynamic and requires ongoing attention and cultivation, much like a garden. Therefore, it's necessary to prioritize values such as vulnerability, compassion, empathy, kindness, and a willingness to engage in difficult conversations to nurture a thriving DEI workplace culture. By actively fostering these values, you can create a workplace culture where all employees feel valued and included.
Diversity, equity, and inclusion (DEI) are not just temporary initiatives or boxes to tick off. Instead, they are a way of being and operating in a world that requires continuous effort, planning, and dedication.
Implementing DEI initiatives requires a long-term commitment to creating a culture that values and embraces diversity, equity, and inclusion. Therefore, viewing DEI as an ongoing process requiring continuous attention and improvement rather than a one-time project that can be completed and forgotten is essential. By prioritizing ongoing strategy and planning, you can create a workplace culture that continually strives to improve and promote DEI.
Work At Kindbody
Kindbody, a technology-driven fertility clinic network and family-building benefits provider, offers a managed ecosystem that provides virtual and in-person care. Kindbody's compassionate approach offers various services, including fertility assessments, education, in vitro fertilization (IVF), and donor and surrogacy services to employers and employees.
With over 100 leading employers trusting Kindbody to cover over 2.4 million lives, they are the go-to fertility benefits provider.
Kindbody has become a fertility benefits leader by delivering a seamless, integrated experience with superior health outcomes at a lower cost, which makes fertility care more affordable and accessible for everyone. In addition, Kindbody also provides fertility care directly to many thousands more throughout the country at their signature clinics, mobile clinics, and partner clinics.
Overall, Kindbody aims to support individuals and families throughout their fertility care journey by providing comprehensive and personalized care options.
Allen-Altimare as a Role Model
Allen-Altimare's passion for promoting diversity and inclusivity in the workplace is evident in her leadership and commitment to providing equal opportunities for all. Her presence on the leadership team inspires others, showing that anyone can succeed in their chosen field with hard work and determination.
"I am building, not just for myself, but for generations to come behind me, but I hope people are inspired by the fact that I bring that to the table, and as a woman of color, I recognize it wasn't that long ago that I would have never had this opportunity," she says.
Allen-Altimare aims to inspire the people she works with, believing anything is achievable. One need not come from the right family or location, as one can achieve anything and be whomever one wants. In addition, she is committed to empowering other women in the industry as a role model for women aspiring to succeed in their careers.
Her proudest achievement is her daughter, Ella Helene, whom she has named after her grandmother, Ella Geneva. Presently, she eagerly learns about everything, including coding, unlocks new possibilities, and also picks up Mandarin as she listens to her daughter's tutoring sessions.
Future Goals
Allen-Altimare, a growth specialist who frequently speaks on DEI strategy and women's representation in leadership, has clear goals for her future. In the next five to ten years, she hopes to work "more intentionally, more pointedly" in female health. Her experience and expertise in marketing and healthcare make her a valuable asset in this field, and she is dedicated to making a difference in women's health. With her leadership skills and passion for improving the healthcare industry, Altimare-Altimare will likely continue to make an impact and inspire change.
Message to Aspiring Business Leaders
Allen-Altimare says, "The best advice I ever received came from my dad, who stressed the importance of liking oneself as we take ourselves wherever we go." As a result, she does not dwell on disappointments, as they offer valuable lessons, opportunities to connect with others, and a chance to move forward. Looking back at her life, she would advise her 25-year-old self to prioritize being present, leaning into life, and advocating for herself.
"I don't believe in luck; rather, I believe that preparation and readiness make seizing opportunities possible," says Altimare.
Conclusion
Joy Allen-Altimare, Chief Marketing Officer (CMO) at Kindbody, is committed to supporting and mentoring other women. Kindbody covers fertility & family-building services, pre- and postpartum support, and more. She says, "Prevention is all about a regular cadence of inputs to see trends and make an educated conclusion about what's happening. It's about understanding baseline indicators, risk factors, family history, and environmental factors and empowering patients to make better decisions for a healthier future." She is an inspiration to aspiring business leaders and serves as a valuable asset to her company.