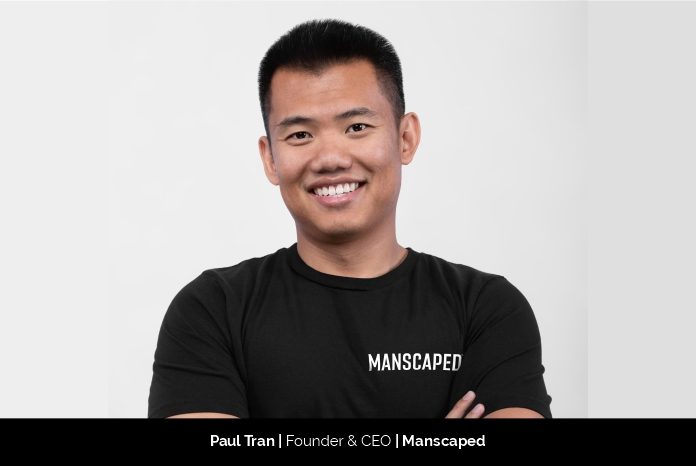 A true embodiment of the American Dream, Paul Tran, Founder and CEO of MANSCAPED™, learned early on that hard work and determination are key to running a successful company. As a first-generation immigrant, Paul is no stranger to taking the path less traveled. Along the way, he learned the importance of meaningful relationships, to lead with empathy, and that true success is tied to the impact you have on those around you.
Winning against tough odds
Paul came to the U.S. as a first-generation immigrant from Vietnam. Having nothing and coming from nothing ingrained a sense of ambition in him and served as his driving force to make the most of any opportunity and practice empathy towards others. He put himself through college at the University of Southern California, where he studied at Marshall School of Business and Viterbi School of Engineering.
Paul has always been an imaginative and driven person. He naturally adopted the notion of entrepreneurship at a young age. Thanks to his imaginative and curious nature, Paul always looked for the white spaces in his life and career and took calculated risks to fill them.
Paul shares, "One of my first ventures as an entrepreneur was developing a revolutionary science-backed skincare brand that provided a non-surgical solution for wrinkles and stretch marks. This was my first stint in the beauty space, and it opened my eyes to see how many unwarranted taboos existed in this industry."
He launched MANSCAPED shortly after with a vision of driving the movement that changed the face of men's grooming. He felt that there was a need for a brand that truly spoke to and better represented men. MANSCAPED sparked a fresh conversation, pioneered a category, and defined a massive market within the $70 billion global men's grooming industry. He states, "We redefined male grooming while talking about our version of masculinity – one that involves tolerance and inclusivity. This firm belief, combined with MANSCAPED's superior grooming products and mission to help men level up, is now a proven and highly adopted concept around the world."
Evolving into a mature entrepreneur
Paul believes that roadblocks and challenges are par for the course when it comes to being an entrepreneur. For him, entrepreneurship includes failure. He expresses, "Before one can be truly successful, one must fail. It is in these defining moments where you learn how to pick yourself up, dust yourself off, and come out even stronger than before. The wonderful thing about failures is that you're learning from them each time they happen. Over time, failures turn into experience, and experience leads to wisdom and success. This is all part of the journey."
Uncovering the white space in the men's grooming industry
Before MANSCAPED, there was a gap in the men's grooming market that catered to the groin area. That area of the male body had been neglected, forcing men to use unsuitable tools, resulting in cuts, nicks, and snags. Paul saw this as an opportunity and, with the creation of MANSCAPED, pioneered a new category. He adds, "We've continued to diversify our product offering to include everything a man needs for an elevated grooming regimen and to simply feel good and be the best version of themselves. With innovation at the forefront, we continue to diversify our offerings in the personal care and lifestyle product spaces."
Today, MANSCAPED is the leading men's lifestyle consumer brand and male grooming category creator trusted by over two million men worldwide. Their product range includes a diversified line of premium tools, formulations, and accessories that are intelligently designed to introduce and elevate a whole new self-care routine for men. A digitally native brand, MANSCAPED offers direct-to-consumer shipping in 38 countries, maintains a fast-growing subscription program, and has expanded into retail giants like Target, Best Buy, and Macy's throughout the U.S.
Leading with innovative ideas
Paul shares, "Innovation opens the doors for discovery and helps ensure you're building the best products for your customers while expanding your brand ethos and reaching new customers." The in-house team obsessively researches trends to stay ahead of the curve, and their R&D process includes rigorous testing to uphold their brand's integrity, technical excellence, and premium quality. MANSCAPED brought the cultural phenomenon and real-life social norm of "manscaping" to the world, first by creating premium dedicated grooming tools and unique formulations and then by fostering a community as a lifestyle brand. As such, MANSCAPED is so much more than a business.
A proof point for this exists in MANSCAPED's Facebook Ballers private group. Initially built as a space for consumers to share grooming tips and tricks, the group has amassed more than 14 thousand dedicated members who regularly turn to one another for support and camaraderie that reaches far beyond the personal grooming realm. Further, in addition to all that MANSCAPED does for men on a personal level, Paul felt it was also important to incorporate a larger cause into their mission that could help people on a far-reaching men's health level. Partnering with the Testicular Cancer Society, MANSCAPED helps spread education and awareness about the disease, which is the most common form of cancer in men aged 15-35, which encompasses a massive audience around the world.
Believing in his brand, Paul quotes, "It is all about being creative and maintaining a long term vision."
Spearheading a strong team
As the Founder and CEO of MANSCAPED, Paul handles a myriad of responsibilities. However, his chief role lies in running and growing the business. Being a thoughtful leader with a dash of both strategic thinking as well as compassion toward his team and family, Paul leads with a 'people-first' approach.
He adds, "We have an infectious company culture where everyone feels valued and appreciated for their efforts. To us, a healthy and thriving environment is the key to our success."
Paul maintains balance between his professional and personal time, but often feels that both parts of his life support the other.
He shares "Conversations with my young children provide a fresh perspective on my work and overcoming challenges in the office provides fodder for learning moments at home."
Growing tomorrow
MANSCAPED is rapidly expanding both its product suite and its employee base. Paul and his company continue to tread the path of success without slowing down. They are excited for what will come next and proud of everything they've accomplished to date.
Paul's special advice for upcoming business leaders is to keep looking for gaps in the market, innovate, create, be humble, and build a supportive team you can rely on and a unique culture your people thrive on.