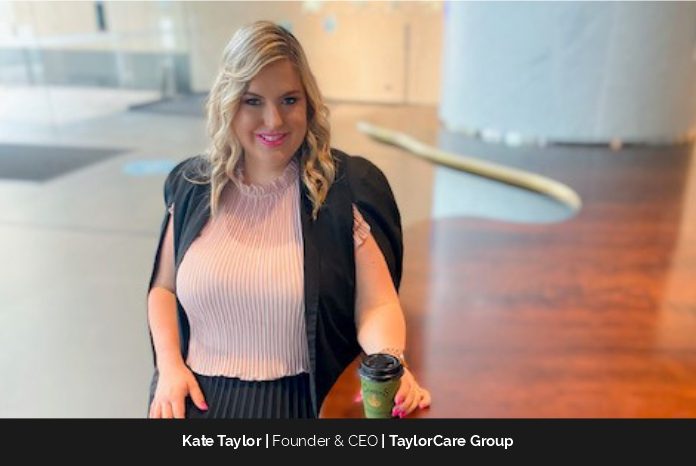 Kate Taylor is the founder and managing director of TaylorCare Recruiting and TaylorCare Telehealth. She has extensive expertise in the recruitment market, telehealth, and corporate health and wellbeing. Kate has over 12 years of experience in the recruitment market and has recruited for the social work, education, and nursing fields. She is a fervent supporter of social justice initiatives.
For more than 4 years, Kate has served as an RUOK community ambassador. She can relate to children and parents who hear her tale, since she struggled with complicated mental illness as a teenager.
Growing as a Leader
Since founding TaylorCare Recruitment at the age of 28, Kate's creative approach as a professional in the HR & Recruitment sector and as a company owner has developed. While growing her firm, Kate faced several obstacles, but she never shied away from a challenge. In its nine years of operation, the firm has grown from a one-person home office start-up to an office in Sydney's central business district and, most recently, to a bigger location in North Sydney with five employees.
Kate is actively involved in the day-to-day operations of her company; she works with her team to serve our clients around the country. She oversees the overall marketing and branding of the business, the management of staff, and also heads up business development and launches new services and programs too.
 "I believe I have approached each challenge with the posture of positive problem solving and relying on the concept that knowledge and experience together form wisdom," says Kate.
Kate's aim in the workplace and for her clients is marked by passion, initiative, and open collaborative thinking. This is reflected in the consultative approach that she uses in dealing with staff, clients, and candidates.
TaylorCare Recruitment
The Taylors, who formed TaylorCare Recruitment in April 2013, are the company's owners. TaylorCare, a North Sydney-based company, was established to meet the demand for a professional, high-quality recruiting service for Australia's public, nonprofit, charitable, and private care sectors. TaylorCare also fills positions for businesses all throughout the country.
When one decides to work with TaylorCare, the company makes sure customers receive the best staff and also contributes to four of its chosen charities: Freedom Hub, A21 Campaign, RUOK, and Hamlin Fistula Ethiopia. TaylorCare has a wealth of experience in the care sector recruiting and has successfully placed several social workers, counselors, nurses, psychologists, and executive roles in permanent and temporary positions across Australia, including rural and remote areas.
TaylorCare sets itself apart by offering a comprehensive service centered on wellbeing with a moral and sincere corporate philosophy while upholding the requirements of delivering a professional service. The company also makes sure that both employer and applicant needs are understood in order to place people in positions that will best support their professional and business goals. TaylorCare's recruitment team works closely with clients and applicants to find the ideal fit for everyone involved.
"Success is not final; failure is not fatal it's the courage that continue that counts" – close friend.
The Global Crisis
Kate's ability to guide her team through uncertainty is demonstrated by the challenges she has faced over the last nine years of business, particularly the COVID pandemic. Kate had to quickly reassess her company in 2020 and decide where she wanted to focus as a business and how to serve her clients. That regardless of how the economy is going, she can adapt and change because of her passion, determination, and drive. Kate claims that, as a result, she has become stronger both emotionally and professionally. Kate defines strength as having courage, bravery, and vulnerability while also being there when it matters most for your career.
Staff frequently cite Kate's enthusiasm, drive, passion, ingenuity, and desire to achieve in the face of adversity as the reasons they work for her. Giving up when challenges hit is not an option for Kate with her team. Even during the pandemic, she has innovated her business from surviving to thriving.
Exceptional Career Growth
In 2007, Kate's work in recruiting began in London with the sector of education. She worked in education recruitment for a number of businesses before returning to Australia in 2010 to work for a healthcare agency. She specialized in hiring psychologists, social workers, and counselors in the Northern Territory. Her recruitment career was effectively begun by this. She billed more than $1 million for the business throughout those two years as the biggest biller in the office. This encouraged and motivated Kate to launch her own company.
Kate claims that since founding TaylorCare Recruitment, she has successfully launched Community Services and Allied Health divisions within the company, and that in 2020 she plans to expand the company to provide Telehealth Counselling to clients in lockdown in Victoria, as well as support COVID hotels in Melbourne by supplying social workers to assist the homeless.She says, "We have managed to use the profits of the business to expand into a larger office in North Sydney to accommodate the growing number of staff, currently a team of five." Each month, TaylorCare is turning over greater profits and aims to expand with more staff in 2022. To date, the team at TaylorCare has placed 386 candidates, with 86 clients across Australia.
Kate has spoken about her lived experience with mental health to the following organisations Sony, ING Bank, Allianz Insurance, Eftpos Australia, Corporates, Small Businesses, Universities, NSW Transport & many Not for Profits throughout Australia.
The Recruitment, Consulting, and Staffing Association of Australia and New Zealand (RCSA) is the peak body for the recruitment and staffing industry in Australia and New Zealand.
Kate was awarded:
Winner-RCSA Rising Star Award in 2018
Finalist – RCSA PEARL Emerging Leader award in 2015.
Winner -RCSA Corporate Social Responsibility Excellence Award 2018
Finalist – TIARA Recruitment Leader of the year 2021
Recruitment International Awards
Winner- Recruitment Industry Best CSR Initiative 2019
Finalist for the Recruitment Industry Innovator of the Year Award 2019
Winner- Specialist Recruitment Agency of the Year Award 2020
Aligning Work and Life
As a small company owner and mother of a 6-year-old daughter, Kate believes that work-life integration is essential. Kate intentionally practices self-care, taking the necessary steps for her health as needed. She meets once a month with a business coach, other entrepreneurs, and a psychotherapist to keep her mind and emotions under control. She realized early on that operating a business is a marathon, not a sprint, so she needed to include long-lasting elements into both her professional and personal lives.
A Future Vision for TaylorCare
For the future of TaylorCare, Kate has set up a great foundation for almost 10 years of business and become Australia's leading and multi-award-winning specialist recruitment agency. She says, "We partner with Not-for-Profits, NDIS Providers, and Government Services Australia Wide for their recruitment and telehealth needs."
With the right team working for them who are in line with the culture, values, and mission of the clients' organizations they work with and interns they support and impact vulnerable people in the community, TaylorCare helps people find their dream jobs and employers to thrive in the community services sector. Kate says, "We make an income in business to increase our impact we create in the world!"
Kate's goal is to continue paving the way for women in business to really shine in leadership roles. She wants to be a role model for her daughter that she can work hard and go for her dreams while being an amazing mum too. She says, "My long-term dream is to set up a TaylorCare Foundation where we can make more of an impact for charities we support through the business."
Her advice for aspiring business owners is to dream larger and move quickly to put those ambitions into reality. You'll be astonished by the results, so don't restrict yourself. Always move on after failing, she continues, and you will succeed beyond your wildest dreams.
Client Testimonials
Kate Taylor to help me recruit for an executive position. Having engaged with Kate about 7 years ago, I knew first-hand how professionally she operates her business and therefore decided to revisit the relationship. (Originally, I won a position through TaylorCare Recruitment).
Needless to say, the end result was the position being filled, with an outstanding candidate. Kate was in contact with me frequently, communication was outstanding, and our discussions were strategic, honest and transparent and to the point. Although strictly speaking, the position I was looking to fill was outside of Kates scope, she excelled in the recruitment process regardless. Having engaged with TaylorCare Recruitment from both sides of the spectrum e.g., being recruited by Kate for a position and now Kate recruiting for our organisation, I can 100% testify to the integrity and success of TaylorCare! – MARY-ANN KOERNER