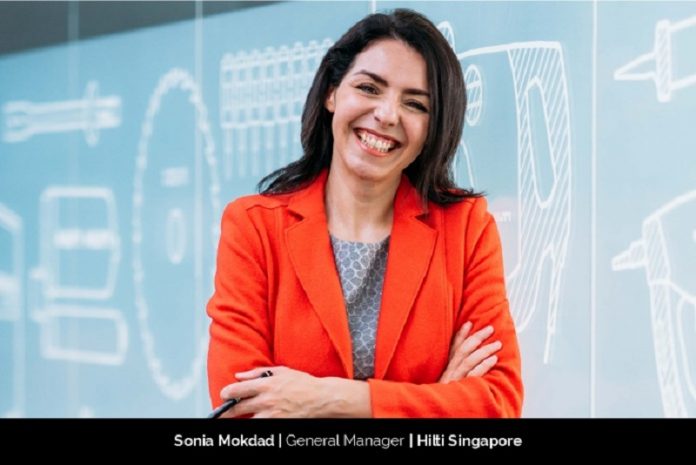 Climbing the upward ladder from supply chain to marketing and Sales, Sonia Mokdad, General Manager of Hilti Singapore, has been devoted to working with Hilti, a Liechtenstein multinational business, since the beginning of her career. Her belief in leading with utmost transparency and compassion has helped her build a collaborative team environment that stands high on integrity and authenticity. She uses the self-introspection method to bring out the best in people so that they can work upon their full potential and rise higher.
In this exclusive interview with CIO Views, we have covered the inspiring story of Sonia Mokdad and how she became a role model for upcoming business leaders.
A seasoned business leader
Sonia gets a constant dose of inspiration by leading people to discover their path in their lives. She enjoys aiding others to see the right direction to climb the ladder of success and help them take their leap of faith.
She adds, "For me, success means creating an environment where people can grow beyond their own limits. Success is giving people space to make their own experiences, to be creative, to take personal responsibility, and to grow by making mistakes. In the end, success means blind trust between leaders and employees."
Seeing her father work in the construction industry for more than thirty years inspired Sonia to dive into the construction domain and structure her future path.
In 2000, she joined Hilti as the Business Operations Manager(Eastern Europe). After handling the responsibilities for more than three years, she climbed the ladder by grabbing different roles like Material Manager, Local Process Expert Supply Chain, Head Of Logistics Department, Head Of Marketing Services, and Head Of Customer Service. While expanding her experience working up the ladder, she decided to add more skills to her armory by completing the Magistra degree in Entrepreneurship from the FHW University of Applied Sciences courses in operational and research institutions of the Viennese economy.
In 2014, she took the role of Head Of Retail Sales. Having vast experience and valuable skills on her side, she was soon promoted to the role of Head Of Sales Channels, as a member of the Executive Management Team in Hilti Austria. She was responsible for orchestrating the sales through multiple channels such as customer service, retail and digital. She actively adopted new changes such as e-commerce and strengthened the role of the channels as a counterweight to the direct sales teams. The aim was to win loyal customers and generate sustainable sales to boost the growth of the company. With her smart strategies, her sales channels produced 70% of all orders and generated 50% of all sales for the organization.
Showing top-class management skills at Hilti Austria, in 2018, she moved to Hilti Germany and took on a new challenge as the Regional Sales Manager, also as a member of the Executive Management Team.
In 2020, she was promoted to General Manager Hilti Singapore to take the organization to the next level and beyond.
Amping up the game by learning through difficult times
COVID-19 came with a devastating blow to everyone. The organization was hit hard as the job sites closed down between April and August 2020. There was total chaos with horrid aftereffects.
As the famous African Proverb goes by, "Smooth seas do not make skillful sailors," Sonia also tackled the high tide with a new perspective. She realized that it was important to work out a smart strategy and share it with the organization to sail through the challenging time rather than giving in to the high pressure.
She states, "We used the time to implement our new CRM Solution, and we redesigned our strategy and action plan to the situation and to finish strongly by the end of the year. COVID opened doors to discuss the meaning and importance of productivity in terms of labor resources. It taught us how much is possible through virtual meetings. It sharpened our mindset in terms of agility and to learn to react fast to changes in the market. Overall, we definitely stepped out stronger."
Sonia feels blessed to have a solid team on her side that keeps a constant inflow of unique ideas to digitize the construction domain and bring wonders by accelerating the productivity in the Singapore division.
She expresses, "The time of crisis will show the real culture of a company, meaning to be compassionate and still hear the individual."
Bringing innovative products in the construction domain 
Sonia states, "We want to bring the construction industry to the next level by driving productivity. In Hilti Singapore, we have a great team of 140 team members. We have in every trade and every segment solutions where you can save money and working hours from people working on the site. We are very proud of our Tool Park Solutions to make our customers faster. We are very proud to implement our new Robotic Solution for Overhead Drill, which is unbeatable compared to human working power. I see us as the partner in the construction industry when it comes to make the sites more productive."
Hilti acts ethically and for the long term. It exercises responsibility towards its own team members, customers, partners, and suppliers, as well as in the way it treats the environment and society. The team believes that environmental protection and innovation go hand in hand.
Sonia adds, "We work throughout the design of our buildings and global operations to improve our own environmental footprint and minimize our impact on the environment. We have set our environmental targets in line with the global ISO 14001 standards for environmental management. We carefully monitor what we do and make sure we are putting our targets into practice wherever we work throughout the world. We also require our partners to protect the environment so that we can meet our commitment throughout the entire value-added chain."
The company wants to support the green building concept, helping its customers to achieve eco-friendly builds. This can all help to bring down CO2 emissions and the use of energy, water, and materials, as well as to help to reduce health hazards and the risk of environmental pollution.
Sonia mentions, "We make sure that our technologies are eco friendly, designed and made to help achieve international green building standards, such as BREEAM, HQE, DGNB, and LEED. For instance, we have created products that reduce the amount of volatile organic carbons in the air, such as our firestop systems and chemical anchors. And we've designed an award-winning hammer drill, which greatly reduces its environmental impact because it creates no waste when it is made. In addition, our Clean-Tec product range goes above and beyond these regular requirements."
All these things are possible due to their unique culture, their initiatives for their team, customers, and other construction industry-related associations of Singapore.
Sonia mentions, "We know that the long-term success of our company is based on our people. So we want to give our team members opportunities to grow and develop on a personal level. We have an open-door management policy, with regular assessments to monitor targets and training. Many of our team members enjoy long-term careers at Hilti. We also encourage career movement around the company and support our team members in continuous learning and development."
Besides taking initiatives to give a better quality of life and guarantee a long-term career, the company takes a keen interest in the health and safety aspect of its people.
The construction business has its own sets of dangerous possibilities, so to prevent accidents and unfortunate incidents, the company has set strict rules on how to behave onsite, how to take precautionary measures, and what personal protective equipment is necessary.
Sonia adds, "We are constantly evaluating risk at the workplace and putting the right protection measures in place. We run our own health care services for team members designed to prevent and detect health risks at an early stage. And we offer advice on all sorts of issues from vaccinations to preventing work-related health problems."
Leading the team on the core values of the company
Hilti stands tall and strong on its core values that include, Integrity, Courage, Teamwork, and Commitment. These core values run deep into the veins of the organizations and define how the teams work together and how they work with the partners based outside the company.
Sonia believes that a culture of integrity comes through being a role model in terms of living integrity and zero tolerance if someone is not respecting integrity in the team.
Steering the organization on a well-structured vision
By creating a unique culture, investing in R&D, and being the pioneer of bringing change in the construction domain, Sonia aims to make Hilti Singapore a leading market in the country as well as Hilti Group. She realizes that Singapore has a lot of hidden potential for the construction sector. The country is ripe to showcase the power of innovative and productive solutions and reap good fruit for the organization.
To achieve this vision, Sonia wants to lead her solid team in making the organization successful by amalgamating their creativity with their passion. To boost her team and influence her vision, she likes to stay by her team's side, listen to their needs, and find individual development plans to make them flourish and grow with Hilti.
Shining high at Hilti Singapore
As a strong, empowering, and dedicated woman, Sonia is currently working as the General Manager of Hilti Singapore. Here, she and the entire Hilti Singapore team strive hard to complete the translation of their Hilti Champion 2024 strategy into their local Singapore market. For her, this conversion of all the Hilti initiatives, solutions, and products according to the end customers' needs plays a pivotal role in witnessing more sales.
Emerging as a leader, she opines in the fact that customer and people engagement is the main key to reach all the goals effectively. She ensures that all the team members are arduously working in sync with meeting the owner's goals as well as feeling super comfortable in contributing their consistent efforts at Hilti. In this way, they all can successfully progress towards a promising future for everyone.
Sharing her day-to-day routine, she adds, "I spend 60% of my time in alignment calls within our organization and beyond, the rest of the time I spend with our customers and 1:1 conversations with our team members, with people who joined us recently, with team Leaders from mid-management, with our colleagues from the regional office."
During her work at Hilti, Sonia got the chance to meet and interact with General Managers from their Customers and Partners who appreciated their team's way of supporting and opening doors for higher success in their daily business. She considers this moment as her biggest recognition as a result of their brilliant team efforts.
Family First Rule!                                                                            
Sonia and her team are happy to have implemented a new Leave Policy that focuses on a higher number of days of Annual Leave for all the team members last month. Also, just recently, they have increased the months of paternity and maternity leave so that the employees can enjoy the new phase in their personal life by spending more time with their families and return back to work with a new zeal and enthusiasm.
In the upcoming days, the company is also planning to implement a new Mental Health Service Support so that all team members can get excellent professional help whenever required. Not only this, this assistance will contribute in establishing a solid work-life balance.
Sharing her private life routine, she says, "I spend time reading books, I read a minimum of 1 Book per month, it gives me inspiration and a way to reflect and step back from Daily Life. But most of the time, I try to spend as much time as I can with my son. He is now eight years old, and it is very inspiring to spend time with him as he always reminds me to stay in the moment and not feel lost in the past or in the future."
Flourishing Ahead
With many fabulous future plans, Sonia is currently excited to shift to their new office that will inspire others to become an outstanding space to work and collaborate. The company also plans to include sustainability as a critical aspect in its work ahead. She adds, "We want to contribute more proactively in our society and support to protect our environment. In the next few months, we will start switching some of our vehicles to hybrid and electric cars, and our office will be an energy-saving office too."
Lastly, the company aims to inspire more female leaders to become a part of their large group and grow further. They also plan to invest in further team expansion so that everyone can work hard together to create a difference in the current leading market and make the Hilti Group stay on top in the Singapore construction industry.