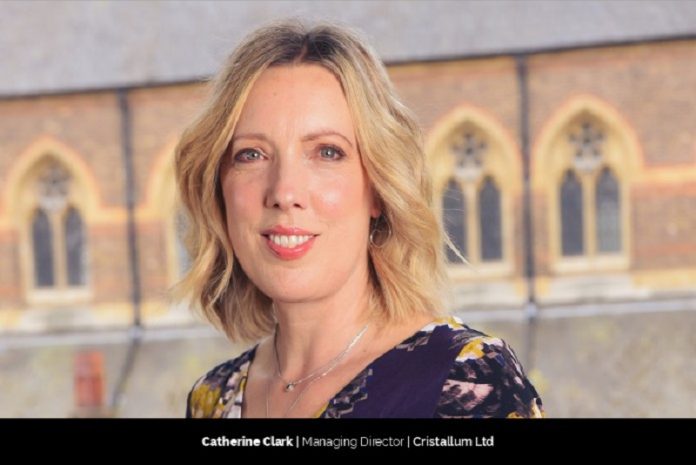 Catherine is an Executive Mentor and Financial Business Mentor, a highly experienced CFO, Director, and business leader with a passion for supporting people and organizations to achieve their ambitions. She works directly with clients through her business Cristallum and closely with chosen strategic partners sharing the same values and intentions to help finance leaders. She is lead professional mentor for GrowCFO, and she runs their CFO Programme and is a mentor for the ICAEW (Institute of Chartered Accountants in England and Wales) leadership programs.
"A great leader can inspire change. A great team can makes change happen."
As an Executive Mentor, Catherine passionately supports and inspires CFOs and other finance leaders to navigate the responsibilities of their roles and to enhance their confidence, influence and effectiveness at Executive and Board levels. She has supported over 1000 leaders in different organisations with 1:1 mentoring, group mentoring, programs, and workshops. A Chartered Accountant (FCA) qualified at the Big Four and a Fellow of the Institute of Directors, she has over 25 years of experience working in global commercially focused organizations and has led organizations for over 10 years at the Board level.
Catherine shares her experience, knowledge, and learnings from her professional and personal growth journey to holistically help leaders overcome the kinds of obstacles that are often hidden from them. She guides them to accelerate the advancement in their career and bring simplicity and clarity to real-life current situations, challenges, or decision-making.
She is also a trustee and director of Mindapples, a charity supporting young people and communities to look after their minds. She engages regularly with a strong network of CFOs and is a thought leader and speaker providing leadership strategies and delivering practical and supportive advice on the current challenges facing finance professionals.
Catherine supports the leaders of today and tomorrow helping them shape and influence finance now and in the future for the benefit of their organizations, laying the financial foundation of governance, process, and control, and keeping them focused on the right things and what matters most towards achieving the vision of the organization. She believes in always having an eye on the future whilst staying present and understanding the past.
Navigating the Stepping Stones to Confidence
Catherine became CFO, and the first and only female on the board at a global consultancy, at the 'young' age of 37. She always had the ambition to be a finance leader and lead a business because she loved what she did and had worked hard and dedicated herself to both professional and personal learning and growth. "I was passionate about being a role model for other women and having influence over the performance, culture, and growth of the business," she states.
As a CFO, Catherine experienced many challenges, both professionally and personally, that she had to overcome along the way, and at times these challenges made her feel far from her best. During her early years on the board, despite doing her very best and delivering well with her team, her lack of confidence was holding her back from stepping fully into the role.
Taking on a board role was a bigger transition than she had anticipated because of the pressure and responsibility of leading the strategic direction of finance and the business, making decisions across the business, and keeping the performance on track. While she was successful externally, on the inside Catherine regularly struggled with feelings of doubt about if she was good enough to be a CFO, whether she knew enough to have the responsibility she held, or if she was making the right decisions for the business.
"It wasn't just about finance anymore. At times, I felt the board had an unnecessarily aggressive and domineering dynamic. There were big egos at play and it didn't feel supportive or conducive to open discussion. Reactive questions put me on edge and I felt like I was waiting for the moment when I wouldn't know enough or had missed something important. I felt like I had to know everything and continually prove myself, which was exhausting. In this stressed state, I struggled to express myself fully and keep my perspective, and it wasn't enjoyable," Catherine recalls.
When her board term was renewed, Catherine reflected on where she was and how she wanted to feel. The biggest shift for her was moving from worrying about what others thought of her and needing external validation to clearly seeing her value and believing in what she brought to the table.
"I defined it as a 'healthy don't care' attitude. The dynamics of any senior leadership team or board can be challenging. However, with confidence, I saw that I had a choice in how I showed up, how I responded to situations that emerged, and how I could influence the relationship structures. I spoke up, stopped taking things so personally, and I recognized that it wasn't about me; as a team, we had to serve the business and its people, and we had to co-create that together with the best people around us," Catherine reflects.
Helping Leaders Be the Best They Can Be
Four years ago, Catherine started her own business, Cristallum (crystal clear in Latin), with the passion and purpose to support finance leaders, CFOs, and other business leaders to be the best they can be for the benefit of how they perform and feel, and for the benefit of their organizations in how they lead.
Catherine believes a leader is performing at their very best when they have the confidence and the courage to be themselves. They need to recognize the value of people who enable a business to operate, communicate openly and transparently, share the story of the business performance promptly, and retain their clarity to see the bigger picture. They are then able to direct the business accordingly and collectively, as a leadership team, act towards what needs to be achieved.
"I do what I do because I want leaders to feel at their best with the confidence to deliver at their best at the earliest stage possible, so they are seen as an equal and believe in what they uniquely bring. I want them to think differently, feel successful, and positively thrive. I intend to positively influence how people and businesses operate to achieve better business performance and enhanced value. A finance leader needs to be on the pulse of business and therefore financial performance, knowing what drives and influences value, profit margins, and cash and identifying when performance isn't on track. If a change is identified early enough, action can be taken," she elaborates.
Catherine loves to share what she has learned because sharing her experience, knowledge, and wisdom gained over many years of working at the C-Suite level helps other people cut short their journey to the success they desire and how they want to feel. She works with people who are ready and willing to embrace their personal and professional growth and reach the potential that is inside them.
"Successful people have mentors. You do not have to do it alone. I can support you to be a confident, happy, calm, energized, focused and influential leader who has the knowledge and presence to make a meaningful contribution and impact, whilst creating value and a culture that encourages others to join you on the journey toward even greater things," she affirms.
One of Catherine's clients had this to say about her mentoring, "The new ways of thinking and being which, I have subsequently embraced have impacted all aspects of my life, not just work, and I am incredibly grateful to you for opening my eyes, my mind, and my heart in this way. I am very excited about the incredible things I now genuinely believe I am capable of, and especially about the potential to enjoy every minute of the journey."
"You were born with wings, why prefer to crawl through life." – Rumi
Helping Clients Achieve Optimal Financial Performance & Sustainability
Catherine insists that to achieve optimal financial performance and sustainability over the longer term, making profits that can be used for future investment, returns or rewards to shareholders and employees, and contributions to advancement in that sector, communities, and society, needs a finance leader who is not only technically, commercially, and strategically strong, but also has good emotional intelligence, mental, emotional, and physical health.
"I strongly believe that leaders must have the energy to perform, physically, mentally, and emotionally, and feel uplifted to retain their own vibration, that in turn allows more success to come with ease," she says. "I love seeing how a change in thinking, behavior, approach, or perspective, however small, can make such a difference. With a freer mind comes more clarity, perspective, and influence for important decision-making, strategic thinking, and contribution. Becoming a leader who is calm and in control, who values and builds relationships, and who nurtures others to be the best they can be, inspires people to follow you. Operating from a place of ease and trust with more impact, influence, and fulfillment."
A Holistic Approach to Mentoring Leaders
Catherine believes that success is not just about the title and the status but also about how you feel. The goal is to align external perceived success with how you want to feel internally, and how you want to live your life. In her work, she invites her clients along on their own growth trajectories by developing her relationship and partnership with them to make a difference and instigate change.
She achieves these outcomes by intuitively connecting with each client's energy and potential and guiding them in a safe, calm space to create more success and happiness, see the gaps, and be the best leader they can be. She believes in growing the whole person, not just the job title, and lifting their passion, confidence, and motivation.
Her holistic approach to mentoring ensures that her client's energy and resilience are enhanced and maintained as they grow. She strongly believes that people drive business success and profitability and that personal well-being is at the heart of a successful company because this is how people and businesses achieve long-term sustainability.
Catherine shares leadership strategies to support her clients and their organizations to positively thrive and embrace change. She wants finance leaders to fully recognize their value and how this helps the organization achieve its strategic ambitions. As another client testimonial notes, "She encouraged me to see my true potential. Throughout my mentoring, Catherine has believed in me and this has been so powerful."
Catherine points out that when CFOs know themselves, their strengths, and their approaches to different situations, and identify what thought patterns or beliefs may be holding them back, they can step confidently forward as themselves, not who they think they should be. When a CFO sees their worth and their value, they are seen. They can then confidently create real value for their organizations. When CFOs focus on what they want, they make the right choices for themselves to shine, thrive, and enjoy their work and their lives.
"Why would you not want this after all the hard work and effort to get to where you are?" she asks. "When a CFO has support, they are not alone. We all know it can be very lonely at the top. You may feel like you're supposed to know everything, but of course, you can't know everything. High performers are often perfectionists by nature, and this can mean you set an unrealistically high bar for yourself and focus too much on what's not gone well, rather than seeing the successes clearly. Only someone who has walked in your shoes will truly understand what you go through every day and what you may need to know."
Catherine maintains that taking time for yourself and having someone who's there for you, someone to talk to and reflect with, share concerns with and celebrate successes is the biggest investment you can make for yourself. In an ever-changing world, making yourself more valuable with the right learning and support will elevate you to even higher levels of success at a faster pace. Yet another client had this to say about her, "You stepped into my life and found out about me; opening my eyes and making me feel like a CFO, think, and react as a CFO. I was missing something I didn't know was missing."
Catherine observes that finance continues to evolve, as do organizations, and therefore a finance leader must evolve too, to stay relevant and valuable. Finance leaders need to meet this changing, and potentially more complex, environment with confidence and resilience. The speed of change often outpaces the speed at which finance leaders and their teams can keep up, and this means they can miss what's important and not step up enough in creating longer-term sustainable value for their organizations.
Creating Balance & Connecting to Inner Wisdom
Catherine firmly believes in the importance of maintaining her personal energy and resilience to deal with the daily pressures and responsibilities of the role, particularly in a global environment that changes constantly. She maintains her clarity, confidence, and connection with routines that keep her in her best place, so she can show up with a clear head and be ready to be fully present.
This includes a daily yoga practice to open her energy and calm the mind, meditation, journalling to understand and connect to her thoughts, and walking her rescue dog, mindfully connecting to nature and the open space around her. Catherine also reads a lot and continually challenges and grows her thinking by attending workshops and inspirational seminars.
"Athletes have a coach to optimize performance and I have a mentor to optimize mine because our growth journeys never stop," she insists. "Now, the most important connection for me is to my higher self, my inner wisdom, my true self. My energy comes from the balance I've created in my life. The balance of doing what I love, focusing on where I bring the most value, and spending time with the people and activities that bring me joy and keep me uplifted and supported. This is where I have realized my power is and I intend to support others to connect to their true self, energy, and value, so they feel successful in their lives."
For more info please visit:
Website link: www.cristallum.co.uk
LinkedIn profile:
https://www.linkedin.com/in/catherine-clark-ba-hons-fca-fiod-cristallum/?originalSubdomain=uk