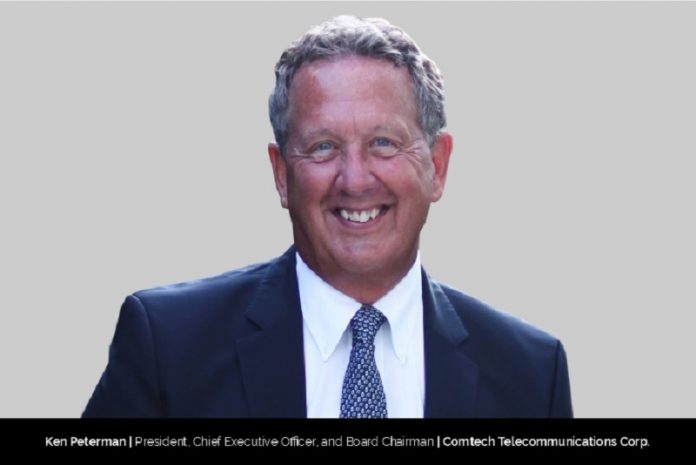 Unique and visionary leadership through integrity, passion, and innovation are the qualities that define Ken Peterman, Chairperson of the Board, President and CEO of Comtech.
Ken's passionate, inclusive, and engaging leadership style is guided by empathy, listening, and stewardship. In addition, his high ethical standards prioritize honesty and integrity as the most important personal and organizational priorities.
As a distinguished leader with over 40 years in the industry, Ken has helped shape the landscape of satellite communications, mobile networking, cybersecurity, and C4 defense technologies, among other markets. He is also a trusted advisor to U.S. senior leaders and our allies.
During his career, Ken has amassed extensive credentials through successful leadership in a wide range of business cultures and market environments. Most recently, as President of Government Systems, Ken led Viasat's defense business to market-leading growth and differentiated financial performance.
Ken has also been the recipient of several recognitions and awards, including:
Top Ten Innovative Tech Leader Award, Industry Tech Outlook 2020
AUSA John W. Dixon Award Nominee, 2020
Defense News Top 100, 2015-2019
Vanguard Defense Magazine Game-Changer, 2018
Businessman of the Year, Battlespace Magazine 2018
Distinguished Speaker, Trine University 2011
Founding Chairman, Indiana Aerospace and Defense Forum, 2011
Creating success on many levels
As the CEO and President of Comtech, Ken's responsibilities largely involve listening to people, understanding the issues Comtech customers' need to solve, helping to overcome challenges, and ultimately, unleashing and empowering the organization in unique and innovative ways to eliminate barriers to progress.
"I have found that listening enables people to gain insight into the true nature of a situation, identify where the untapped opportunities may lie, and also where the barriers and obstacles may reside, while simultaneously revealing what the hidden power in a situation might be," Ken observes.
He also believes that success often involves casting a vision of a future state; establishing shared ownership to make that vision a reality; and then empowering people who share that vision to make it happen. This creates success on many levels.
"It is important to never lose sight of the responsibility of caring for, developing, and enabling the success of our people – which always remains top of mind," Ken maintains.
He notes that there are many definitions of success. Employees and partners experience the success of having accomplished their objective and realizing their vision, while organizations practice the success of elevating organizational performance to new levels.
Customers understand the success of a company through enhanced outcomes and the creation of unprecedented value – all of which remain true for Comtech's customers, partners, and stakeholders around the world.
One core component of delivering improved outcomes for customers is overcoming challenges.
Ken points out that, though we all encounter many challenges every day in our personal and professional lives, overcoming these challenges is a learning experience that is enormously valuable for all of us.
"Early in my career, I sometimes felt that I knew many of the answers, but since then, as I've gathered more experience, I've discovered that I rarely know the answer, and I am becoming much better at understanding the important questions.  Today, I often lead by focusing the organization on the important questions to consider, as together, we work our way forward toward finding ways to overcome the many challenges that threaten to block our progress," he elaborates.
Ken notes that it is important to understand, with clarity, emerging technology trajectories, potential market inflections, potential technology disruptions, and other factors that could threaten, or potentially be leveraged as an enabler to accelerate their strategic trajectory as a business.
Becoming a passionate & innovative leader in global defense & aerospace
Ken earned a BSEE (high honors) from Tri-State University (now Trine) as well as executive education from Penn State and Stanford. He recalls how he began his career as an engineer, developing resilient communications networks and satellite communication systems that must work reliably, even in the most difficult environments imaginable.
"At the beginning of my career, I participated in the development and deployment of many capabilities that had never been done before, including mobile networking, satellite communications, global positioning systems (GPS), and information assurance. Developing these technologies created challenging and difficult problems to solve, which created a number of enormously valuable learning opportunities," he remarks.
Ken worked for Hughes Aircraft and Raytheon, where he was Director, Tactical Systems, in charge of a diverse range of products and systems serving the global defense communications market.
As Technical Director of the Regency Net program at Magnavox, later acquired by Hughes Aircraft, he led the engineering team that received the National Security Agency's first security accreditation for a Multi-Level Security (MLS) Command, Control, Communications, and Computers (C4) Type 1 secure system, a ground-breaking achievement at the time.
From 1999 to 2007, Ken served as Vice President of Rockwell Collins Integrated Command, Control, and Communications (C3) Systems, and Vice President of Rockwell Collins Displays and Awareness Systems.
The C3 Systems' portfolio included special mission communications systems, information assurance and cryptographic systems, mobile networking solutions, electronic warfare systems, and MILSTAR satellite communications systems. In addition, Ken also oversaw general management of Rockwell Collins facilities in five states as well as the United Kingdom.
During his time with Rockwell Collins, Ken's portfolios also included tactical communications systems, satellite communications systems, information assurance and cybersecurity solutions, GPS, electronic protection and counter Improvised Explosive Device (IED) systems, vision systems, and integrated command, control, communications, and computer (C4) systems for US and allied forces in over 35 countries.
As president of ITT Communications Systems from 2007 to 2011, Ken led over 3,000 employees in developing, producing, and deploying assured, trusted terrestrial and satellite communications networks, cyber security services, and GPS capabilities.
He was President of Exelis Communications and Force Protection Systems from 2011 to 2013, and also founded The SpyGlass Group, which has worked with small and mid-sized businesses since 2012, to develop effective strategies for optimizing performance, maximizing growth, expanding into new markets, and executing difficult business transformation and turnaround agendas.
As President of Viasat's Government Systems business from 2013 to 2021, Ken led the fastest organically growing defense business in the United States for six consecutive years — providing trusted, resilient satellite communications, datalinks, cyber security solutions, and other technology-enabled capabilities for the defense and aerospace markets.
"These experiences taught me how to build and lead teams, overcome challenges, and deliver unprecedented customer value by leveraging cutting-edge technology in innovative ways," Ken remarks.
As a passionate and innovative leader, Ken has helped to shape the strategic trajectories of the tactical communications, mobile networking, cybersecurity, and satellite sectors for more than 40 years.
He also serves on a number of boards and advisory groups, and his roles in industry leadership have included Chairman of the Indiana Aerospace and Defense Council and membership in the National Defense Industry Association, the Association of the United States Army, the Association of the United States Air Force, the Satellite Industry Association, and a variety of other professional organizations.
"I have spent more than 40 years of my life in the high-tech aerospace and defense sectors, where it has been my passion to make sure that our uniformed sons and daughters have the very best technology-enabled capabilities available, as they dedicate their lives in their service to our nation," Ken declares.
Unlocking the full potential of uninterrupted global connectivity
Ken notes that Comtech is building on a proven history of technology leadership and innovation. As the company moves into its next chapter, Comtech's two areas of undisputed expertise are in assured terrestrial and wireless network infrastructures, and in resilient satellite and space communications.
While space communications and terrestrial networks have historically been independent domains, they are now converging, and Comtech is uniquely positioned to capitalize on this emerging market inflection.
"Historically, these have been largely independent technology domains, with different network infrastructures, different user devices and independent frequency allocations," Ken observes. "Today, as we look to where global communications markets are headed, we see the convergence of these global terrestrial and satellite communications networks, and Comtech is well positioned to capitalize on this."
Comtech's technologies already enable and anticipate this blending of terrestrial and satellite network infrastructures in unique ways. These market-leading capabilities — combined with company's talented people and culture of innovation — set the company apart from others in the industry.
Ken also notes that the global demand for the Internet of Things is growing exponentially, and the number of connected devices at the edge is exploding. As a result, Comtech's customers are demanding communications infrastructures with the inherent assurance to provide seamless connectivity all the time, everywhere, in every environment, and in every imaginable situation.
"These new customer demands for always-on connectivity mean networks will all ultimately converge, blend, and hybridize to assure uninterrupted global connectivity — opening up a massive opportunity for Comtech," said Ken.
Ken recently visited all of Comtech's sites around the world to meet directly with employees at every level and fully engage with business and technical leadership teams. Through these engagements, Ken saw the intense focus on improving customer outcomes from employees across the company. Ken knows it is this focus on serving Comtech customers that will help unlock the full potential of the organization.
"I'm extremely impressed with our intense focus on elevating the customer experience and improving customer outcomes. Financial results and value creation are unlocked when a creative and innovative culture like ours operates on a strong operational foundation to serve its customers," Ken maintains.
He notes that it is also critically important that Comtech maintain a clear vision of how and where to focus their creative energy.
"We must aim to see around the corner to where our markets are headed and stay a step ahead of everyone else. We are fortunate to be in an era of vast and increasing demand for always on, assured, seamless connectivity. This is a very exciting opportunity, and I am invigorated and energized to lead the way as we launch Comtech's next chapter," Ken declares.
Opening a new chapter as an enabler for the global IoT
Ken affirms that Comtech is moving swiftly into opening a new chapter as an enabler for the global Internet of Things (IoT), with their activity in the public safety, or 911 arena, as a relevant example.
"Today, we are proud to say that roughly 60% of all wireless 911 calls in the United States are handled by Comtech products and services. So far this year, we have successfully processed over 50 million 911 calls," he reveals.
As the IoT continually expands, Ken envisions a day where devices themselves can sense when first responders need critical information. He believes that the time is nearly upon us when a smart device on your wrist, or a traffic camera at a busy intersection, will proactively source a '911-like' call to provide trusted, critical information to a nearby first responder.
Ken notes that, just as Comtech is leading the way today in this public safety market, they're also positioning the company to lead the way to make this future vision of an IoT, a reality.
In addition, Comtech's technology leadership in satellite communications means that, even in remote areas, beyond the reach of terrestrial and wireless network infrastructures, the company's satellite connectivity will assure ubiquitous, seamless connectivity, everywhere.
Continually bringing customers a 'better way'
Ken maintains that it is Comtech's talented people, technology leadership, customer focus, and innovative culture that truly defines and differentiates the company from others in the industry, and that, while Comtech is attentive to the behavior of their competitors, they focus primarily on their customers.
"At Comtech, we are building connections that set ideas free. Every day, we are in relentless pursuit of finding a better way—empowering people by connecting everything and everyone," said Ken.
By intimately understanding their customers' problem sets, and anticipating customers' emerging challenges, Comtech works hard to leverage cutting-edge technology to find ways to bring increased value, enhanced experiences, and improved outcomes.
"We're a team of veterans, innovators, and creative thinkers. We focus on the mission and apply our technical innovation to empower our customers in new and different ways – ways that they never dreamed possible," said Ken.
He notes that it is his responsibility to implement a culture of innovation, empowerment, and integrity, which will create value for Comtech's customers and all of their stakeholders. "That's why I feel strongly that, while our employees feel that they work for me, I feel that I actually work for them," he states.
Ken also believes that it is his responsibility to lead the way in acting with integrity, seeing around the corner, visualizing future customer needs, understanding future challenges, embracing emerging technology trajectories—finding ways to avert or leverage potential technology disruptions, and delivering the technology-enabled solutions that Comtech's customers depend upon.
"We are fluent in the future at Comtech. Our unique blend of talent, technology leadership, and culture of empowerment drives innovation — enabling Comtech to deliver technology-enabled capabilities that meet the needs of our customers today and for decades to come," said Ken.
In addition, Comtech's recently launched Innovation Foundry directly engages their technology and thought leaders, with a combination of their customers, suppliers, partners, and potential partners, to constantly push the boundaries of technical innovation toward creating enhanced customer experiences, increased customer value and improved customer outcomes.
Re-segmenting the business to improve operational performance
Ken notes that while Comtech's technology already enables and anticipates the blending of terrestrial and satellite network infrastructures in unique ways, improving business and operational performance provides the foundation for Comtech to meet these demanding hybrid connectivity objectives, and make seamless connectivity at global scale a reality.
One of the most important changes at Comtech involved re-segmenting the business from many, smaller, independent 'silos', to a single enterprise operating on common tools, platforms, and processes. This year, Comtech undertook a comprehensive assessment that resulted in an overhaul of the company's various operations, program management, supply chain, and strategic sourcing functions.
Ken explains that establishing corporate-level, centralized leadership to govern operations, supply chain, strategic sourcing, contracts, and other major functions significantly improves operational performance and amplifies Comtech's negotiating effectiveness with the company's vendors and supply chain.
This One Comtech model of doing business is strengthening process disciplines across operations, technology development, and program execution. The new model is also improving collaboration, helping identify new synergies, and elevating the company's ability to open new markets that could not be considered without these changes.
Comtech also recently launched its first comprehensive people strategy to fill current and emerging skill gaps in engineering, business processes, systems design, and integration. Ken observes that this solidifies the company's succession planning and strengthens their talent pipelines – generally applying the same level of dedicated focus to managing their people, as they do to their business operations and technology road maps.
Making time for personal & charitable commitments
Ken maintains that while professional commitments are important and need to be met, it is also vital for people to make spending time with family a personal priority and he firmly believes that opportunity must exist for all Comtech employees.
"From a personal perspective, I have aging parents, with both my father and mother each nearly 90 years old. Touching base with them every day in some way and spending time with them as often as I can is important to me," he says.
Ken and his wife, Jennifer Hawks, love spending time with their two young daughters—who teach their parents something new every day. Ken also has four adult children and six grandchildren who are all also a "very, very important part" of his life.
"I learn so very much from my children and grandchildren when we spend time together. I find them fun, energizing, and an absolute joy to be with," Ken remarks.
Ken's charitable and philanthropic efforts, in collaboration with his wife Jennifer, are primarily focused on environmental conservation, and on assisting the socially and economically disadvantaged in U.S. communities, as well as improving education and economic stability for women and children in developing countries.
The next chapter
It is clear Ken's visionary leadership; proven track record of implementing positive transformation for companies and industries around the world; and his keen focus on employee empowerment, innovation, and improved customer outcomes will carry Comtech to new heights as the company enters its next chapter. It is also clear that Comtech's team of veterans, technologists, innovators, and creative thinkers are fluent in the future.
There is no doubt that Comtech is a company to watch as it changes the landscape of hybridized connectivity—bringing people together and setting ideas free.
Visit Comtech's website to learn more about Ken and the company.