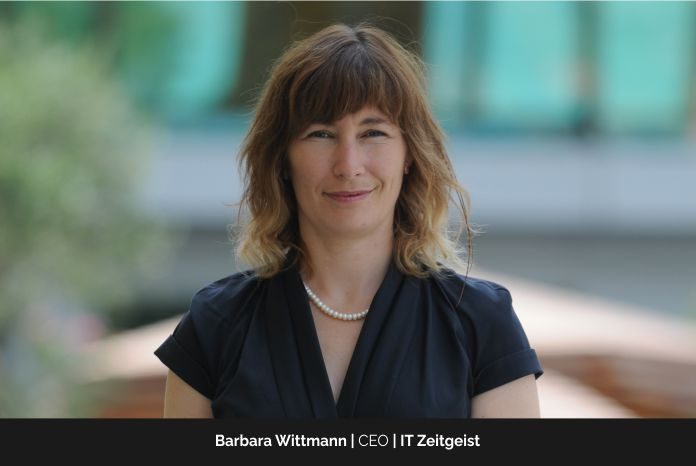 Celebrating the exceptional journey of inspiration, CIO Views has honoured Barbara Wittmann, CEO of IT Zeitgeist in this special edition titled, "The Most Admired Women Leaders in Business, 2022.'' Barbara, an award-winning author, brings over 25 years of experience and a proven track record of developing sustainable IT strategies, aligning people and technology, and building successful businesses.
Barbara's career did not follow a straightforward career trajectory, as she started her career in Sporting Goods. Instead of changing herself to fit in, she focused on what she loved about racing. She invented her own racing category. In hindsight, this experience shaped her as an entrepreneur and encouraged her to take the path less travelled.
In 2016, having built 2 successful IT companies in Germany, Barbara moved to the US for love. Barbara then shifted focus from hands-on Consulting to Advisory Services for IT Leaders and her business model from having employees to working with a hand-selected, tight-knit partner network.
"The IT Leader of the future is looking at people first, not technology," says Barbara Wittmann, the CEO of IT Zeitgeist, who is on a mission to make IT simple, sage, and strategic.
About IT ZEITGEIST:
IT Zeitgeist makes IT Simple, Sage & Strategic. It supports companies worldwide to adopt and change to the spirit of the time using digital transformation and adopting new IT leadership traits. www.itzeitgeist.com
About CIO Views:
CIO Views is a platform that provides interesting insights on business, technology, and innovation along with informative reads from inspiring personages that focus on their success stories. CIO Views has gauged the importance of the thirst for knowledge and has established a platform providing varied views and perspectives, with content that is relevant, insightful, and credible in an engaging manner. CIO Views has set out with a view to revolutionise the magazine landscape across the globe.