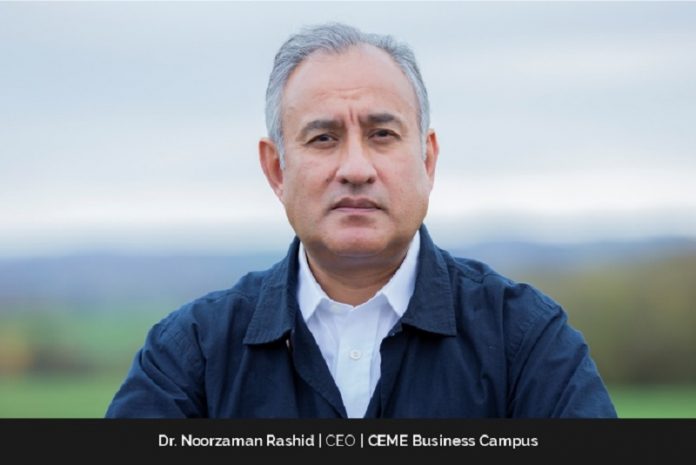 With a successful history of leading professional services firms and public sector agencies, Dr. Noorzaman Rashid is a highly accomplished CEO. He has extensive experience working with membership bodies at the board level and has served as the former Master of the Livery Company for Management Consultants. His academic background includes a degree in Three-Dimensional Design, followed by further studies in operational research. Dr. Rashid has also established himself as an author and speaker on quality management and organizational performance. During his tenure at the University of Warwick Business School, he led various international projects in countries such as Japan, Russia, South Africa, and the USA.
"Just as an athlete has a coach and looks to improve every aspect of their sport, as leaders we should do the same!"
Dr. Rashid's career began in the mid-1980s, where he initially served as a business adviser, offering his expertise to start-up companies. However, as his journey progressed, he transitioned into the realm of public policy and economic regeneration initiatives, working with prominent local authorities. It is this particular line of work that has deeply influenced his desire to effect positive change in the lives of others. Driven by the goal of making a difference, he has undertaken projects, ranging from job creation and supporting start-up companies to spearheading inward investment initiatives and constructing new schools in underprivileged areas.
His dedication and outstanding leadership skills were recognized when he received consecutive leadership awards in the UK in 2021 and 2022. These awards were a testament to his remarkable achievements in elevating a relatively unknown entity to become a best-in-class organization. The transformative impact he had on the organization garnered widespread recognition and respect, with over 20 testimonials pouring in from leaders and CEOs worldwide, attesting to the magnitude of his influence and success.
As the CEO of CEME, Dr. Rashid achieved significant milestones within a short period. He successfully repositioned the brand, moving beyond merely providing business and entrepreneurial spaces. Under his leadership, CEME transformed into an entity committed to collaboration and social value addition, making a substantial impact. This visionary approach led to CEME's nomination as the preferred location for a £29 million Hydrogen research lab, showcasing the tangible results of his innovative leadership.
'Over the last year, Noorzaman has produced excellent work and leadership in developing a new strategy and Vision for CEME, and in raising our profile and presence among key stakeholder and partners.' – Best wishes, Valerie
Driven by Values
Dr. Rashid's values are driven by his belief that doing good, being kind, and thoughtful make him a better leader. It helps him to win respect and followership, which in return, facilitates driving positive change. However, Dr. Rashid is mindful that leaders need to make difficult decisions that are not always palatable and may be disruptive. His experience of witnessing poor leadership and encountering very negative values in business served as a strong encouragement for him to pursue the position of a CEO.
Recognizing that it's the people and teams that execute actions to deliver the strategy further intensified his desire to become a CEO, as he aimed to create an environment where things could be set into motion effectively.
"Change begins with the right talent, not strategy."
A Mindset of Learning and Adaptation
Dr. Rashid approaches every challenge as if it were new to him. This approach ensures that he avoids applying preconceived or incorrect solutions that may not be suitable for the specific context of the challenge. He strongly believes in the power of reflection, regularly examining his actions and learning from them, especially considering their impact on people both within and outside the organization.
By tackling challenges with this mindset, Dr. Rashid understands that each experience contributes to his growth and understanding, allowing him to become increasingly adept at selecting the most appropriate and effective solutions for future situations. The emphasis on learning and adapting enables him to continuously improve and enhance his problem-solving capabilities as a leader.
Empowering Prosperity and Sustainability
CEME was created 20 years ago as a Ford Motor Company Legacy project supported by local authorities and local colleges. A registered charity, CEME's purpose is to create prosperity within The Thames Gateway. Increasingly the area it works in is now known as the Thames Estuary. On its 19 Acre campus the company has 3 modern buildings which include an Innovation Centre and Launch Pad for start-up businesses.
CEME has three strategic priorities.
Acting as a catalyst for economic regeneration working with partners
Acting as an accelerator for Greentech business contributing to Net Zero and decarbonization and
Acting as a champion for inclusive business growth ensuring that groups traditionally overlooked are supported to create businesses.
There are over 120 businesses based at CEME. Last year it launched its Business Growth Academy to support these and local businesses through learning and networking events bringing entrepreneurs and established businesses together.
Since arriving at CEME as CEO, Noorzman Rashid has demonstrated ambition and leadership in developing the organisation not just for its own success and sustainability, but for all stakeholders' and the sub-region's long-term benefit. We have some outstanding opportunities for this east London industrial and employment zone, which need a clear vision and a coherent plan, both of which are becoming more evident since Noorzman's arrival. – Kind regards, Olga
Embracing Technological Advancements
Dr. Rashid holds a strong conviction that technology, especially AI, robotics, and machine learning, has already exerted a significant impact on new engineering and manufacturing businesses. He anticipates that this impact will continue to be profound in the future. Given that CEME primarily supports businesses within the science, technology, and engineering sectors, this belief has shaped the organization's approach to providing comprehensive support to its clientele.
CEME actively facilitates the growth and learning of businesses on its campus, offering a conducive environment for innovation and development. Moreover, recognizing the importance of research and development in these sectors, Dr. Rashid has fostered collaborations with universities and various engineering, technology, and manufacturing research centers across the country.
"Listen first then talk" listening to people is important.
Leadership Philosophy
CEME boasts a vibrant monthly magazine and organizes approximately 8 major events each year, fostering a platform for small businesses, entrepreneurs, and start-up companies to exchange ideas, engage in networking, and drive innovation. As the CEO, Dr. Rashid consistently challenges himself and his leadership team to adopt a different perspective, knowing that true innovation often emerges from pushing boundaries and thinking outside the box. He firmly rejects the notion of "if it ain't broke, leave it," recognizing that complacency can lead to irreversible damage over time.
Embracing a proactive and disruptive approach, Dr. Rashid understands that short-term disruptions may arise but believes that in the long run, such efforts yield substantial rewards.
Motivating Excellence
Dr. Rashid keeps himself motivated by thinking about the end goals and how his actions can make a difference to people's lives. He works quickly to achieve his objectives by connecting the right pieces together which helps him to avoid focusing on the wrong things.
To motivate his employees, Dr. Rashid involves them in the business and makes it clear how their work contributes to the organization's vision. He also works with HR Business Partners to create a plan that includes regular performance feedback and rewards for good work. This way, everyone feels valued and encouraged to do their best.
View on Success
Dr. Rashid believes that success depends on the situation, the challenges faced, and the time taken to achieve them. What one organization considers as success may not be seen the same way in another company. For Dr. Rashid, success is all about making a difference, especially by creating a positive impact that helps others and contributes to their well-being.
Vision for the Next Five Years
In the coming five years, CEME has ambitious plans to generate approximately £5 million worth of social value by focusing on job creation, training, and apprenticeships. These efforts will help establish a skilled workforce that can support emerging businesses effectively.
CEME also intends to expand its successful model to other areas along the Thames Estuary, replicating its impact and providing opportunities for growth and development in new locations.
Furthermore, CEME aims to play a significant role in creating a hydrogen ecosystem by collaborating with the Thames Estuary Growth Board. This ecosystem will attract more companies to the region, fostering innovation and sustainability.
As for Dr. Rashid's personal goals, he will continue to be a source of inspiration for aspiring leaders, especially women and individuals from underrepresented communities. He strongly believes that diversity brings about fresh perspectives, driving innovation and progress in all spheres. By encouraging and supporting diverse leadership, Dr. Rashid aims to contribute to a more inclusive and innovative future.