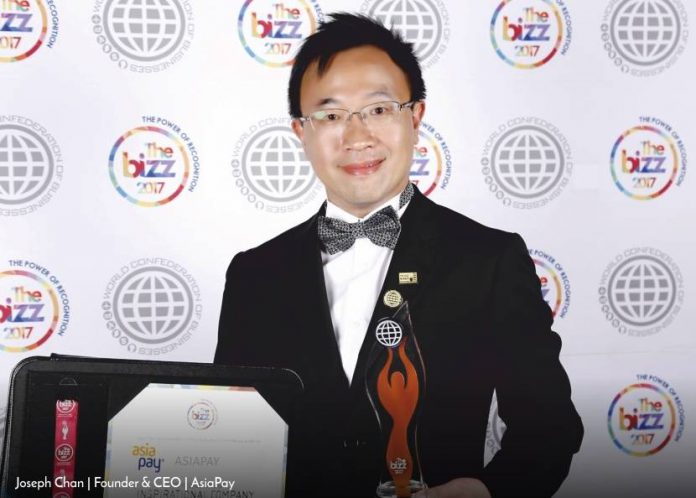 In recent years we have seen some tremendous changes in the payments world. Today consumers have a lot more choices using technologies such as P2P account, e-Wallet, prepaid, NFC, Bitcoin to pay for their products online or offline. Moreover, mobile payment has become a major channel owing to its benefits and internet penetration across the globe. As the countries around the world (besides China) move towards to a cashless society, the role of banks as well as non-bank players in the financial-technology world needs to innovate more to enhance consumer experience and convenience and reduce the risk of frauds.
Meet AsiaPay, a premier electronic payment solutions provider that brings advanced, secured, integrated, and cost-effective electronic payment solutions to ecommerce businesses around the world. Their service offering ranges from processing international credit and debit cards, e-wallet, various local payment methods, tokenization, instalment and recurring payment, just to name a few. The company is headquartered in Hong Kong with over 14 offices in different parts of Asia. AsiaPay has over almost 100 payments methods and supports 12 transaction languages across its 144 processing currencies.
Delivering Secure, Reliable, and Cost-effective Solutions                                 
AsiaPay is an accredited payment processor and payment gateway solution vendor for banks. It is a certified IPSP for merchants and also a certified international 3-D Secure vendor for Visa, MasterCard, American Express, and JCB. AsiaPay offers a variety of award-winning, multi-currency, multi-lingual, multi-card, and multi-channeled payment solutions. Alongside its advanced fraud detection and management solutions, AsiaPay is considered to be the most preferred payment provider for Asia.
This award-winning company has a suite of products that deliver secure solutions to banks, PSPs, and businesses of all sizes. AsiaPay helps them mitigate fraud and risks, reduce operation and ownership costs, and enhances their business operational efficiency. AsiaPay is honored to be recognized as a Business and Technical Associate EMVCo to accelerate payment technology innovation and development.
The Widest Payment Processing and Settlement Network
Across the Asia Pacific region, AsiaPay has one of the widest payment processing and settlement network of credit card acquirers and alternative payment methods across 13 different countries. The company can provide the best combination of payment methods per country based on the local infrastructure and consumer preferences to merchants, banks and even other payment providers. AsiaPay is also one of the few providers in Asia to be Level 1 PCI DSS certified dated back 2006, and its bank-grade security is recognized by acquiring banks and card associations worldwide.
AsiaPay is focused on assisting financial institutions and banks to adapt technology-enabled operating models and processes. The company delivers services such as Payment Processing, Anti-fraud and security, Big data, Smart-POS, Tokenisations, Value-Added Solutions, QR Payment, White-label Payment Gateway and ACS Solutions and Managed Services. AsiaPay also offers a unique solution called Redeem-n-Pay, a proprietary loyalty and rewards interface, which allow banks to drive 'on-us' processing by enabling cardholders to purchase items online using reward points that they accumulated from their card usage.
Spearheading the Innovation for a Better Future
Joseph Chan, Chief Executive Officer of AsiaPay, started the company in August 2000. He drove the product development together with his management team and worked hard to become one of the most successful electronic payment services and technology companies in Asia.
Prior to AsiaPay, Joseph held various management roles with Citibank N.A., Bank of America and Dah Sing Bank. Joseph received his Bachelor of Science degree and Master of Economics degree from the Monash University in Australia. He is widely recognized as an influencer in the fintech sector and has strong relationships with payment schemes, industry associations and customers. Besides, He is also an active keynote speaker in many of the FinTech & e-Payment conferences across Asia.
He was also awarded 'Cards & Electronic Payments International (CEPI) Asia Disruptor 2016', '2017 (Industry) Influential Leader', and 2018 'The 50 Most Influential Payment Professionals Award 'awards.
Setting the Vision and Leading the Management to Fulfill Objectives
The distinguishing factors throughout Joseph's career has been his entrepreneurial spirit and his passion for the industry. His love for innovation has always helped him set the vision of the company and lead this team to fulfill the objectives and create an environment of continual reinvention. Joseph believes that a responsible company should show respect for its people, primarily employees, clients, and business partners.
Joseph is a role model who shows exemplary leadership in adverse situations. He established the company's reputation by developing and maintaining strong customer loyalty. He also encourages his staff to be involved in the community work. AsiaPay's management team and staff had been participating in the 'Library Project China' for 2 consecutive years, and have had donated books, stationaries, and sporting goods to the children at schools in rural areas. The library project China was established with the help of the local community, and 'China population welfare foundation' and AsiaPay. It is dedicated to the children and teachers of China to bring forward an educational change.
Future Outlook
The next few years will be exciting for AsiaPay as the company will continue to expand its footprint in the region through its expansion plan, as well as developing new payment solution R&D. AsiaPay looks forward to empowering businesses and financial institutions to keep pace with the progress of industry technologies and market disruption by offering comprehensive suite of payment solutions across different channels, markets, devices and methods. AsiaPay's Vision is to be the best leading electronic payment services and technology champion in Asia and beyond.
Quote – "Trusted & Reliable One Stop e-Payment Service Solution and Technology Partner for Asia."