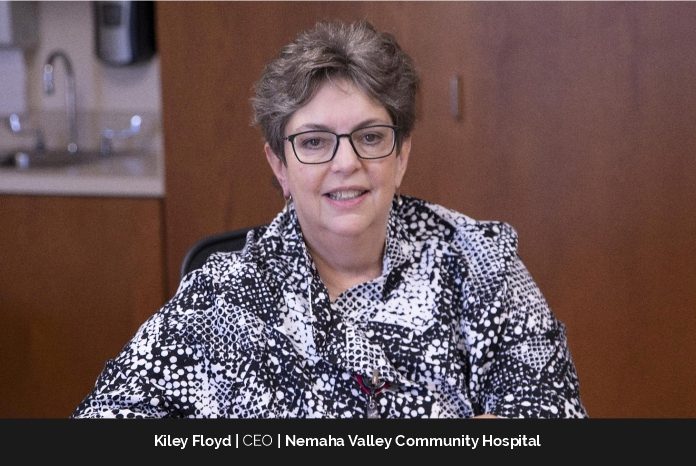 Great executives contribute to the success of businesses. In the healthcare industry, effective leaders inspire people to perform to the best of their abilities for the benefit of patients, their co-workers, and the business as a whole. In the fields of healthcare and public health, you need people who can both advocate for novel ideas and help spread awareness of certain concepts while motivating others to take part in the effort. Talented, successful health care executives are essential to organizational performance; they assist caregiving companies in managing the numerous daily corporate duties and obligations occurring throughout service delivery. One such leader who is creating a ripple in the business world through her experience and business acumen is Kiley Floyd, CEO of Nemaha Valley Community Hospital. She believes commitment and an ethical evaluation of any environment can create opportunities for challenge and change, and healthcare is the perfect industry for anyone interested in constantly being challenged to do more with less, which eliminates any opportunity for status quo thinking.
Those who are familiar with Kiley would probably characterize her as a disruptor. She is not willing to accept the status-quo. She states, "This is the way we have always done it." is not acceptable in the organization.  Kiley believes, "We have to constantly be looking for better ways to do what we do, even when our current plan is working.  Our communities and patients are changing.  Their needs are too."   She wants to make sure the organization is flexible enough to adapt to every change that hits it.
Beginning of career
Kiley didn't intend to work in the healthcare industry, but she thinks that God guided her there. Therefore, her entire career was a leap of faith. She needed to work at a young age in order to support her family. She started working for a staffing firm and was given the Kansas City Area Hospital Association as her employer. She began her career in health care with it. She started working full-time for the hospital association but resigned after twelve years to take a chance again and became the administrator of her hometown hospital. She devoted herself to upholding the dignity of patients and encouraging respect among the medical staff.
In Kiley's opinion, two kinds of acknowledgement have stood out for her. Being acknowledged as a mentor or as someone who has changed someone's life is what matters most in the first instance. The best prize she could possibly ask for is a card or message of appreciation. In terms of her career, she was really thrilled to have been selected for the Leadership Kansas class of 2018. She gained a great deal of knowledge about Kansas and its many sectors.
Nemaha Valley Community Hospital
In the prosperous agricultural region of northeast Kansas, Nemaha Valley Community Hospital is a full-service critical access hospital. It is encircled by a lovely landscape with lakes and rolling hills of greenery. The communities that the hospital serves take great delight in caring for one another. Family farms have a long history, as do independent industrial triumphs. Both the organization's schools and the local population's demand for healthcare are expanding.
The community hospital in Seneca, Kansas is expanding. As a result of the current gap between demand and capacity for services. For the organization, these are incredibly exciting times. As per Kiley, the organization believes innovation is key in every part of the life.  There is always a better way. The team believes, "We have to respect the history of our cultures.  There may be a better way, but it might not be the right way for our patients. Balancing the need to be more efficient and a patient's experience is important."
For a rural CAH, innovation often means collaborating with the competitor down the road.  The team can do much more for its patients when they work together. The hospital can share staff and even technology much more efficiently than it can by duplicating services. Kiley thinks this is key to the survival of rural medicine.
A Committed Chief
As Chief Executive Officer, Kiley believes that the buck stops with her. So, on a daily basis, she checks in with a variety of departments to make sure they have the resources they need to do their job. She shares, "Some days the responsibility of talking to an unhappy patient or family member falls on me." She further shares that she ok with that as she does not want her staff to have to have these unpleasant conversations if they can be avoided
According to Kiley, state and federal surveys are big parts of the hospital's lists of compliance, for which she works on policies and procedures and compliance. She is also the primary recruiter for its medical staff. She shares, "If I have a vacancy, have plans for future growth, or need to adjust schedules, I manage those efforts as well." When she has the chance to interact with the patients at the hospital, that is Kiley's favourite time of the day. The most significant portion of her day is these private discussions. I enjoy taking part in this organization's growth.
According to Kiley's vision for it, the company should continue to be a patient-focused, financially independent rural health care provider.  She says, "I can help by continually listening to our staff, working with them to identify a better way to do something; working with our peer organizations; and reinforcing accountability within our organization."
Keeping Balance  
Kiley struggles to strike a decent work-life balance. She benefits from working with a fantastic team of professionals that help her love what she does. She looks forward to coming to work. Kiley says that her husband has always encouraged her in her professional endeavours and has made it simple for her to carry out her responsibilities.
Thriving amidst Challenges
"Like with any exercise, you have to stretch.  It's nice to be comfortable, but you will not ever know or reach your full potential until you move outside your comfort zone; This isn't for everyone," opines Kiley. People who are content with where they are and do not feel the urge to change are respected by her. She recognizes the need for personal growth and regards obstacles as vital training for getting better at what one does.
Kiley claims that she does not face many obstacles different from any other small rural healthcare provider in the way of her profession. But she is aware of the difficulties she has faced.  She asserts, "I learned what type of leader I do not want to be.  I learned what type of leader individuals respond to and what type they do not respond to."
Offering a Healthier Future
Nemaha Valley Community Hospital has a long, proud history of service to local communities. Although the healthcare industry has evolved over the years, its dedication to the people it serves has not. The group understands that giving back to your community is the greatest opportunity someone can receive.
According to Kiley's plans, Nemaha Valley Community Hospital will continue to be a healthcare innovator in northeast Kansas. The organization has a fantastic workforce. They are exceptionally devoted to their patients and to one another. She continues by saying that she feels it is her duty as a leader to help the hospital's personnel become future-ready. She asserts, "To help them be the best they can be at whatever it is that is important to them.  So, when a member of my team tells me they were successful and achieved their goal, I feel a great pride for their accomplishments…"  She feels successful when someone tells her she made a difference in their lives.
Kiley's message to aspiring leaders is "listen". She states, "Don't assume you have answers because if you aren't listening to your staff, you don't know the questions."
Inspirational quote: "When you talk, you are only repeating what you already know.  But if you listen, you may learn something new."  Dalai Lama