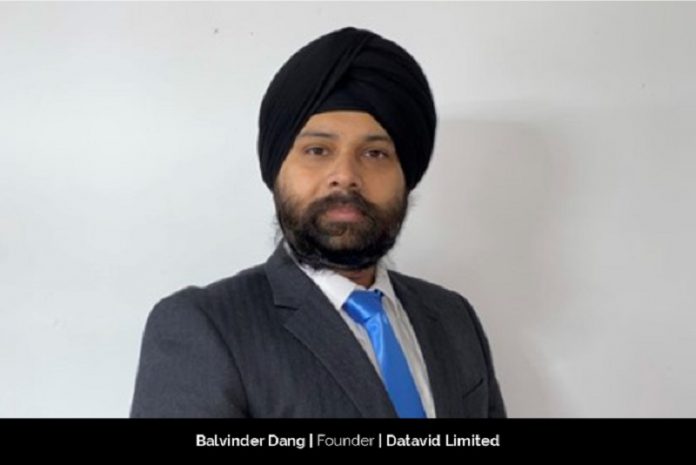 Being an extremely dedicated, diligent, knowledgeable, and goal-driven entrepreneur, Balvinder Dang, Founder of Datavid, has developed a company that squeezes everything from the raw data and offers the best insights for the companies to rise and shine. Having a knack for solving problems and leading large transformational data projects further pushed him to start his own venture to transform the traditional way of using raw data.
Climbing the ladder of success
Balvinder's father and grandfather were both entrepreneurs, and although financial success in business eluded his father in his business ventures, one thing that really inspired him was his ability to stay positive and continue even after setbacks. Balvinder adds, "He always instilled that confidence in me, also he treated me as a friend and shared his professional and life experiences with me which led to me to learn from his and others mistakes in general."
In the final year of engineering,  Balvinder made up his mind to start his own company. However, due to fewer opportunities in India and lacking the knowledge and experience at that time, he pivoted towards the corporate sector.
Balvinder started his career as a software engineer in Bangalore (silicon valley of India) in 2004, working for Infosys. He had some great mentors who taught him how to build software and solve technical problems. He adds, "I moved to the USA in early 2007 and did a couple of assignments there before moving to the UK in July 2007 working for one of the largest scientific publishing companies in Oxford, where I learned how to solve business problems using the software." I did some consultancy work from 2011-2014 before joining MarkLogic, where I learned how to solve problems with the end in mind and learned a lot from my mentors and colleagues.
After gaining valuable insights into the market he realized that the problem they are all trying to solve is similar and has one thing in common, i.e., too much data and not enough insight. So, he took the matter to solve the problem into his own hands and started Datavid (amalgamated from data avid), which empowers customers to become avid for information and gain knowledge from their data.
Crossing the hard bumps on the way
Balvinder believes that challenges make a person stronger and present an opportunity to evolve. The last three years have been quite challenging for him on both personal and professional fronts. He went through the horrific loss of both his parents within a year and struggled against some serious health concerns. On the professional front,  he had to convince prospects why they should trust Datavid to solve hard data problems and why their team is one of the best in the market. He mentions, "We have had our shares of rejections and naysayers. We have not been able to win new business because our company is small even though our technical solutions and proposals were better and we had the skills. Some big corporations have refused to work because their procurement department thinks it's a risk to work with a small company of our size." Datavid has still grown rapidy in last 2 years from a two person team to a 34 person team
However, Balvinder believes that it is just part of the process and life in general. One should continue to move and stand up after every fall and learn, adjust, deliver, and continue to work hard and smart. Eventually, people will start noticing, believing, and putting their trust in one's vision.
In all these hurdles, he always had the support of two special persons in his life. He expresses, "I have been lucky to have two amazing women in my life, one is my wife, Avneet Ahluwalia, who is herself an entrepreneur and has always inspired me to take risks, and other is my co-founder, Silvia Rausanu Chirila, who has always looked after my back and ensured that we always come through and deliver to our promises to our customers."
Datavid: Solving Enterprises data problems
Established in 2018, Datavid mainly focuses on transforming data to information and information to knowledge and designing different data-centric or knowledge-centric platforms which succors all customers to get amazing data insights. They are transforming the way data is viewed by using innovative technology to develop semantically linked information systems using graphs, semantics, machine learning on unstructured and structured data.
Holding profound experience in building 360-degree applications, they are trying to help customers comprehend unstructured data besides providing knowledge to help customers comply in the marketplace. They strive hard to fulfill these transformational projects to impart significant business value to their customers.
Balvinder adds, "Our first product – Datavid Rover assembles all our learnings and knowledge and provides a set of re-usable microservices that can be used to build a 360-degree application or a cognitive search platform or a compliance navigator platform within a few weeks instead of months.
Emerging as a perseverant leader
Being the founder of Datavid adds a plethora of responsibilities on Balvinder's shoulders. He has classified his responsibilities into three unique categories. Explaining them further, he states, "Firstly, I need to ensure that we are continuing to maintain a healthy work pipeline for our team, growing responsibly in line with our business strategy, and secondly, ensuring customers success and customer delight, and thirdly, we need to ensure that our people are happy, content and enjoying the work they do."
His regular week gets segregated into both high-priority urgent work and important work. He spends about 30% of it on important strategic work, another 30% on non-strategic urgent tasks, and the remaining time goes into managing everyday operational work. Stating his best recognition, he shares, "When I go to customer meetings, hearing rave remarks about our team and the value that we are bringing to their business is truly rewarding and the biggest recognition."
Role balancing
Being a workaholic for numerous years had made Balvinder's routine lacking that perfect balance. However, in the last few years, he has understood the importance of maintaining a perfect balance between professional and personal life.
Thus, now he has a good routine in which he spends time with his kids and enjoys walks and cycling with them. He shares, "There is a lot you can learn from kids, especially resilience and perseverance, and their ability to get up after every fall and keep going."
Knitting future goals
Balvinder is quite excited about their future plans at Datavid as they have started working on two central themes that feed on each other. Explaining them in detail, he shares, "We are building more accelerator packs and solutions which accelerate the development of data-centric software for enterprises. Secondly, we are focusing on hiring the right talent, training, and scaling up our team to build and implement great software that solves hard data problems for our customers."
Besides this, they are also concentrating on maturing their Datavid Rover proposition and even provide it as a SAAS service on the AWS and Azure marketplace.