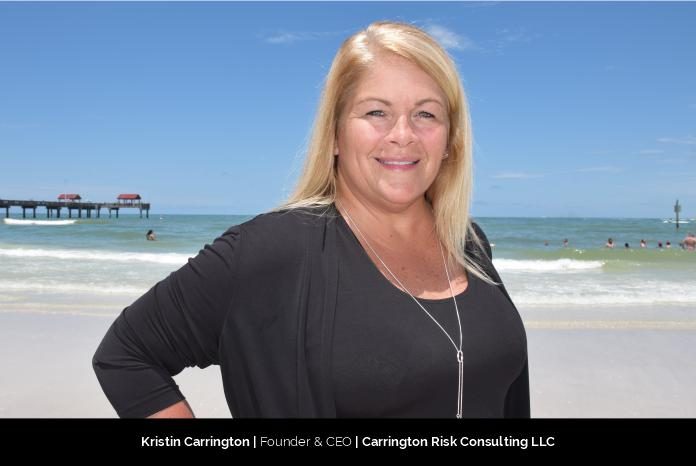 Carrington Risk Consulting is an outcome of the dream of a strong-willed businesswoman who followed her passion and worked hard to achieve her goal. Kristin Hausler Carrington grew up in a small town but had big dreams and an enduring spirit to fulfill them all. Although she was new to the entrepreneurial industry, she kept going strong in pursuit of success. Today, Carrington Risk Consulting is one of the leading risk management companies offering many more services in risk management. Kristin is the founder and CEO of Carrington Risk Consulting who has led the company on the path of success in just a few years. In this exclusive interview, Kristin shares a few interesting insights that will inspire every aspiring businesswoman.
What were your dreams and aspirations while growing up?
I was raised in a small town, Plano, IL, about an hour west of Chicago.  I grew up in a loving and positive household.  My dad owned a small Masonry Construction business and my mom stayed home with my younger sister and I until we were in middle school, and then she went to work for an accounting company.  It was really my dad's dream for my sister and I to get engineering degrees, and I'm so glad that he pushed us in that direction because I think we are both successful CEOs today because of that foundation.  We both also worked really hard for him as bricklayers during summers in high school and college!
What led to the foundation of Carrington Risk Consulting? Several things:
I was in need of a break from large corporate America.  I had worked for FM Global for 8 years right out of college, and then Aon for 11.  Luckily, my husband worked a rotating shift so we tag-teamed taking care of our kids.  They were a priority and we never lost sight of that.
My daughter and son were 6 and 2, so I wanted something more flexible to be able to arrange my schedule around them.
My first client, Simon Property Group, along with their broker, Aon, suggested that I start a company to service their property risk needs, so I founded Carrington Risk Consulting LLC
What were the initial challenges and setbacks that you faced?
My degree was in Engineering, so really didn't know what it would take to run and grow a business.  I learned quickly!  I was always one to "figure it out", so that definitely helped as the business was in its infancy.
Tell us in brief about the services of Carrington Risk Consulting
Carrington Risk began as a traditional Property Risk Engineering and Consulting company.  The company specializes in the completion, review, organization and housing of wind, quake, and flood modeling data templates, analysis of data quality, and gathering of primary and secondary modifiers to complete the template and provide the most accurate modeling results for clients. Carrington Risk is certified as a Women's Business Enterprise through the Women's Business Enterprise National Council (WBENC). It is also the leader in mobile applications for property risk data gathering and risk management. Carrington Risk uses their trademarked SnapRISK® mobile apps to provide the best innovation in the industry for its clients:
SnapCAT®: Provides windstorm and quake data reports within minutes.
SnapCOPE®: Offers instant property COPE (Construction, Occupancy, Protection, Exposure) reports for all occupancies.
SnapREC®: Furnishes recommendation reports on smartphones or tablets in real time, leading to immediate action taken to complete recs.
Self E-AUDIT®: Generates self-audit reports via customized apps placed in the hands of Carrington Risk clients.
In the risk engineering field, Carrington Risk's closest competitors offer partial services such as property risk surveys with reports completed in Word or similar.  Carrington Risk gives clients the entire package with current technology of SnapRISK® apps where services such as property risk surveys, data gathering, windstorm and earthquake analysis, asset values review and calculation for portfolios are combined.
What is the importance and scope of risk management?
Risk Management is needed for any business to survive and thrive.  We initially focused on property risk but have expanded to other areas of risk impacting businesses.  We help companies visualize their risk in an entirely current, innovative way.
How have you influenced the business growth strategy of Carrington Risk Consulting?
Our industry is really small in the way of knowing everyone.  I always say "one degree of separation".  You are one person away from knowing everyone in the large commercial property risk industry.  We have built an excellent reputation with large clients, and word travels fast about that.  Our growth has been solely by referral and I am very happy with the steady pace we have enjoyed and will continue in that direction.
What is your vision for the company?
My vision is to continue to THINK first and innovate along with needs in our industry.  There is so much potential.  We focus on simply listening to our clients and prospects and bringing them logical, innovative solutions.
Give us a brief of your life before Carrington Risk Consulting
I was really learning all I could about our industry through my experience at FM Global, a short time at Commerce & Industry (AIG) and then Aon.  My technical knowledge increased in all areas of property risk.  It was definitely the foundation for Carrington Risk.
Tell us about your roles and responsibilities as the CEO of Carrington Risk Consulting and how does it make you feel?
My focus had to change from the engineering/technical side to learning all aspects of running a business.  I learned more in the first few years after starting Carrington Risk than in my entire career to that point.  It was also good that I had to learn and do everything myself before hiring others to take over some of the responsibilities. While it was challenging, it was also the most rewarding time of my career and has been the entire 12 years.  I can say it has been really fun overall!
How do you manage to balance your personal and professional life?
Looking back, I do see the value of working hard and learning early on in my career.  It has allowed me to make decisions about my career that also impacted my personal life.  Since my decision to leave Aon in 2007, I have been able to be in control of my schedule almost 100% of the time.  This meant being present for my family.
I used to think that it was a balance, and that it should be separated and divided properly.  However, I've learned that my family loves to be involved with what I do; so I've made it interesting and fun for them as well. My kids travel with me whenever possible and freely share their ideas and thoughts. My daughter is a Freshman at the University of Florida now, is a photography and entrepreneurship major, and had her first work published because of Carrington Risk when she was in High School. My son was a tech wizard at 13, now in High School, and has made many valuable contributions to the company. I want them to see that you should find your passion and let it be intertwined within your life. My kids know that they are always my first priority, and because of all the hard work that I had put in during the early years, today I can pause at any time to focus on what is important to my family.
Describe yourself in one word and tell us what inspires you?
Currently, one word that comes to mind is "aware."  It has to do with emotional intelligence and being able to read situations and react accordingly.  Our industry is changing and I believe that those that recognize change and try to take logical, innovative steps are those that will win in the long run.  Many "insuretech" companies have come and gone because the didn't do this.  Or other just try to "strip mine" what they think is important and try to do it themselves without the expertise they really need.  I've become more AWARE of this type of company when they approach us.
I'm inspired by the abundant opportunity in our industry.  The large incumbents that value real innovative thinking and are willing to invest are going to win.  That's what we do every day.
What keeps you and your employees motivated?
I hope they are motivated by the interesting work, flexible schedule, entrepreneurial atmosphere, and potential for professional growth and opportunity.
What does the future of Carrington Risk Consulting look like, globally (from a sales perspective)?
Gross revenue has grown an average of 22% each year since 2015.  Combined with an average net revenue of approximately 60%, we have been very profitable with our clients reaping the benefits in reducing their TCOR (Total Cost of Risk).
How do you plan to widespread the business?
We will continue to grow by referral and focus on clients that need our expertise and value risk management.  We are grateful to have innovated alongside the top 2 brokers and have worked with Fortune 500 clients that valued our expertise and benefitted from the result.  We are open to joining a larger organization with similar values and goals.  Otherwise, we are very proud to say that we have grown on our own merit, are 100% bootstrapped, and debt free.  SnapRISK® has been tested, utilized, optimized, is continuing to expand, and is ready to scale.
Kristin is a business leader who paved the way of success for not only herself but for all those who are associated with Carrington Risk Consulting. She and her team have great plans for the growth of the business and will continue to inspire the generation with their unique business operations.