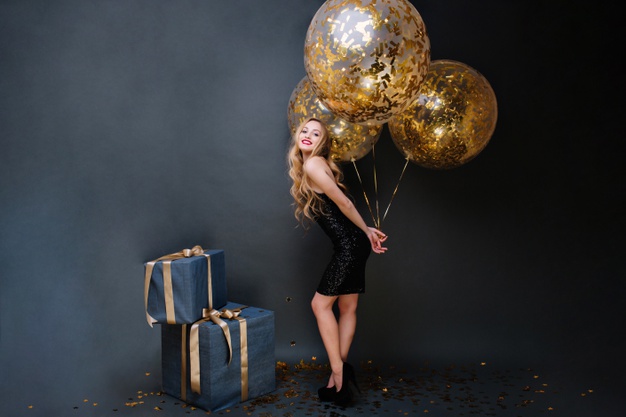 "Life is like a balloon, easy to blow and fun to grow but hard to let go and watch it flying away". This quote is well said and considered true. Who doesn't love balloon decorations? Everyone does. Whenever we talk about planning a party what we usually think of? We think of cake, food, friends and most importantly decoration with balloons.  Using birthday balloons has become a tradition so far. It is an integral part of birthday celebrations. Though balloons are fragile yet have the ability to bring a smile on any face.
What Birthday Balloons Symbolizes?
Birthday balloons signify love and life. Balloons are called as party highlighters. The decoration using it highlights the face of each individual present in the party. It brings happiness and lightness of sorrow. Balloons also symbolizes freedom. Whenever they are left free in the sky to fly there is a sense of freedom that evolves in each heart. Balloons are synonymous to joy and cheer.
Birthday Celebrations with Balloons
There are balloons of different kinds that can be used for decoration in parties. Few of them are listed here.
If you are willing to earn praises and compliments from your guests, adorn your interior with these balloons. The metal colors look classy and is an affordable way of grabbing the attention of all the guests. Metal balloons are available in different sizes, colors and materials.
Foil balloons are the balloons made up of nylon and has a metallic luster. It is one of the trendiest decoration accessories.  These are normally used when helium is there to fill it up as the material is best suited for it. The materials that be used with it are curling ribbons, colorful flowers, different threads, etc for enhancing the look of the decoration.
In this case, balloons are either made of rubber or foil. Since helium is the lightest gas therefore it helps the balloons to fly high in the air. These helium balloons are perfect for floats and to create a festive environment. These balloons are specifically designed to have an inner coating which is essential to retain this helium gas for longer period of time resulting in high flow time in the air.
"Happy Birthday" Balloons
These are the most common balloons with Happy Birthday wishes printed on it. These balloons are especially significant for birthday celebrations. Birthday balloons come in different hues, shapes, size and colors.
Decoration Ideas with Birthday Balloons
Instead of using metallic character balloons, one can use multi colored balloons for making each character of Happy Birthday. This leaves a greater impact.
If you use multi colored balloons for decoration, then it will instill vibrancy in the surroundings.
One can choose making garland of balloons. It also looks classy and delivers a vibe of happiness.
One can fill them with helium balloons and attach a long string and also pictures of childhood, togetherness, etc. This makes the decoration more elegant.
Bring smallest size balloons and place them on the cake using tooth picks or anything.
One can place balloons filled with sweets and candies. This will be loved by children in the party.
One can decorate a whole wall with balloons. This can be a very good background for picture clicking and will be loved by all in the party definitely.
One can tie balloons with return gifts. This is a unique and creative idea.
Games to play with Birthday Balloons in the party
Pop your friend's balloon
Turn the music on. Ask children to dance and while dancing they need to pop other friend's balloon. The one who has his balloon safe when the music is turned off then he is the winner.
Make children stand together. Fly up the balloon and take a random name of any child. He needs to catch the balloon to get a gift.
Race with your friend and a balloon
This game can be played in pairs. Make children stand in pairs and the task is to balance the balloon in between without touching it. The one who reaches the destination point without dropping its balloon will be declared as winner.
This is a simple and interesting game. Cover the floor with as many balloons as you can and allow to children to jump on the balloon and pop it. This will be fun and exciting.