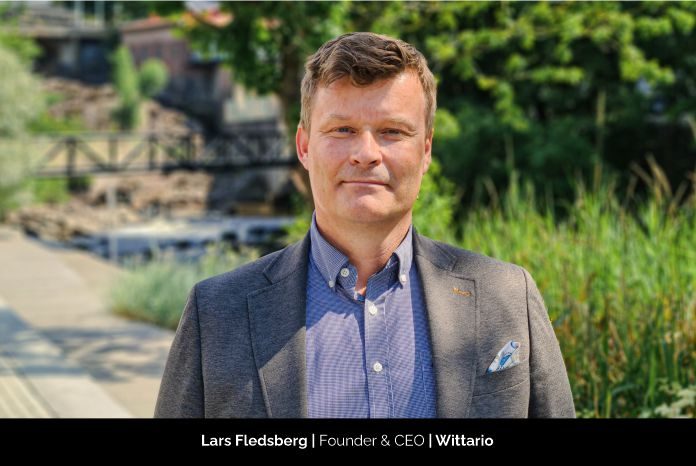 A serial entrepreneur with a vast 23-years managerial experience in the ICT industry, Lars Gunnar Fledsberg, Founder and CEO of Wittario AS, is developing a new way to outdoor learning games by harnessing the power of digital technologies. Wittario is a digital platform for outdoor-game based learning.
He adds, "Schools and businesses increase learning engagement and outcomes by using our gaming platform. We focus on creating fun and efficient experiences through outdoor physical activity and inspirational technology. Inspired by PokemonGo, Wittario moves audiences off their office chairs and school desks out onto a fun and effective hunt for knowledge. The best part is that anyone can create learning games for all."
Walking the path of revolutionizing outdoor learning games
In his long career, Lars held "safe" corporate management positions until I was 42 years old. His first job was as a product manager in Telenor, a leading telecommunications company across the Nordics and Asia with 187 million customers and annual sales of around USD 14 billion.
However, at the back of his mind, he always wanted to own a company as he enjoyed the freedom to learn and progress further. So, taking the leap of faith, he cofounded his first company, Skooler, together with the founder Tor Ove Henriksen. Skooler is an EdTech company with customers in over 100 countries worldwide. After his journey with Skooler, Lars has co-founded five other companies. Four of them are successful. The most successful company is Wittario, a company which has occupied 100% of his time the last two years.
All his adult life, Lars has been inspired to see how much school children are engaged in learning when the teacher takes the children outside of the classroom for some outdoor learning. To fill true colors in this concept, he marked the advent of Wittario, a company that delivers an EdTech solution for outdoor-game based learning.
He believes that a person is successful in business when the company manages to reach its business goals and at the same time has satisfied customers, employees, and shareholders. Working on the same notion, he drives the wheel of Wittario AS in the right direction.
Learning valuable lessons on his path
Lars states, "If you only enjoy success without meeting any roadblocks, you will most likely struggle harder to handle the situation when you meet the first heavy roadblock compared to a person who has handled multiple roadblocks on the way."
While fueling the growth of his first company, Skooler, Lars realized the true value of the quote, "a CEO of a startup should always be fundraising."
Amalgamating latest technologies at Wittario to create a unique solution.
Wittario, an EdTech company which Lars and his colleague Tor Ove Henriksen founded in 2019, has developed a game-based mobile application that will promote learning through outdoor movement using augmented reality (AR) and GPS. The app combines reality with virtual elements to create fun and effective learning experiences for schools and companies and was rolled out to a wide audience in March 2021.
Boasting its clear vision, "learning through games and physical activity," the team wants to change the way of learning. Lars states, "We boldly want to change a 1000-year-old proven tradition of learning by reading and listening, by improving it using education technology.
Wittario was founded on the principles of leveraging outdoor game-based learning and how we can create a platform that accommodates for more engaging, active, and relevant learning experiences."
Inside Lars professional and personal lives
As the CEO of Wittario, Lars has numerous hats to wear. From handling the overall responsibilities of sales, marketing, finance to product development, delivery, and support, his typical day commences at around 8 AM in the office where he goes through his emails, creates a schedule for his days, and manages everyone by walking around and conversing with his employees.
After that, he meets with his staff, customers, suppliers, and external stakeholders and then leaves work to have dinner with his family at 5 PM. Later, he again works from home from around 8 PM.
Being a goal-oriented leader, he is super proud of his accomplishments. He states, "The best recognition that I have received as a business leader was when I got my first top management position as Managing Director for Global Knowledge in Norway nine years ago. Another great recognition is being interviewed as one of the 10 Most Successful CEOs Making a Difference in 2021 by CIO Views magazine, which is a true honor."
Lars is well aware of when he is working and when he is off work. With such designated work and rest hours, he is able to experience more peace and happiness in his life. It has even elevated his productivity.
With proper time analysis and allocation, Lars is able to stay on top of his schedule. Not just this, he stays aware of the schedules of people surrounding him as well and never lets his personal and professional life meddle with each other. His peace of mind comes with regular exercising and meditation.
"Motivation is the electrical power that activates the engine of success."
Motivation is the key to keeping the team dedicated to the company's long-term goals. Keeping his team's work engaging is his way of keeping his employees engaged in work. He adds, "The most powerful way to do this is to give employees the opportunity to experiment and solve problems that really matter.  I frequently ask them questions such as: Where can we deliver amazing service to our customers? What's broken in our product that our team can fix? How can we optimize our customer journeys even more?"
In this way, he is able to find the flaws and fix them easily. He also spends his time and money on different social activities and personal development training. Appreciating the employees' hard work and seeking their feedback are other ways to keep the motivation flowing.
For him, motivation comes from attaining the overall company goals, receiving excellent feedback from satisfied customers, and watching a broad smile on his employees' faces.
Outlining the future plans
Lars shares, "My long-term goal for Wittario is to build the world's leading digital platform for outdoor game-based learning."
Personally, he shares the same goal as his business goal. He states, "In order to achieve this, my team and I need to further develop our product so that it goes viral in both the business, education, and home markets. Our strategy is executed by a world-class team which results in satisfied customers, employees, and shareholders."
Lars knows that learning is life-long and can enhance the understanding of the world and improve the quality of life with better opportunities. With the amazing Wittario platform, he is trying to playfully impart more access to education to everyone.