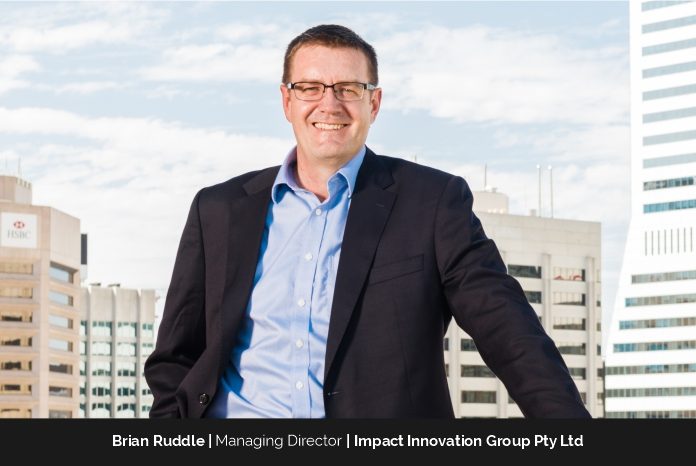 Leading a team of 25 innovation and commercialisation specialists across Australia, Brian Ruddle provides strategic and implementation services to large corporations, research institutions, government agencies and small-to-medium-sized businesses throughout Australia and the wider Asia-Pacific region.
With his unique blend of skills and experience, he creates innovation systems for progressive firms, develops commercialisation strategies for next-generation technologies and designs high impact programs for government clients.
Brian founded Impact Innovation Group in 2006 in response to a gap in the market for independent professional commercialisation services. Since then, he and his team have developed more than 120 innovation systems, supported some 16,000 individuals and businesses through government initiatives and facilitated the commercialisation of almost 400 products and services.
Impact Innovation is the go-to innovation and commercialisation consulting group for organisations looking to run effective innovation systems that deliver value and a return on innovation investment.
Impact Innovation Group
Impact Innovation is a full-service end-to-end innovation and commercialisation consultancy, helping clients across Australia and Asia-Pacific with strategy and design through to implementation and deployment.
With an average client return on innovation investment of 377%, the group supports business innovators to bring new products and services to market faster, improve critical business processes, develop new business models, devise effective innovation strategies and processes and upskilling innovation teams.
The Impact Innovation team of in-house professionals and associate specialists have collectively 360+ years of experience and leverage their deep knowledge and connections across all industries and sectors to respond quickly to individual client needs.
Impact Innovation's key differentiators compared to other consulting groups include a clear focus on delivering actionable outcomes and transparent next steps for clients as well as a commitment to achieving a return on innovation investment.
Growth of Impact Innovation Under Brian's Leadership
Impact Innovation was founded 16 years ago where Brian was the sole consultant for 7 years before deciding to grow the business through collaboration. He started this path to growth by partnering with an accounting firm by sharing space and resources and then progressed to collaborating with other organisations to design and implement multi-million-dollar innovation capacity-building programs for government agencies.
"Collaboration was very important to the transition of the business from a solo operation model to one with the resources and expertise to effectively compete with the world's largest advisory firms,"- Brian Ruddle
Another significant step for the company was forming a relationship with US-based Brightidea, which developed the world's leading idea and innovation management platform.
Brian recalls, "Seven years ago, what started as a phone call about a client's need for an idea management platform resulted in us becoming their Premier Partner for the APAC region about six months later."
This is another example of how collaboration has transformed the breadth and depth of value that Impact Innovation offers clients.
In 2019, Brian's experience in designing and implementing innovation management systems was recognised when he was invited to chair Australia's committee involved in the development of global ISO standards for innovation management.
He states, "These standards are already proving to be a game changer for understanding how innovation contributes to business value when done properly. At Impact Innovation we have been using a systems approach for a number of years and it is now great to see a formalised systems approach for innovation world-wide."
Brian thinks that innovation is the key to determining the growth and evolution of people's lives, organisations and societies. It disseminates information, ambition, creativity and enthusiasm across the world. It aids in navigating uncertainty and accelerates growth through impact-driven innovation management systems.
Beginning Of a Career
Prior to founding Impact Innovation, Brian worked in international development where he gained experience dealing with government agencies and financial organisations such as the World Bank and the Asian Development Bank. This involved projects in Southeast Asia, South Asia, Africa, the Middle East and the Pacific.
In these roles he implemented large-scale capacity-building initiatives in complex ecosystems that transformed the way organisations functioned and influenced people's lives. He established impact monitoring and assessment methods and led project teams that included technical specialists from a variety of countries and backgrounds.
Reflecting on the opportunities that he was offered throughout his career motivates Brian to widen prospects for his team at Impact Innovation. This includes formal professional development as well as enabling team members to engage with all aspects of the business to understand how consulting firms operate and how their input makes tangible and real difference.
In addition to his role at Impact Innovation, Brian sits on several governance and advisory boards and committees and he also volunteers his time to support emerging innovation initiatives by speaking at events and assisting with the design of events to promote better innovation practices.
Professional Role at The Company
As the founder and managing partner, Brian is responsible for the company's strategy, direction and delivery of major transformation projects. He is excited to continue building an innovation and commercialisation consultancy that makes a difference in the world by helping its clients achieve real impact.
"We bring an external voice to challenge and stretch thinking, authentic expertise to push through barriers and best practice tools to drive progress," – Brian Ruddle
Designing new ways to help clients as well as his own company's operations is a key function of his role: "We design our own tools when we can't find approaches elsewhere that deliver impact," Brian says. "Examples include our internationally recognised Commercialisation Navigator, Innovation Navigator, and Skills Navigator tools."
He has a hands-on role in helping all of the firm's staff become the best consultants possible: "The team wants to implement very interesting projects, whether developing a commercialisation strategy for a new product or service, designing high-impact training programs or establishing new ways to manage large-scale R&D initiatives," he says. "So, one of the ways we harness that enthusiasm is to run fortnightly internal meetups with younger project coordinators and our more senior team members and consultants."
Every Challenge Makes You Stronger  
Brian views problems as opportunities to learn about oneself, the organisation or how others see a certain circumstance. He advises to constantly embrace the mentality of "never stop learning". He suggests that "When things don't work, figure out why and learn from it. As we strive to establish paths in circumstances with many assumptions, it is essential to comprehend the related system elements."
Brian considers himself lucky to have spent so much of his professional services career working on complex capacity development initiatives focused on transforming systems and supporting people to create new products, services, processes and business models.
This taught him the benefits and pitfalls of predicting the future as well as ways to minimise risk.  He asserts, "I was also fortunate to be involved in companies that understood that things don't always work out but that if you have the right people and communication structures in place, unexpected challenges can be quickly resolved."
Defining Success
For Impact Innovation, success is when clients achieve impact. This impact can be an innovation system that is identifying and delivering next generation products, services or processes, or a research team that successfully commercialises a new technology.
Brian shares, "Our clients reach out to us to solve complex innovation and commercialisation problems. If they weren't complex, then they wouldn't be engaging us." He further describes the challenge of transitioning organisations from the 'fun' or 'exciting' elements of innovation to those that actually deliver value.
Brian asserts, "This is where innovation management systems come into play – while fun and creative innovation activities are important for team engagement, successfully validating the commercial or social value of ideas requires commitment, strategy and skill." 
Plans For The Future Of Impact Innovation
Impact Innovation's focus is on further growth in Australia, New Zealand and other Asia-Pacific countries. He says, "Through conducting innovation projects in Singapore, Hong Kong, Malaysia, Philippines, Indonesia, Vietnam, India and Sri Lanka, we have realised the significant opportunity to collaborate with other organisations to grow across the region."
His personal goal is to help organisations change innovation from a concept or cost centre to the driving force behind competitiveness and growth. The company remains committed to providing innovation managers, R&D teams and researchers with the tools and expertise they need to achieve long term value and a return on innovation investment.