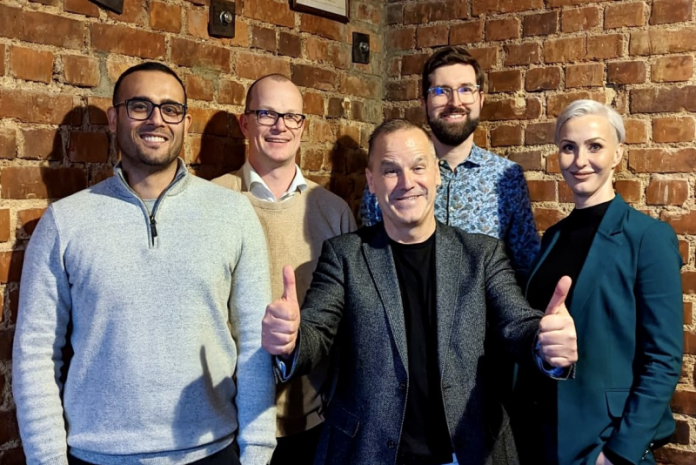 Leipzig, March 1st, 2023 – The multiple award-winning German DeepTech        scale-up intelligent fluids replaces aggressive solvents in industries             worldwide with its unique green cleaning agents. With the US sustainability fund WAVE Equity Partners, the company has now completed a €10m Series B financing round to continuously finance the global growth of this sustainable innovation.
intelligent fluids will use the funds to directly address volume markets such as maintenance, microelectronics, oil & gas and B2C with a strengthened team, and to establish sales structures and invest in expansion of production and laboratories. At the same time, international manufacturing and sales companies will be established step by step. Regions such as Europe, USA, India, MENA and Taiwan are initially targeted.
Post-Solvent Era: Industrial Cleaning Agent Revolution
Industrial cleaning agents are mostly harmful hardcore chemicals, since green cleaning agents are far from being effective enough. intelligent fluids has proven that performance and sustainability are no longer contradictory, even in tough cleaning applications. The young DeepTech company is Winner of the Global Green Product Award 2021 and the European Business Hero Award for Sustainability 2022, among others.
Conventional solvents are aggressive and mostly toxic, hazardous to health and/or highly flammable. To counteract these disadvantages, the intelligent fluids team researches and designs at the company headquarters in Leipzig on powerful green solutions. As a substitute for solvents, their water-based fluids ensure a significant reduction in CO² emissions during cleaning processes and on top enormous reduction of energy costs and material savings.
intelligent fluids usher in a new era in the field of industrial cleaning and decoating agents. The innovation is based on a patented technology that combines gentle ingredients into highly dynamic, physically effective fluids. This groundbreaking technology makes it possible to manufacture ecologically and economically outstanding products that generate a symbiosis of sustainability and performance. By that 10 sustainability goals of the United Nations are intrinsically supported.
Intelligent fluids is considered a pioneer in the chemical industry
The aim of intelligent fluids is to share its own ecological standards with as many others as possible. The technology company not only develops unique products for this purpose, but also motivates other companies to make the change.
"In order to persuade the industry to switch from harmful solvents to green chemistry, and additionally gain from significant increases in efficiency and cost savings, we also offer digital discount vouchers as a reward via the crypto coin SMAC (Smartchem)," says Christian Römlein, managing partner of intelligent fluids.
Regarding the forthcoming internationalization, he says: "The enormous investment by the US sustainability fund WAVE Equity Partners is not only an accolade for the technology, but also enables us to provide targeted and direct support to industrial customers and to supply large quantities worldwide through local production facilities. We are pleased about the exemplary foresightedness of the US fund and their motivation to make a decisive contribution to the sustainability goals of the United Nations together with us."
Praveen Sahay, President of US Fund WAVE Equity Partners says:
"The companies we invest in have exceptional green innovations for global markets, thereby enabling a healthier planet. We are thrilled to have added a pearl of German engineering to our portfolio with intelligent fluids, and with our massive support we forecast impressive development for the company over the next few years. The ambition to make a real impact with a combination of performance and sustainability will benefit not only the environment but also many companies and their ESG balance sheets.
In addition to WAVE Equity Partners, the existing institutional investors from Germany, IBG Sachsen-Anhalt and the high-tech start-up fund HTGF have also increased their commitments. "Advisory Board Chairman Armin Eiche from the private investor ARMATO is convinced that intelligent fluids have set a valuable milestone with the US partnership."
About intelligent fluids GmbH
intelligent fluids are a German DeepTech company from Leipzig and Leuna, whose green chemistry replaces aggressive and toxic solvents in industrial cleaning. The highest possible performance meets the highest possible sustainability. Significant reductions in CO2 emissions, energy costs and material usage improve the ESG balances of maintenance customers in cleaning intense industries such as microelectronics, oil & gas, printing.
intelligent fluids are a member of the BVMW and the UN Global Compact and intrinsically supports 10 sustainability goals of the United Nations with its globally patented technology. The company is certified by ISO 9001 and 14001. Awarded as "Company of the Year 2022", "Business Hero Award for Sustainability 2022", Global Green Product Award 2021", "Global HERAEUS Accelerator Award 2021", "Global NOURYON Imagine Chemistry Award 2019", EURONEXT "TechShare Participant 2020" and "BTC-TV Blockchain Winner Award 2019".
Contact:
intelligent fluids GmbH
Phone: +49 341 319 68 10
info@intelligent-fluids.com
www.intelligent-fluids.com
About WAVE Equity Partners
WAVE Equity Partners is a renowned private equity fund from Boston USA. WAVE EP invests in innovative companies to accelerate the development of their market-validated solutions, focused on solving some of the world's most pressing challenges in key clean energy, water, waste, food and clean air markets. It specializes in breakthrough innovations in the areas of industrial technology and sustainability.
Visit http://www.waveep.com/ for more information.