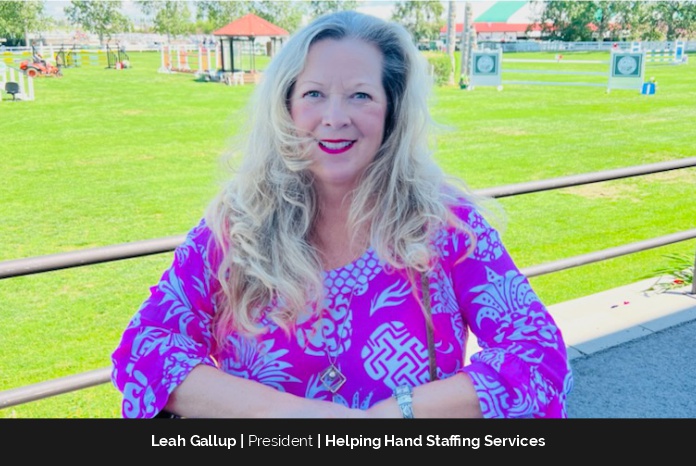 The function of the human resources industry is to produce competent personnel and to keep employees productive. Human resources specialists recruit, screen, and interview job applicants and place newly hired workers in jobs. They may also handle compensation and benefits, training, and employee relations.
With 20 years of staffing history, Helping Hand Staffing Services, a Canadian resources supplier provides personnel for both short-term and long-term assignments to meet the needs of companies. A Helping Hand is the leading provider of recruitment solutions and HR services in the Calgary and Edmonton marketplace. They offer over 25 years of direct experience in the staffing industry as a key partner to some of Canada's largest, most iconic businesses and Fortune 500 companies.
Leah Gallup, President of the company says that everyone should think of A Helping Hand Staffing Solutions as their one-stop low-cost human resources supplier. Leah a successful and dynamic entrepreneur defines success as the 3 P's: Patience, Perseverance, and Persistency. "With those three always in mind you'll succeed in whatever you put your effort in," says.
Challenges make you stronger
Challenges are an excellent opportunity for growth. They test your resolve and commitment to your goals. And when you overcome them, you develop emotional and mental strength. Working in labor always means obstacles, and Leah says it often challenged her up to become stronger. She thinks that suppression brings out the best in people and builds character.
Leah's professional journey and growth as a leadership
Leah has always had an entrepreneurial spirit, which guided her to build her company at 21. They opened in 1996 and she was new to this beautiful country, the time after that they expanded to Edmonton and bought their office location in Dyer banks. This growth taught everyone involved in the company to trust themselves and their instincts.
Leah has been in the global recruitment industry for over 25 years. "As the owner, you're responsible for everything, so that involves learning to designate labors, believe in your staff, and help the growth of the company. I define myself as incredibly strong-witted and determinate," she says. She further states that the best recognition of her effort was to be nominated by RBC and ATB as female entrepreneur of the year.
Leah claims that she has not yet achieved all that she dreamed of. She wants to build and support an orphanage for children, as she has always believed that senior citizens and children are the most important base of our society.
Plans for the future of Helping Hand Staffing Services
As part of permanent, stress-free staffing services from A Helping Hand, their team will work diligently to find the perfect fit for your company. They are COR-certified and offer strategic planning, drug testing, and safety training.
Leah's plan for A Helping Hand is to keep growing and to expand and reach as many locations as possible. Her personal goal is to be fearless and don't stop chasing my dreams. "As I've always said: Failing to plan, is planning to fail," she states.
Motivation to maintain a work-life balance
Having a healthy work-life balance means that employees will be happier when they come to work. This, in turn, helps reduce stress and the chances of burnout, two common health issues in the workplace. Leah inspires her team to grow and maintain a balance by believing in them and giving them the tools to grow not only as professionals but as people.